May 28, 2018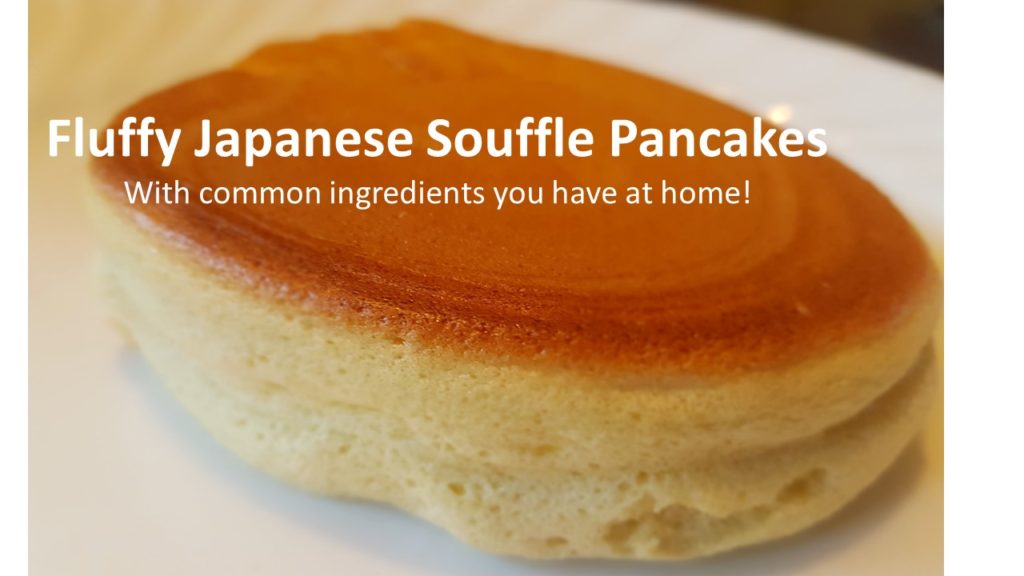 I was wasting away on Facebook yesterday when this lovely video popped up in my feed:
Mmmm… fluffy, lightly sweetened, bouncy souffle pancakes. Some people commented that they had tried them before in Taiwan and Japan and said it was like eating a cloud, and that it was airy like cotton candy. The stuff of daydreams.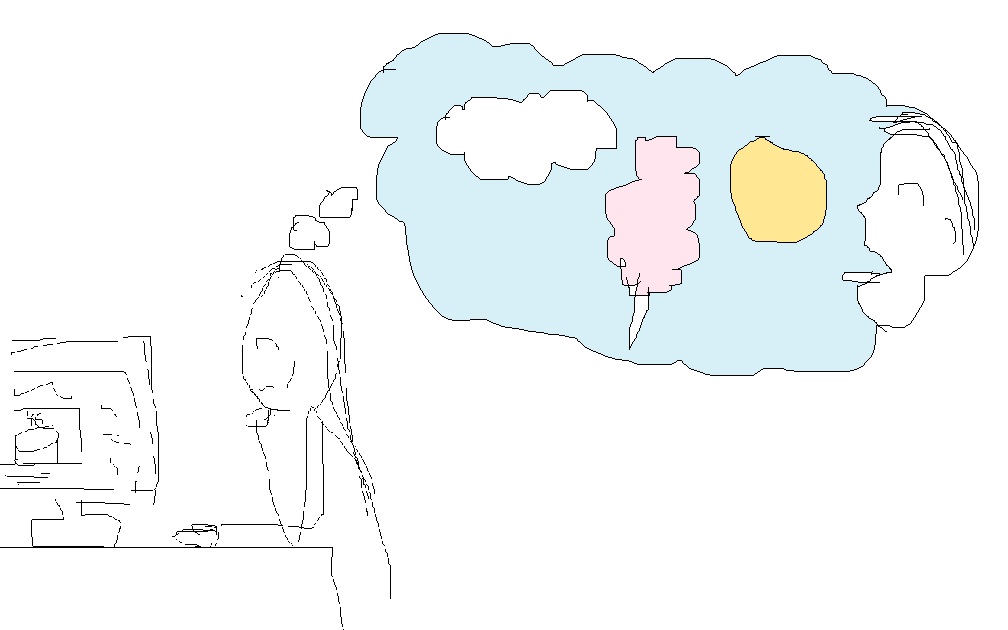 I watched all the way through wondering how well the inside got cooked and how fluffy it would taste in my mouth. So I went searching for recipes and videos online. I couldn't seem to find the right kind of recipe when I searched "Taiwanese Fluffy Pancake," but there was a lot out there for "Japanese Fluffy Pancake" and before I knew it, I landed on the familiar pages of Nami's blog at Just One Cookbook and was quickly convinced that her recipe held the key to a perfect fluffy pancake experience in my future. It looked very similar to the fluffy ones in this video- maybe with a little less bounce, but just as tantalizing.
read more
April 6, 2018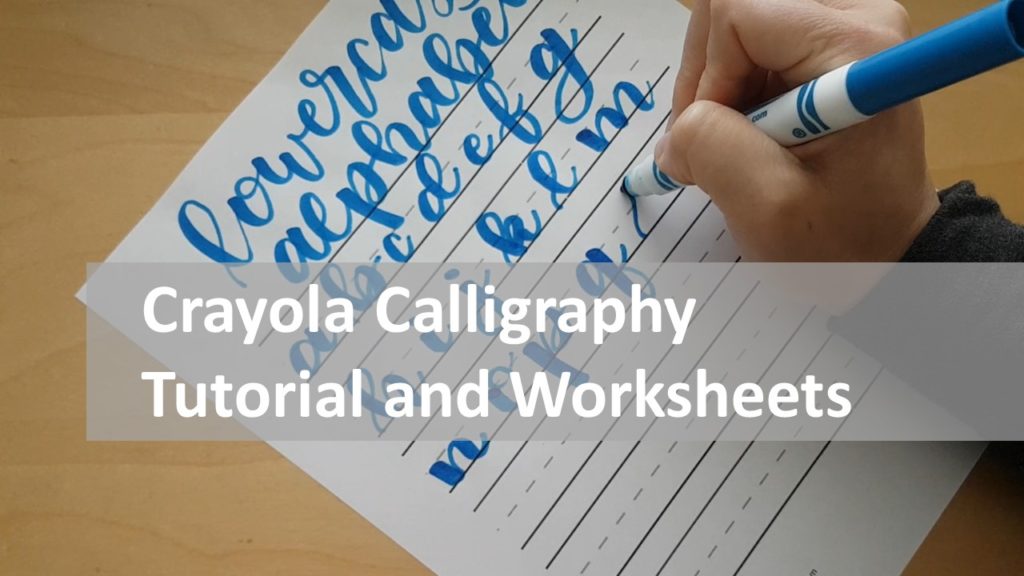 HAPPY SPRING! I am so ready for a new season. This last month concluded with my toddler in a full-arm cast (wrist fracture from a spill at the playground), me in an ankle brace (sprained ankle from volleyball), and my husband in a sling (dislocated shoulder while working out)! It's been a little crazy here, but we are all moving forward and I am SO HAPPY ABOUT THAT. My son is back in the sand and dirt and water… and I am back on the court. Full speed ahead!
I wanted to share some material I've been working on for a local Mothers of Preschoolers (MOPS) group that I've been part of. It's a wonderful group of moms that meets every other Friday to share life and motherhood and coffee together- there is always coffee. A few weeks ago, they were looking for someone to teach something craftsy to the group for a fun artsy morning they were planning. I'm not particularly crafty, so it wasn't until some of the ladies at my tables remarked about my calligraphy and lettering that I realized I had something to offer!
You might remember that a couple years ago, I picked up brush calligraphy as a nice stuckstay-at-home mom hobby. Since I was still nursing, many of my fun activities were limited to things that were nearby, easy to start/stop, and not easily ruined by a curious toddler (who is now FOUR… when did that happen?!?!). That's when I decided to learn brush lettering, which is a branch of hand lettering and modern calligraphy. I got better at it (I can write in a straight line now!) and even taught a brush lettering workshop for a church fundraiser last year. So when the ladies at my table were so encouraging about my lettering (someone even guessed I was a designer based on my lettering! I was so flattered- art has never been my thing haha), I decided to offer to teach the whole group some brush lettering basics.
Since this was a group of "Mothers of Preschoolers," I thought it would be so cute and appropriate to teach using Crayola markers! They're such a great tool for learning brush lettering since they are easy to find, relatively inexpensive, and very forgiving for lettering! I figured most of the moms would have a pack handy and it would be a fun and easy thing to practice and doodle with alongside their emerging little artists at home.
So I created these drills, and worksheets just for them:
Free Crayola Calligraphy Drills and Worksheets
Someone mentioned that the moms would probably appreciate having access to the videos at home, so I decided to create and upload it all here to share with everybody:
This first video is the starting point for most brush lettering and calligraphy. The basic idea behind calligraphy is to create a contrast between thick lines going down and thin lines going up. When done right, the words come out looking artistic and beautiful. Each letter is made from a series of basic strokes, which you can learn in the first "Drills" video.
Now for actual words. Have you ever tried applying the "heavy downstrokes and light upstrokes" method to the cursive that you learned in third grade, and found that it just didn't look quite the way you'd hoped? That's because in modern calligraphy, letters are not formed the same way you learned to write cursive in elementary school. There are different ways to form letters that maximize the beauty of a letter and eventually a word. See the letter "b" in the lowercase alphabet video below for a good example. Realizing that there is a completely different way to form individual letters was the turning point for me in figuring out how to make beautiful brush lettering.
read more
March 11, 2018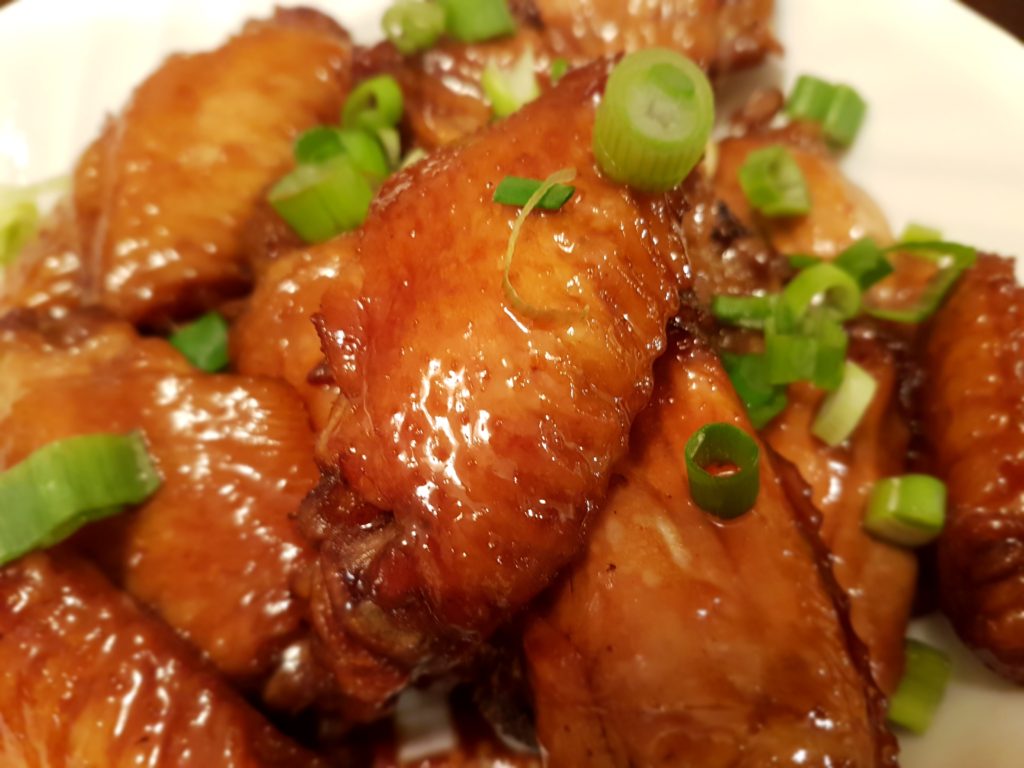 These soy-glazed chicken wings are a dish from Ben's childhood that really live up to the memories. His mom makes it almost every time we go over for dinner, and it's a tasty treat that is gobbled up in minutes every single time. Everybody loves it. For years, I kept asking her for her recipe and method, and she didn't have a recipe, but insisted it was really simple- just simmer the down the wings in a soy sauce mixture with Chinese rock sugar. That was it.
I tried to recreate it a few times, following various recipes I found online for proportions, but always ended up with something that came out beige-ish and tasting like boiled chicken wings… with some soy sauce. They did not hit the spot. Last time we had dinner at her place, I asked again for her method, determined to figure this recipe out. She must have known I would ask, and smiled as she pulled out a bag of rock sugar she had set aside just for me.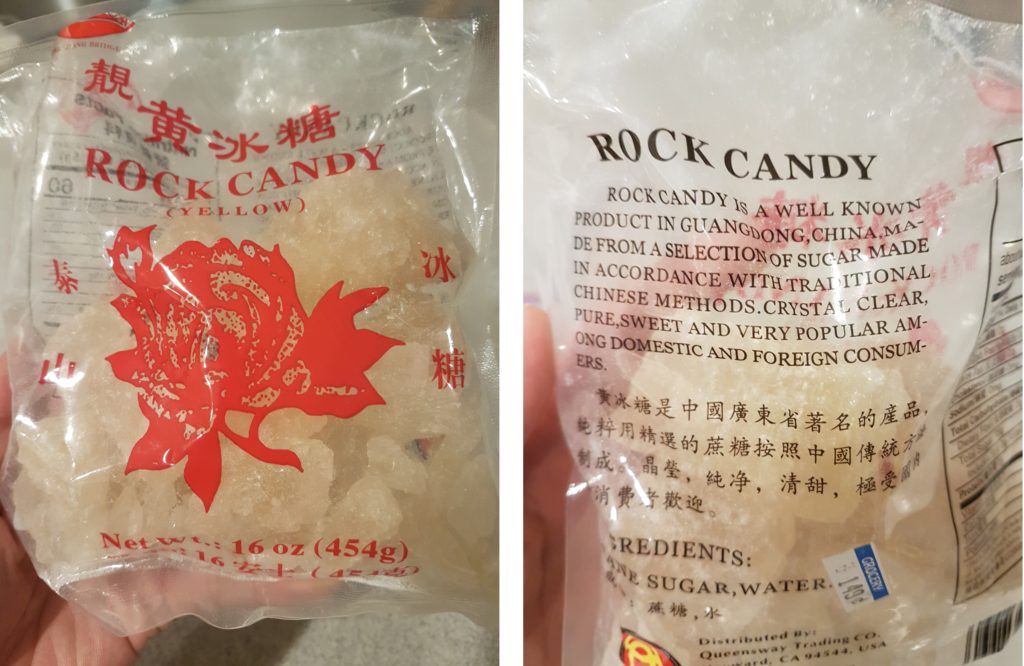 How did she know I still hadn't actually tried it with rock sugar? (I have like 25 lbs of white and brown sugar already at home- it's hard to justify buying more haha). Well, she was right, and guys: IT MAKES ALL THE DIFFERENCE. It had that extra special flavor and gave that extra syrupy sheen that was missing before.
But I didn't know that until I went home and decided to just kind of wing it (har har) instead of using an online recipe. I made two other adjustments this time, increasing the amount of soy sauce and keeping the wings in one single layer in the pan. I used my potsticker method: pan-frying for a bit, then adding liquid (sauce instead of water though) and letting them simmer down until almost all the liquid evaporated. I guess that's kind of like braising?
Anyway, they turned out AMAZING. The wings had a rich, glossy sauce and were finger-licking DELICIOUS. I am happy to say that we have a new easy weeknight go-to chicken recipe to add to the mix! Try these, and maybe you will, too!
read more
March 2, 2018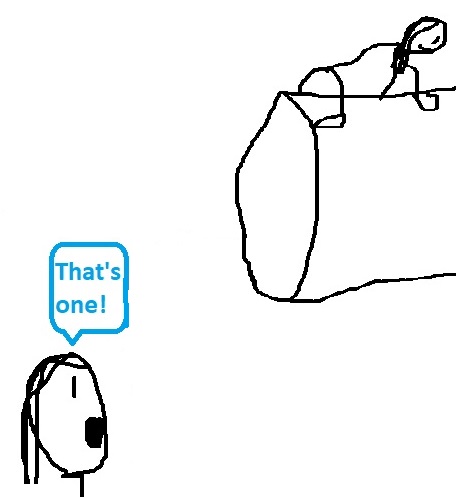 I stood on the side of the playground chatting away with other parents while our young kids roamed freely about the playground. Church service had just let out and we were enjoying the enclosed play space which allowed us to watch our kids while catching up with each other. I kept an eye on my daughter as she climbed about the play structure in all the "wrong" ways. She had recently started imitating the daring moves of an adventurous 5-year old girl at church, which included finding… creative ways to climb about the playground.
While I was okay with her pushing the limits a bit, I could tell it made other parents (who mostly had even younger kids) a bit uneasy. And… maybe it wasn't the best example for the toddlers who were apt to imitate without having the same strength or command of their limbs. I kept a close eye as she began to proceed over the high tunnel instead of through it like she probably should.
The father I was chatting with watched with growing alarm as she started to climb up and over. When it was apparent that she meant to cross the tunnel by climbing over it, he hesitated, "Uh, Jo, I think she's going to climb over…!"
"Sweetie, please come down," I called out to her. She froze for a moment. I imagine she was trying to decide whether to come down or pretend that she didn't hear me. She started forward again- it appears she chose the latter.
"That's one," I called out, matter of factly.
She scampered down in a flash.
I turned to pick up our conversation again but the father looked at me, wide-eyed, "Is that from… 1-2-3 Magic?" he asked, a little wonderingly.
"Yeah! Have you tried it?"
"I've read some of it, but we haven't really gotten too far in it," he said, "It seems to be working really well for you!"
And thus began yet another animated conversation about the "1-2-3 Magic" program which we had been using for the last couple of years with great success. I figure it's about time I shared it with you, too!
read more
February 2, 2018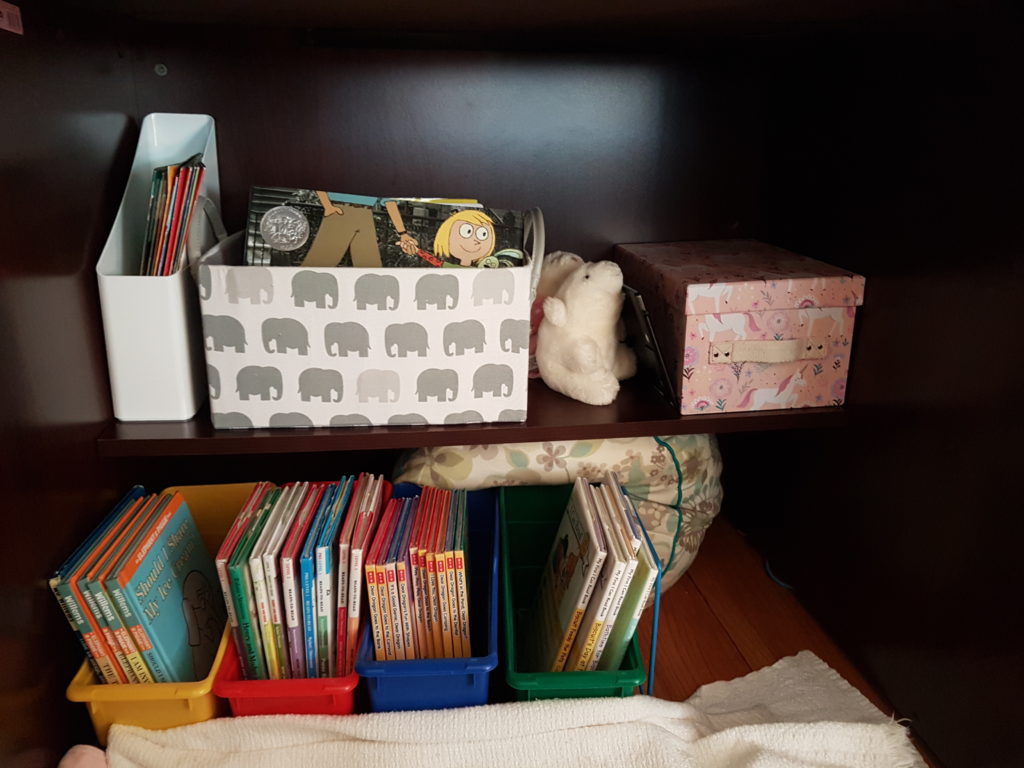 Yesterday, I had to pay for a lost library item for the first time in my life. I could tell the librarian felt a little bad as I dug out $8.22 for a five dollar kid's magazine from 2016. They were probably ready to take it out of rotation anyway, but I honestly didn't mind. We've benefited from the library a lot!
"Actually," I laughed, "I'm surprised this is the first time we've lost something! We usually have over a hundred items checked out at any given time… my daughter is such a bookworm."
"Really? How do you ORGANIZE all of your books??" she asked, genuinely impressed.
I paused to see if she wanted to short or long version. I mean, she was a librarian, and they're kind of all about reading and sharing and organizing books, right?
"Well, we have this big desk or side table kind of thing… it's super sturdy," I began.
She nodded, still eagerly listening.
"It came with an office set, I think, but we use it as a side table in the living room, and it has a sort of shelf underneath," I continued. "I put a bunch of blankets and pillows underneath to make a reading space for my daughter- we call it her 'nest,' and she loves to just sit there and read whenever she can."
"So how do you organize the books? I mean, there are so many!"
She DID want to know, she really did! My bookworm heart soared. I looked back to see if there was a line forming behind me. There was. She didn't care. Her eyes were still with me, intrigued. There was another librarian at the counter, so I didn't feel as bad as I went in depth about how we organized it, and why we did it that way.
"Ok so we used to just have a box of books. But then it was just a big pile of books and I think it felt too messy and overwhelming for her to go through. I also tried just lining the books up on the shelves, but she's a bit too young to just look at spines to pick out what she wants to read. The main thing that really helped were these book bins I had, kind of the shape of magazine file holders but shorter? I used to be a teacher, so I already had them."

The librarian nodded, she seemed familiar with them.
"So in one bin we have Elephant and Piggie, another one has Henry and Mudge, then Dear Dragon, and then the Biscuit books."
To anyone else, this might have sounded like gibberish, but I felt a connection with her as I saw her eyes light up with recognition as I listed off these well-loved early readers.
Maybe I should become a librarian.
"Then we have an actual magazine file for the magazines, and then a bigger miscellaneous box for all the other books. The game changer has been this ONE rule, though: home books stay in her room, and library books stay-"
"-IN THE NEST," she smiled, "Of course! No commingling, so things don't get mixed up!"
read more
January 7, 2018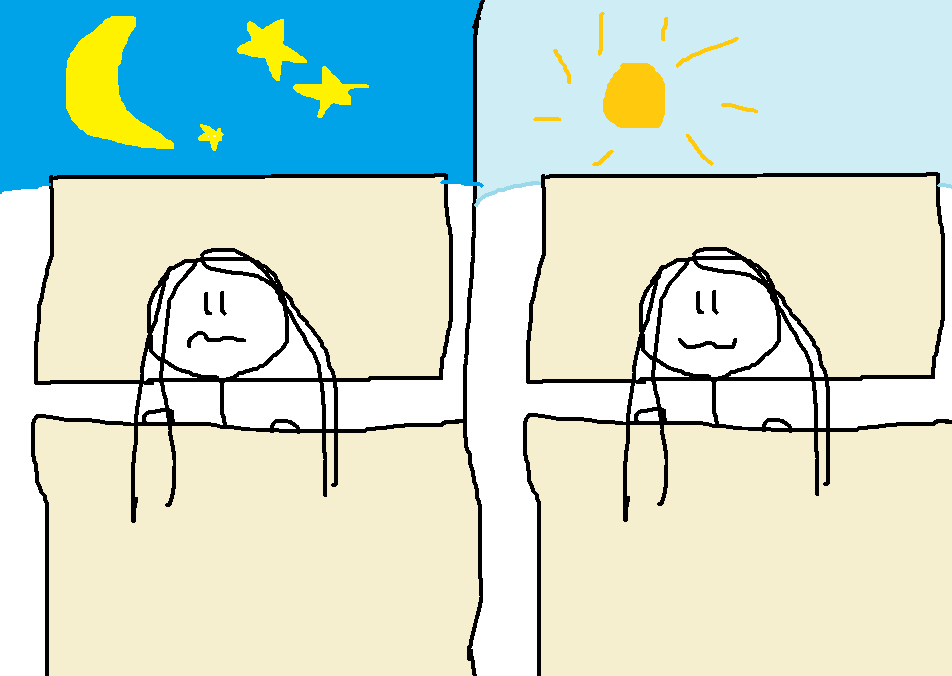 Last week, I emailed out our family newsletter and was pleasantly surprised with all the responses we got. Not only did we hear back from a lot more people than usual, but they actually responded with personal updates of their own! I was delighted to have "real conversations" with old friends and connect with them in a meaningful way despite the miles and years between us.
In my newsletter I broke from my usual goal of keeping everything short and concise, and decided to share real stories about real things that happened this year. One of the stories was a marriage story, and gave a glimpse at my efforts to love Ben better this year:
About halfway through 2017, I (JoEllen) had a realization: Ben did not seem very happy. He was loving and self-sacrificial and as much a family guy as anyone could hope for, but the spark of laughter and happiness seemed far off and hard to find. He always insisted he was fine- just tired- whenever I asked and probed again and again…  yet the bits and pieces of extra sleep I gave him did not seem to do the trick. So I decided to start my own personal mission, which I called The Ben Happiness Project.
In the end, the solution was simple. The problem was me, and I had to exercise more self-control, hold my tongue, vent at him less, and be generally less selfish. It was not easy to admit or fight against, but I was determined. A few weeks later, the happy man I knew was inside began to peer out from behind the distancing walls of safety and the sun began to shine on our marriage again. It's been a game changer. Still a work in progress, but there has been progress!! Feel free to ask me for the long version haha.
It wasn't easy to pull back on all the selfishness and self-centeredness I had grown accustomed to throwing his way, but it was a good exercise in putting someone else's interests before my own, and praying for and receiving the strength from God to be a better wife to Ben. And, of course, this has made me immeasurably happier, too.
I guess this resonated with people, because several people asked me for the long version and now I have several coffee and Skype dates in my future.
A lot happened between Paragraph 1 and Paragraph 2.
read more
December 15, 2017
I am always on the hunt for meaningful, fun, and well-loved family traditions. I'd love to hear your favorites! I think ours will be ever-evolving, with some that are already becoming fast staples and others on deck to try for next year. A couple years ago, I shared one of our favorite Christmas traditions: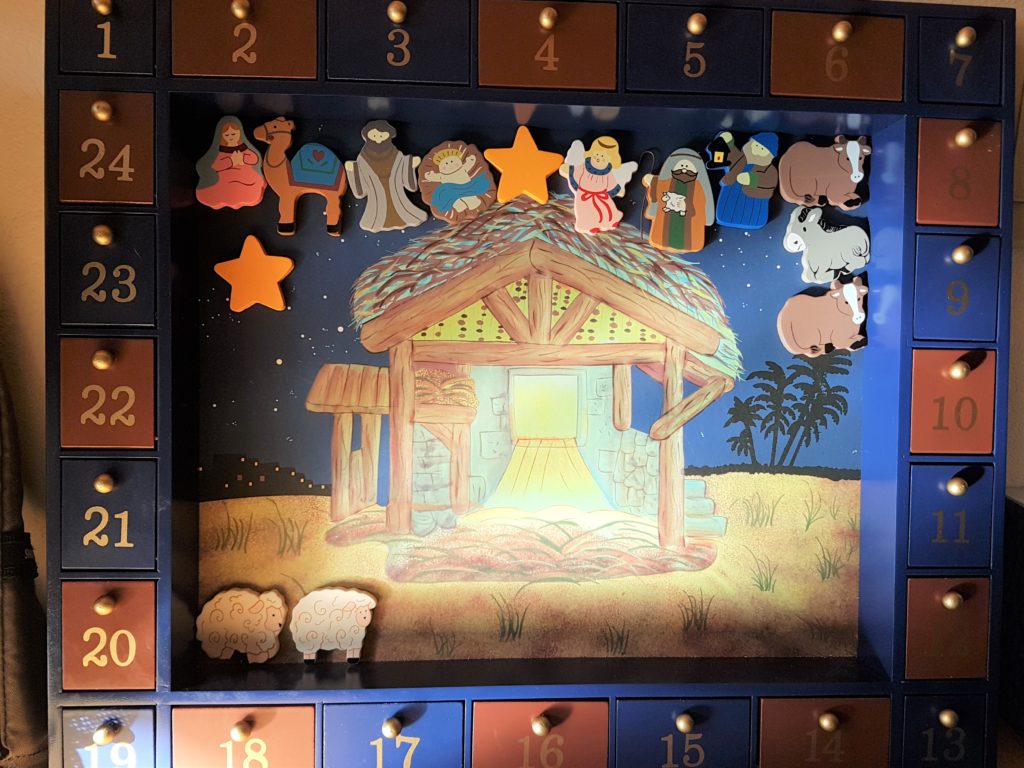 This fun advent calendar (it's gone down by about $20 since I bought it three years ago!). It's been two years and my daughter is STILL DELIGHTED to open the door each day! Except she has to take turns now, since she's got a little brother eager to get in on the fun, too. The kids are so excited about this calendar and discovering the surprise behind the doors that I was rather hesitant to introduce the chocolate advent calendars to them. Surely they would be less impressed with Cow #2 when they knew other calendars had chocolate Christmas trees for eating, right?
Nope. They both love it, and they see it as a daily treat to open doors and play with it together. My daughter has been into wings and fairies lately, so I wonder if that influenced today's modified nativity scene (above). Either way, this calendar continues to be a Christmas tradition winner!
I also wanted to circle back and share some new traditions in the making, and also the sweet ones we've continued. This year, we're going to try
read more
November 15, 2017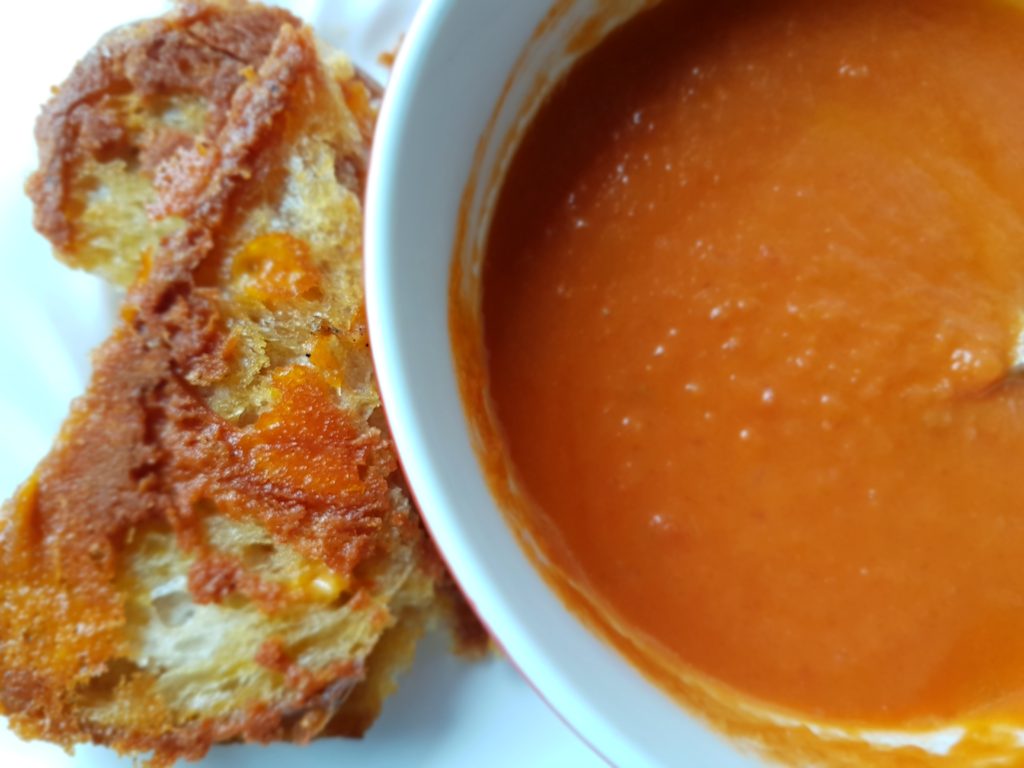 Something about the cold weather makes me want to spend all my time in the kitchen. When the air gets chilly, all I want is to snuggle up with a good book and put yummy things in my belly. I recently found a new (old) favorite comfort food combo: grilled cheese sandwiches with tomato soup! And I can't stop making it. I crave it daily and have never had so many large 28 oz cans of tomatoes in my pantry. Not only does this meal combo essentially require only six ingredients altogether, but they're all things that keep pretty well so you can cook it up whenever it strikes your fancy.
I was inspired after thumbing through The Magnolia Journal, which encouraged readers to have simple soup gatherings. I could tell they were really trying to hammer in the message that it's not so much about making a big fuss with lots of food, but just enjoying good company with a warm and comforting meal. Even if that meal is just a pot of soup. Comforting doesn't have to mean fussy, and I tried to take that message in and allow myself the possibility of serving a one (!) course meal with friends over. Could I really do it? Just soup? Would people feel like it wasn't worth the effort of coming over if it were… just soup? Hm.
I can't really see myself doing it, but it wouldn't be too hard to throw in a grilled cheese sandwich. And I'm pretty sure no one would be complaining if I did it the way the magazine recommended (in a different section)- literally grilling the cheese on the skillet first. Ohhh yeah. I tried it last week and just KNOWING my cheese got some of that crispy browned cheesy crust from my seasoned cast iron made me feel like I was eating something special. I also looked up an easy tomato soup recipe to go with it, and found a one of those awesome recipes that is not only easy (and essentially 3 ingredients!), but SO DELICIOUS. As one person had commented on that site,
…this is the best homemade tomato soup that I have ever had, at my age (old) I have a lot! Add to its simplicity and the reason for its winning nature, no flavor competing and muddying the pot, becomes clear. Simply delicious is pure decision. Thanks to you for this final and only recipe in my tomato soup 'collection'.
That was the comment that made me commit to this recipe, and turns out it was so true! This soup wins because of the simplicity of the recipe- no sugar, spices, herbs or cream. This allows the tomato flavor to truly stand out! It's delicious. I made it for my husband and left the house before he had a chance to eat. He wolfed it down and promptly texted me, "Lunch was amazing" followed by "!!"
That made my day!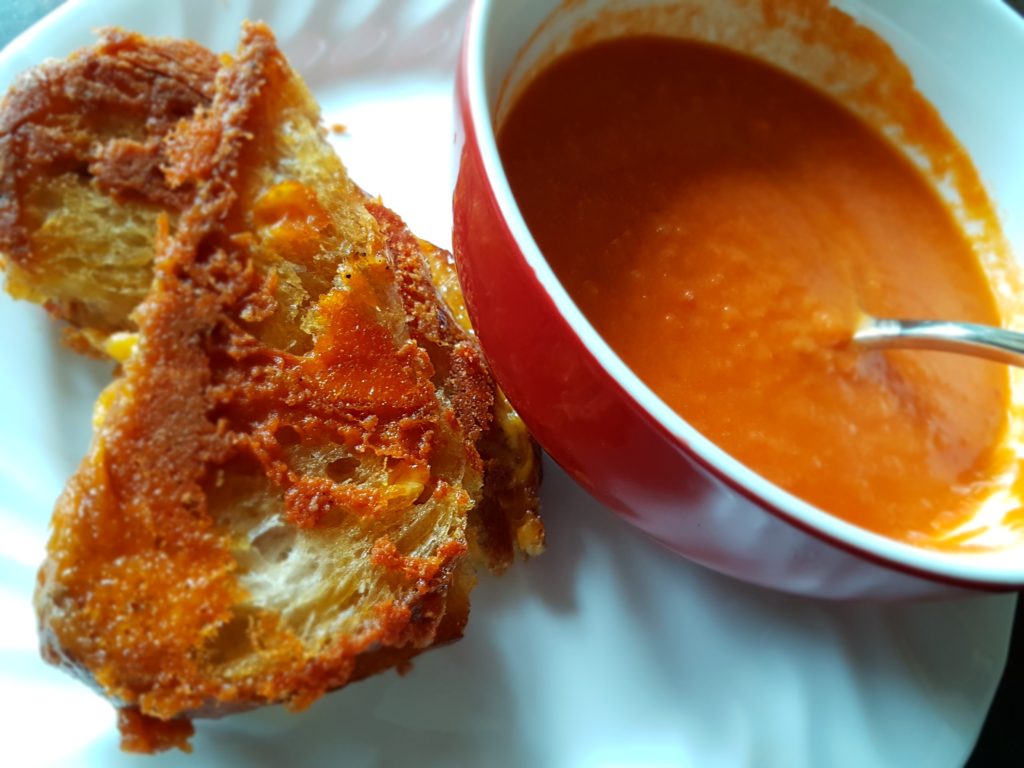 So I have and will make this again and again. Who wants to come over? Sunday lunch anybody? 🙂
read more
November 6, 2017
Some of my favorite traditions take place in the fall: pumpkin patches, spiced cider, caramel apples, pumpkin pancakes, and pumpkin spice lattes. I'm looking forward to adding Dorie's Chocolate Pecan Pie and the Fall Lantern Walk to that list this year! There is something warm and comforting about these traditions as the weather cools, especially since you can eat a lot of them :] YUM!
A couple years ago, I bought a donut pan, and for some reason I only ever feel like putting it to use in the autumn. I've made spiced cider donuts in the past, but picked up the 4-pack of canned pumpkins at Costco recently so I decided to try pumpkin donuts this time. I originally meant to keep it simple with this pumpkin doughnut recipe dipped in cinnamon sugar. I could just imagine biting into the sweet cinnamon sugar coating and the recipe seemed simple enough. When I coated my warm donuts in my own cinnamon sugar mixture, though, all I got was a very brown donut (not pretty and sugary like the photo!). I accidentally inhaled as I took my first bite and choked on cinnamon-sugar dust. Bleh. It was not an enjoyable eating experience, and I was not about to share that with friends.
Hmm… let's do a glaze instead, I thought. What's a good autumn glaze that would work with pumpkin? Apples… no. Maple syrup…? Yes. Maple is super autumny. Let's do it. 
I looked up a maple glaze recipe, groaned inwardly as I poured 1.5 cups of maple syrup ($$$!) into the saucepan, and spent the early afternoon baking and glazing donuts. Thank goodness the kids were having one of those afternoons where they were playing nicely alone AND with each other… for the most part. Maybe they instinctively knew that when they gave Mommy space to bake, their kindness would later be rewarded *omnomnom*.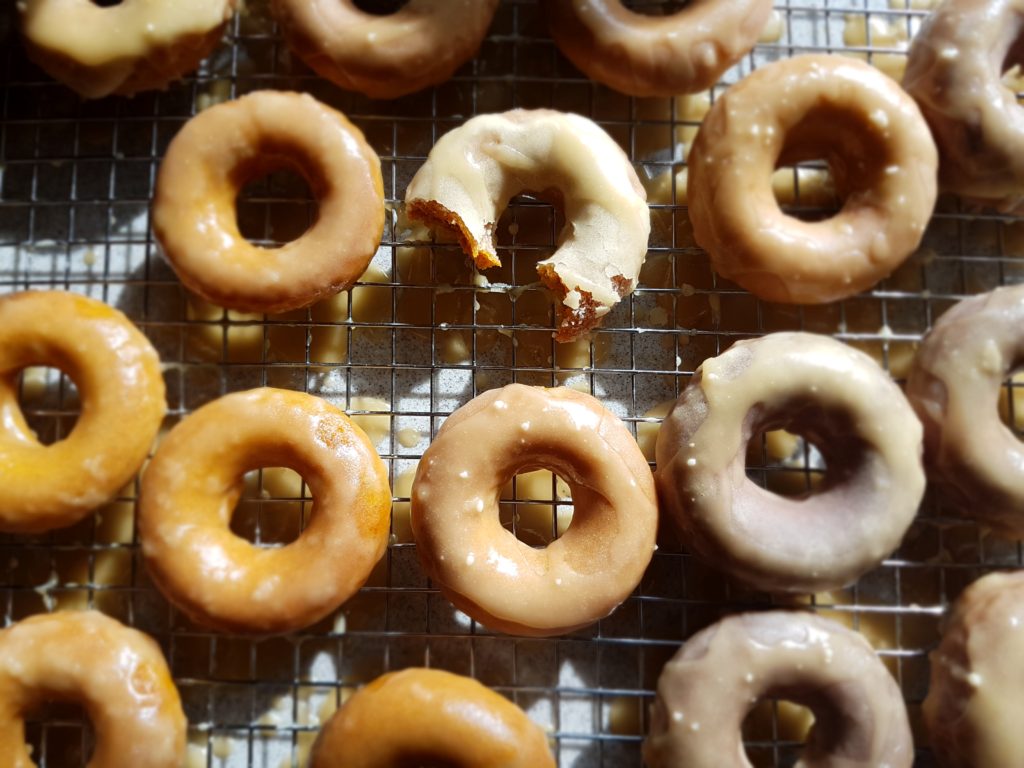 The donuts turned out pretty yummy and my friends seemed to like them! People kept asking where they were from and remarking that they looked and tasted professional :] Bonus points for being baked, not fried! I think we'll do them again next year, so here's the recipe for future me, and anyone else who might want to give these a go!
read more
October 29, 2017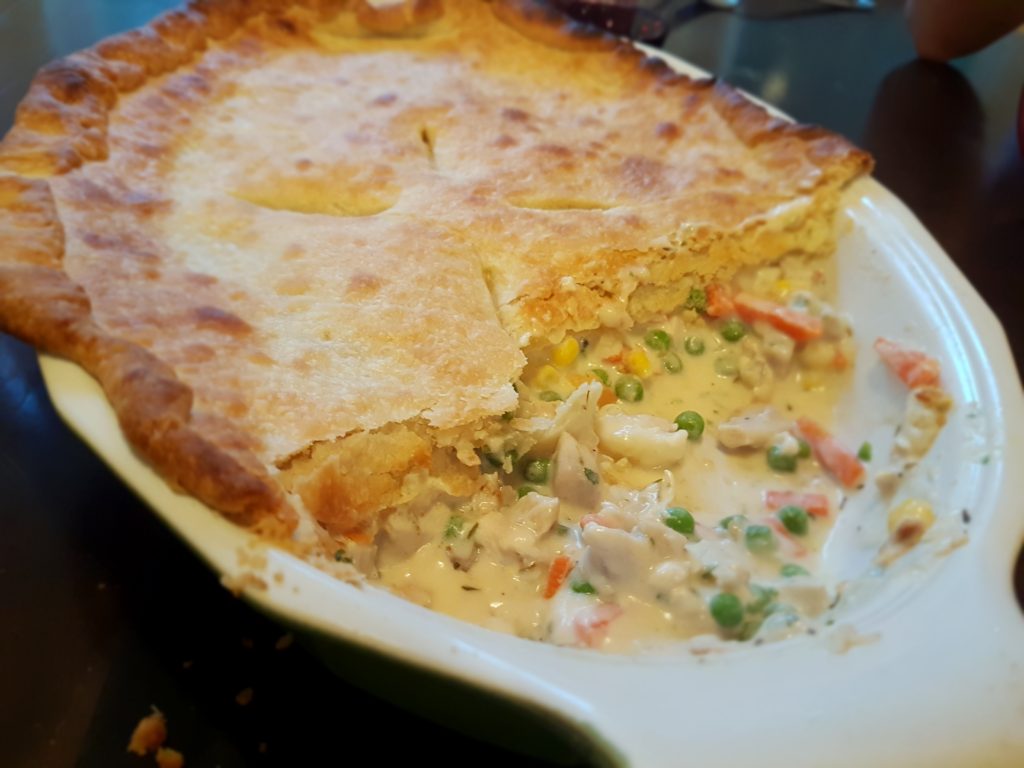 One of the things I love about cooler weather is that it finally makes sense to bake dinners again. I love the ease of popping something in the oven and then relaxing until we're ready to eat. I still do it sometimes in the summertime, and inevitably regret it as the house heats up on a 95 degree day. It ends up being a double whammy on the electricity bill- first the heat it takes to get the oven to 450 degrees, and then the AC to bring the house down to a reasonable temperature. Oops =P.
So now that it's finally feeling like autumn, I have been busting out my oven favorites- roast chicken, succulent ribs, and this SUPER easy and very delicious chicken pot pie! I definitely go the "cheater" route here with pre-made ingredients, so if you're looking for the homemade version with a legit roux and homemade filling, try something like this. It might take you a couple hours, but you can feel good that you know exactly what went into your pie.
If, however, you're looking for a 10-minute prep before popping it in the oven, I'm here for ya. This recipe features pre-made sauce (ah-hem alfredo pasta sauce), pre-cooked chicken (hello Costco rotisserie chicken!), frozen veggies, whatever herbs and spices suit your fancy (salt, pepper, thyme), and a pre-made crust (I am also a fan of the 2-pk from Trader Joe's!). Just heat the first four items up in a pot, pour into a pie pan, top with a crust, and boom. It's ready for baking. It tastes great, is a wonderful comfort food on a chilly day, and is an easy way to get some veggies into your kiddos, too!
read more