October 1, 2015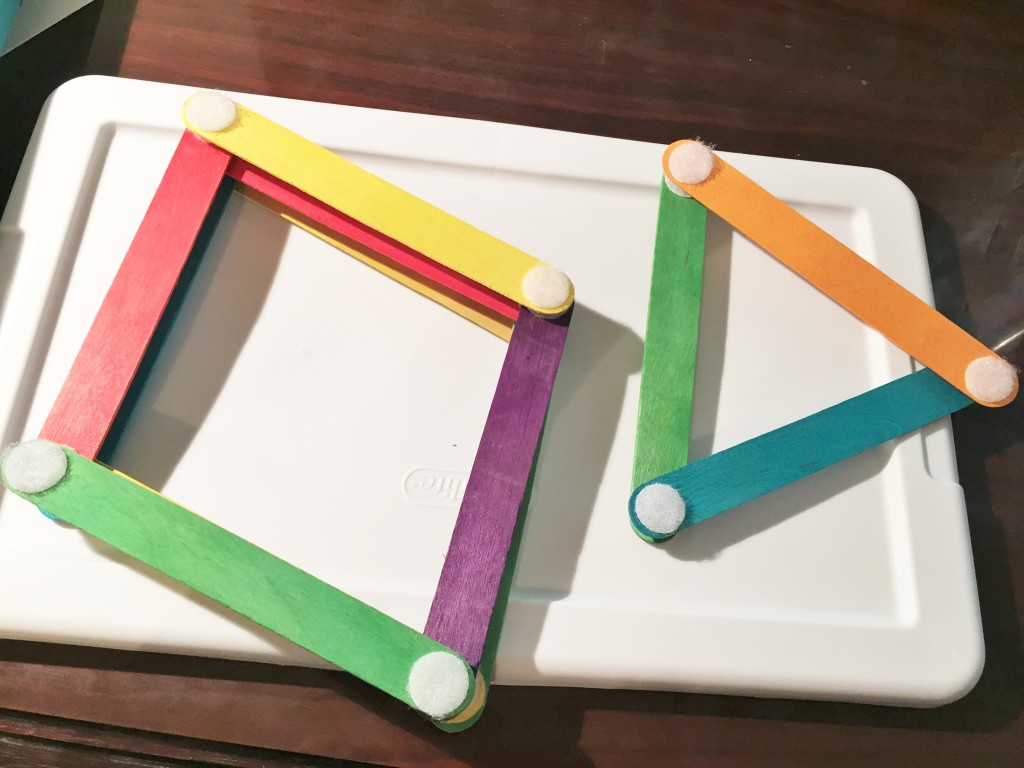 Encourage open-ended play and fun with these simple craft sticks and some velcro! I made these for one of my daughter's busy boxes and I'm pretty sure that as she gets older, she'll enjoy creating all sorts of fun shapes from it. In addition to simply playing with it, I already have some geometry lessons planned, from teaching basic shapes to regular shapes to congruent shapes to understanding the nuances between the different types of quadrilaterals… all using these sticks! Okay, that may be a few years out, but exploring through play at this early age can only help!
They are great for exploring polygons, enjoying color, and working on fine motor skills with the sticking and un-sticking. Even my husband got into it for a little while, and I'm sure visiting friends will get a kick out of building shapes with these fun little sticks (kind of how they love to find new ways to play with this
nifty toy) It feels satisfyingly homemade and just as educational/fine-motor-skill-supporting as any toy I could buy at the store!
read more
September 21, 2015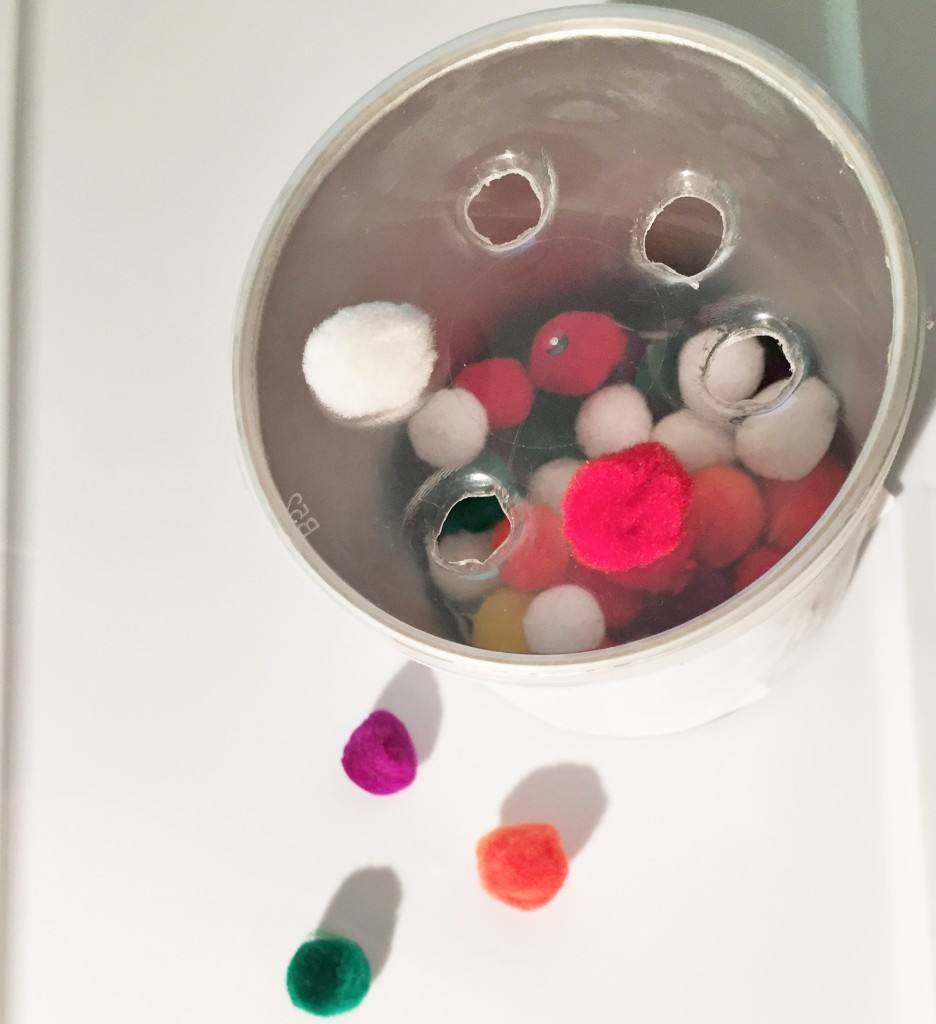 A while back, I made five busy boxes for my toddler. One for each weekday:

The boxes are basically clear plastic shoe boxes that have a special set of activities and toys to keep her occupied while she quietly sits on a blanket (aka Blanket Time. If you've never tried it, you must. It's awesome). This allows me to go and DO THINGS. Like lie on the couch and try really hard not to close my eyes. Or cook dinner. Or write something up to share with you here on my blog, like how to keep a toddler busy so I can go write about how I kept her busy. As a bonus, many of the activities help her get some fine motor skill practice, or are otherwise helpful for some aspect of her development. Yay!
So far, she only really seems to love the Monday and Tuesday boxes, so I find myself going back to those even on W, Th, and F. Lately, I've only been using them 1-2x a week, so that works out for now, but once baby boy comes, I think I'll have to up my busy box game to buy some more downtime! For now, I'm glad I have at least two winners. I already shared the Tuesday box with you. It's a simple upcycled oatmeal container that I punched holes into. She can sit there for nearly thirty minutes pushing pipe cleaners in and out!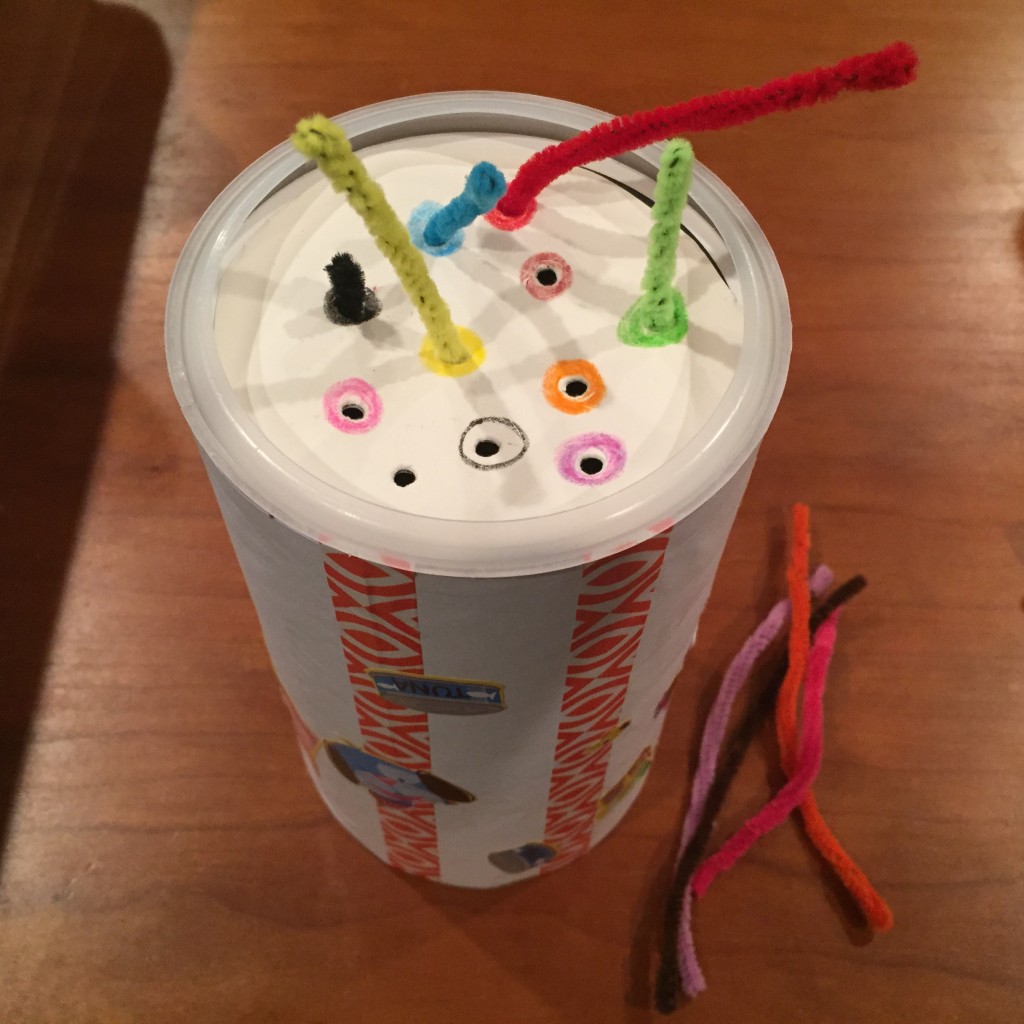 The Monday busy box I'm sharing today is actually a very similar concept, but with craft pom poms instead of pipe cleaners. 
I basically took an old mini Pringles container, punched holes into the clear plastic lid, widened the holes with a pencil, and filled them with little craft pom poms!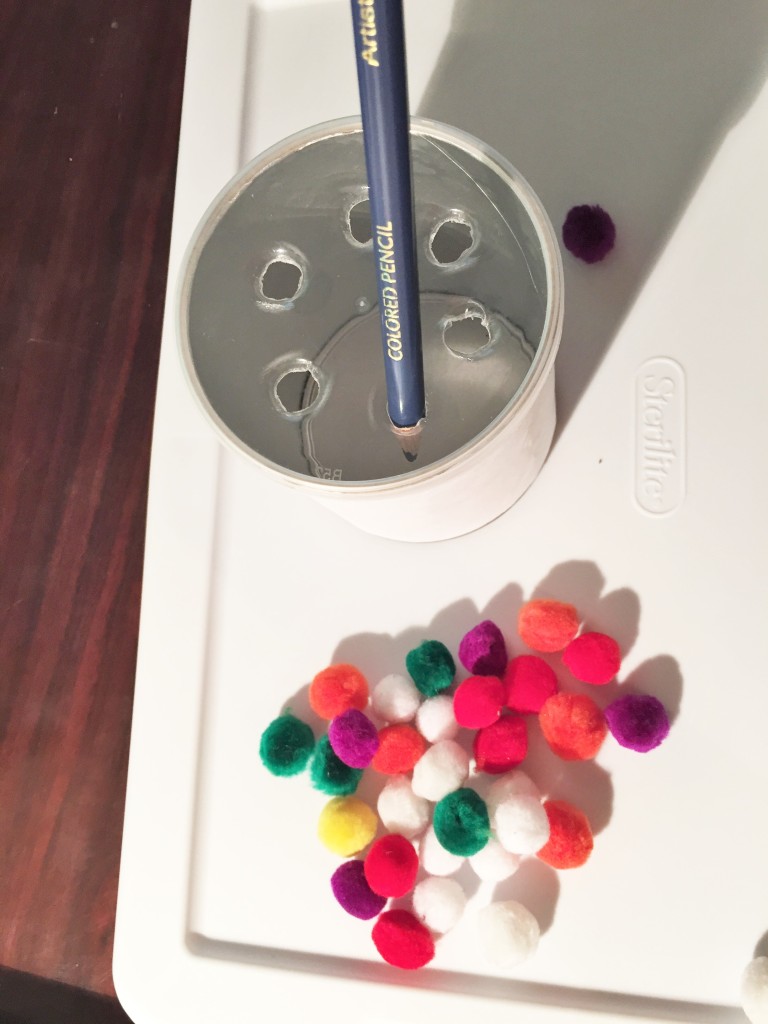 It's a hit with my daughter. I especially like how small and portable this one is, and have brought it along for blanket time on-the-go. Just a few weeks ago, we were at a dinner meeting and she was able to quietly play with this toy for a long time before moving onto something else! Other kids enjoyed pushing the pom poms in, too, so it's easy and inexpensive entertainment for little kids (not just toddlers), too!
read more
July 16, 2015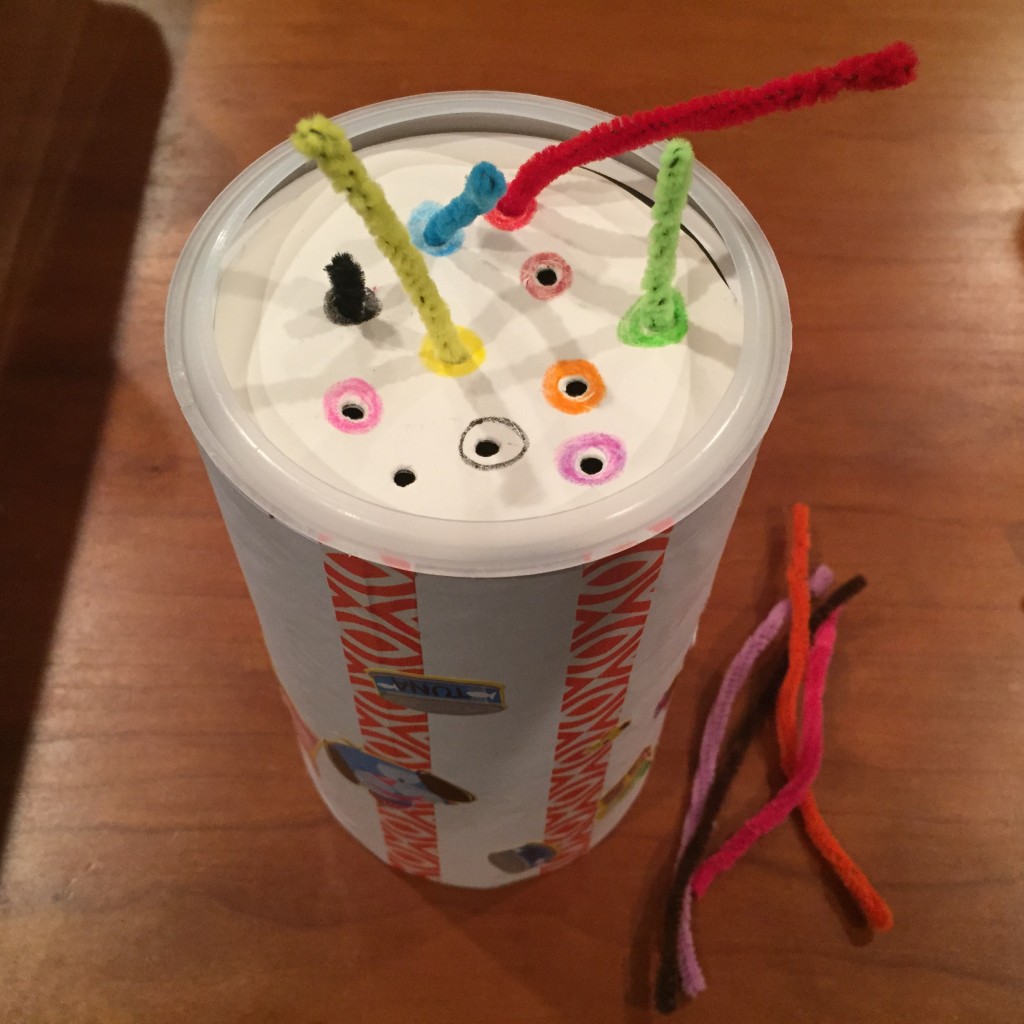 I'm pretty sure my little bear went through a Wonder Week recently. Yes, I'm still keeping track of those things. She came out of it pronouncing words more clearly and starting to put together longer phrases! Woohoo!
But I was not woohoo-ing during those few weeks. I wanted to cry. Mostly because she would not stop crying. She was super clingy, and would not pause even when I was mere inches away (or even touching her) across a baby gate. I had to be interacting with her on her side of the gate or she'd throw a fit. So naturally, when hubby came home, I was tempted to throw a fit, in my own quieter grown-up way. This wasn't really working out for any of us, so I decided it was time to look into something new to snatch her attention, in case this "Wonder Week" lasted for more than a week. Which it did.
I have been wary of caving into TV time (though truth be told, I'm thisclose to giving in), so I started looking for other solutions online. Toddler activities, including "busy boxes" and "quiet bags" filled my screen. Many boxes were labeled by day of the week, filled with craft doodads like feathers and pom poms and pipe cleaners which I had not touched since my own elementary school days. I can't say I was the best about doing crafts as a teacher, so this is not my forte. So it's time for busy boxes and quiet bags, huh?  I thought to myself. I had always seen them on Pinterest, but I guess when you have an infant, those things seem way too advanced. But I no longer have an infant. I have a full blown toddler, and God knows this age group is not my area of expertise. Especially from 4-6pm.
So I skimmed a few blogs, pinned a few ideas, and started shopping away on Amazon. Here are some themes I'm finding for the 1-2 year old set:
Putting things into containers is a thing. Like pushing pom pom balls through holes into a yogurt tub, or pushing pipe cleaners through holes into a cylinder (Which, btw, was a HIT with my little girl this past weekend).
Things that stick and unstick are fun. Like velcro.
Sorting stuff is fun.
Color matching is fun.
So I picked up plastic shoe bins
, gathered an assortment of craft knick-knacks, and started foraging for empty containers. Here's the first thing I came up with:
+
All I really had to do was punch some holes into the top of an old oatmeal cylinder and twist some pipe cleaners together. Little girl took to her new toy immediately and was pushing away for at least half an hour the first day, and about twenty minutes the next day when we brought it to church to occupy her since we had to keep her with us during service that Sunday. A friend of hers, who is about a year older, also enjoyed the activity, and was able to match the pipe cleaners with the colors of the holes as well! It occupied him a good twenty minutes before he lost interest, which gives me hope that this will keep her occupied decently well in the next year!
Here are the basic instructions to make it yourself!
read more
December 10, 2018
This post contains affiliate links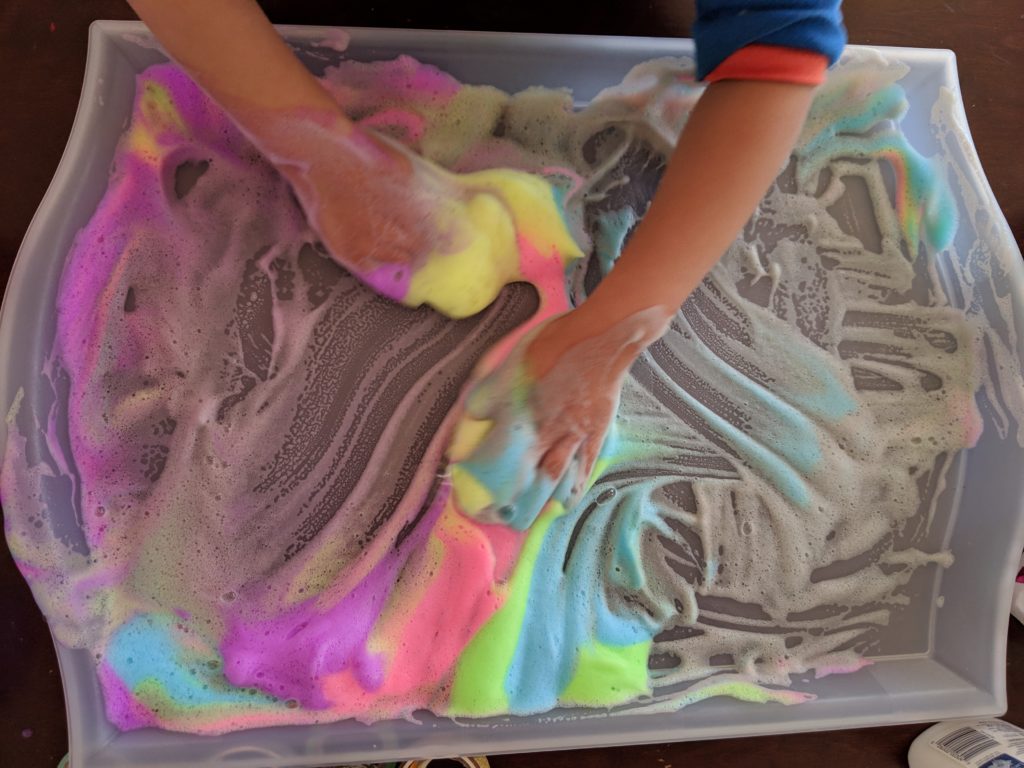 Sometimes, I just need my child to stay busy for a bit. Maybe I'm on the phone with the doctor, or maybe it's Amazon Prime Day and I'm eyeing that fancy magnetic toy (that never goes on sale but is coming up in 3 minutes and 28 seconds…!). If your child is anything like my son, that means he doesn't like it when you go in the office to get anything done, and when you really need those 5-10 quiet minutes, that's when he suddenly wants to explore your mouse and touch your monitors and drive you batty.
I used to be able to appease him with a TV show. But sometimes, even that doesn't work! I never thought I'd hear myself say, "Can you just watch some TV??" but that was me a couple months ago before I came across a new solution that has worked pretty well so far. It usually doesn't buy me more than 20-30 minutes at a time, but when I really need to concentrate or avoid interruption for ten minutes, then it's good enough.
Basically, I reserve one of his really cool, very engaging toys and only take it out during these high-need situations. He'll ask to play with it at other times, but I don't let him. I save it for when I really need it. Then, when I need to answer that phone call, I can just pull the toy out and he's delighted he gets to play with it and stays occupied for a pretty long time because he knows once it's gone, it will be a while before he sees it again.
So here's what I did. For his birthday, we got him a bunch of small construction vehicles to decorate his birthday brownie with: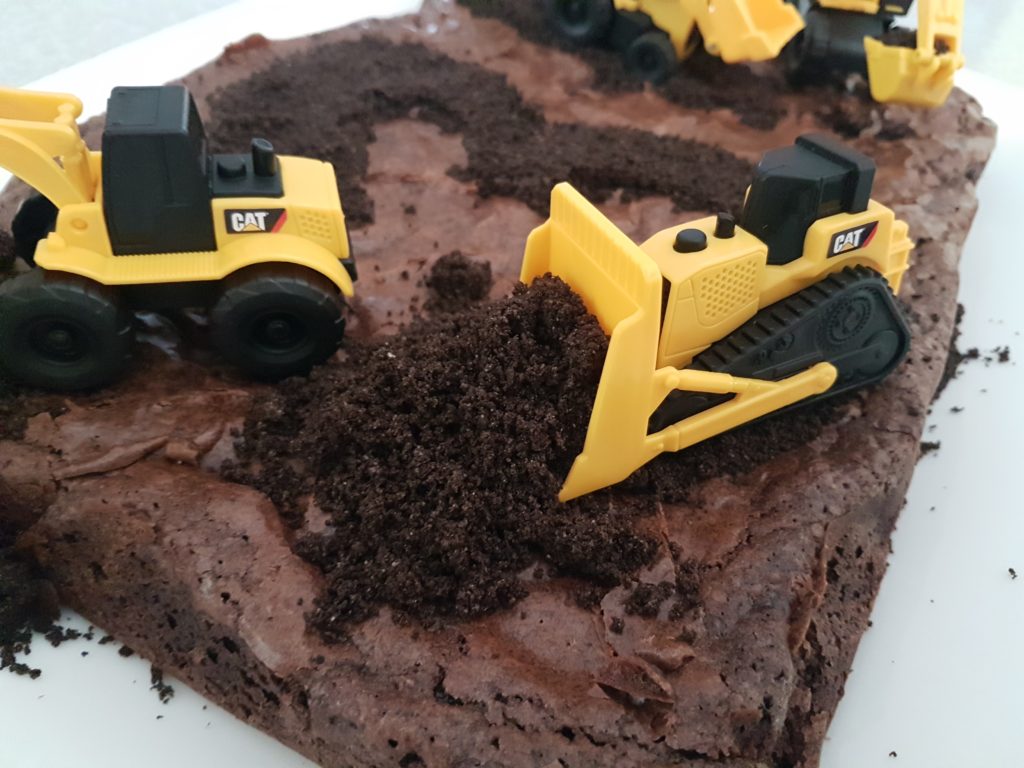 The next day, I poured some kinetic sand onto a large tray (I love the plastic ones from IKEA), added in the mini construction vehicles, and let him play for a good, long time. He loved it. We had a couple more days of that before I realized that this was a toy he could sit down with for a decent stretch. And that's when I tucked it away to save for "emergencies." Now, when I need to steal a few concentrated minutes to myself, I pull it out, dump it all on the tray, and let him have at it. He loves it! I will probably need to come up with a new toy soon, but for now it has been a nice option to have in my back pocket when I don't want to resort to screen time.
This same idea works for traveling, going to restaurants, etc. I have a box of books and portable toys that work well for when I need them to be quiet for a bit outside of the house. I bring these along for weddings, church service (when the kids are joining), or long family dinners. I don't take them out at any other time, so it's always a treat when they get to play with it.
Some of my enduring favorites include I Spy books, which are really nice for sharing with other kids. They can all crowd around and look for objects together, even if no one can read yet. I realized how universally engaging these books were when our school librarian would spread out about ten books at the end of each school year for all 33 students to share. Since school was almost out, she wouldn't let them check out any more books, but they still needed something to do for the thirty minutes of library time, and these books were always a hit. They would group together and start looking for objects and time always went by quickly during these times. Who knew? Even my three year old enjoys the simpler ones, like this one.
We also love this pack of 100 Things for Little Children to Do on a Journey from Usborne:
Each card is double-sided and has various prompts and activities to do, from mazes to doodling to puzzles and quizzes. It helps (but isn't totally necessary) if your child can read, and they should be able to use a drawing/writing utensil. I always pack an extra dry-erase pen so any other interested children nearby can borrow a few cards and join in on the fun. One other tip is to train your kid to erase their drawing/writing before moving onto the next card. We've gotten a lot of mileage out of this set!
While we're on the topic, here are some more ideas (and suggested ages) that have worked well. Most of them a quiet, and all of them fit nicely in a backpack, which make them perfect for travel:
Babies to Toddlers:
Preschoolers:
Again, these toys aren't usually available for them to play with at home, so when I take them out for these rare occasions, it's always a treat and it keeps the kids engaged longer than it would if it were one of their everyday toys.
How about you? What are some of your favorite go-to activities to bring out for high-need situations at home, or portable activities to take on the go? With the holiday travel season approaching, I'm sure we could all use more ideas!
December 7, 2016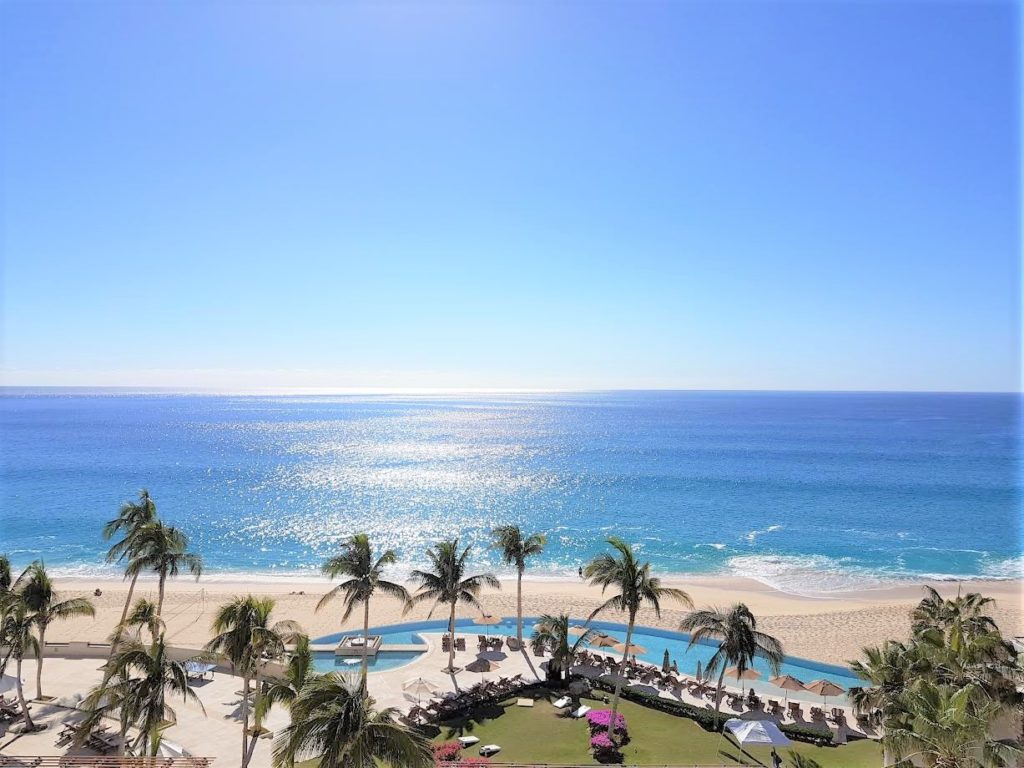 I've been very busy doing nothing in a land of sunshine and beaches :]. This also means I took a break from writing for the week, and now it's time for some Christmas merriment with the family!
I did want to take a moment to thank you all for staying with me here and reading along with me each week! It still boggles my mind to think that people let me into their inbox each week- a privilege I do not take lightly! Thank you so much for letting me share my life and thoughts with you!
Wishing you and yours a wonderful holiday season!
JoEllen
May 31, 2014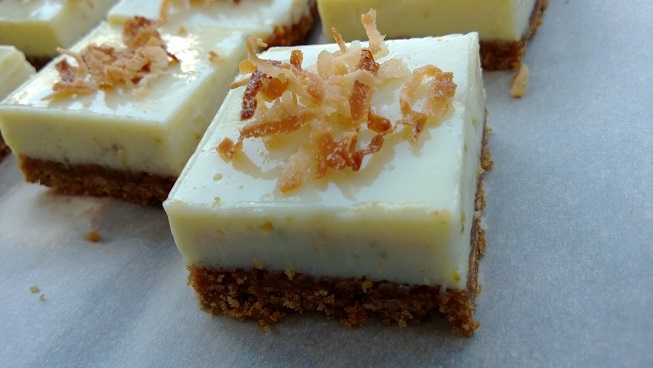 These bars are fantastic. They're as good as they look. I love them.
They are the perfect summer treat, with some limey tang, smooth sink-your-teeth-into-it cool creaminess, and just the right balance of sweetness. If you like tart stuff, this is the recipe for you! The original recipe says animal crackers > graham crackers for the crust, but I've only ever made it with graham cracker crumbs and I liked it that way. I would probably like animal crackers, too, but I just haven't tried it. Graham crackers just felt right. Plus, you can buy a box of graham cracker crumbs nowadays, where you actually get more graham cracker per ounce than you do when buying them whole (at Target)!
I should really make these bars more often. I made them last year for July 4, and they were a hit. I'm a little sad I've waited almost another year to make them again. Why the wait? I don't know. I was too busy having a baby and making chocolate things or something. But I definitely regret it now.
read more