November 6, 2017
Some of my favorite traditions take place in the fall: pumpkin patches, spiced cider, caramel apples, pumpkin pancakes, and pumpkin spice lattes. I'm looking forward to adding Dorie's Chocolate Pecan Pie and the Fall Lantern Walk to that list this year! There is something warm and comforting about these traditions as the weather cools, especially since you can eat a lot of them :] YUM!
A couple years ago, I bought a donut pan, and for some reason I only ever feel like putting it to use in the autumn. I've made spiced cider donuts in the past, but picked up the 4-pack of canned pumpkins at Costco recently so I decided to try pumpkin donuts this time. I originally meant to keep it simple with this pumpkin doughnut recipe dipped in cinnamon sugar. I could just imagine biting into the sweet cinnamon sugar coating and the recipe seemed simple enough. When I coated my warm donuts in my own cinnamon sugar mixture, though, all I got was a very brown donut (not pretty and sugary like the photo!). I accidentally inhaled as I took my first bite and choked on cinnamon-sugar dust. Bleh. It was not an enjoyable eating experience, and I was not about to share that with friends.
Hmm… let's do a glaze instead, I thought. What's a good autumn glaze that would work with pumpkin? Apples… no. Maple syrup…? Yes. Maple is super autumny. Let's do it. 
I looked up a maple glaze recipe, groaned inwardly as I poured 1.5 cups of maple syrup ($$$!) into the saucepan, and spent the early afternoon baking and glazing donuts. Thank goodness the kids were having one of those afternoons where they were playing nicely alone AND with each other… for the most part. Maybe they instinctively knew that when they gave Mommy space to bake, their kindness would later be rewarded *omnomnom*.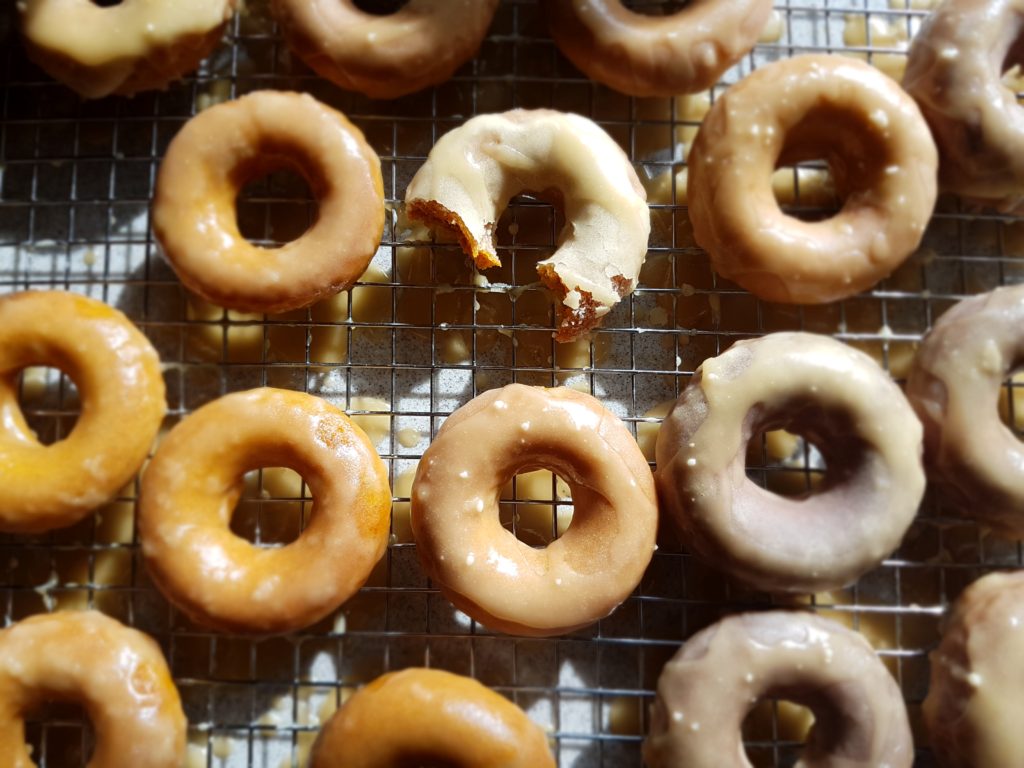 The donuts turned out pretty yummy and my friends seemed to like them! People kept asking where they were from and remarking that they looked and tasted professional :] Bonus points for being baked, not fried! I think we'll do them again next year, so here's the recipe for future me, and anyone else who might want to give these a go!
Baking Notes:
I have this donut pan from Wilton, which has worked really well for me. I really, really wish I had the 2-pack, because it would save so much time! I don't think it was available as a 2-pack when I bought it, but for only $4.50 extra, I think it's worth going for!
I made my batter 2 days ahead of time and kept it in the refrigerator. This is good to know if you wanted to get some steps done ahead of time, as these donuts are best served fresh.
I spooned my batter into a gallon sized zip top bag and cut a 1″ hole off the corner to make it easier to pipe the batter into the wells. I would highly recommend doing this to make the whole process easier and to make your donuts prettier/smoother on top.
The recipe says to make the glaze first, and that's on purpose. You need to give the glaze time to thicken before dipping the donuts in, otherwise your glaze will be too thin and run off and you will need to dip it three times, like I did haha. I dipped them once, then saw that the glaze was thicker and dipped again… and then saw that the glaze was gorgeously thicker (YUMMM that crackly thick glaze that the donut shops have!) so I spooned another layer of glaze on top haha. If I had just waited longer for the glaze to thicken, I probably could have gotten away with dipping just twice.
Afterward, I felt like the donuts were missing something. Maybe something like spiced crumble or bits of maple bacon on top a la Blue Star donuts haha. I don't know, but it would add some texture and contrast of flavors (bacon). Next time.
I tripled the maple glaze recipe this time, but will only double it next time- there was a good amount of leftover glaze. The recipe below should be enough for 20 donuts.
The original donut recipe says it yields 12 baked donuts, while I ended up with 20. I thought mine were a nice size…? But just FYI in case you end up with just 12…
Small detail, but I am happy to note that the pumpkin donut recipe listed below uses exactly one (15 oz) can of pumpkin :D. I don't like having leftover pumpkin puree sitting around in the fridge, so using up the entire can felt very satisfying :]. Though if you do find yourself in this predicament, pumpkin spice lattes are a great way to use it up!
---
Baked Pumpkin Donuts with Maple Glaze
Makes 20 donuts
Ingredients
For the Maple Glaze:
1/2 cup unsalted butter
1 cup pure maple syrup
2 cups sifted confectioner's sugar
For the Pumpkin Donuts:
1/2 cup vegetable oil
3 large eggs
1 cup sugar
1 1/2 cups pumpkin puree (canned pumpkin- NOT pumpkin pie filling)
1 1/2 teaspoons  pumpkin pie spice (or 3/4 teaspoon ground cinnamon plus heaping 1/4 teaspoon each ground nutmeg and ground ginger)
1 1/2 teaspoons salt
1 1/2 teaspoons baking powder
1 3/4 cups + 2 tablespoons all purpose flour
Instructions
Make the glaze: In a small saucepan over low heat, melt the butter and maple syrup together, whisking occasionally. Once the butter has melted, remove from heat and whisk in the sifted confectioner's sugar. Set aside and allow to cool and thicken.
Make the donuts: Preheat the oven to 350°F. Lightly grease your donut pans. In a large bowl, beat together the oil, eggs, sugar, pumpkin, spices, salt, and baking powder until smooth. Add the flour, stirring just until smooth.
Take a gallon size zip top bag and fold the top over twice, then spoon the donut batter into the bag and seal it, squeezing out excess air. Cut off one of the bottom corners, about 1″ across, and squeeze the batter over to that one corner of your bag, twisting the top close to the batter as you go. Pipe the batter out into the greased donut wells, filling each well about 3/4 full.
Bake the donuts for 15-18 minutes, or until a cake tester inserted into the center of one comes out clean.
Remove the donuts from the oven and let cool about 5 minutes, then turn onto a rack to cool.
Once donuts have cooled, dip in maple glaze, then set to dry. Repeat with all donuts. When the first layer of glaze has dried, dip them all one more time and set to dry. Serve immediately.