July 16, 2015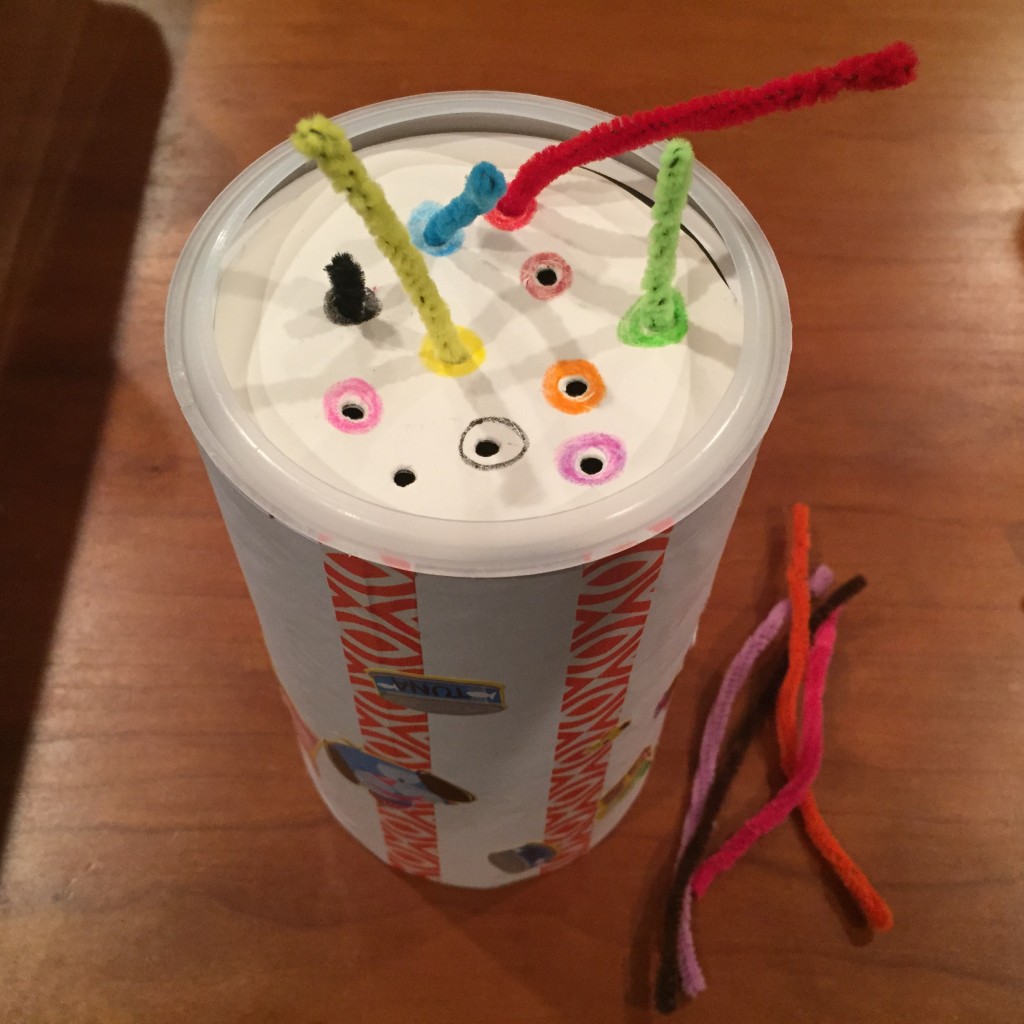 I'm pretty sure my little bear went through a Wonder Week recently. Yes, I'm still keeping track of those things. She came out of it pronouncing words more clearly and starting to put together longer phrases! Woohoo!
But I was not woohoo-ing during those few weeks. I wanted to cry. Mostly because she would not stop crying. She was super clingy, and would not pause even when I was mere inches away (or even touching her) across a baby gate. I had to be interacting with her on her side of the gate or she'd throw a fit. So naturally, when hubby came home, I was tempted to throw a fit, in my own quieter grown-up way. This wasn't really working out for any of us, so I decided it was time to look into something new to snatch her attention, in case this "Wonder Week" lasted for more than a week. Which it did.
I have been wary of caving into TV time (though truth be told, I'm thisclose to giving in), so I started looking for other solutions online. Toddler activities, including "busy boxes" and "quiet bags" filled my screen. Many boxes were labeled by day of the week, filled with craft doodads like feathers and pom poms and pipe cleaners which I had not touched since my own elementary school days. I can't say I was the best about doing crafts as a teacher, so this is not my forte. So it's time for busy boxes and quiet bags, huh?  I thought to myself. I had always seen them on Pinterest, but I guess when you have an infant, those things seem way too advanced. But I no longer have an infant. I have a full blown toddler, and God knows this age group is not my area of expertise. Especially from 4-6pm.
So I skimmed a few blogs, pinned a few ideas, and started shopping away on Amazon. Here are some themes I'm finding for the 1-2 year old set:
Putting things into containers is a thing. Like pushing pom pom balls through holes into a yogurt tub, or pushing pipe cleaners through holes into a cylinder (Which, btw, was a HIT with my little girl this past weekend).
Things that stick and unstick are fun. Like velcro.
Sorting stuff is fun.
Color matching is fun.
So I picked up plastic shoe bins
, gathered an assortment of craft knick-knacks, and started foraging for empty containers. Here's the first thing I came up with:
+
All I really had to do was punch some holes into the top of an old oatmeal cylinder and twist some pipe cleaners together. Little girl took to her new toy immediately and was pushing away for at least half an hour the first day, and about twenty minutes the next day when we brought it to church to occupy her since we had to keep her with us during service that Sunday. A friend of hers, who is about a year older, also enjoyed the activity, and was able to match the pipe cleaners with the colors of the holes as well! It occupied him a good twenty minutes before he lost interest, which gives me hope that this will keep her occupied decently well in the next year!
Here are the basic instructions to make it yourself!
——————
DIY Pushing Pipe Cleaners Activities
Suitable for 1-2 year olds
Materials
Instructions
Optional: Cover the top and outsides of the container with paper, first, so you can decorate and color things.
Punch 6-10 holes into the lid of the container.
Fold each pipe cleaner in half, then bend bottom centimeter up (so the sharp tips won't hurt your toddler) and twist the whole thing together tightly.
Optional: Color a border around each hole to correspond with pipe cleaner colors so your child can practice matching colors.
That's it! Show your toddler how to push it through. You may have to coach them on how to hold the pipe cleaners closer to the bottom to get the pushing process started.