April 26, 2017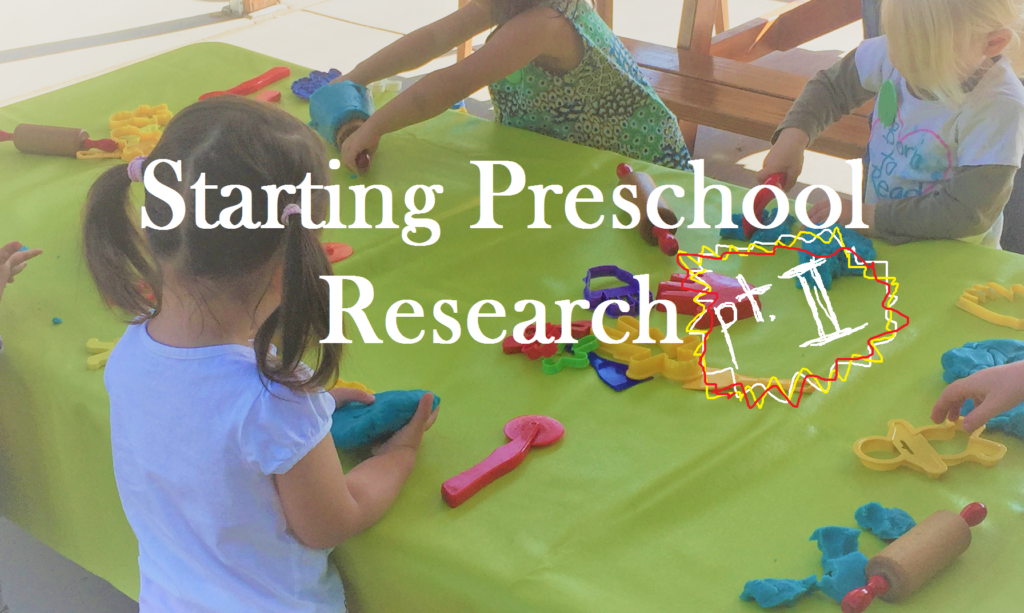 Okay, you've got an idea about what kind of preschool you'd like to send your child to (read more here). Great! Now what? Warning: reading this next section might just make this decision feel even more complicated than it needs to be, so proceed with caution ;). Here are a few more things you might consider as you decide on a preschool.
Physical environment
Playground and structure: If this is where your child is going to be all day every weekday, it would be great to find a play area that offers a lot of variety for gross motor development. My goal last year was to find a great play-based program, so I always made it a point to check out the outside play area and gave extra points for irregular surfaces (to develop balance and coordination, as opposed to just cement or rubberized play surfaces), a bike circle (to practice going on scooters and balance bikes), and a variety of play equipment (swings, bars, sand, climbing structures, etc.)
Classroom environment: Does it feel warm and welcoming? Is it neat and organized? Is the room set up so that children can feel ownership of the space? Is it safe and open? Do the walls show student work? Does the student work look uniform, or does it look like students were given freedom to be creative?
People environment
Teachers: This one is hard to tell during a tour, because everyone is extra friendly during observations and tours. We hoped to find teachers that were warm, nurturing, experienced, and knowledgeable. It's a good sign if the teachers have been teaching there for many years. If they have been at the same site for a while, that also speaks strongly of the program, support and teacher satisfaction at the school.
Teacher to student ratio: Generally, people look for a low teacher to student ratio. Most programs we were looking at had a 1:8 ratio or better, meaning there was at least one teacher or adult there for every eight kids.
Class size: Most parents prefer a smaller class size. This allows the teacher to get to know the child better, offer more attention to the child, and keeps the group more intimate. However, some also prefer the large class size for the variety of social interactions.
Age of peers: Some preschools are large enough that your child will be with other kids about the same age. Others have a large range, such as 2-5 year olds all in one class. There are pros and cons both ways. For example, in a mixed-age class, a younger child can learn a lot by observing older kids, and older kids can learn compassion, empathy, and learn to be responsible role models to younger kids. This can be great for confidence building. In a same-age class, teachers can focus instruction a little more on student ability.
Scheduling
Flexibility in scheduling: Since I'm a stay at home mom, I was specifically looking for a part-time, part day program. I still wanted to have a significant amount of time with my daughter, but I also felt like it was important for her to spend more time with other kids and start learning the norms of a school environment. This narrowed down my search quite a bit, since I didn't even consider programs that only had full-day (8am-6pm) programs and/or only offered Monday-Friday programs. That cut my options down significantly.
Nap time: Many schools have a built in nap or rest time if your child stays for a certain amount of time. If your child is not taking naps anymore, you can see what the rules are for them. Some places will force your child to lie down for a certain period of time, while others will offer books. I personally didn't want to pay more money for my daughter to stay an extra hour to lie down, so I actively looked for places that started nap time after my preferred pick up time.
Adding extra hours: Does the school allow you to add extra hours if you need? This was important to me this year since my son was solidly taking morning naps for the first half of the school year. Having the flexibility to tack on an extra hour literally bought my son more sleep and eased the burden of rushing a hungry baby around to pick up my daughter from preschool. This may be less relevant for working parents, but has been really helpful as a stay at home mom!
Proximity: Is it on the way to work? Is it "only" 15 minutes away? Do you have a younger child you're taking along as you drop off and pick up the older one? Our preschool could potentially be only 10 minutes away (like at midnight), but is closer to 18-20 minutes with morning weekday traffic. This means that on a high-traffic day, I could be toting my youngest one around for about 45 MINUTES just dropping off and picking up my preschooler! I feel like this is unfair to him, and regretted the distance of our preschool when I realized how much time I was forcing my young baby to spend in his car seat every school day. Happily, Ben now does morning drop off, so that saves us a lot of car time!
Logistics
Potty training: Some preschools require your child to be potty-trained before enrollment. Others will potty-train your child, but this usually costs more.
Lunch: Do you always pack your own lunch? Will the preschool provide lunch? Is there a variety in the food offered? Are you allowed to pack peanut butter and jelly sandwiches, or is it a nut-free campus? One campus I visited advertised a cook on campus that made lunch for the kids each day, but when I visited, the kids had been eating ham and cheese sandwiches every day for weeks as the school still needed to hire a cook.
Cost: Did you know there are free preschool programs? Check with your local libraries and see if there are preschool or preschool-like programs offered nearby. The ones I've come across require parents to be present, but it's a great option if you are looking for a way to ease in to preschool and also save some pennies (or benjamins).
Waiting lists: I always thought the whole "put your kid on the waiting list when you get pregnant" thing was an exaggeration, but in our area, the most prized preschools really do have long waiting lists. One school that I tried signing up for already had a full 3's program before enrollment for it even began, simply based on continuing 2's that were moving up. I applied the very day enrollment opened and I had to wait for a call back to find out the result of the lottery for my position on the WAITLIST (not even to get placed)! The preschool my daughter is currently at begins enrollment for the next school year ten months ahead of time. Yowza. So if you think it's way too early to be thinking about this, you might want to think again (unless you're not pregnant yet, in which case I suppose you can bookmark this for a later stage in life).
Conclusion
Is your head spinning yet? Please don't make a weighted spreadsheet. Only crazy people do that, and I think it probably only makes them/me more crazy. Hopefully your gut is more decisive than mine and it will be easy for you to make a choice without looking back. If not, then I hope this information was more helpful than overwhelming, and ultimately that you find a great preschool where your child can thrive and that also fits your family's needs!
If you think of more factors to consider, please share in the comments below!
April 19, 2017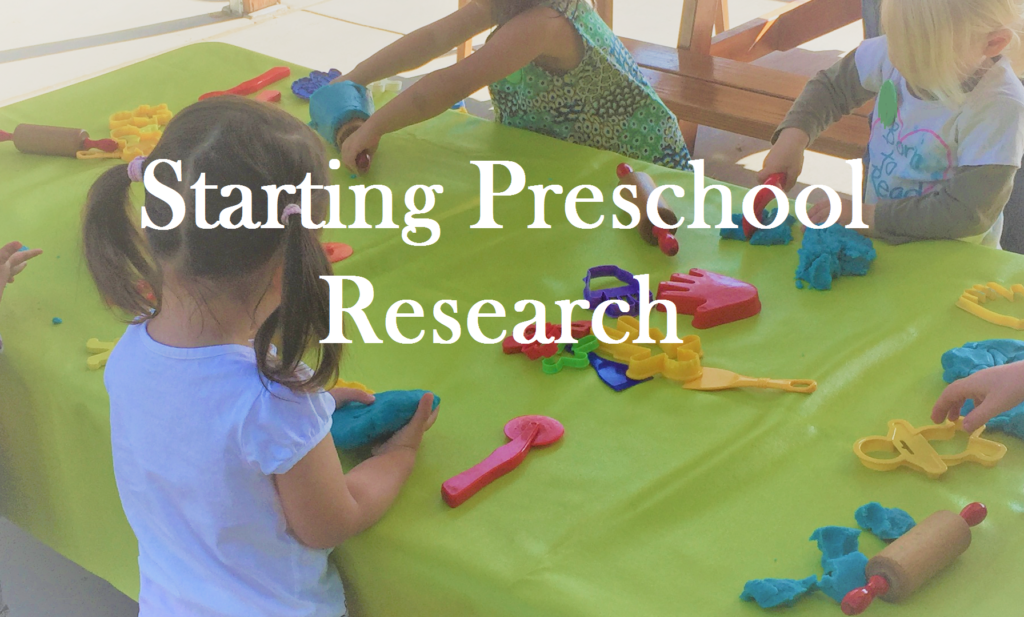 I am NO EXPERT on early childhood education.
Which is why I would have really appreciated an overview guide like this a year ago, when I was neck-deep in preschool research. It can be a daunting task. There is still so much I don't know, but my goal is to give new parents an idea of what kind of things to consider when getting started on preschool research. I want to help you narrow down your goals and organize your thinking. I'll talk about the different factors you might consider as well as some of our thinking as we worked through our decision for our preschooler.
Ultimately, I don't think there's any one best philosophy or type of preschool for all kids. I think they all offer different and wonderful ways for your child to grow, and you should find something that works best for you and your child!
Where do I start my research?
Your preschool decision can be as simple as finding the closest preschool to your house, or finding one on the way to work. You visit and it's warm, welcoming, and the kids are thriving. GREAT. Done. You are so efficient!
Others go with the recommendations of friends, which is a great place to start. Your friend raves about her child's class and school. You visit, it's just lovely, and you see her child thriving there. Sure, why not? Easy peasy, you are done!
If you're like me, though, you take about 100 factors into consideration, weigh each one (using an Excel spreadsheet), agonize over how important each one is (both now and in nine months, when she would actually be enrolled), and flit back and forth as you get input from friends, the Internet, reviews, and your "gut feeling" after you've toured the school (not to mention the pressure of waiting lists!).
Sometimes, I really wish I were not that parent, because the first two scenarios seems so simple and everyone I know is still very happy with it. The best advice I got from a friend was, "Jo, don't overthink it."
So maybe you should do yourself a favor and stop reading right now ;). But if you must, then press on. Good luck. And really, try not to overthink it.
Different Types of Preschools
In my research, I came across five main different types of preschools: traditional, play-based, Montessori, co-ops, and home-based. While most preschools have elements from more than one category (i.e. "play-based co-op"), these are teaching philosophies and styles you might want to grow more familiar with.
read more
January 24, 2017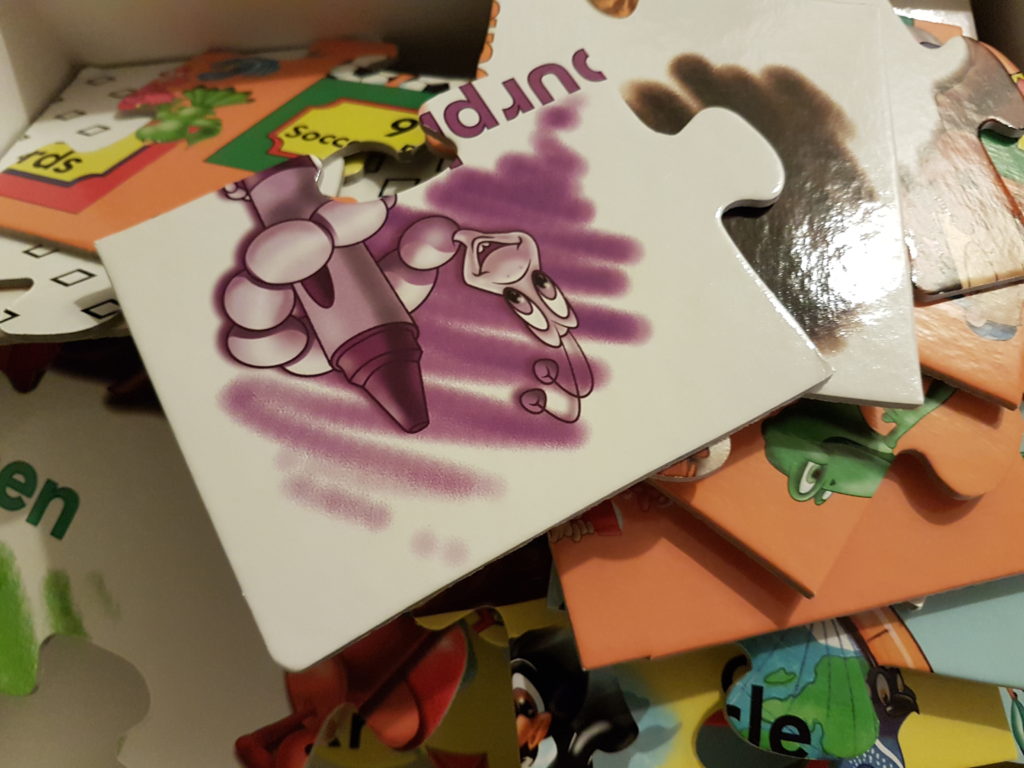 "See, this is a corner," I say slowly, poking my finger against the point of the puzzle piece. "There are only four corners in this puzzle, so there are only four places th-"
"Here?" she interrupts, trying to shove the piece in, "Here?" she continues, trying another spot haphazardly.
"Well, look at the colors-"
"Here?" she says, sticking it on a non-corner spot.
Ugh. Okay, new strategy.
"Well, look there's also a border. This line right here," I pull her finger along the bright blue line, "This is a border. So turn the piece so the lines connect on the outside."
I know I'm losing her, even as I'm trying to make it tactile for her.
read more
December 1, 2016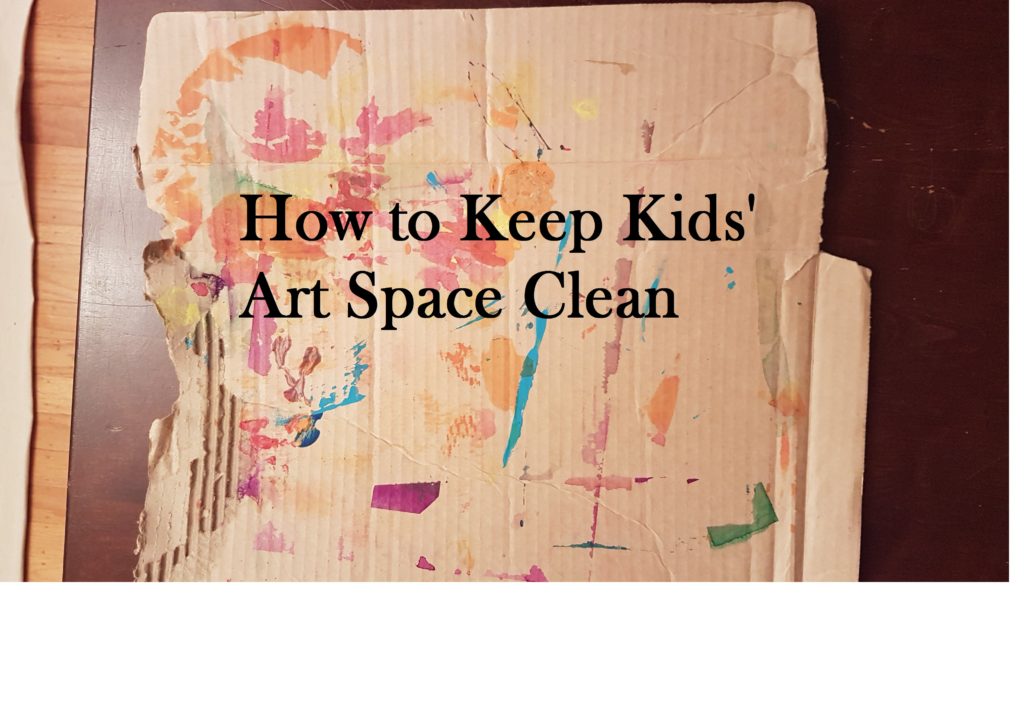 Have any of you taken the leap and started an art space for your child? I was so happy to hear that my brother and sister in law went out and stocked up on art supplies after seeing my post! I'd love to see pictures of your child's work or photos of your space if you've done it, too! Now, if you've actually gone and started the whole art thing, you're probably running into a common problem/fear of parents of kids with paint: MESS
read more
November 23, 2016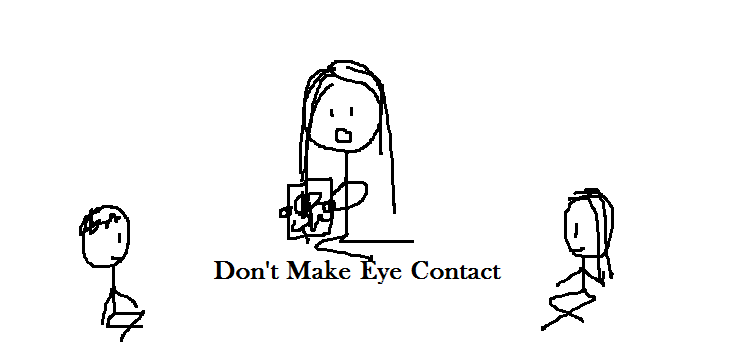 I attended a training for Sunday school teachers this past weekend, and came across the most unexpected piece of advice: don't make eye contact with the students.
Wait, what?? Did I hear that correctly? Don't make eye contact?
Yet I knew inside, even as I wondered this, that it was exactly what the instructor meant. Because as I thought back to her slow and deliberate model lesson earlier that day, I remembered that she had indeed kept her eyes down on the materials and on her hands the entire time. It had been calming and strangely entrancing.
But it was still very counter-intuitive for me. She went on to explain, "This will be especially hard for those of you who come from a teaching background."
Yes.
"You're used to making eye contact to keep the students engaged and to make sure they are paying attention. You need to release your students from that. Release them from that. If they are trying too hard to look at you to show you they are paying attention, then they won't be able to see the lesson and focus as well."
Hrh. I guess that made sense, in a sad, ironic sort of way: The effort I put into helping them stay focused could be the very thing that took away from their complete focus.
read more
November 3, 2016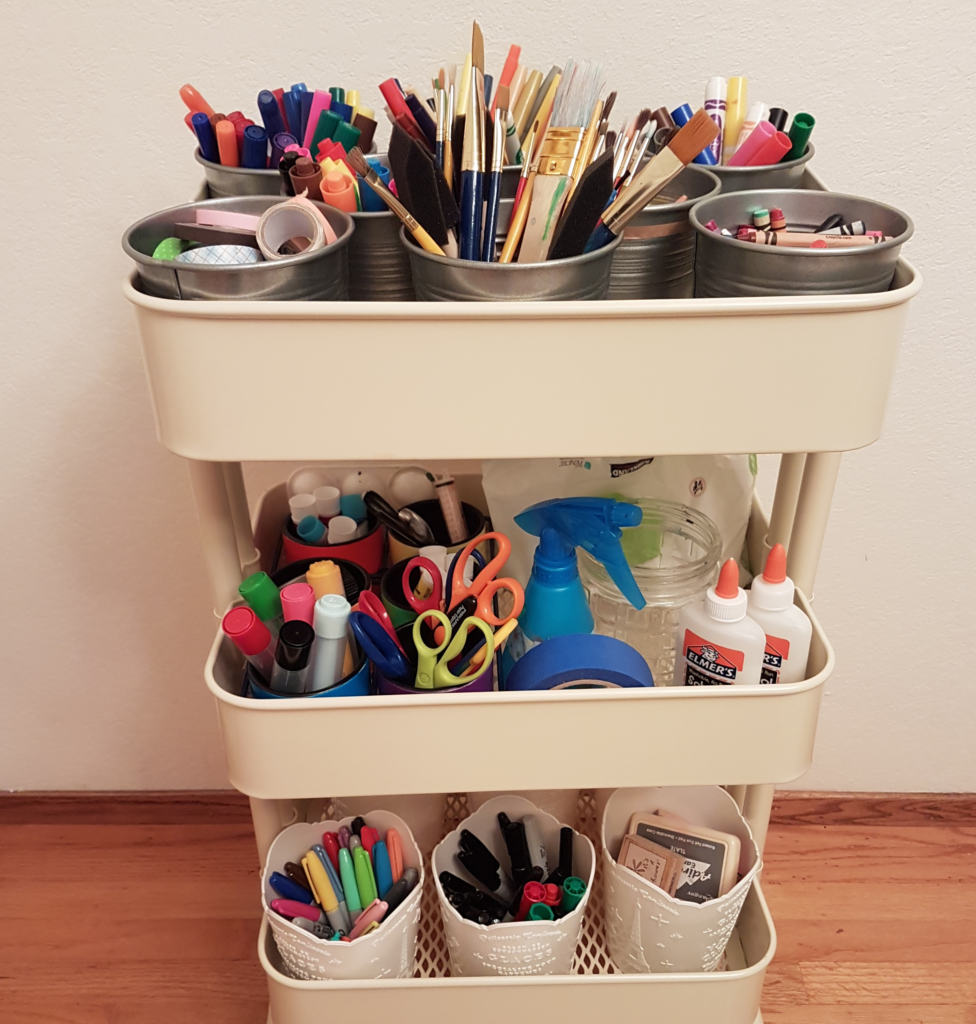 We are fortunate enough to have a dedicated art room. I basically decided we weren't going to attempt fancy dinner parties anymore and gave away the dining table and chairs. (Everybody likes scrappy dinners better anyway, right?? I mean, at least they happen.) And just like that, we had a dedicated room just for making things.
I didn't fill the space with a ton of stuff. Just a low shelf, a kid-sized table with chairs, and a rolling "art cart" full of art supplies. But before we got rid of the dining table, when I was still in my let's see if this art thing is really going to stick phase, the only thing that made that space "the art room" was the art cart. It was a great start to our art studio, and if need be, it would have been enough on its own to accomplish most of the things I wanted to do with the art space.
What is an art cart? It's just what it sounds like. It's our 3-tiered rolling IKEA cart that I've stocked full of the most-used art supplies. Here are five reasons why I love it and would keep it even if we downsized:
read more
October 27, 2016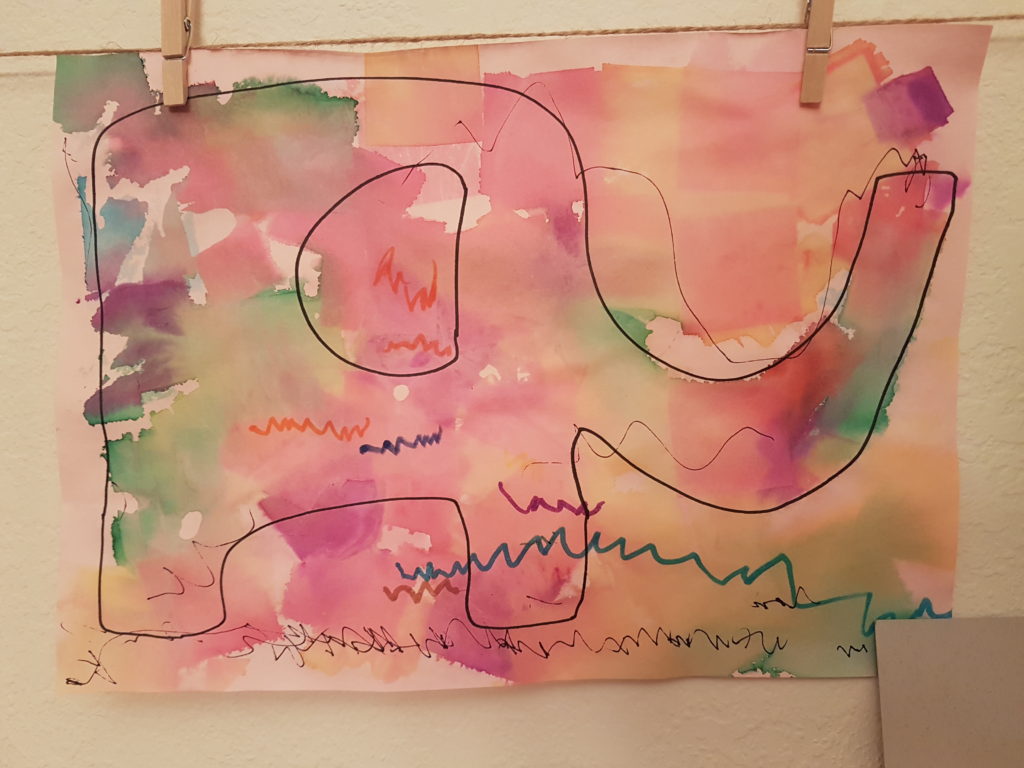 Elephant: Tissue paper squares and a spray bottle 🙂 I drew the elephant outline with a sharpie. The rest was all her! 
Originally, I wanted a maker space. A "tinker lab." A place where my child could go and cut, glue, saw, tape, wire, and mold things from her imagination to reality. Robots, pulleys, cars, machines.
But she's still two, so for now, I need her to get familiar with the basics first. So far, that means paper, markers, glue, tape, scissors, and paint. You'd be surprised how much a toddler can do with those few items and, paradoxically, how hard it is to think of new things to do with those few items. At least it is for me. I'm not super creative myself, but I really like copying neat stuff other people do. So I've been all over the Internet and Instagram researching and now have endless hours of inspiration at my fingertips. I'm sure you'll be seeing some of that here :).
This space has been GREAT for our family for so many reasons. My toddler has developed her fine motor skills like craaazy with all that drawing, coloring, painting, taping, and cutting. She has learned to use a bunch of different tools (like scissors, brushes, tape, glue, straws, syringes, pipettes, and clothespins) and mediums (watercolors, crayons, markers, tempera paints, ribbons, washi tape). Some days, she comes home and declares that she needs art time, and she walks right over and starts cutting paper. I think it's one way she unwinds and calms her mind after busy activities, and I love that she has that option.
One of my biggest hopes for this space was that it would provide her a place to do stuff independently. And parents, it has been a dream come true. One of the things I love most about this space is
read more
September 30, 2016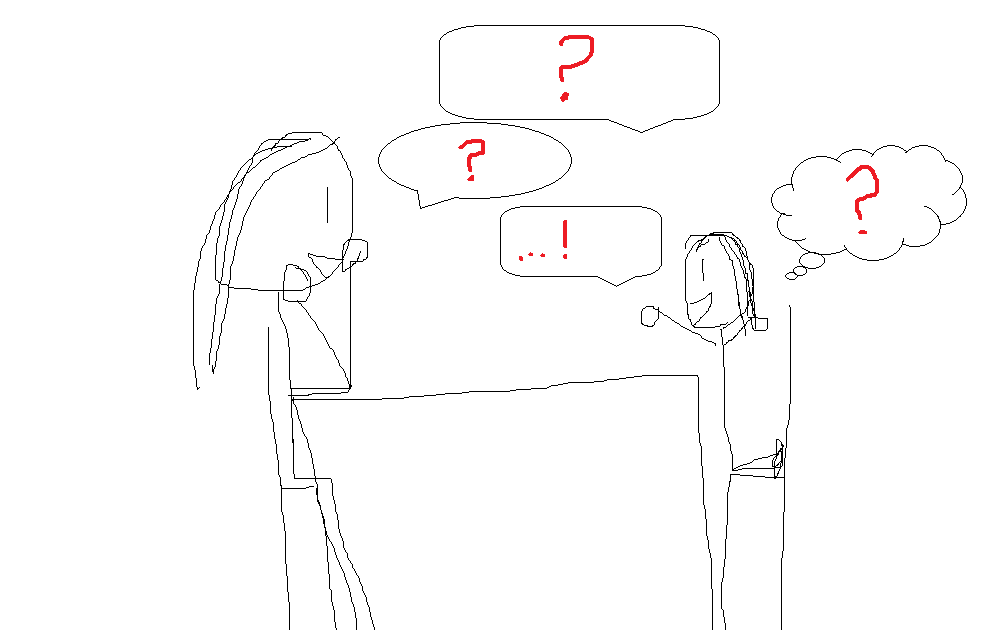 Children are curious creatures. What was that? Where are we going? What are you doing? Why is he wearing that? Why?
Why?
Why?
How do you respond to all of these questions? I used to think I was doing my daughter a favor by answering her questions.
Daughter: "What was that sound?"
Me: "An airplane."
Sometimes my answers were more involved:
Daughter: "What is that sound?"
Me: "It's the sound that tells people that it's okay to walk across the street. Most people can see the walking man sign that tells us it's okay to walk, but some people can't see it, so this sound tells them when it's time to cross."
I'd run with it and take it as a teaching moment to tell her more about people with disabilities and then segue into a lesson about compassion and empathy. She would eat it all up. Boy, I LOVE TEACHING! I just can't stop myself. I enjoy being the first to unveil the mystery of why people walk outside with umbrellas on sunny days and what all the weird noises are. I love to watch her learn new things, discover how the world works, and make sense of things. But that's just the thing: If I am always giving her the answers to her questions, maybe she won't learn very well how to discover answers on her own and make sense of things herself.
If I simply answer all the questions, I rob her of the opportunity to think for herself, to hypothesize, and to develop confidence in her own ability to discover answers. Maybe all my teaching and answer-giving is actually doing her a disservice! 
read more
July 29, 2016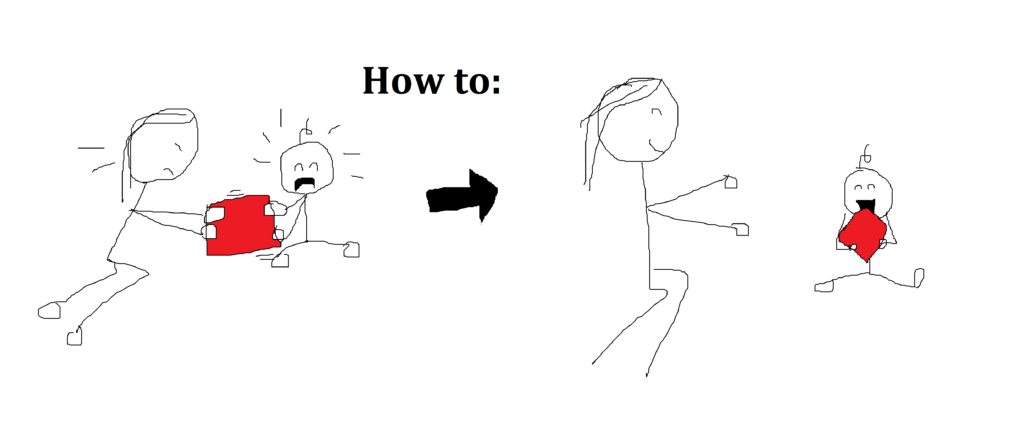 "No, No! DON'T. TAKE. MY. BOOK!!!!" she cried, running over and yanking the book out of his hands.
He had recently learned to crawl, and his new life goal was to put every object into his mouth.
"THAT'S MINE."
You'd think it was her favorite treasured book, but really it was just one of many books that she enjoyed reading. That's just how it is though, isn't it? When someone else wants it, its specialness suddenly spikes and we feel extra possessive for it. I'm still like this, even as I try to train my daughter to respond otherwise.
How would you respond in this situation? Make her give it back? Encourage her to share with him? Ignore it? Tell her to take turns with him? Let her keep it and distract him with something else to play with?
Here's what I do: I remind her to be more gentle, and then I have her practice being more gentle right then and there. 
"Sweetie, you need to be more gentle with your little brother. Let's try that again. This time, gently ask him if you can use the book, and if he's okay with it, take it away- gently. Let's see it."
I place the book back in his hands and watch her try again, this time doing everything with more gentleness and respect. 
read more
May 18, 2016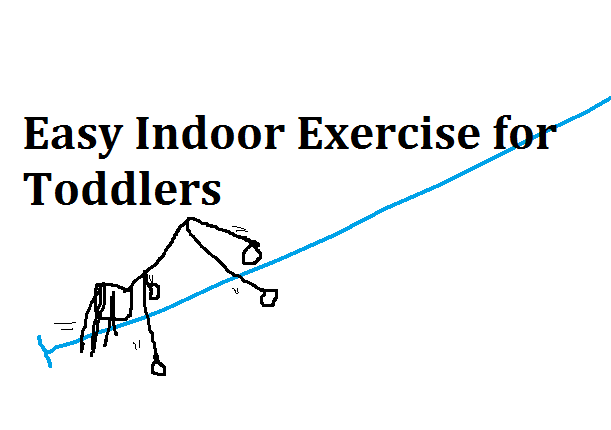 Bear-crawling along the blue line
There is a long line of blue tape that runs across our living room. It looks like a very, very long "I." It's only been there for a few days, and I'm already forgetting that it's a weird look in a house. Blue tape? Across the floor? What's so weird about that? Doesn't everybody have a pretend balance beam running across their rug and wooden floor?
Well, as long as it makes sense to my toddler, it's all good. It's there because when I started taking her to gymnastics class a few weeks ago, I realized she had some room to improve when it came to things like… walking straight haha. So I set down a blue line and did exercises with her every day, and the following week, she showed tremendous improvement in class! Bonus, it got her as good and tired as a good romp around a playground would have done… without stepping foot outside of the house! This is always a win when you're holing yourself up at home for the afternoon so the baby can get a good nap in!
Here are some of the exercises we've been practicing. If you've got a toddler in the house, try 'em out! You can use an existing straight line that goes across the kitchen or put some blue tape down to make it feel official. It's amazing how many activities you can build around a straight line!
read more