July 5, 2017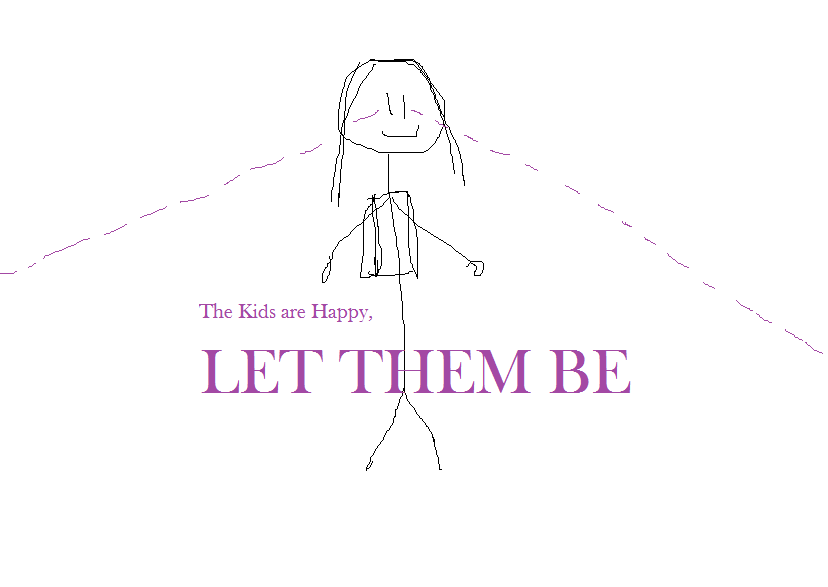 I was standing near the shipwreck, angling myself so I could keep one eye on my daughter digging in the gravel pit and one eye on my son as he climbed up and down the mini bridge. Minutes passed, and for the most part, I stayed where I was, willing myself not to interrupt my children's play and holding back even as I watched a boy treat my daughter unkindly. To a stranger, it might have appeared that I was disengaged and not really watching any kids, but really, I had my eye on both while I tried to give them space to be immersed in their play and explore and learn independently.
As I stood there, I listened as a dad excitedly showed his child something neat about the water area. They remained for a few moments, and then just as quickly, the dad said, "Okay, let's go, let's see what else there is."
"Wait I just want to try-"
"No, c'mon, we have to see the other exhibits!" the dad insisted.
After a moment, his child reluctantly left the water area and trekked after his father. As I stood there, unhurried as my daughter continued to scoop gravel and my son continued to climb up and down, it occurred to me that just a year ago, I had been just like this father.
read more
May 31, 2017
6/4/2017 UPDATE: Congrats to Natalie, the winner of our giveaway! Thank you all for participating!
I'm a big fan of letting kids have space to be bored, so when EQtainment sent me this article to share, it seemed like a perfect fit! It's a more succinct version of what I would say, and I am happy to share it here with you today!
Scroll to the bottom to see the great giveaway we have for you today, too!
5 Reasons "I'm Bored" Should Be Music to Your Ears
Guest post from EQtainment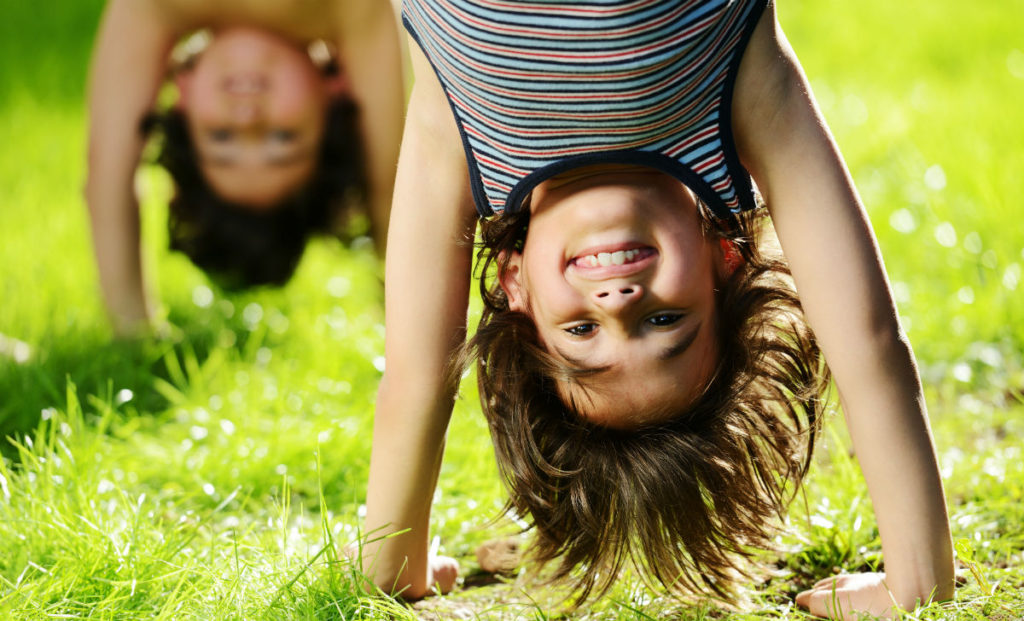 What should you do next time your kid says "I'm bored"? Hint: Nothing! In fact, here are five reasons to do yourself and your kid a favor, and let boredom be.
Boredom is the key to unlocking your child's creativity.
Complaining about being bored gets pretty boring pretty fast. Finding ways to fill unstructured time is how your child finds their muse. Whether they use that time to build a fort out of couch pillows, make a mud pie, or pull pots out of the cabinet and bang on them with a spoon, boredom breeds inspiration.
Being bored encourages kids to learn to amuse themselves without digital distractions.
If you automatically hand your kid your phone every time you sit down at a restaurant or get in the car, you're robbing them of the chance to learn to talk with their own family, or even just look out the window. Enjoying the company of others — and yourself — is fundamental to well-being. Want to take it to the next level? Declare every Saturday or Sunday as Digital Day Off for the whole family.
Boredom gives children a reason to challenge themselves.
When a kid is constantly busy, they may not get the time to perfect a drawing, or finish a puzzle, or practice shooting baskets in the driveway. Boredom is the chance to work at something hard and build a skill — and in turn, self-confidence.
Free time is time to be free.
When a kid has nothing to do, they learn to just be. Slowing down means time to recharge. Even kids get stressed when they don't get that opportunity.
Being bored motivates kids to explore their world — and themselves.
Between soccer and piano lessons (never mind school), kids spend a lot of time learning what we want them to learn. But without free time with nothing to do, they don't get the chance to try things on their own and figure out what they like to spend time doing. That's why it's so important to schedule some unscheduled time into your weekly routine. Maybe they'll catch caterpillars in the backyard, or make up a new recipe, or grab their crayons and Q's Coloring Book. Whatever they decide to do, they'll love the chance to be in control and discover who they are.
---
A note from JoEllen: 
EQtainment also sent me some products including a game called Q's Race to the Top. I wasn't expecting to be wowed, but the reviews don't lie- this game is a winner! It is unlike any other kids game I have played with my children. The first time I played it with my daughter, my husband saw the fun we were having and exclaimed, "This game is awesome! I want to play!" I could tell he genuinely did. 

Before I had played it, I was planning to just do a quick mention of the game, but I can't help myself- it's easily our family's favorite game now, and a must-have if you want to laugh, be silly and active, and have really interesting conversation with your kids. I've learned fascinating things about my daughter, like what she thinks about at night before going to sleep, and which rules at home she thinks are good (and not good haha). It offers opportunity for thinking through various social and behavioral scenarios without feeling like a lesson or chore.
I'm always curious to know what my kids are thinking, but don't always know how to tap into their brains- this game gives a really unique perspective while helping us coach them toward better behavior and emotional health. LOVE. 
GIVEAWAY:
I am so eager for you all to try this game that I asked EQtainment if they'd be up for a giveaway, and they said yes! Enter below for a chance to win a Q's Race to the Top board game and a year's subscription to the Q Wunder app (including access to premium content). You can enter daily through Saturday, 6/03, and I'll announce the winner here on Sunday! Thanks, EQtainment!
April 26, 2017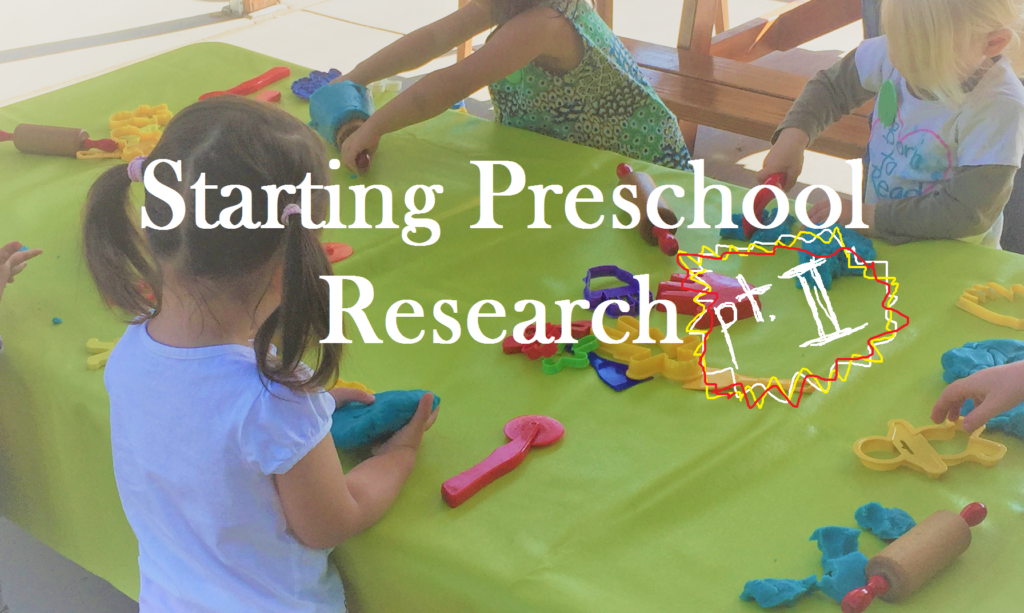 Okay, you've got an idea about what kind of preschool you'd like to send your child to (read more here). Great! Now what? Warning: reading this next section might just make this decision feel even more complicated than it needs to be, so proceed with caution ;). Here are a few more things you might consider as you decide on a preschool.
Physical environment
Playground and structure: If this is where your child is going to be all day every weekday, it would be great to find a play area that offers a lot of variety for gross motor development. My goal last year was to find a great play-based program, so I always made it a point to check out the outside play area and gave extra points for irregular surfaces (to develop balance and coordination, as opposed to just cement or rubberized play surfaces), a bike circle (to practice going on scooters and balance bikes), and a variety of play equipment (swings, bars, sand, climbing structures, etc.)
Classroom environment: Does it feel warm and welcoming? Is it neat and organized? Is the room set up so that children can feel ownership of the space? Is it safe and open? Do the walls show student work? Does the student work look uniform, or does it look like students were given freedom to be creative?
read more
April 19, 2017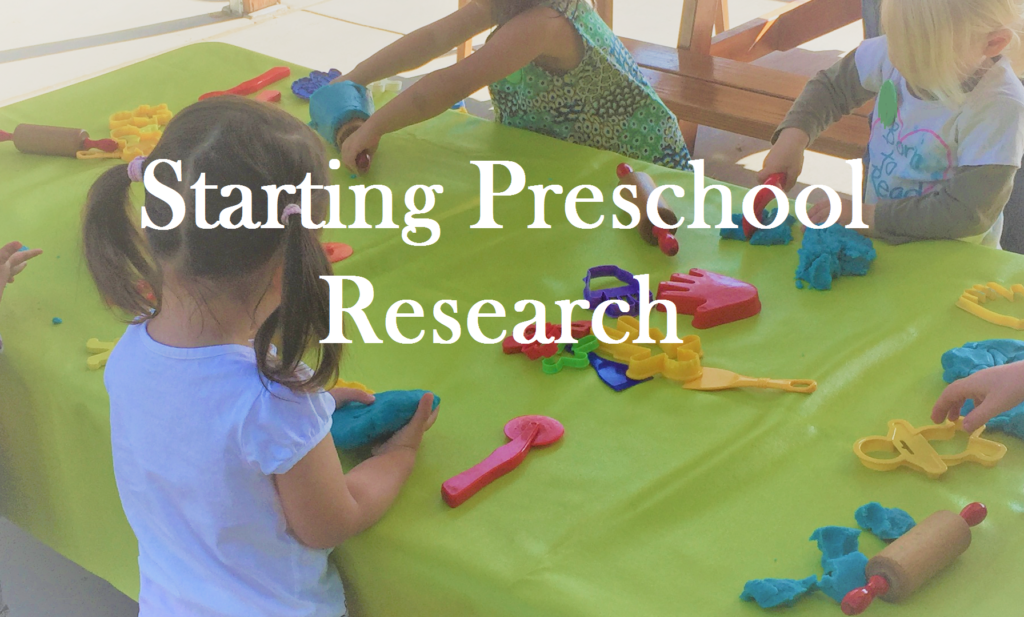 I am NO EXPERT on early childhood education.
Which is why I would have really appreciated an overview guide like this a year ago, when I was neck-deep in preschool research. It can be a daunting task. There is still so much I don't know, but my goal is to give new parents an idea of what kind of things to consider when getting started on preschool research. I want to help you narrow down your goals and organize your thinking. I'll talk about the different factors you might consider as well as some of our thinking as we worked through our decision for our preschooler.
Ultimately, I don't think there's any one best philosophy or type of preschool for all kids. I think they all offer different and wonderful ways for your child to grow, and you should find something that works best for you and your child!
Where do I start my research?
Your preschool decision can be as simple as finding the closest preschool to your house, or finding one on the way to work. You visit and it's warm, welcoming, and the kids are thriving. GREAT. Done. You are so efficient!
Others go with the recommendations of friends, which is a great place to start. Your friend raves about her child's class and school. You visit, it's just lovely, and you see her child thriving there. Sure, why not? Easy peasy, you are done!
If you're like me, though, you take about 100 factors into consideration, weigh each one (using an Excel spreadsheet), agonize over how important each one is (both now and in nine months, when she would actually be enrolled), and flit back and forth as you get input from friends, the Internet, reviews, and your "gut feeling" after you've toured the school (not to mention the pressure of waiting lists!).
Sometimes, I really wish I were not that parent, because the first two scenarios seems so simple and everyone I know is still very happy with it. The best advice I got from a friend was, "Jo, don't overthink it."
So maybe you should do yourself a favor and stop reading right now ;). But if you must, then press on. Good luck. And really, try not to overthink it.
Different Types of Preschools
In my research, I came across five main different types of preschools: traditional, play-based, Montessori, co-ops, and home-based. While most preschools have elements from more than one category (i.e. "play-based co-op"), these are teaching philosophies and styles you might want to grow more familiar with.
read more
January 24, 2017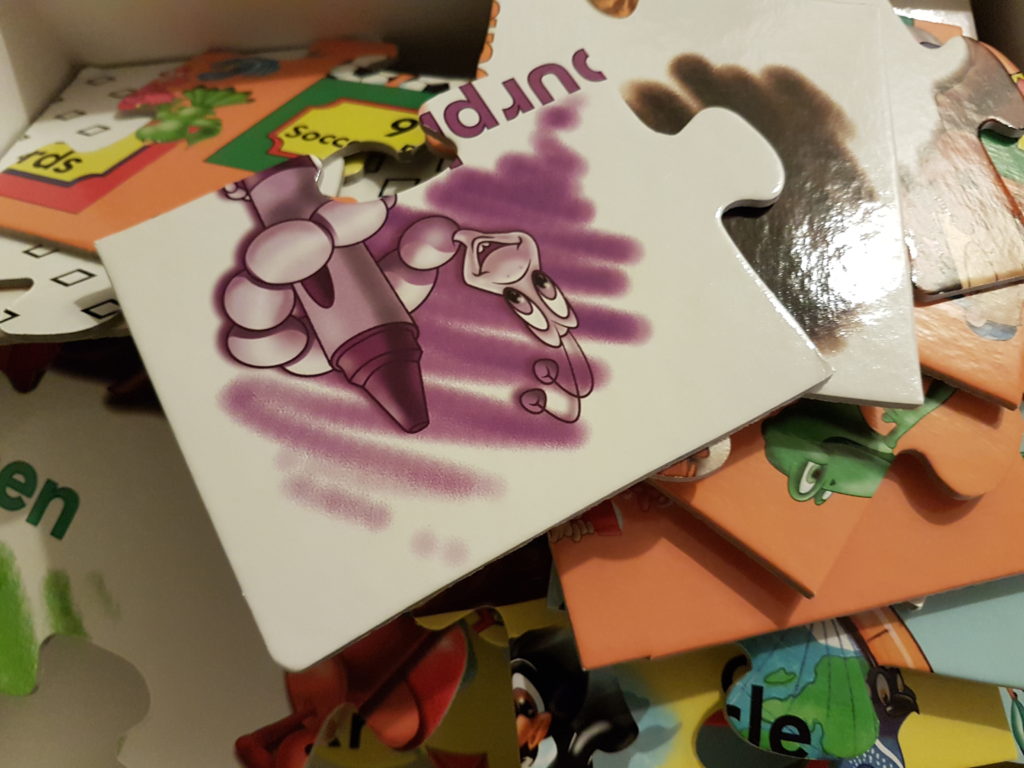 "See, this is a corner," I say slowly, poking my finger against the point of the puzzle piece. "There are only four corners in this puzzle, so there are only four places th-"
"Here?" she interrupts, trying to shove the piece in, "Here?" she continues, trying another spot haphazardly.
"Well, look at the colors-"
"Here?" she says, sticking it on a non-corner spot.
Ugh. Okay, new strategy.
"Well, look there's also a border. This line right here," I pull her finger along the bright blue line, "This is a border. So turn the piece so the lines connect on the outside."
I know I'm losing her, even as I'm trying to make it tactile for her.
read more
December 1, 2016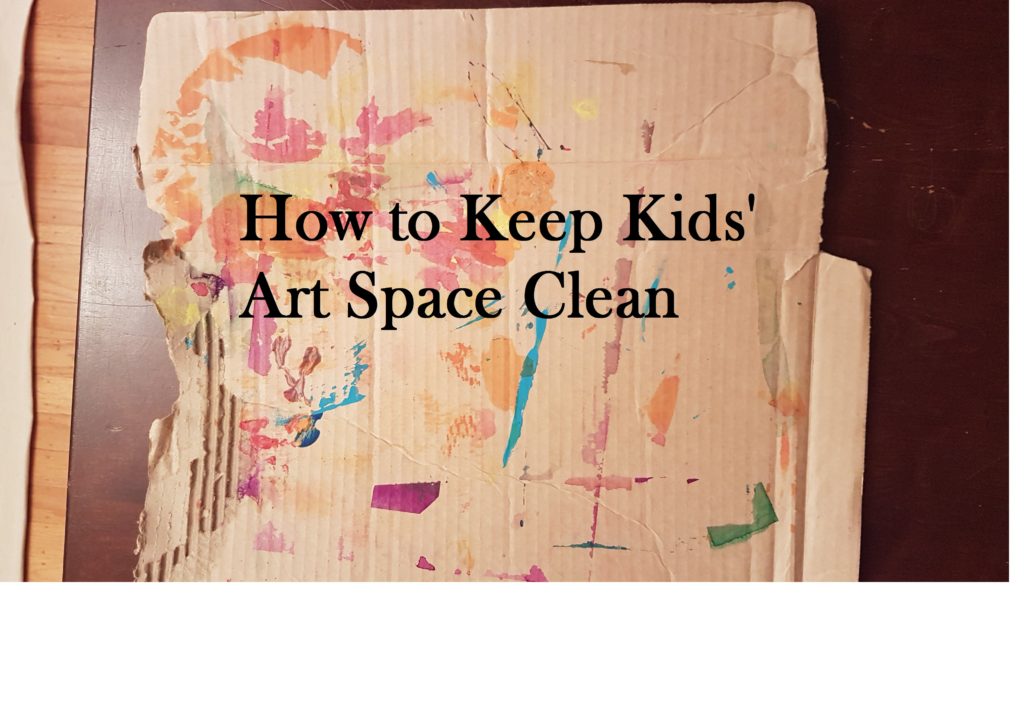 Have any of you taken the leap and started an art space for your child? I was so happy to hear that my brother and sister in law went out and stocked up on art supplies after seeing my post! I'd love to see pictures of your child's work or photos of your space if you've done it, too! Now, if you've actually gone and started the whole art thing, you're probably running into a common problem/fear of parents of kids with paint: MESS
read more
November 23, 2016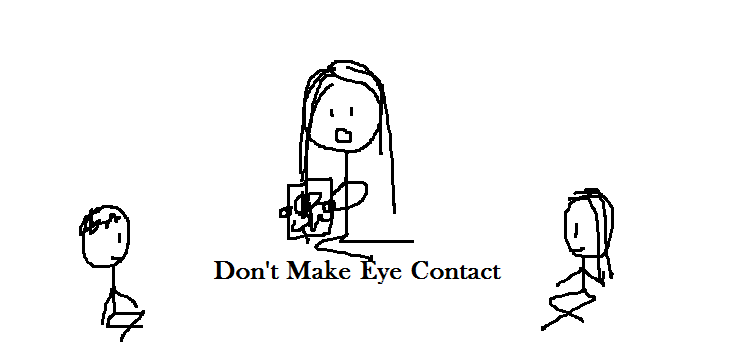 I attended a training for Sunday school teachers this past weekend, and came across the most unexpected piece of advice: don't make eye contact with the students.
Wait, what?? Did I hear that correctly? Don't make eye contact?
Yet I knew inside, even as I wondered this, that it was exactly what the instructor meant. Because as I thought back to her slow and deliberate model lesson earlier that day, I remembered that she had indeed kept her eyes down on the materials and on her hands the entire time. It had been calming and strangely entrancing.
But it was still very counter-intuitive for me. She went on to explain, "This will be especially hard for those of you who come from a teaching background."
Yes.
"You're used to making eye contact to keep the students engaged and to make sure they are paying attention. You need to release your students from that. Release them from that. If they are trying too hard to look at you to show you they are paying attention, then they won't be able to see the lesson and focus as well."
Hrh. I guess that made sense, in a sad, ironic sort of way: The effort I put into helping them stay focused could be the very thing that took away from their complete focus.
read more
November 3, 2016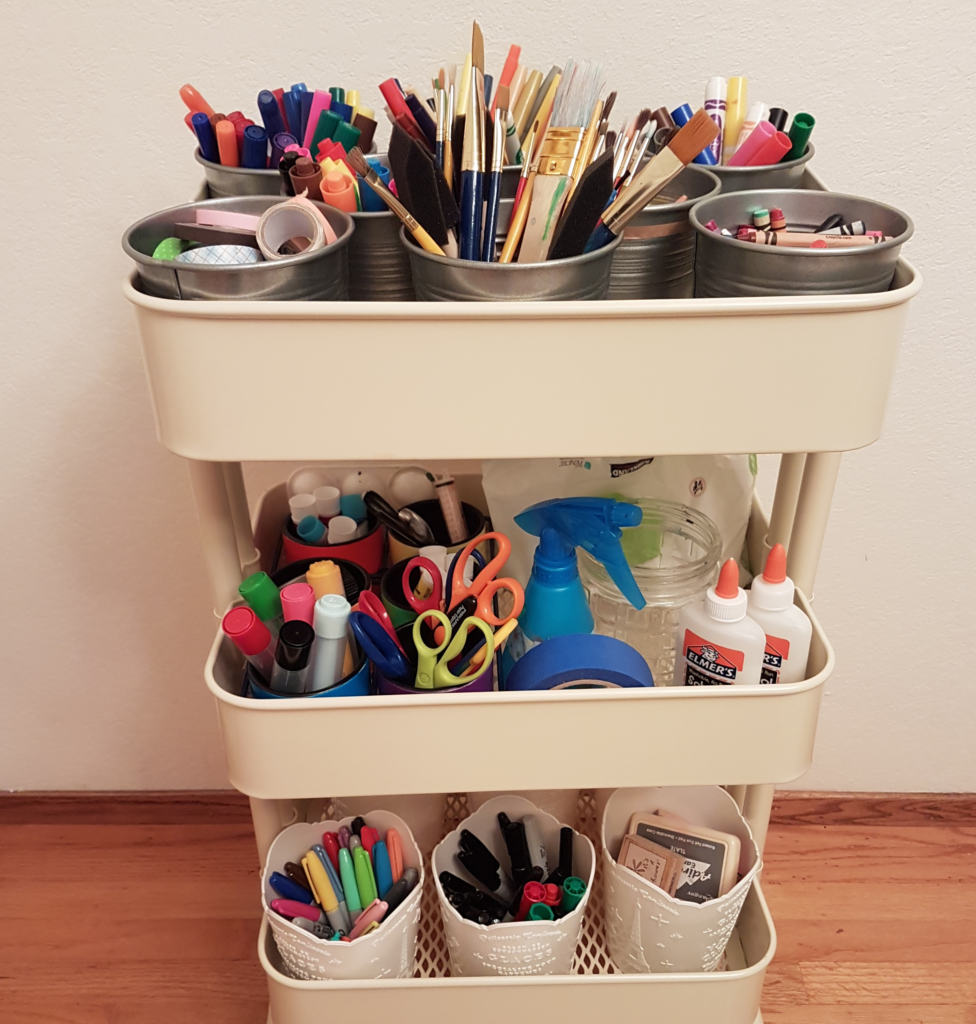 We are fortunate enough to have a dedicated art room. I basically decided we weren't going to attempt fancy dinner parties anymore and gave away the dining table and chairs. (Everybody likes scrappy dinners better anyway, right?? I mean, at least they happen.) And just like that, we had a dedicated room just for making things.
I didn't fill the space with a ton of stuff. Just a low shelf, a kid-sized table with chairs, and a rolling "art cart" full of art supplies. But before we got rid of the dining table, when I was still in my let's see if this art thing is really going to stick phase, the only thing that made that space "the art room" was the art cart. It was a great start to our art studio, and if need be, it would have been enough on its own to accomplish most of the things I wanted to do with the art space.
What is an art cart? It's just what it sounds like. It's our 3-tiered rolling IKEA cart that I've stocked full of the most-used art supplies. Here are five reasons why I love it and would keep it even if we downsized:
read more
October 27, 2016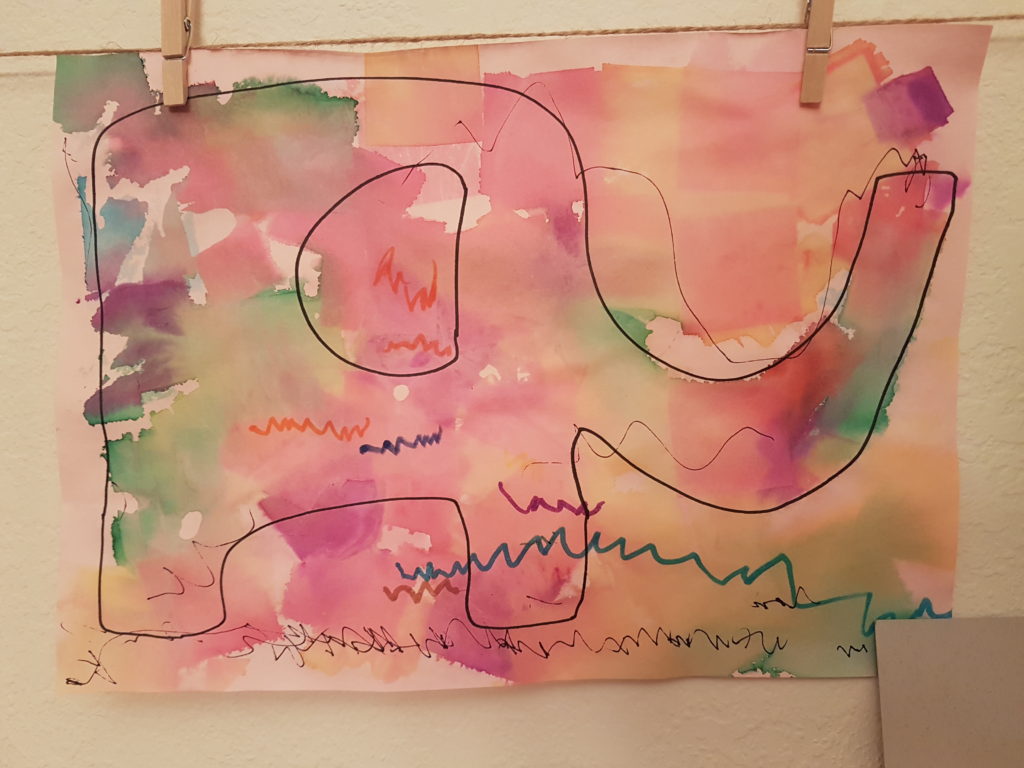 Elephant: Tissue paper squares and a spray bottle 🙂 I drew the elephant outline with a sharpie. The rest was all her! 
Originally, I wanted a maker space. A "tinker lab." A place where my child could go and cut, glue, saw, tape, wire, and mold things from her imagination to reality. Robots, pulleys, cars, machines.
But she's still two, so for now, I need her to get familiar with the basics first. So far, that means paper, markers, glue, tape, scissors, and paint. You'd be surprised how much a toddler can do with those few items and, paradoxically, how hard it is to think of new things to do with those few items. At least it is for me. I'm not super creative myself, but I really like copying neat stuff other people do. So I've been all over the Internet and Instagram researching and now have endless hours of inspiration at my fingertips. I'm sure you'll be seeing some of that here :).
This space has been GREAT for our family for so many reasons. My toddler has developed her fine motor skills like craaazy with all that drawing, coloring, painting, taping, and cutting. She has learned to use a bunch of different tools (like scissors, brushes, tape, glue, straws, syringes, pipettes, and clothespins) and mediums (watercolors, crayons, markers, tempera paints, ribbons, washi tape). Some days, she comes home and declares that she needs art time, and she walks right over and starts cutting paper. I think it's one way she unwinds and calms her mind after busy activities, and I love that she has that option.
One of my biggest hopes for this space was that it would provide her a place to do stuff independently. And parents, it has been a dream come true. One of the things I love most about this space is
read more
September 30, 2016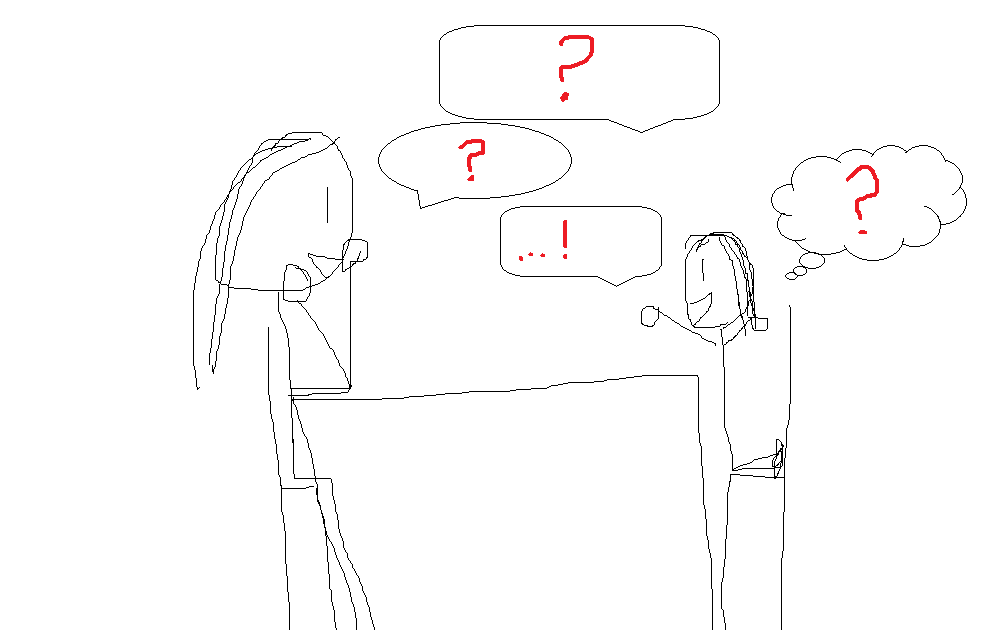 Children are curious creatures. What was that? Where are we going? What are you doing? Why is he wearing that? Why?
Why?
Why?
How do you respond to all of these questions? I used to think I was doing my daughter a favor by answering her questions.
Daughter: "What was that sound?"
Me: "An airplane."
Sometimes my answers were more involved:
Daughter: "What is that sound?"
Me: "It's the sound that tells people that it's okay to walk across the street. Most people can see the walking man sign that tells us it's okay to walk, but some people can't see it, so this sound tells them when it's time to cross."
I'd run with it and take it as a teaching moment to tell her more about people with disabilities and then segue into a lesson about compassion and empathy. She would eat it all up. Boy, I LOVE TEACHING! I just can't stop myself. I enjoy being the first to unveil the mystery of why people walk outside with umbrellas on sunny days and what all the weird noises are. I love to watch her learn new things, discover how the world works, and make sense of things. But that's just the thing: If I am always giving her the answers to her questions, maybe she won't learn very well how to discover answers on her own and make sense of things herself.
If I simply answer all the questions, I rob her of the opportunity to think for herself, to hypothesize, and to develop confidence in her own ability to discover answers. Maybe all my teaching and answer-giving is actually doing her a disservice! 
read more