June 18, 2019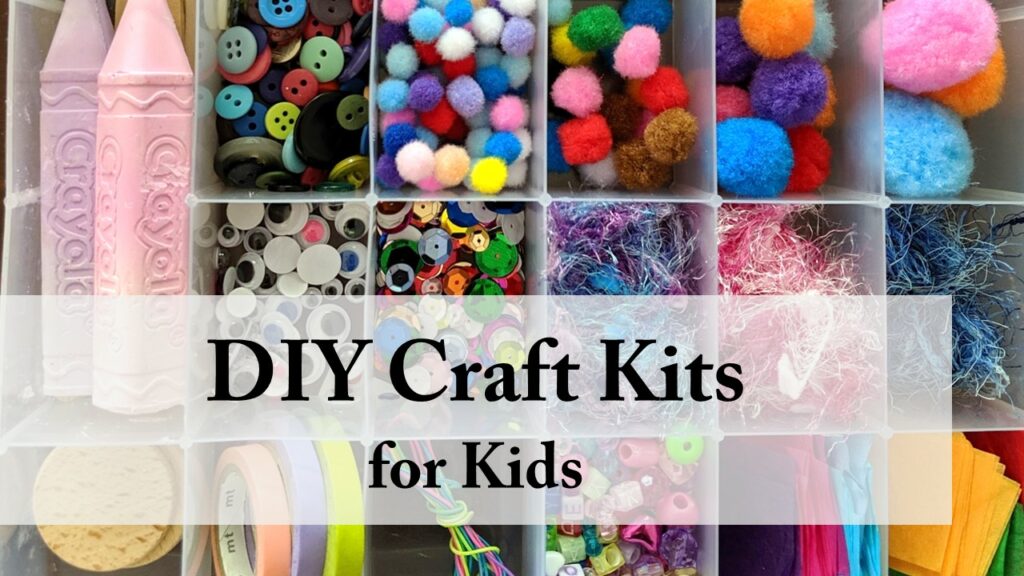 This post contains affiliate links
I love it when I have a gift idea for kids that is delightful for the recipient, is practical and not too messy/big/annoying/noisy for the parent, has any educational or STEAM value going for it, and brings me joy to give. Bonus points if it is at a reasonable price point! I was able to check all of those boxes last week when we were invited to a casual joint birthday party for two sweet preschoolers. My daughter and I put together a festive little craft kit for each of the two birthday kids, and soon after we left the party, the moms both sent happy snapshots of their kids putting their new crafting materials to use! It was a hit with the moms and kids: HOORAY!!
read more
March 9, 2019
This post contains affiliate links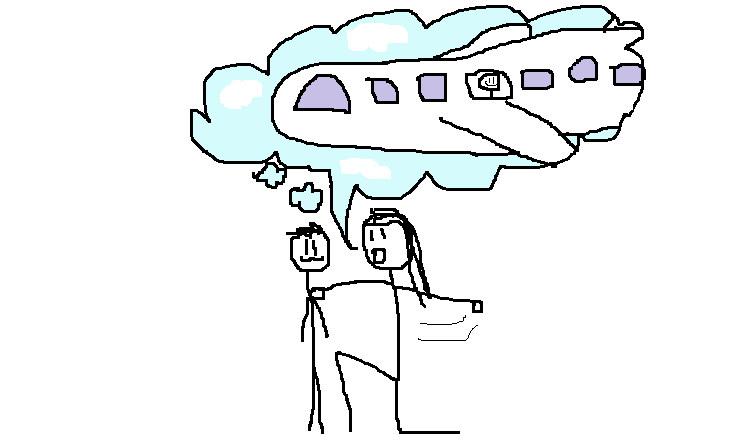 I was meeting with some moms one night and couldn't help but gush over the book I had just started, How to Talk so Kids Will Listen. These were the same authors who had penned my recent parenting favorite, Siblings Without Rivalry, so I knew they would have practical, doable, and effective parenting strategies. I had only read one chapter, but there was already so much to digest I had to put the book down to give myself a chance to process and practice it before moving on.
"Ok, so what's ONE thing you got from it so far?" asked the mom to my right.
"Hmm… well, my biggest personal takeaway so far has been empathy. Mostly because I'm so bad at it. But even saying something as simple as, 'You're very upset that your brother isn't sharing well. That's frustrating!' can go a long way in helping her process her emotions and move forward, without much or any further intervention from me," I replied.
This wasn't the first time the authors had emphasized the importance of empathy. The first book I read from them also had a lot to say about this, which I shared about last week, but clearly I needed to hear it again.
"But that was just one of the four strategies they presented in the first chapter! I was a little skeptical when reading some of the other ones at first–some sounded pretty bizarre–but as I finished looking through the examples I realized it did make sense and probably would help them feel better. I just would never ever have thought of it myself," I continued.
"Like what?" she asked.
"Hm… like, giving kids what they want… in fantasy," I said. I waited for the weirdness of this statement to sink in.
read more
February 25, 2019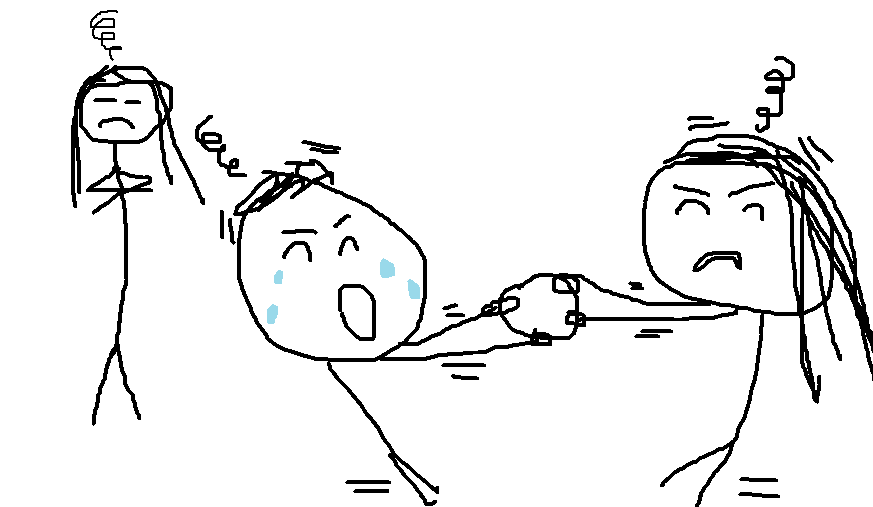 It was in November that I started to go crazy. Our school district gives the kids an entire week off for Thanksgiving, so I got to spend all day every day with both kids. This hadn't happened since summertime, and back then, my two year old was still young enough to be content with parallel play, or basically playing by himself. My four year old was not yet stressed out with the complications of adjusting to a big class in a big school, and everything felt easier. But sometime in the three months between, they both grew up a little.
My son now wanted to play with everything his big sister had. My daughter was frustrated with this immature boy who didn't know how to take turns or share properly. Thanksgiving break found me exasperated and frustrated as I endured the endless bickering between the siblings:
"Mommmmyyy!! He won't give me my toy back!"
"Mommmmmyyy! He threw my creation!!!"
"I'M NOT PLAYING WITH YOU!!!"
"MOMMMYYYY!! He HIT ME!!!!"
It was an endless stream of fighting, bickering, and tattling.
read more
November 23, 2018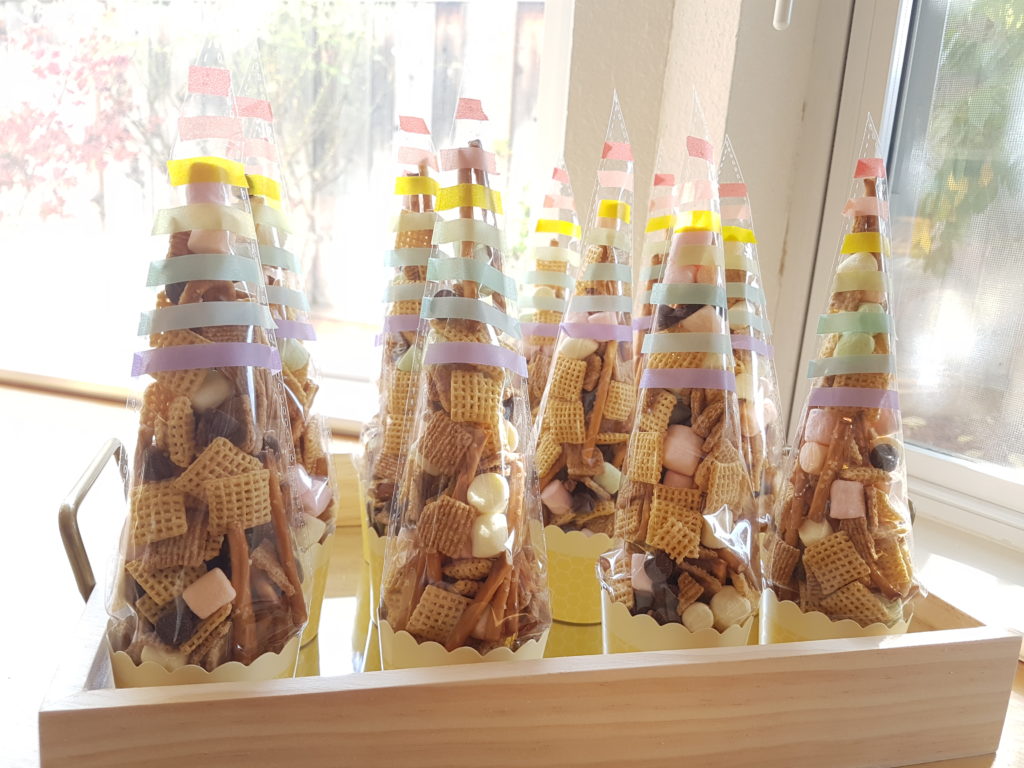 Earlier this month, we threw my daughter an epic unicorn birthday party! I love having an excuse to get super creative, and my little girly girl has brought out a pastel, sparkly side of me I never knew I had until I became her mommy. It was super fun trying to brainstorm fun, yummy, pretty things for her! I had started planning it months ahead of time, and the week leading up to it was definitely crunch time. I prepped or completed some food item every day until the big day, and of all the things I made, this might have been my very favorite. I called them Magical Unicorn Horns: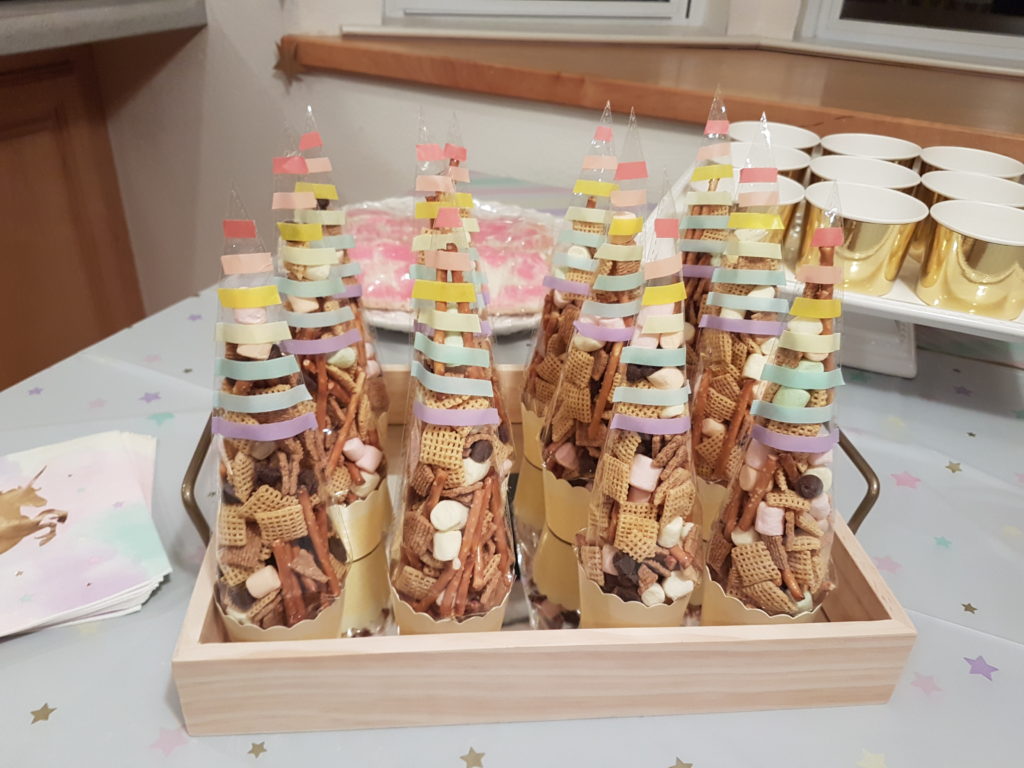 It's a yummy s'mores snack mix served in rainbow-decorated cone treat bags! These are EXTRA special because I think I might have come up with something ORIGINAL to contribute to the beautiful unicorn world of Pinterest!!! That's a pretty big blogger accomplishment! At first, I was just looking for an excuse to use those colorful pastel marshmallows since they looked pretty. I was searching along the "Unicorn Poop" theme, but nothing really stood out to me as something pretty and yummy-looking. I guess it doesn't help that I don't actually like these fruit-flavored marshmallows.
Then I gave up on making "unicorn poop" and decided to just make some yummy snack mix with marshmallows and Chex in it. I mean, you can't really go wrong mixing marshmallows and Chex, right? So I searched and searched for the perfect looking recipe, and eventually threw together my own combination of s'moresy snacks inspired by this snack mix recipe that I found: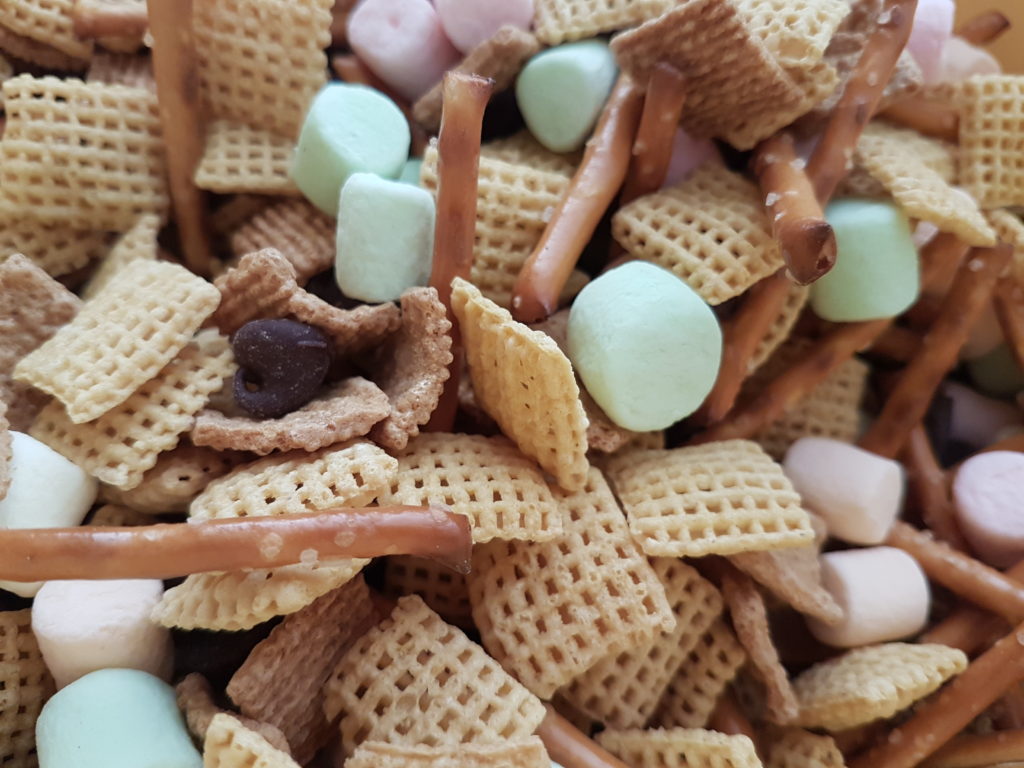 They were a hit! Not only did they look great in the "horns" that I displayed them in, but the kids could not stop snacking on them all throughout the party. In addition to the unicorn horn display, I had set out an open bowl of the same snack mix with little snack cups for easier access. Even with a unicorn cake, chocolate-dipped marshmallow wands, banana cream pie and Pirate's Booty on the table, they kept coming back for more of the s'mores snack mix.
So back to the pre-party prep: I was trying to think of a fun way to serve these up. Pretty cups? Bags? Ooh, maybe cone-shaped bags turned upside down to look like horns?? I ordered these cone-shaped bags, decided to experiment with some washi tape, and came up with this: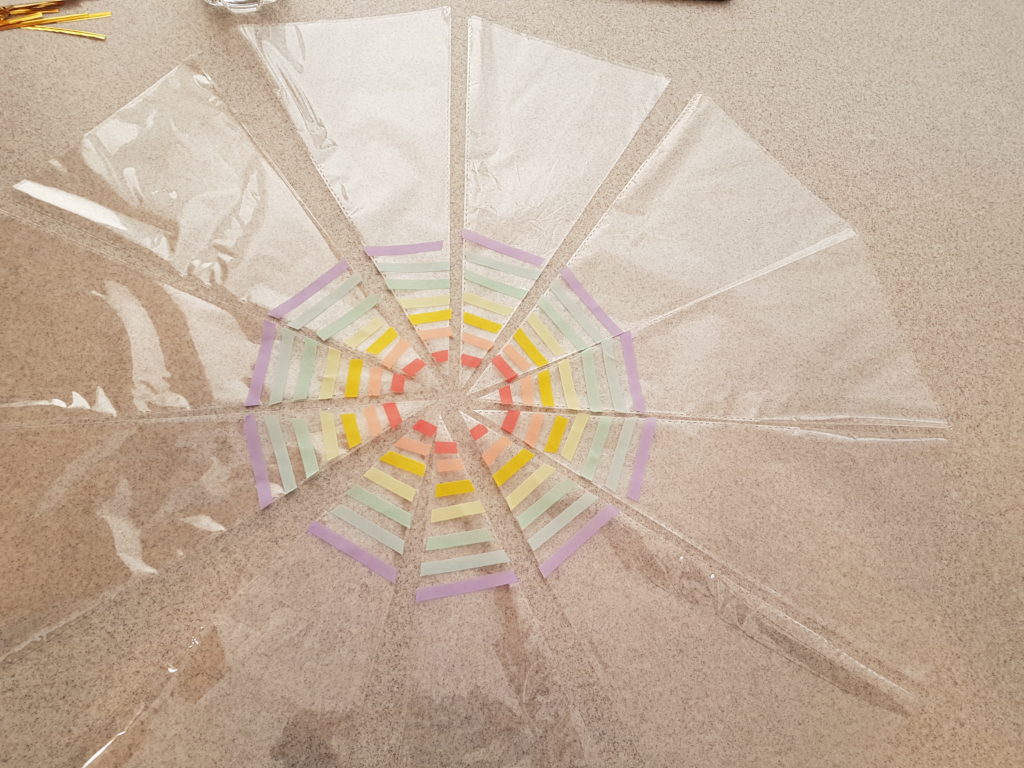 Once we got the Chex mix in, it was just a matter of getting them to stand up straight like horns. I tried righting them in muffin tins, but the sides weren't high enough and they kept tilting. Then I remembered these cupcake wrappers I'd picked up at Home Goods a while back. They are sturdy little cups you can put baked cupcakes into after they're all done and baked–kind of like wrapping paper for cupcakes (not to be confused with cupcake liners).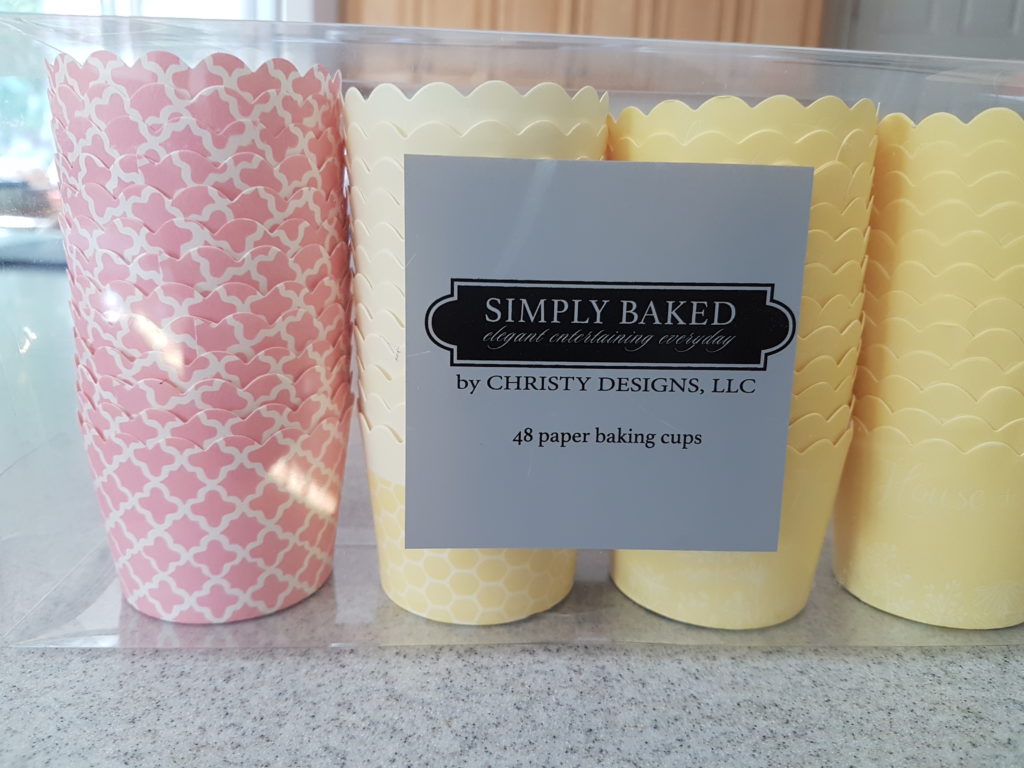 Mine were a simple yellow color, but there are some really cute ones online! Once I twisted the bags closed and pulled the cellophane back, they were very easy to put into the cupcake wrappers and stood up straight the way I wanted. Hooray!
At the party, the magical unicorn horns made for a lovely display and take-home snack, and the extra bowl of the same s'mores snack mix was the most popular snack by far. Later that week, I made some of the same snack mix for the parents in my son's co-op (minus the marshmallows) and people came back for seconds and emptied the bowl in no time. It's pretty addictive! So whether or not you've got a unicorn theme going on, this snack mix is sure to be a favorite at any event you go to. Who doesn't like a mix of crunchy, salty, and cinnamony s'more sweetness to snack on? It's easy and it's yummy, give it a try!
read more
November 17, 2018

My daughter had only recently graduated from stick figures to drawings with some real weight on them, so when she presented me with this exquisite drawing of Elmer the Elephant, I knew it was something special. It was one of the most detailed and complete drawings she had ever made of an animal! Little did I know that in a few weeks, a magical elf would transform this drawing and bring it to life!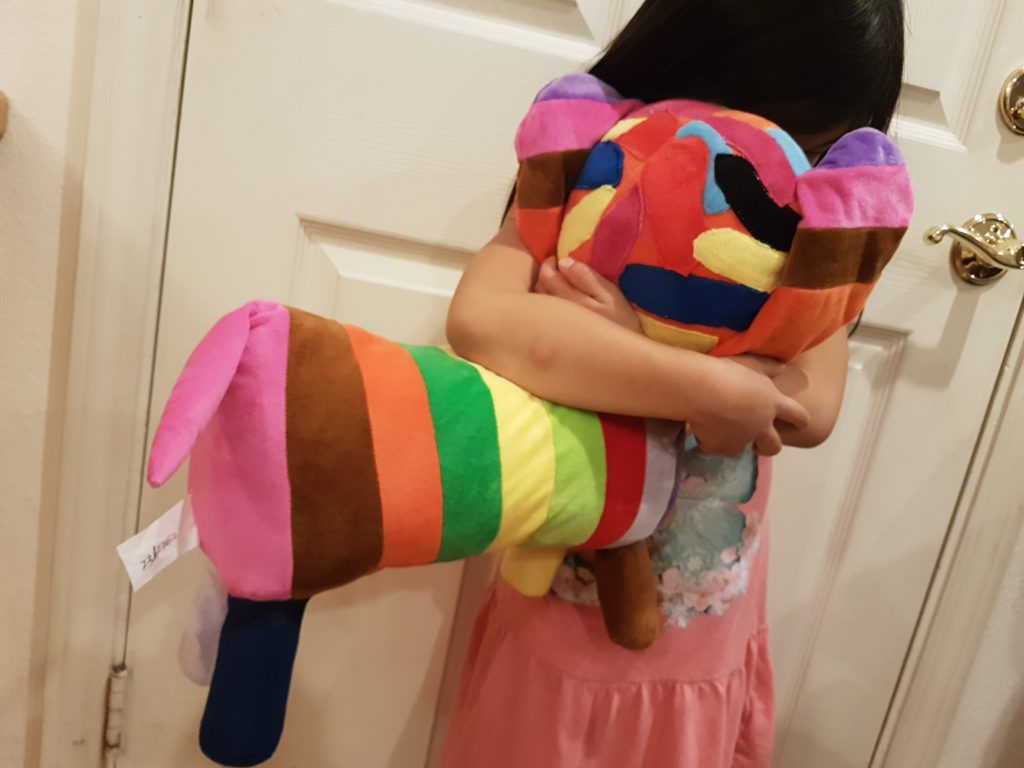 Isn't this amazing?! When she opened her eyes and discovered that her special drawing was transformed into a real, squishy, squeezable friend to have and to hold, she hardly had words. Her shining eyes said everything, and I knew it would be one of the most treasured and special stuffed animals she'd ever have!
The "magical elf" is actually a company named Budsies, and they are amazing! They can take ANY artwork and turn it into a REAL PLUSHIE!! I first heard about them when my friend Kristen sent me this adorable photo of her niece holding a cute drawing of a smiling rainbow with a crown and wings in one hand, and a GIANT adorable plushie version of her drawing in the other. My heart skipped a beat. Wait… a drawing… turned into a real-life, huggable creation?! NO WAY. That was too good to be true! Kristen shared, "My sister and I gifted it to her for Christmas and she's slept with it every night since she got it :)" I don't blame her, it was the most adorable rainbow I have ever seen! 
read more
November 3, 2018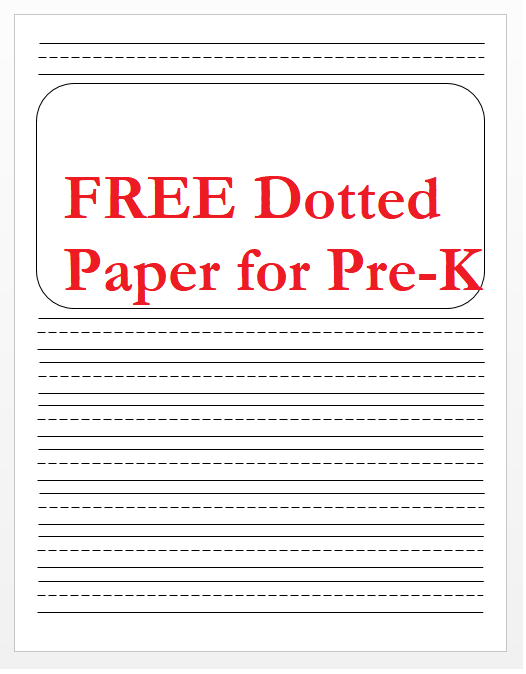 My daughter started writing stories recently. I worked with her individually to teach her to read, but I've more or less left her on her own for writing. She likes to go to the paper shelf, grab the first sheet of paper she could find, and then start: Onc upon a time… 
I love her stories. I love that she even likes to write, and I love gushing over them. But I have to admit, I get kind of annoyed when I find loose sheets of construction paper scattered all over the house. The construction paper is arranged in the order of the rainbow, and she has systematically worked her way down the colors and now we don't have any red, orange, or yellow paper left. Also, she's been into gel pens lately, but since I bought a cheap set from Costco, you can hardly even make out the glittery words, especially when she uses her favorite shimmery gold pen on a yellow sheet of paper. They're not very pigmented, so even when she uses it on pink or blue, it barely shows up!
Here is an example of her glitter pen + construction paper combination. Her little brother was sad that there were no new episodes of his favorite TV show, Stinky and Dirty, so she took it upon herself to ask them to make more. SO PRECIOUS. But man it was hard to read! It took a few tries but at the right angle with the right light, I was able to capture this gem before mailing it off: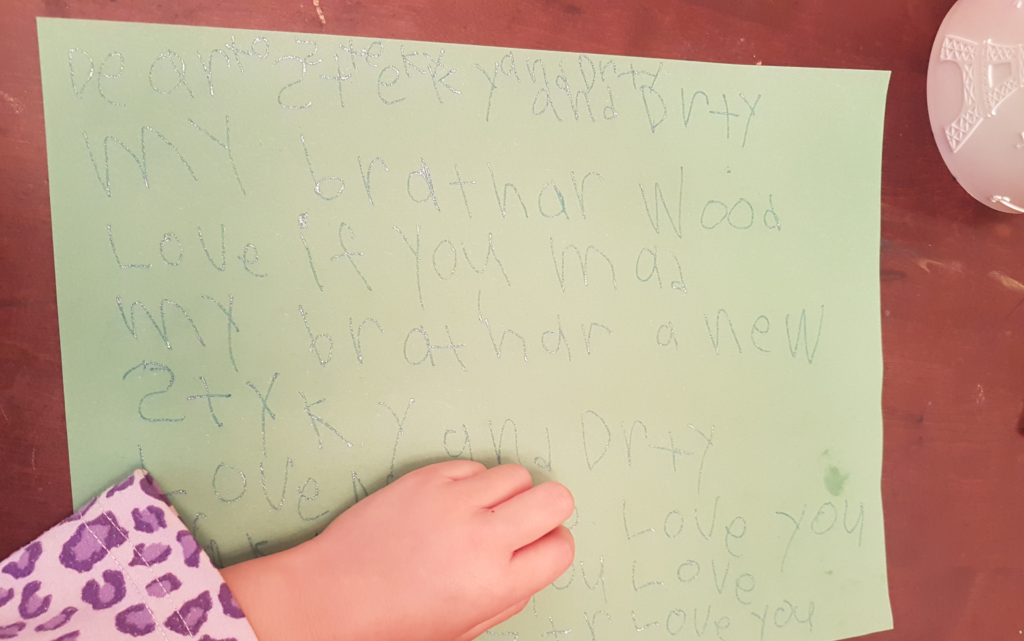 To: Stinky and Dirty, Dear Stinky and Dirty, My brother would love if you made my brother a new Stinky and Dirty [episode].
Love you Love you Love you Love you Love you Love you Love you
I realized she was going to keep writing. But I needed her to use white computer paper. And I wanted it all in one place.
Not only did I want her to have a place to collect her stories, but she struggled to write in a straight line and she would often have to draw her pictures on the back of the sheet. Which is fine. But all of this could be solved with a simple sheet of lined paper made for preschool and kindergarten sized letters! I went online to quickly purchase a notebook for preschoolers, but at nearly $10, I figured I could just print up some pages myself! But when I searched for templates, I came across a few obstacles. For example, I would have to pay for the download. Or I had to create an account before I could download it. Or it didn't have the space for a picture, or it didn't have a line at the top for a title. Too many lines. Too few. Why doesn't anyone just offer a simple FREE sheet of dotted lined paper for big letters and space for a picture? C'mon Internet you should have been on this years ago. 
Okay maybe there is a lot available and I'm just really picky specific. Well, I'm going to tell myself that maybe you are picky in exactly the same way as me and now I am providing the perfect solution for us. You're welcome.
So I remembered I am part of the Internet so I decided to add this to the www mix. Here ya go. Story templates for preschoolers, for those in kindergarten and first grade… paper for grown-ups who want to make cute stories for their kids :). Just print up 50 of them, punch holes, and put them into a folder with fasteners, like this one:
Before long, your little writer will be drawing pictures of pumpkins and writing sweet thank you notes to family members (okay it was once, but I'm so glad the precious note is saved in this makeshift notebook!!).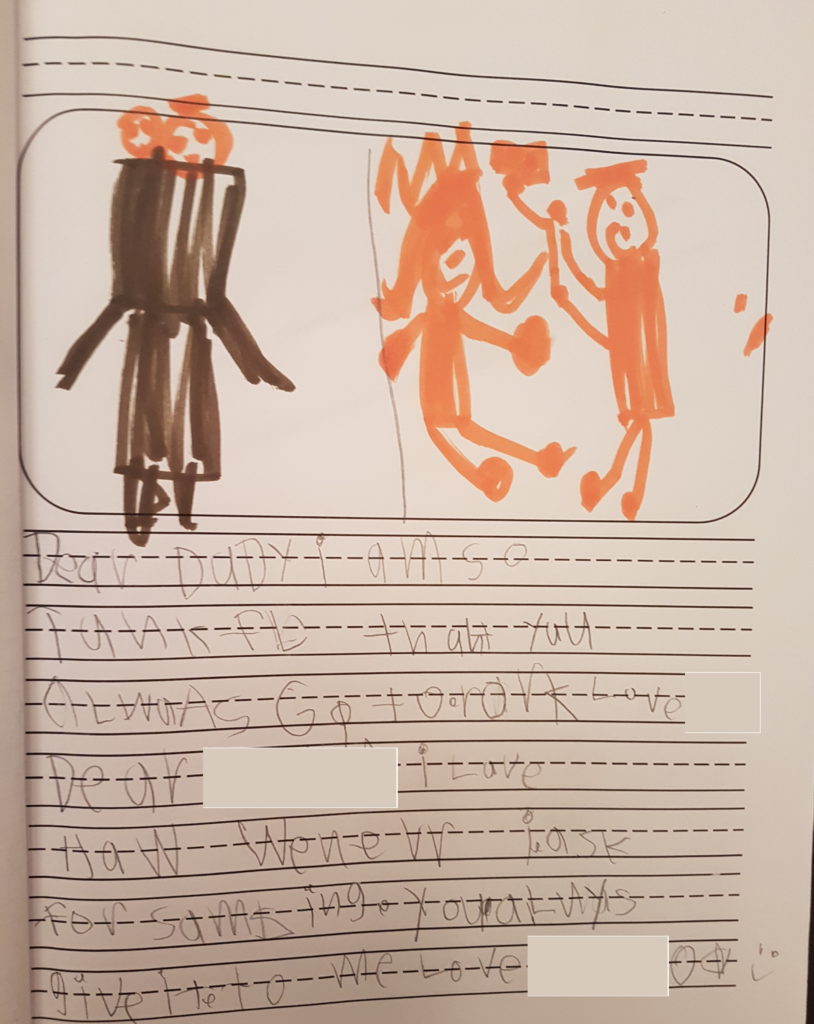 Dear Daddy, I am so thankful that you always go to work. Love (daughter). Dear (brother), I love how whenever I ask for something you always give it to me. Love (sister). *heart* *star* *smiley face*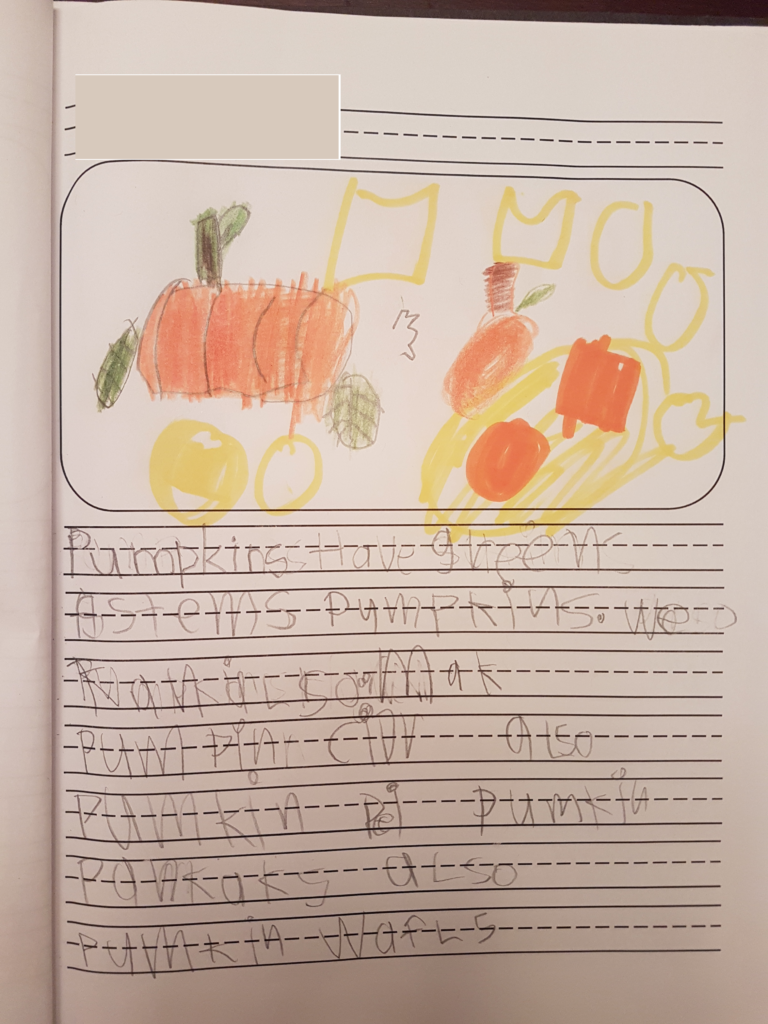 And here is the four year old dropping some informational writing, y'all!!
Yes, I am a proud mama 😀 Though I'm not sure about that pumpkin cider…
Without further ado, the printables: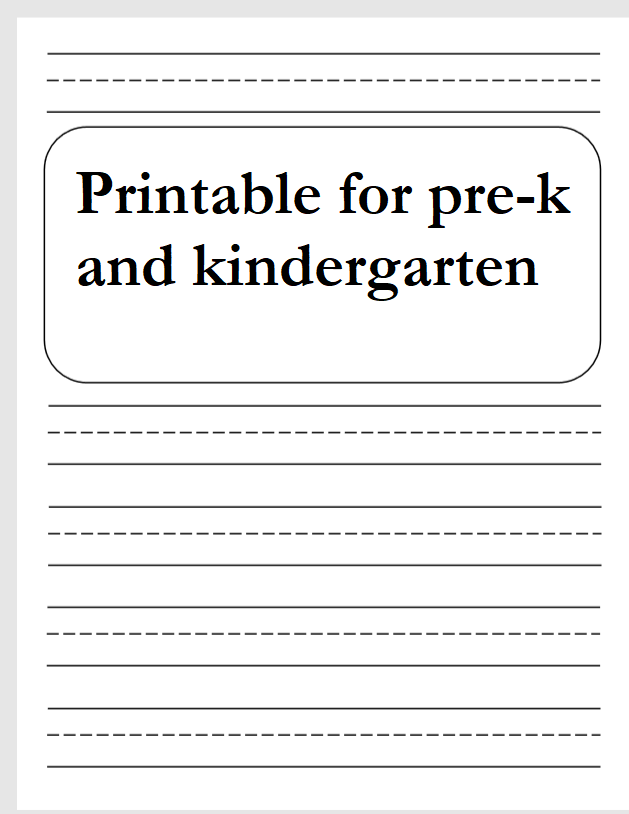 Dotted Line Story Paper Printable for preschool/pre-k/TK/kindergarten
Dotted Line Story Paper Printable for first and second graders
October 25, 2018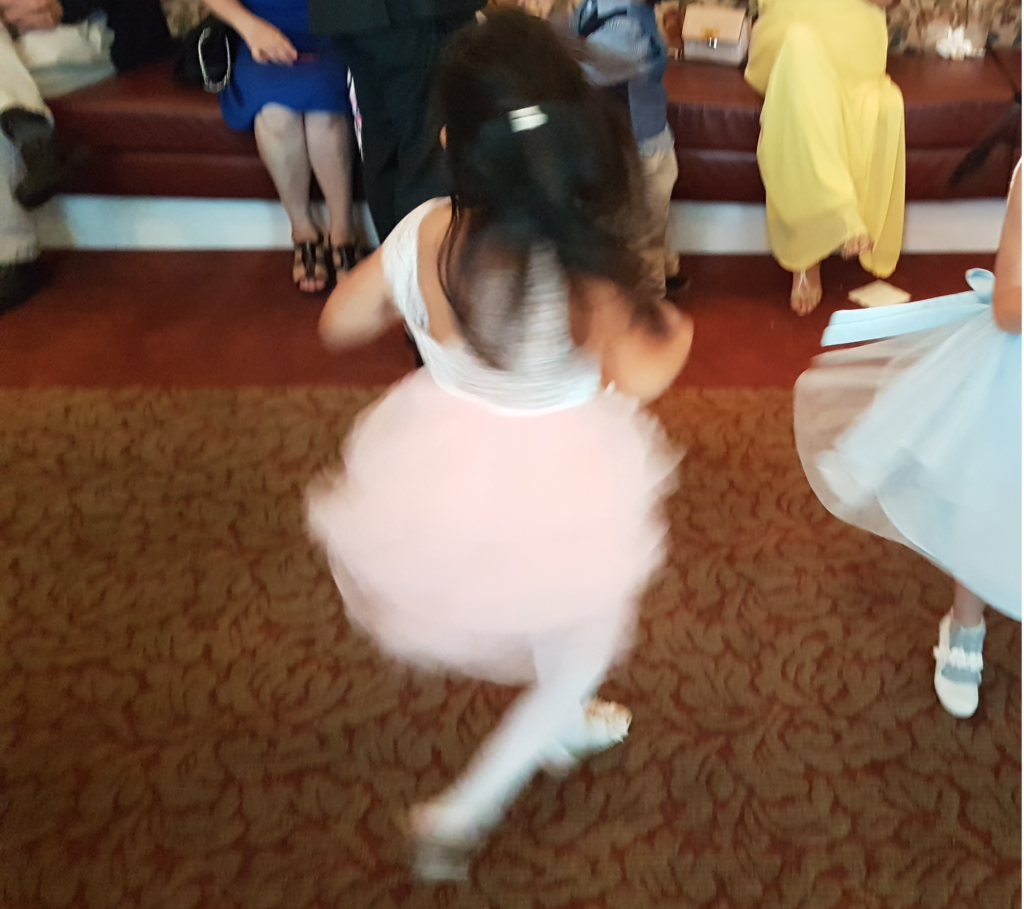 It was a innocent mistake. She was having too much fun playing with her cousin and then *crash* the water glass full of chocolate milk tipped over and went all over her dinner… and her daddy.
Uh-oh.
Her adorable tutu skirt had gotten wet, but the milk had soaked through Ben's suit. He was not pleased.
She froze, and then immediately tried to hide her face as everyone looked on. She was embarrassed, scared, full of regret and doing everything she could not to start bawling at the wedding. I quickly pulled her away to give her some space, and also to clean her up. I wanted to give her a safe space to cry–something I'm not super familiar with, as I grew up trying hard not to cry much myself–but she kept working to hold it in despite my encouragement to let her feelings out.
Finally, she said she wanted to go home, so I started walking her back to the table. We were passing the photo booth on the way over and she seemed interested, yet not quite in the mood. I wasn't going to push it. But later, her cousin went over to take pictures, and she wanted to join in. Sort of. But not really. But really, she did. But she was still sad.
We decided to wait in line to see if her mood would improve, but she continued to hold a long face and wouldn't make eye contact with anybody. They say the best way to get a kid out of a mood like this is to distract them. I tried to joke with her. Then I tried telling her a story. She just turned her face away from me. I tried to reason with her (hah!). Then I tried a little trick that worked really well just earlier that week, with a different group of young kids:
"Hmm… well, let's get ready for pictures, girls!" I called out. The girls looked at me curiously.
"Puttttttttt your fingerrrrrr onnnnnnnnn youuuuuuuuuurrrrr… NOSE!" I cried out, while proudly sticking my finger on my forehead.
"HEYYYYY," they giggled, "THAT'S NOT YOUR NOSE!!"
"Yes! I said NOSE! See, this is my NO–waiiiiiiit a second!" I cried, in mock disbelief, "I meant… my… NOSE!" I said, pocking my chin.
"NOOOOO!!" they shouted out gleefully, "THAT'S YOUR CHIN!!!"
"Ohhhh. Right, right. Here is my nose!" I continued, finally placing my finger on the right spot. "Now, stiiiiick your finnnnngerrr onnnn…"
They waited, giggling in anticipation.
"Onnn… yourrr…. EAR!" I called out, stabbing my closed eye with my finger.
"MOOOMMMMMMYYYY THAT'S YOUR EYE!!" my daughter cackled.
"No, of course not! It's my EAR–WAIIIIITT a second!!" I said, confusedly, "That ISSSS my eye!!"
Well, you get the idea. I did it a couple more times and then moved on to jumping with your hands in the air. For some reason, kids can't seem to jump without smiling, so it was an easy way to segue from a lifted mood to sheer happiness as we moved forward in the photobooth line. By the time it was our turn, the girls were both all smiles and ready to ham it up for the camera.
It's a trick I use all the time. The week before, I was asked to substitute for a group of five and six year old kids. When I could feel myself losing their attention, I started doing this little trick and it was a quick, fun, and easy way to grab the attention of even the most antsy child. They giggled, they laughed, and we got a little bit of our wiggles out. It works best with kids who already know their body parts who also are starting to understand jokes. I'd say ages 3-6. If the kids really like you, you might even be able to pull it off with slightly older kids! Have fun and try it out sometime!
How about you? What's in your bag of tricks for nudging a child from moodiness to smiles? I am always looking for fresh ideas!
October 4, 2018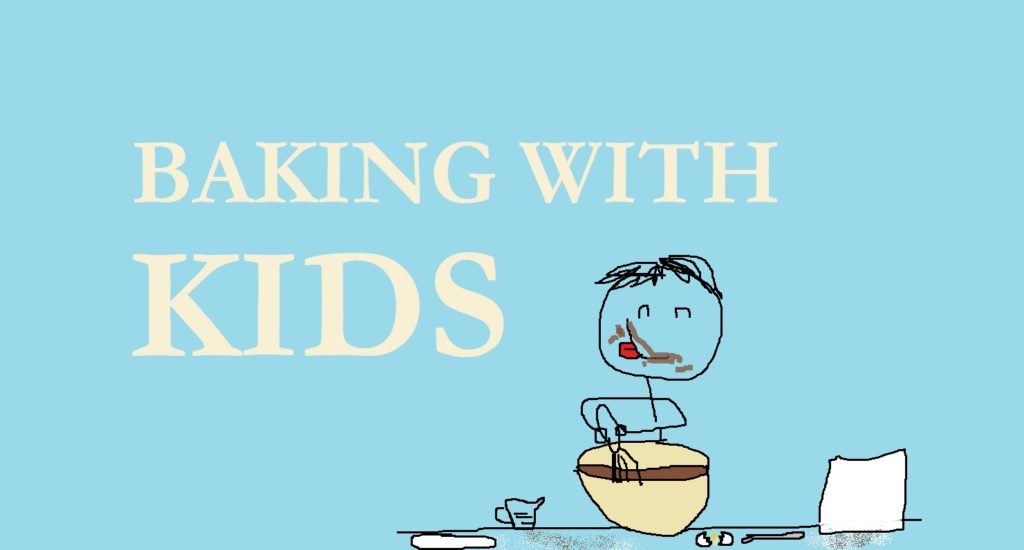 Fun ways to involve your young children at every age!
I love to bake. I love my kids. I always daydreamed about the day I would bake with my kids. It would be perfection: We would laugh and smile and get flour in our hair and have chocolate smeared around our mouths. They would take turns cracking eggs and I'd show them how to fish the shells out using bigger shell pieces. They would sit on the counter and turn on the mixer and be amazed as liquid cream whipped up into mounds of fluffy, sweetened clouds of bliss.
It was going to be magical. I could not wait.
Baking is therapeutic to me. I love the quiet rhythm of scooping flour and sometimes sinking my hands into the flour bin and squeezing fistful of the soft powder just for fun. I didn't know it was "sensory play" at the time, but as a kid I used to love dunking my hands into the huge bin of flour and indulging in the cool, soft, light and almost liquidy sensation it gave. I love the warm smell of cocoa powder and the stress-relieving powers of kneading a smooth dough under my palms (and the amazing smell of fresh bread baking in the house!). It calms me.
Baking with kids is not therapeutic to me. It can actually be pretty stressful. They get eggs everywhere, then lick it off their fingers (ACK! NO!!). They scoop flour, then spill it (ugh). They stir a batter, then tip over the bowl (nooo!!). They constantly beg, "MOMMY CAN I DO THAT MOMMY IT'S MY TURN MOMMY I WANT TO DO THAT!" They sneak bites of chocolate (mmMMmMMMmmm). They sniff at everything (ahhHHHhhHhhH). They squeal with delight when I let them lick freshly churned ice cream off the paddle (which also makes for the cutest chocolate-covered smiling faces!). They smile with closed eyes and then stop talking altogether when they finally get to bite into the freshly-baked cookies they've been smelling for the last fifteen minutes.
…Like the ones we had tonight. We used my favorite chocolate chip cookie recipe, and somehow it came out wrong. Maybe I made a measurement error while doubling the recipe (I should not have–it already makes a generous amount!). Maybe it was baking with a 2- and 4- year old. Maybe my daughter counted the wrong number of scoops of flour. Whatever the case, the cookies rose too much and were more cakey than chewy. Even as I scooped out hunks of dough to form into logs for freezing, I realized that some logs were really thick and meaty, and some were goopy and weak. They had not been mixed evenly, and now I had seven failed logs of cookie dough (!) to go through before I could make a proper batch again.
Wah-wah.
But the kids didn't seem to notice, and Ben didn't mind at all. When we sat down to milk and cookies, everyone smiled their contented, closed-eyes smiles and there was a chorus of "mmMMm" and "yummMmm" and "Mm, not bad!" around the table. Because really, who's going to complain about fresh-baked cookies on a rainy day?
And this is always when I start again through the amnesia cycle and think to myself, "Wasn't that fun? Let's do it again!" And you know, it IS fun. For the kids. And I know they can't wait to do it again. There is so much to experience even in cracking an egg. They've seen plenty of pictures of eggs, but to hold the cool egg in their palms and tap-tap-tap it against a bowl to crack-CRACK it is another thing. To feel the slimy egg goop on their hands and then watch it blend and disappear into the other ingredients is truly a unique experience. They are seeing, smelling, touching, hearing (and, unfortunately sometimes tasting… bleh!) all in one small little baking task.  Baking is such a multi-sensory experience for kids, and one they can actually eventually EAT. There is a special satisfaction that comes with making your own food, and it is such a wonderful thing for kids to create and enjoy the work of their hands.
There is also a ton of practical learning that can take place during a baking session with kids. There are endless opportunities to weave math skills in, such as counting, measuring (fractions!), weighing (units of measure), doubling recipes (multiplication, fractions), measuring time. There is also so much opportunity to introduce rich vocabulary as you describe the smells, textures, tastes, and sounds you hear. They will understand these words in a totally different way when they are actually engaged in hands-on, multi-sensory experiences where they apply. There is plenty of social learning, from taking turns (especially when siblings are involved) to cleanliness (wash yo hands!) to kindness, thoughtfulness, and sharing (cookies for all!). They practice self-control when you tell them not to lick the brownie batter with raw eggs in it, and they have plenty of opportunity practice taking things slowly and cleaning up after themselves.
Sure, JoEllen, that all sounds good, but my kid is only one. Is there really much he can do in the kitchen right now? Why, yes! Yes! There is! And there are plenty of ways to involve toddlers and preschoolers, too. So many that I made lists for you of ways to involve your 1-, 2-, 3-, 4-, and 5- year olds in the baking fun! If you don't bake as often or can't think of a single task that would seem successful with your child, then start at the ideas for one-year old children and slowly work your way up as your child proves herself more capable. For example, anyone can take a ripe, browned banana and squish it up in its own skin for banana bread! Fair warning, there's a decent chance it will burst out of its skin and make a mess, but that's part of the fun, too (for your kid, at least).
Please note that all of the suggested activities are really just suggestions and ideas based on what has worked for me and my kids. They might not be appropriate for the child(ren) you are working with, so please use your own discretion and knowledge of the child(ren) and their abilities to decide if it is an appropriate activity and adjust the activities as needed. Parents should be nearby and supervise all tasks closely!
If the idea of bringing your young child into the kitchen to bake with you seems daunting, you are not alone. I still shy away from baking with my kids sometimes because of all the potential mess and hazards, but I ultimately choose to do it because I think it is so beneficial and fun. I make it more manageable by choosing age-appropriate tasks for them to participate through. You might be surprised at how much they can do! I know I was tinkering away in the kitchen on my own when I was nine, and I hope to give my kids the same freedom when they get older. Until then, I'll be here to guide them through the kitchen and hope to make great memories through it!
read more
August 24, 2018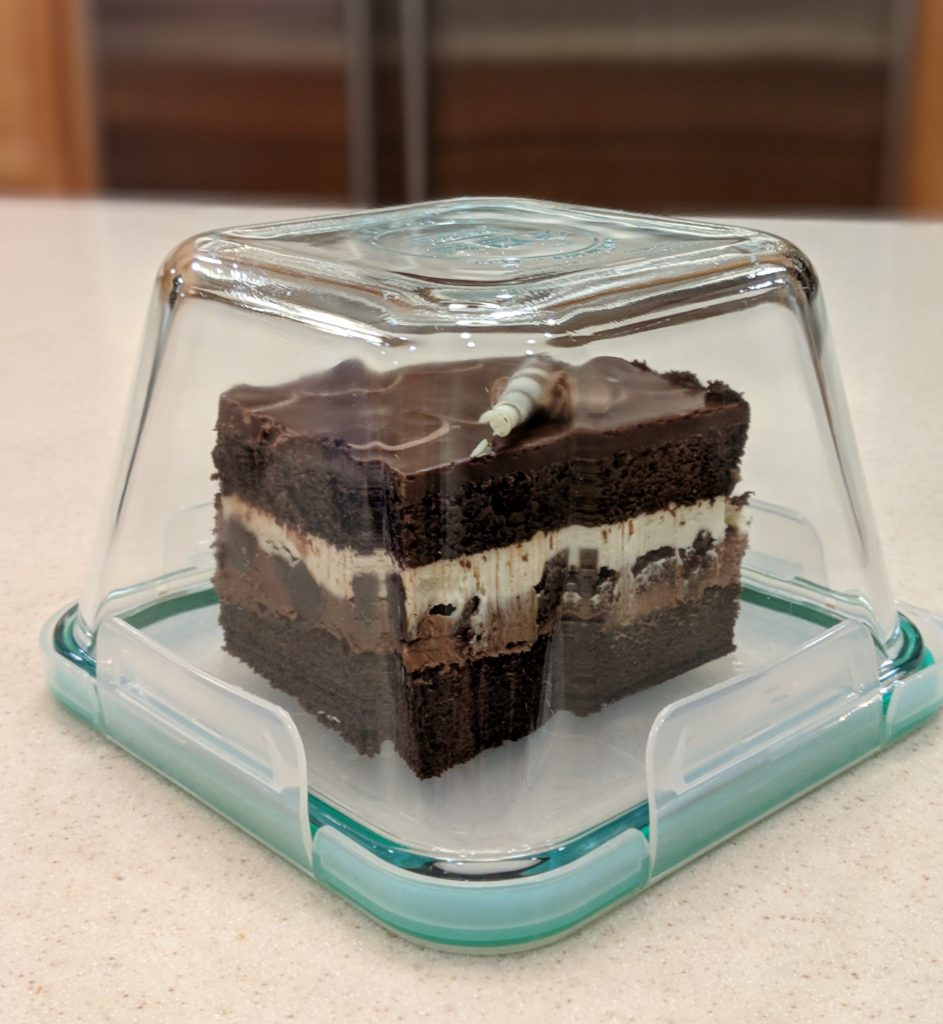 "JO. I just wrote one of your posts for you," Ben said, bursting into the office as I mindlessly scrolled through Facebook. He had an excited and boyish look on his face, and I was just happy to see that he was so happy.
"What?" I asked, glancing up.
"Ok, are you ready? It's called Life Hacks with Jo," he began, serious as ever, "and you can tell them about what you did in the kitchen."
"What did I do in the kitchen?"
"With the cake!"
"I didn't even make that cake."
"I know! But you stored it so nicely," he exclaimed. "You should share it!"
I wasn't convinced. Would people really want to hear a little tupperware trick?
Then earlier this week, a friend offered me a slice of cake. Her husband pulled out some Snapware to store it, and I mentioned my little trick. After an initial look of confusion, he tried it out and remarked, "Hey, that's a good idea! That makes it way easier to serve!" And I decided it was about time to let you all in on my little amazing life hack, along with four other simple (but useful!) things that will hopefully make you think, Why didn't I think of that?
read more
July 7, 2018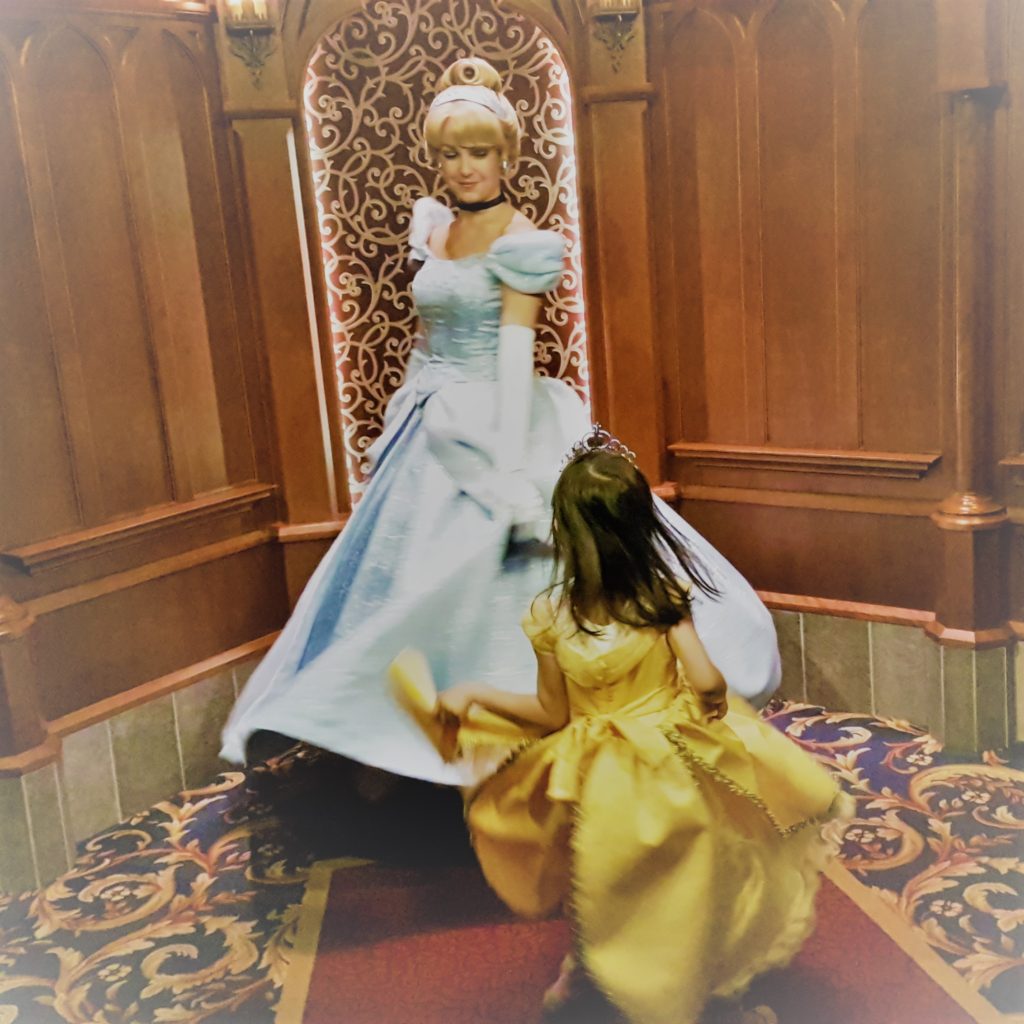 Last week, I shared tips on traveling to Disneyland with a 2- and 4- year old. Today, I'm going to focus on tips for bringing the princess-loving child to Disneyland. Like I mentioned before, I never imagined I'd be the mother of a super princessy girl, but here she is. And here I am. And she loves everything princess so much that we decided to finally bring her to the place where they all live: Disneyland. The magic is real, and I am so glad we brought her. She had a royally fun time!
For the Princess Fan
In case your child is really, really into princesses like mine currently is, here are some princess-related things to know:
Disneyland (specifically Fantasyland) is the place to find the classic princesses. You can check your Disneyland app to see where they are and who is there. If your child has to see Elsa and Anna, they are actually only located in the other park, Disney's California Adventures. So if you're only planning to spend one day here and your child MUST see Elsa and Anna, take note!
Use the Disneyland App to see which princesses are out greeting!
There is a cute, intimate little 22-minute princess show at the Royal Theater in the Disneyland Park that runs several times each day. It's a relatively small production with just a handful of actors under an open-air tent, but kids can sit on the ground up front to see them up-close, and parents can relax on benches just behind. It's shaded (YAY). It's also pretty funny and entertaining. They were showing Beauty and the Beast and Rapunzel when we went. Find more info here.
A mom sitting near me saw my daughter in her Belle dress and whispered to me that they were annual pass holders, so she knew that if we waited about 5-10 minutes after the show, Belle was very likely to come out to say hi. So while everyone else filed out and the theater emptied out, we waited. And then, much to our delight, she came out!

It was casual and lovely and unexpected and felt very special. No long lines. INSIDER TIP. YOU'RE WELCOME.
Gaston was also hanging out nearby the Royal Theater so we got to say hi to him afterward. Know that if your child is wearing a Belle dress, he might be obnoxiously happy to see her and will ignore everyone else for a very long time, because he only has eyes for Belle. True to character, those cast members!
You can get in one line to meet three princesses at Royal Hall near the Castle in Disneyland Park. The line has shade.
Each princess is in her own little section so each interaction feels private and personal. When we were waiting in line, some cast members were also attempting to keep everyone in line entertained, telling jokes and singing songs. That was a nice touch.
The Mickey and the Magical Map show (in Disneyland Park) also has some princess appearances including Rapnuzel, Mulan, and Tiana. This show is quite an enjoyable production and has lots of seating.
The Bibbidi Bobbidi Boutique at the Disneyland Park is a chance for you to shell out some money (starting at $64.95) for your child to have a princess (or knight) makeover, including hair, makeup, nails, etc. You can even pay $199.95 which includes all the works plus a "princess gown of choice." Or, you can stash a couple dresses and crowns in your luggage ahead of time like I did and get the princess magic without spending a ton.
There is currently a musical-style production of Frozen at the Hyperion Theater (in Disney's California Adventure) that runs for about an hour. The wait was not bad at all when we went, and all the seats seem pretty good! I was really impressed with the production, and as a bonus we got to sit in an air-conditioned space for an hour! Definitely a must-see for any Frozen fans.
If your child wants to meet Anna and Elsa (and maybe Olaf, too!), they can line up to do that at the Disney Animation Building in Disney's California Adventures.
We also saw glowy princesses in the Paint the Night Parade, which happens at Disney's California Adventure.
There used to be a restaurant called Ariel's Grotto where Disney princesses would greet you during meals (aka "Character Dining"). You would have to make reservations and pay more for this experience. I believe Ariel's Grotto is closed indefinitely, but I will be checking for this place to be open when we go again!
Tiaras and stuff: If you feel like splurging for a little princess, then maybe Bibbidi Bobbidi Boutique (see above) is where you want to be. I wasn't ready to go for that, but I did pack my daughter's favorite crowns to wear along with the dresses I'd packed.
Her eyes grew wide when she saw them and it was even better than the first time she had received them them, "MAMA YOU BROUGHT MY CROWNS!!!!" The cast members (aka Disneyland employees) are great about talking to your child like she's actually Belle or Elsa or whoever she's dressed up as, and it adds to the whole magic of it all. No regrets.
Princess dresses: If your kid is like mine and is all about princesses, then pack a couple of her favorite princess dresses in with the shorts and t-shirts. This way you won't feel any pressure to buy a really expensive one at the park! I happened to pack a Belle dress for our Disneyland Day and an Elsa dress for our day at Disney's California Adventure (I knew ahead of time that Elsa and Anna could only be found at DCA). My friend said the princesses dresses could get uncomfortable for a whole day out, so I also brought along a t-shirt for her to change into, but she ended up keeping her dresses on for a long as she could.
Once when we were walking past Tomorrowland, we crossed paths with Maleficent, who narrowed her eyes at my daughter and said in measured, perfectly sinister tone, "Hello, Belle…" as she glided past. My daughter stopped in her tracks and stared after her, not sure whether she was a nice or not-nice character (we haven't watched Sleeping Beauty yet). I loved how she and Gaston and the other cast members played along and I've never loved dress-up more. If you are taking your little princess to "the castle where all the princesses live," I hope you have the most magical and wonderful time!