April 26, 2017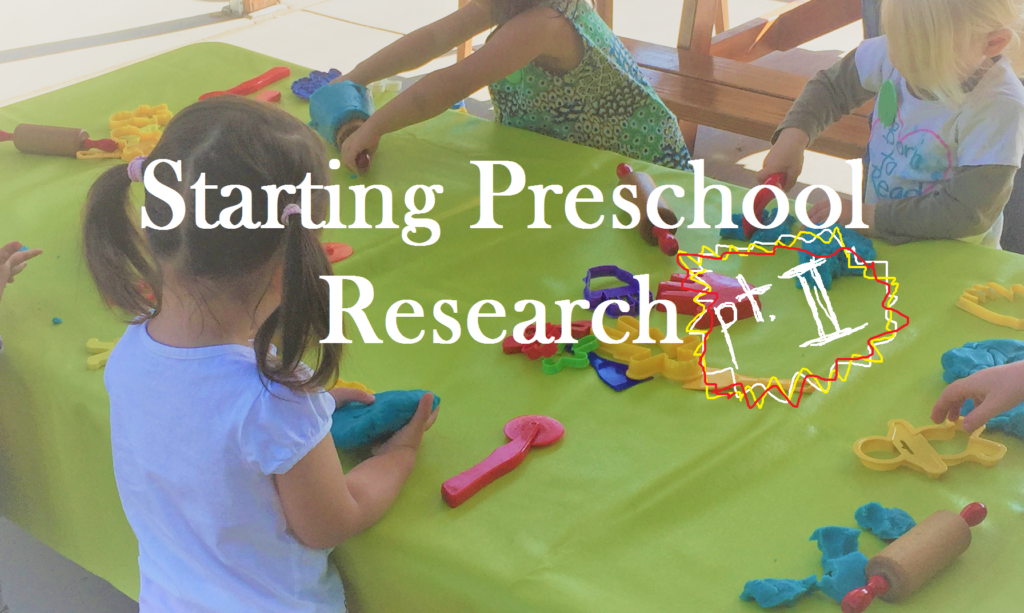 Okay, you've got an idea about what kind of preschool you'd like to send your child to (read more here). Great! Now what? Warning: reading this next section might just make this decision feel even more complicated than it needs to be, so proceed with caution ;). Here are a few more things you might consider as you decide on a preschool.
Physical environment
Playground and structure: If this is where your child is going to be all day every weekday, it would be great to find a play area that offers a lot of variety for gross motor development. My goal last year was to find a great play-based program, so I always made it a point to check out the outside play area and gave extra points for irregular surfaces (to develop balance and coordination, as opposed to just cement or rubberized play surfaces), a bike circle (to practice going on scooters and balance bikes), and a variety of play equipment (swings, bars, sand, climbing structures, etc.)
Classroom environment: Does it feel warm and welcoming? Is it neat and organized? Is the room set up so that children can feel ownership of the space? Is it safe and open? Do the walls show student work? Does the student work look uniform, or does it look like students were given freedom to be creative?
People environment
Teachers: This one is hard to tell during a tour, because everyone is extra friendly during observations and tours. We hoped to find teachers that were warm, nurturing, experienced, and knowledgeable. It's a good sign if the teachers have been teaching there for many years. If they have been at the same site for a while, that also speaks strongly of the program, support and teacher satisfaction at the school.
Teacher to student ratio: Generally, people look for a low teacher to student ratio. Most programs we were looking at had a 1:8 ratio or better, meaning there was at least one teacher or adult there for every eight kids.
Class size: Most parents prefer a smaller class size. This allows the teacher to get to know the child better, offer more attention to the child, and keeps the group more intimate. However, some also prefer the large class size for the variety of social interactions.
Age of peers: Some preschools are large enough that your child will be with other kids about the same age. Others have a large range, such as 2-5 year olds all in one class. There are pros and cons both ways. For example, in a mixed-age class, a younger child can learn a lot by observing older kids, and older kids can learn compassion, empathy, and learn to be responsible role models to younger kids. This can be great for confidence building. In a same-age class, teachers can focus instruction a little more on student ability.
Scheduling
Flexibility in scheduling: Since I'm a stay at home mom, I was specifically looking for a part-time, part day program. I still wanted to have a significant amount of time with my daughter, but I also felt like it was important for her to spend more time with other kids and start learning the norms of a school environment. This narrowed down my search quite a bit, since I didn't even consider programs that only had full-day (8am-6pm) programs and/or only offered Monday-Friday programs. That cut my options down significantly.
Nap time: Many schools have a built in nap or rest time if your child stays for a certain amount of time. If your child is not taking naps anymore, you can see what the rules are for them. Some places will force your child to lie down for a certain period of time, while others will offer books. I personally didn't want to pay more money for my daughter to stay an extra hour to lie down, so I actively looked for places that started nap time after my preferred pick up time.
Adding extra hours: Does the school allow you to add extra hours if you need? This was important to me this year since my son was solidly taking morning naps for the first half of the school year. Having the flexibility to tack on an extra hour literally bought my son more sleep and eased the burden of rushing a hungry baby around to pick up my daughter from preschool. This may be less relevant for working parents, but has been really helpful as a stay at home mom!
Proximity: Is it on the way to work? Is it "only" 15 minutes away? Do you have a younger child you're taking along as you drop off and pick up the older one? Our preschool could potentially be only 10 minutes away (like at midnight), but is closer to 18-20 minutes with morning weekday traffic. This means that on a high-traffic day, I could be toting my youngest one around for about 45 MINUTES just dropping off and picking up my preschooler! I feel like this is unfair to him, and regretted the distance of our preschool when I realized how much time I was forcing my young baby to spend in his car seat every school day. Happily, Ben now does morning drop off, so that saves us a lot of car time!
Logistics
Potty training: Some preschools require your child to be potty-trained before enrollment. Others will potty-train your child, but this usually costs more.
Lunch: Do you always pack your own lunch? Will the preschool provide lunch? Is there a variety in the food offered? Are you allowed to pack peanut butter and jelly sandwiches, or is it a nut-free campus? One campus I visited advertised a cook on campus that made lunch for the kids each day, but when I visited, the kids had been eating ham and cheese sandwiches every day for weeks as the school still needed to hire a cook.
Cost: Did you know there are free preschool programs? Check with your local libraries and see if there are preschool or preschool-like programs offered nearby. The ones I've come across require parents to be present, but it's a great option if you are looking for a way to ease in to preschool and also save some pennies (or benjamins).
Waiting lists: I always thought the whole "put your kid on the waiting list when you get pregnant" thing was an exaggeration, but in our area, the most prized preschools really do have long waiting lists. One school that I tried signing up for already had a full 3's program before enrollment for it even began, simply based on continuing 2's that were moving up. I applied the very day enrollment opened and I had to wait for a call back to find out the result of the lottery for my position on the WAITLIST (not even to get placed)! The preschool my daughter is currently at begins enrollment for the next school year ten months ahead of time. Yowza. So if you think it's way too early to be thinking about this, you might want to think again (unless you're not pregnant yet, in which case I suppose you can bookmark this for a later stage in life).
Conclusion
Is your head spinning yet? Please don't make a weighted spreadsheet. Only crazy people do that, and I think it probably only makes them/me more crazy. Hopefully your gut is more decisive than mine and it will be easy for you to make a choice without looking back. If not, then I hope this information was more helpful than overwhelming, and ultimately that you find a great preschool where your child can thrive and that also fits your family's needs!
If you think of more factors to consider, please share in the comments below!
April 19, 2017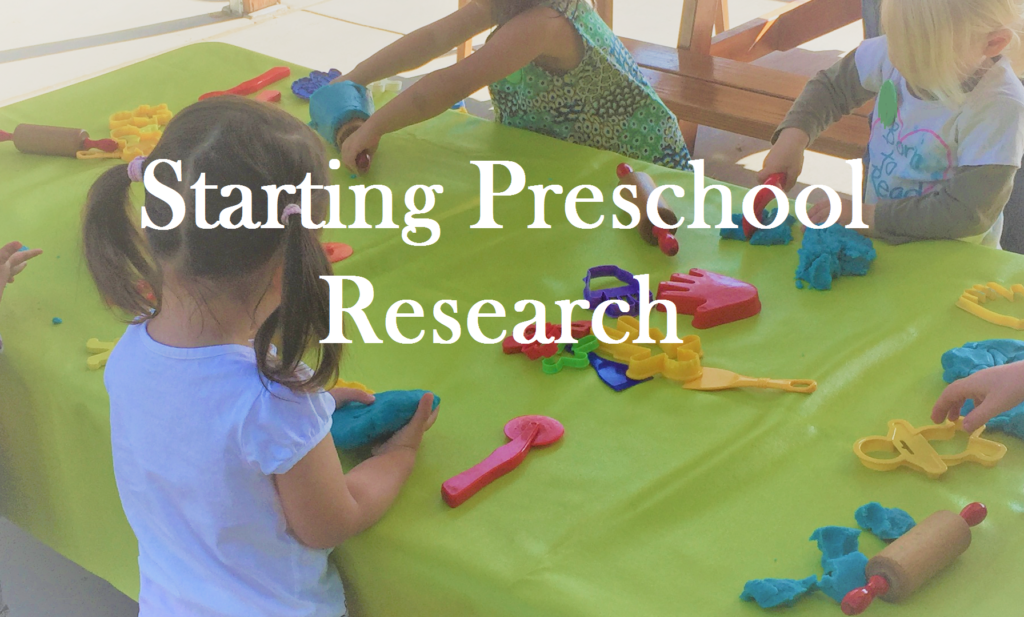 I am NO EXPERT on early childhood education.
Which is why I would have really appreciated an overview guide like this a year ago, when I was neck-deep in preschool research. It can be a daunting task. There is still so much I don't know, but my goal is to give new parents an idea of what kind of things to consider when getting started on preschool research. I want to help you narrow down your goals and organize your thinking. I'll talk about the different factors you might consider as well as some of our thinking as we worked through our decision for our preschooler.
Ultimately, I don't think there's any one best philosophy or type of preschool for all kids. I think they all offer different and wonderful ways for your child to grow, and you should find something that works best for you and your child!
Where do I start my research?
Your preschool decision can be as simple as finding the closest preschool to your house, or finding one on the way to work. You visit and it's warm, welcoming, and the kids are thriving. GREAT. Done. You are so efficient!
Others go with the recommendations of friends, which is a great place to start. Your friend raves about her child's class and school. You visit, it's just lovely, and you see her child thriving there. Sure, why not? Easy peasy, you are done!
If you're like me, though, you take about 100 factors into consideration, weigh each one (using an Excel spreadsheet), agonize over how important each one is (both now and in nine months, when she would actually be enrolled), and flit back and forth as you get input from friends, the Internet, reviews, and your "gut feeling" after you've toured the school (not to mention the pressure of waiting lists!).
Sometimes, I really wish I were not that parent, because the first two scenarios seems so simple and everyone I know is still very happy with it. The best advice I got from a friend was, "Jo, don't overthink it."
So maybe you should do yourself a favor and stop reading right now ;). But if you must, then press on. Good luck. And really, try not to overthink it.
Different Types of Preschools
In my research, I came across five main different types of preschools: traditional, play-based, Montessori, co-ops, and home-based. While most preschools have elements from more than one category (i.e. "play-based co-op"), these are teaching philosophies and styles you might want to grow more familiar with.
read more
April 13, 2017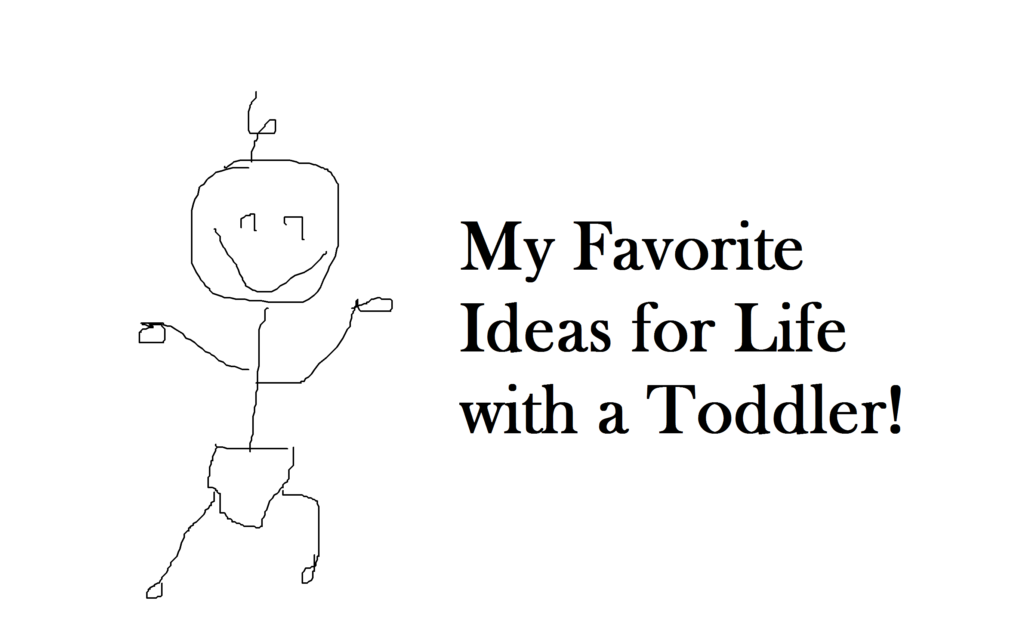 A couple weeks ago, I got a random spam comment on an old post that I wrote, "Activities to Do with a Toddler." After the initial disappointment of realizing it was not a real comment (yes, I like your comments!), I decided to look over that old post again from two years ago. First of all… TWO YEARS! I'VE BEEN BLOGGING FOR OVER TWO YEARS! I read somewhere that the average life of a blog is three years, and I think I jusssst passed that milestone… so here's to another 3+ years for Cuppacocoa! 🙂
As I read it, I kept thinking, OOH, that's a good idea, I should do that with my little boy! He'd love that! and Wow, what a great idea, so glad somebody compiled these to help pass the long afternoons. Heh heh.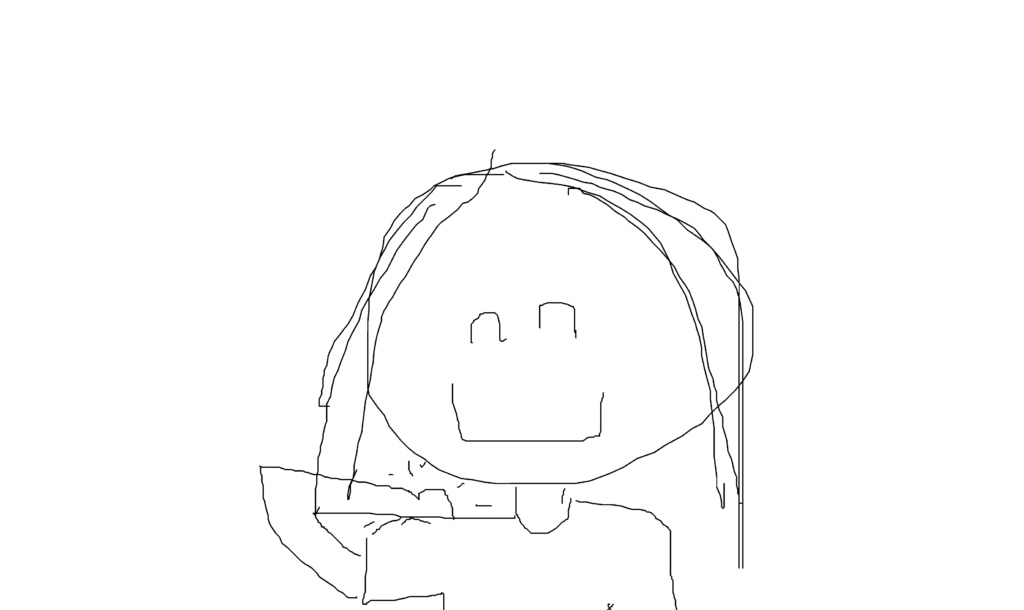 In all seriousness, though, it was a reminder to pull out the old bean bin (which I had been hiding from him ever since he learned to grab things) and let him have a go at it. I was actually quite certain that he was not ready for such an activity. He is one, he still puts a lot of things in his mouth, and I just didn't feel comfortable leaving him with the big bin of beans unsupervised. Did I really give my daughter full access to that stuff at the same age?!
According to my blog, I did. So the least I could do was let him have a shot at it.
I waited for a time when I could give him my full attention (i.e. his big sister was out of the house) and I took it out. Much to my surprise, he quickly caught on to the idea that all the beans needed to stay in the bin! Of course, some came flying out, but he soon learned to bend down and pick them up and put them back. I was impressed all over again.
There's no way I would have taken them out if I hadn't seen me do it for my first 1-year old. Hmm, I thought, there's probably a bunch of stuff I'm forgetting to do for him that I did for her. Poor second child. I should go through my blog sometime and dig up those ideas that worked so well for her, and implement them for him!
So that's just what I did. Here are my five posts that JoEllen of the past wrote for JoEllen of today, and I am high fiving old me (younger me?) for doing that. For some of them, I wasn't sure if maybe I just got lucky the first time around (like "patient hands"). Would it really work again? Would it work with my boy? Would it work with my second child, when my attention was so divided these days (because older siblings sure know how to snatch up that attention!)? But I can say with more confidence that these are tried and true, at least two times through. Maybe you can try it, too!

read more
March 20, 2017
Since no one happened to get a clip of this particular moment a la Super Dads, I thought I'd illustrate it myself.

…and my work today is done. Time for macarons.
March 15, 2017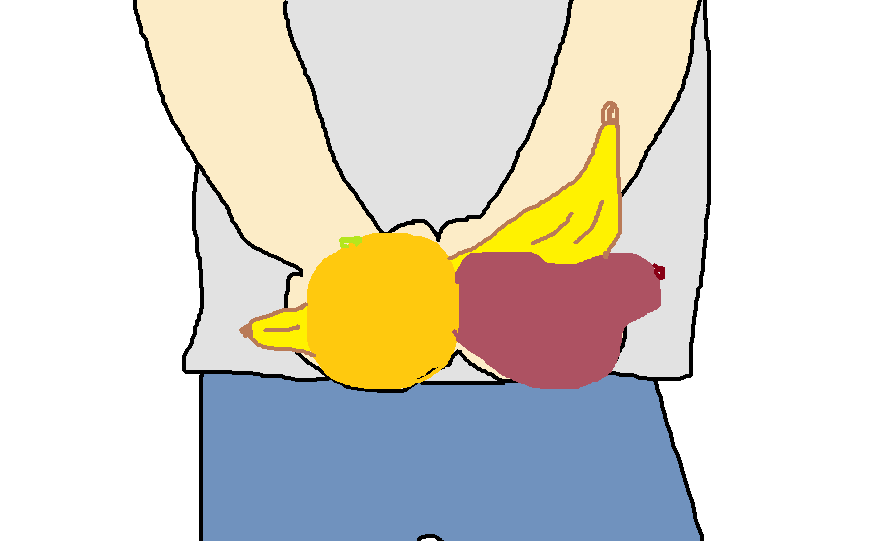 When we hear the garage door opening, it's a flurry of activity. "PAPA'S HOME PAPA'S HOME PAPA'S HOME!!!" She drops everything and runs around like a chicken with its head cut off before she inevitably darts behind the kitchen counter and hides. I can feel excitement pulsing from her as she waits, holding her breath, reading to burst forth and surprise him with a hug.
He walks in, feigning confusion, "Hey, where is everybody? Oh, maybe they are all sleeping. I wondering where Mama is-"
"SUPWIZE!!!!!" she cries as she leaps out and bolts toward him with pounding little feet, "WELCOME HOME! I WAS HIDING, PAPA! I WAS HIDING THE WHOLE TIME!"
I can't imagine a happier homecoming, and this is not an unusual scene at our home when Ben comes home. I love how she loves him, and I am over the moon for him as I see his face filled with warmth and love and delight in his child.
Everything started off similarly enough today. The garage opening, the open-mouthed excitement, the running around. But when he opened the door, she ran to him and I heard her cry out, "What fruit did you bring me today??"
read more
February 15, 2017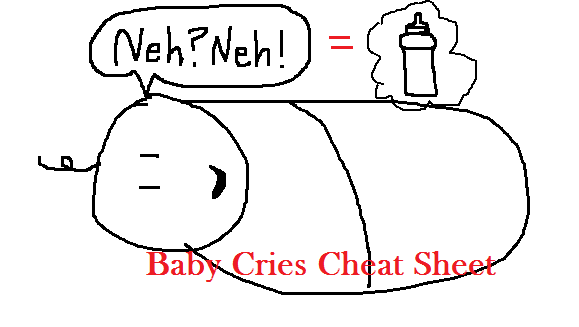 "She has unlocked the secret language of babies."
"Five words that all babies say, regardless of race and culture."
Okay, I totally thought this was bogus the first time I heard about it. But I was also expecting a baby and reading everything I could to prepare for her arrival, so I went ahead and watched the 17 minute clip on Oprah with Priscilla Dunstan.
And then I made Ben watch it, because I was sold.
"A universal secret language that babies use to talk to us."
Babies only have a few basic needs, right? Eat, sleep, poop, repeat. It can't be that hard- just try the next one, right? Well, if you really believe that, you clearly have no new parent friends, because if taking care of babies were that easy, your new parent friends wouldn't all be exhausted and frustrated all the time.
A few months ago we were talking with some soon-to-be-parents about the different types of baby cries, and my husband half-jokingly suggested they tape a cheat sheet to the wall by the baby's crib. And maybe outside the door and on their phones… and I joked that I'd even write a post about it so they could find it on my blog if they needed.
And then I wrote this post so they could find it on my blog if they ever needed :).
BABY CRIES CHEAT SHEET:
"NEH" = HUNGRY
"OWH" = SLEEPY
"HEH" = DISCOMFORT (like burping)
"EAIR" = LOWER GAS
"EH" = BURP
read more
January 31, 2017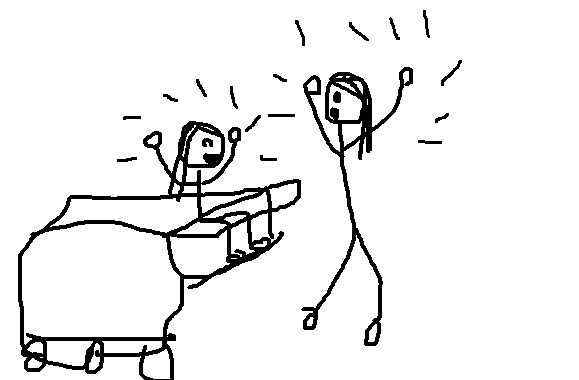 We were at Home Depot a couple weeks ago checking out their after-Christmas sale. My 3-year-old daughter sat in the cart quietly waiting while I studied the options- there were many. I mean, everyone's going with LED's these days, but did that mean we'd have that "cool" glow happening, because I was really looking more for a "warm" gingerbread house kind of look. And what about light clips? Did I have to get those too, and which kind would work for our hou-
BANG!
Something slammed so loud and hard that we both jumped. It was a big warehouse, and the sound resonated loudly and I felt my heart skip a beat. After my brain took a few milliseconds to assure me there was no danger at hand, I looked at my daughter and saw it on her face: WHAT WAS THAT, MAMA?!?!
Suddenly, BANG!! The loud crash happened again! It didn't help that I jumped again. I've always been easily startled. This only added to her anxiety. I saw panic in her eyes and in a flash, I knew what she was going to do. She was going to throw her arms out for me to hold her, begging, Mamaaaaaaaaaaaaaaaaaaaa hold me hold me I'm scaaaaaared!
Before she could say anything, I suddenly heard myself cut in with a lighthearted smile, "Oh!" I giggled in a high pitched voice, "That was loud!" I said, throwing my hands in the air in exaggerated surprise.
She laughed, so I did it again and then I told her to try it. She did.
Guys, I don't giggle. I'm just not a giggler. Anyone who knows me can attest to that.
But I do it for the 3-year-old. Anything for the 3-year-old.
I made a fool of myself there in the warehouse… but you know what I didn't have to do?
read more
January 24, 2017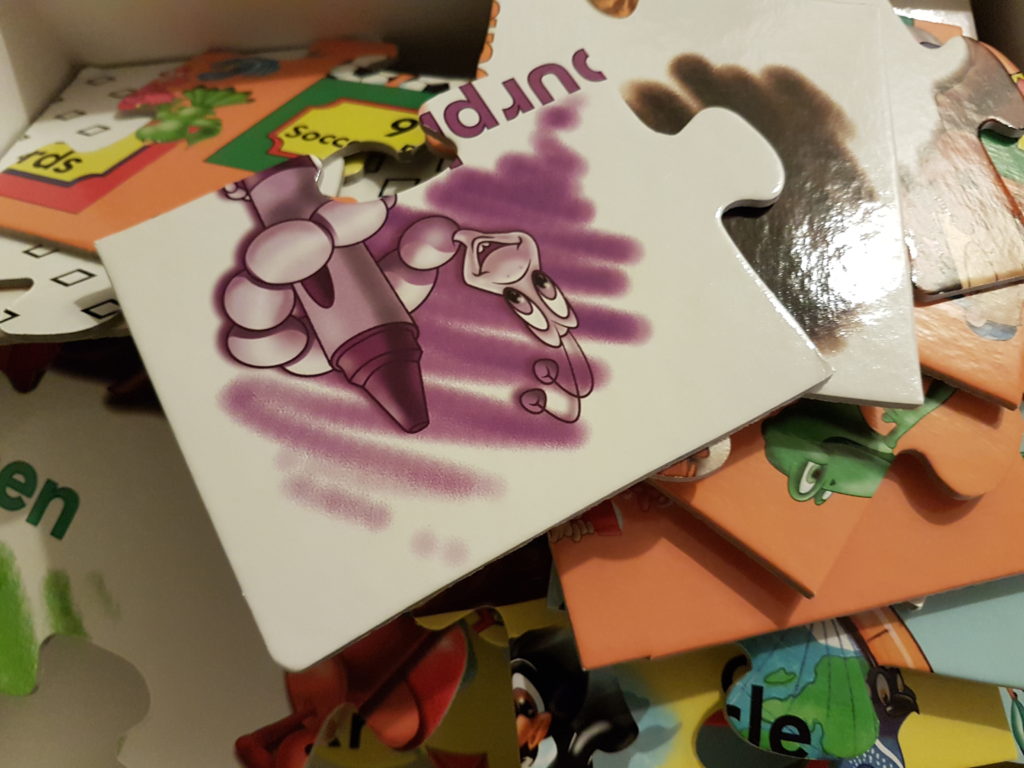 "See, this is a corner," I say slowly, poking my finger against the point of the puzzle piece. "There are only four corners in this puzzle, so there are only four places th-"
"Here?" she interrupts, trying to shove the piece in, "Here?" she continues, trying another spot haphazardly.
"Well, look at the colors-"
"Here?" she says, sticking it on a non-corner spot.
Ugh. Okay, new strategy.
"Well, look there's also a border. This line right here," I pull her finger along the bright blue line, "This is a border. So turn the piece so the lines connect on the outside."
I know I'm losing her, even as I'm trying to make it tactile for her.
read more
January 18, 2017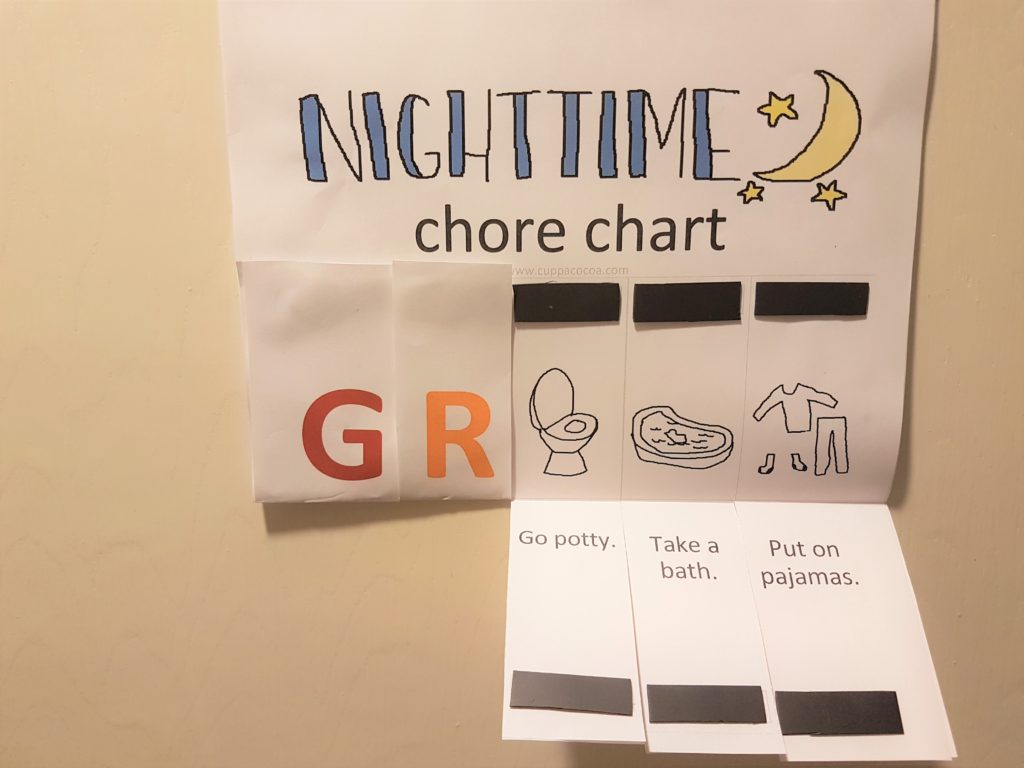 I'm super excited to share this printable with you! I've created a customizable chore chart to help your toddler or preschooler gain independence in getting herself ready at the start and end of each day. She simply looks at the picture, follows the activity, then flips up the magnetic flap to to mark off each accomplishment. It has been working wonderfully for us, and I think it would be a great way to start getting your child ready to get ready on his own!
A few weeks ago, my little girl graduated out of her crib and into a big girl bed. With this move came the freedom to get up and go potty whenever she needed, to fiddle with the light switches in the middle of the night, and to come and go from her room as she pleased. But she's not the only one who was about to get some lifestyle upgrades: so were we! As sad as I was to see her finally lose all traces of babyhood, I was also ready to charge forward into big girl life. That is, a life where Ben and I could sleep in!!! 
You see, with great freedom comes great responsibility… for her! And a little bit less for us. Little did she know that as much as I would miss the crib, I had also been anticipating this day. As soon as she gave us the green light and the crib was gone, I put my grand plan into action. Ideas had been brewing in my mind for months, and now the day had come. We were ready to commence Operation Sleep In.
Someone in my favorite mommy Facebook group had once posted a picture of a cool magnetic chore chart, but I couldn't find a good template online. I quickly slapped together my own chore chart, drawing simple pictures of five activities I wanted her to learn to do on her own, then gluing strips of magnets down for each flap: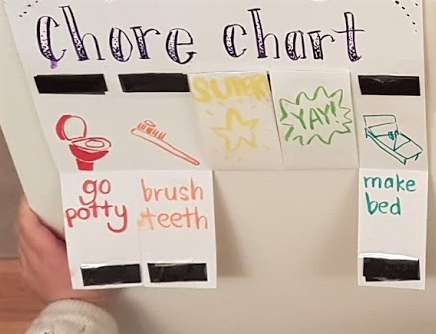 read more
December 27, 2016
When she was a baby, all I had to do was poke a cool toy in front of her face and she was distracted from her crying.
As she hit the early toddler years, I found that offering a little snack was my easy out when I was desperate:
Crying child: "WAHHHHH!!!"
Mother: "Here, have a Cheerio."
Child: *nom nom nom*
But as she neared three, I found it increasingly difficult to calm my toddler when she was in the crying-so-hard-she's-gasping-for-air stage. HAVE A CHEERIO. HERE'S AN APPLESAUCE POUCH. LOOK IT'S DANIEL TIGER! LET'S PLAY CATCH! WANNA GO FOR A WALK? LET'S FACETIME AUNTIE JAMIE! …SQUIRREL!
Nothing was working, and she'd cry for what felt like hours. In reality, it was probably under half an hour, but it was torturous. I'd hold her little brother on one side and I'd hold her on the other and she'd just go at it and I would just sit there tracking Ben on my phone like a creepy stalker: Refresh. Refresh. Refresh. Leave. Work. Now. Leave. Work. Now. 
Guys, I know I get all sentimental and nostalgic on my blog a lot, but there are definitely rough days. I guess I haven't found a constructive and encouraging way to talk about them without complaining or entering an unhelpful negative zone, so I don't usually go into much detail there. Also, I don't want my kids to hate me in ten years for exposing their less angelic moments here…
But the crying. It's real. The inconsolable tantrums. They happen. And I have a new favorite trick to calm the crying child down, and I wanted to share it with you just in case it works for you, too. Because when it's one of those days, it's these tricks that get you through the day.
read more