June 21, 2017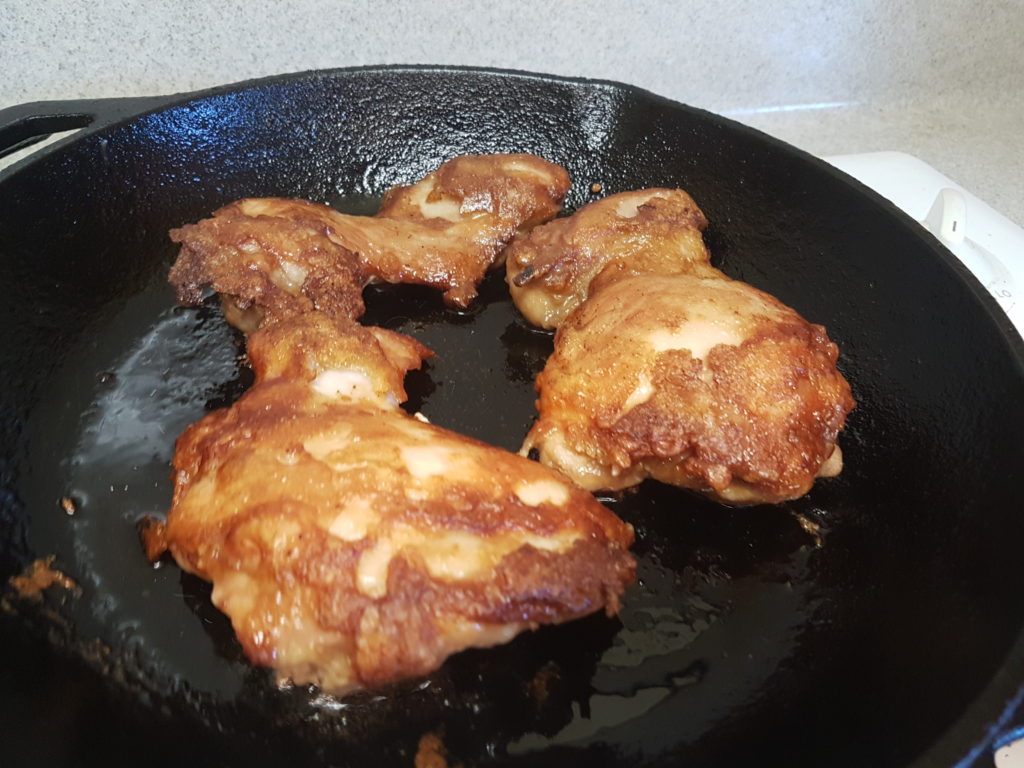 This dish is a winner, and has been in the rotation on a near-weekly basis for the last few months. It's tasty enough to earn such frequency, but simple enough that you don't get tired of it. (I know, that doesn't really make sense, but somehow it's true). The ingredients are few and super basic, but the flavor and texture will keep you coming back to it again and again.
I was always excited for dinner when my Dad had this sizzling on the pan, and decades later, I finally gained some cooking confidence and decided to follow his very simple instructions to make it: "Mix chicken with cornstarch, salt, and soy sauce. And fry." Wish I hadn't waited so long. This stuff is so good.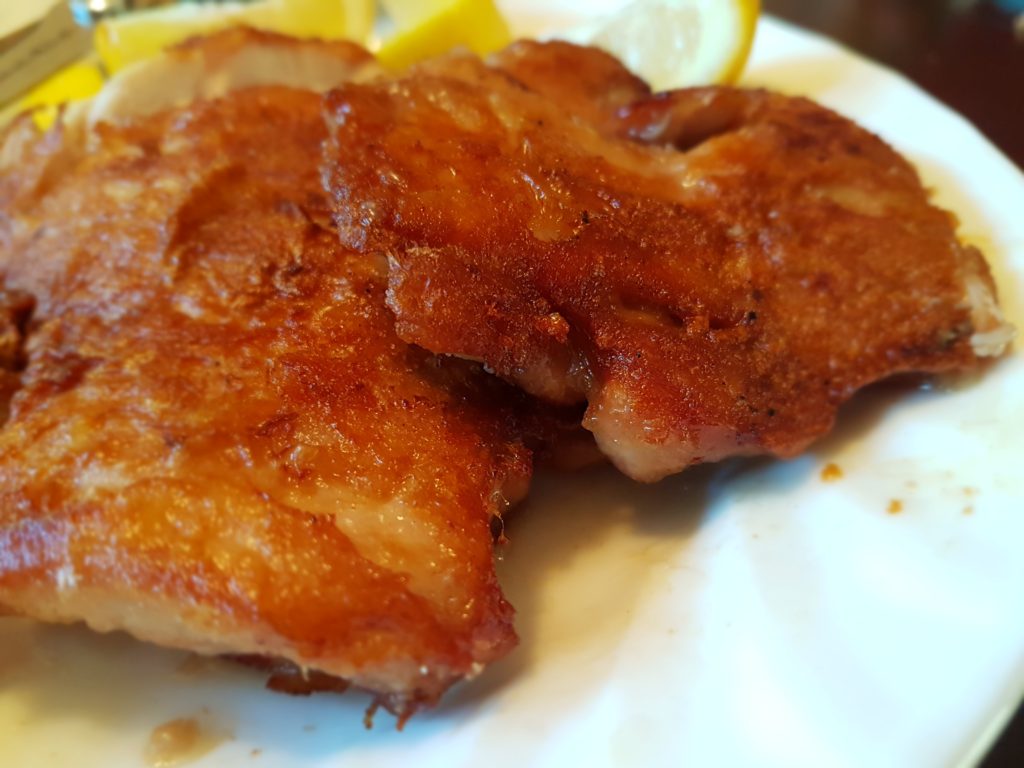 Now, I get to see that same mouthwatering excitement on Ben's face when he sees what I'm cooking up, "YUM. YOUR DAD'S CHICKEN." My daughter never fails to savor it, "Mmm, Mama, I LIKE this dinner!" And the cherry on top? IT'S SUPER DUPER EASY TO MAKE. And last-minute friendly, which is part of the reason why I make it so often.
You simply marinate chicken thighs in a mixture of salt, cornstarch, and soy sauce.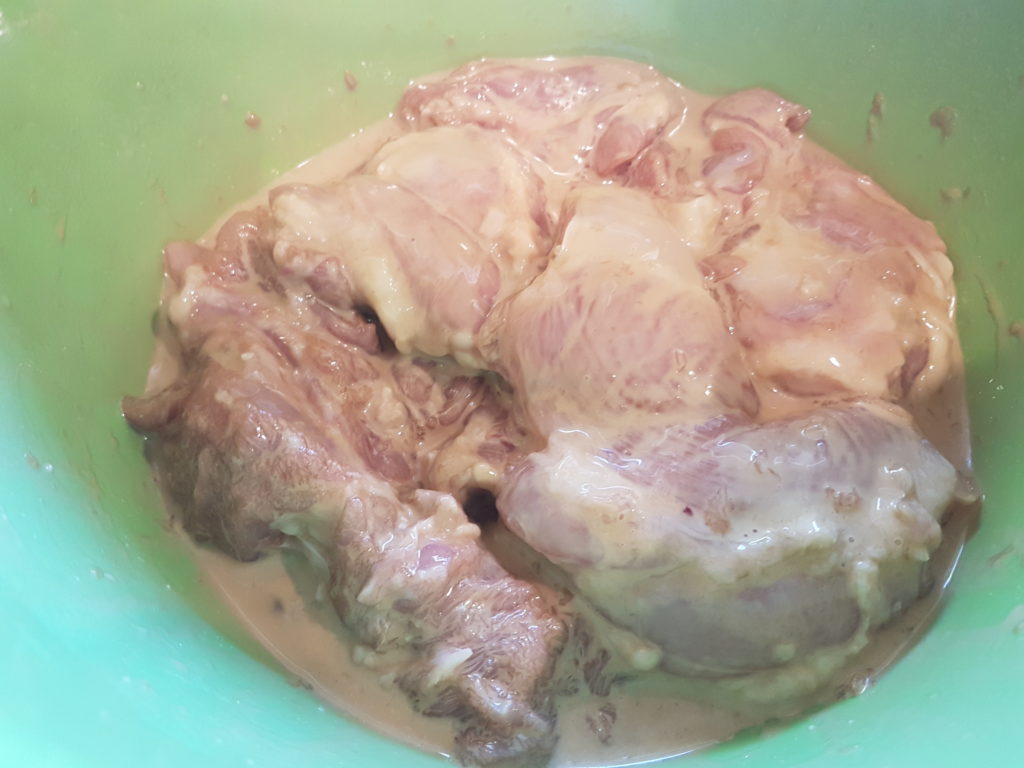 Heat up and oil your pan, fry it for a few minutes on both sides, and serve with a couple lemon wedges. We use kitchen shears to cut it into strips and eat it with rice and a side of veggies. Yum yum, it's easy peasy and scrumptious comfort food everyone will love!
---
Dad's Easy Pan-Fried Chicken
Serves 3-4
I buy chicken thighs in the Costco 3-pack, and freeze two of the packs for future use. The day before, I put a pack in the refrigerator to thaw and then marinate a little before dinner. I think I've seen my dad marinate it even a day ahead of time (but I don't really know, his ways are kind of a mystery to me). It's a very forgiving recipe, so if your proportions are a little off, it will still turn out fine. But don't forget the lemons!
Ingredients
5 organic skinless boneless chicken thighs (Dad says organic tastes better)
salt, to taste
2 tbsp soy sauce
1/4-1/3 tbsp cup cornstarch
vegetable or canola oil
1 lemon, cut into wedges for serving
Instructions
In a medium bowl, mix together the chicken, salt, soy sauce, and cornstarch. The liquid should be the consistency of poppyseed dressing. If it is too thick, add soy sauce one teaspoon at a time until it reaches the desired consistency. If it is too thin, add cornstarch one teaspoon at a time until it reaches the desired consistency. Let marinate for at least 15 minutes.
When you're ready to cook, heat up a cast iron pan over medium high heat. When it's hot, add 2 tablespoons of vegetable oil. When the oil shimmers, carefully place 2-3 pieces of chicken onto the hot pan, being careful of oil splatter. Don't crowd the pan, or the chicken won't fry up as well. Put a lid over the pan and turn the heat down to medium. Let it cook for 3-4 minutes, or until browned and crispy on one side.
Flip the chicken and let it cook for another 2-3 minutes, or until browned and cooked all the way through. I use a pair of cooking scissors to cut through at the thickest part of the meat to make sure it's done.
Remove to a plate, serve with lemon wedges, and eat it ASAP while the outside is still hot and crispy! YUM!
Add more oil and start the next batch while you're eating, so it's fresh and ready when you're ready for it. Mm-mm so tasty and good!