November 15, 2015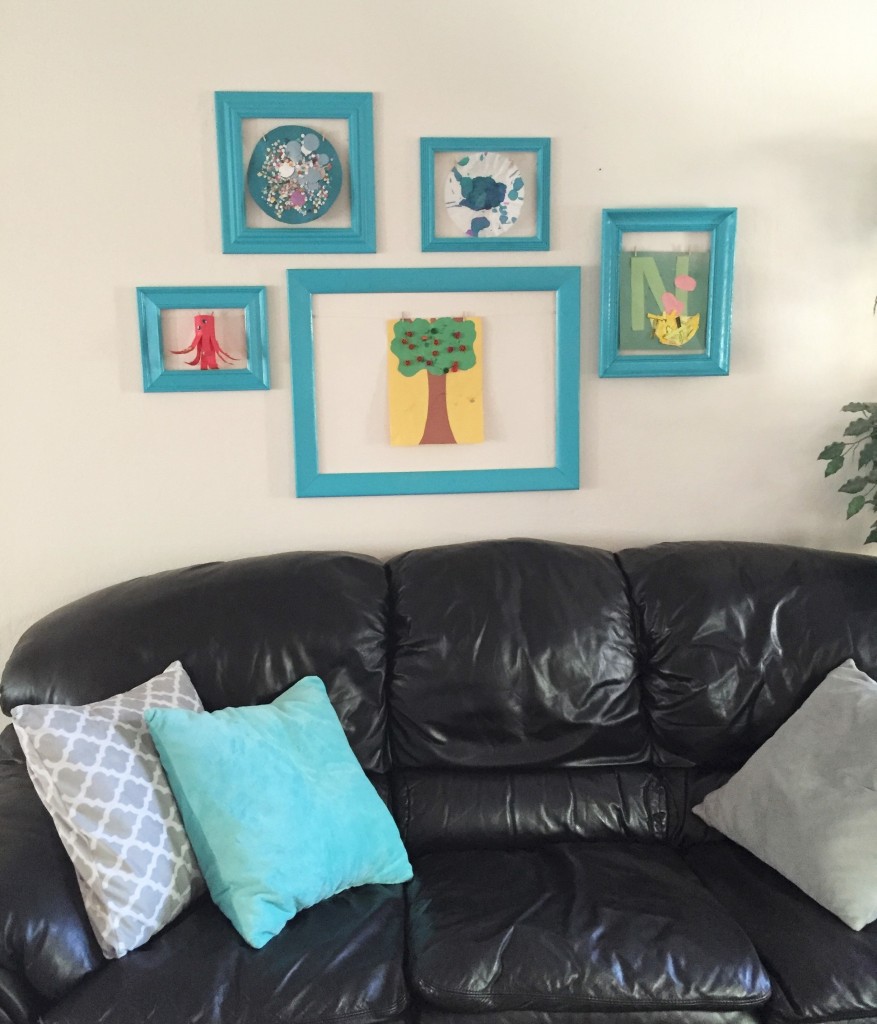 My quest for the perfect art display solution began about half a year ago, when my child glued this masterpiece together: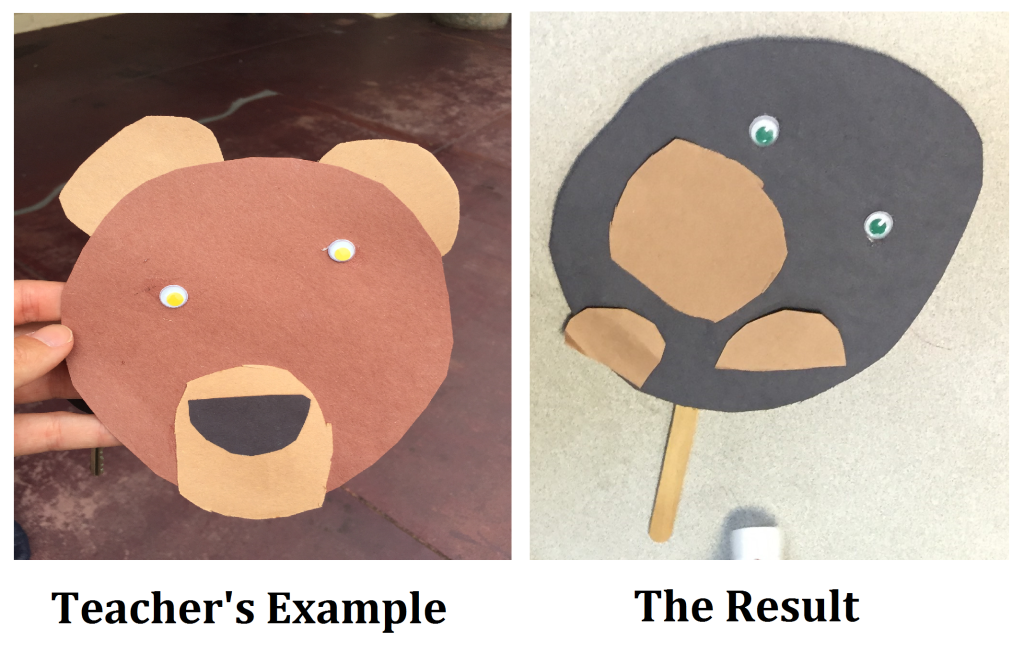 I loved it. While other parents carefully guided their toddler's hands to place everything in just the right place, I simply helped her rub glue onto the loose pre-cut pieces and then let her have at it. I call it her Abstract Bear, and I love it. I loved it so much I put it somewhere super special… and now I can't find it. Thankfully, she has since produced more artwork, and I have been only too eager to find a special way to showcase her talents.
I scoured Pinterest for ideas, looking for a solution that would meet the following requirements:
I found several runners up, including the following: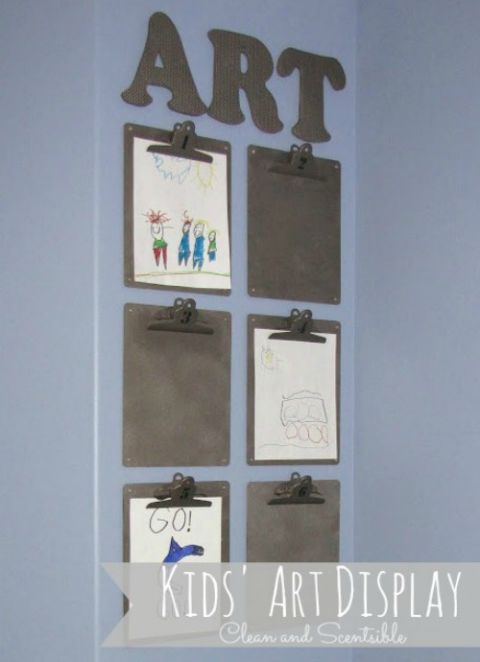 Clipboards: This clipboard setup looked neat, but felt a little too serious and businessy for fun and whimsical kid artwork. It was a pretty creative way to get things on the wall and it would be easy to switch out pieces, but they'd all have to be about 8.5″ x 11″ or smaller, and overall it felt a little too industrial to me. Maybe useful in a classroom environment, but not quite the feel I was going for at home. Vetoed.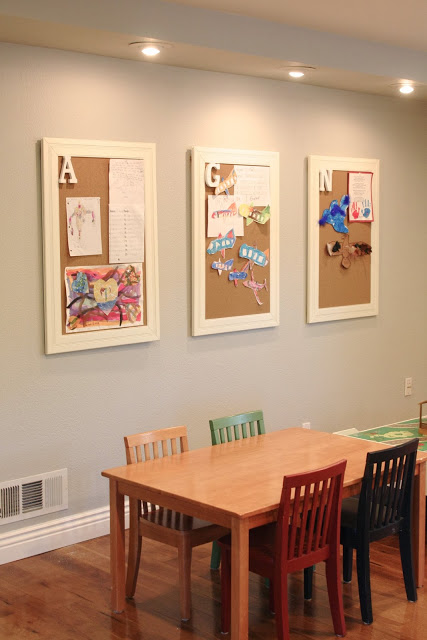 Framed corkboards: I liked the framed feeling and the warmth of the cork board color. Of course using thumbtacks to pin and unpin pieces would be pretty simple, too. Another pro was that these cork boards could promise each child an equal amount of space on the wall while still accommodating various sized pieces. Nice and fair, right? But somehow it felt too refrigeratory-cluttered to me, and didn't quite elevate the piece to masterpiece! as much as I was hoping for. So my search continued.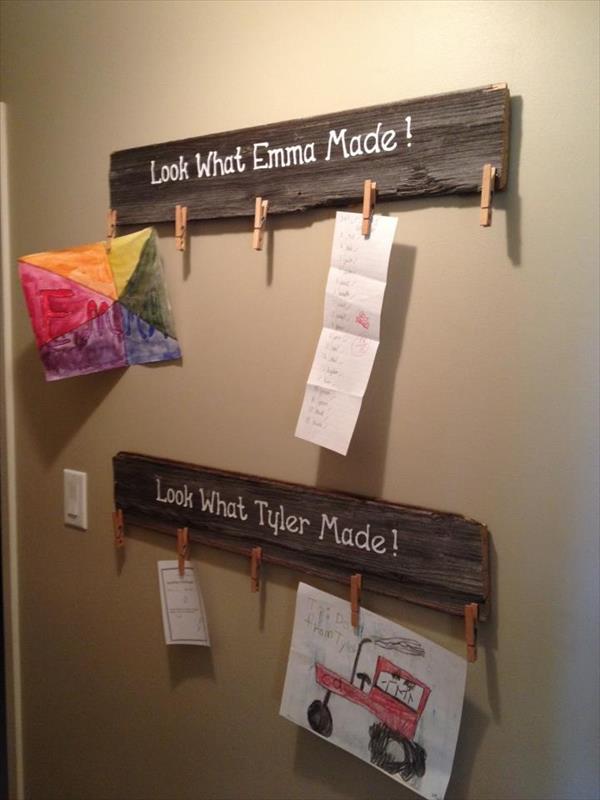 The linear hang: I came across several variations of what I call the linear hang. Some involved hanging pieces from a curtain rod, while others hung from a cable or sticks of wood. Displays on wall? Check. Easy to swap out artwork? Check. Accommodates various sizes of artwork? Check. Presents the artwork in a museum-worthy manner? Mmm… mayyybe not. Bookmarked, but the quest continues.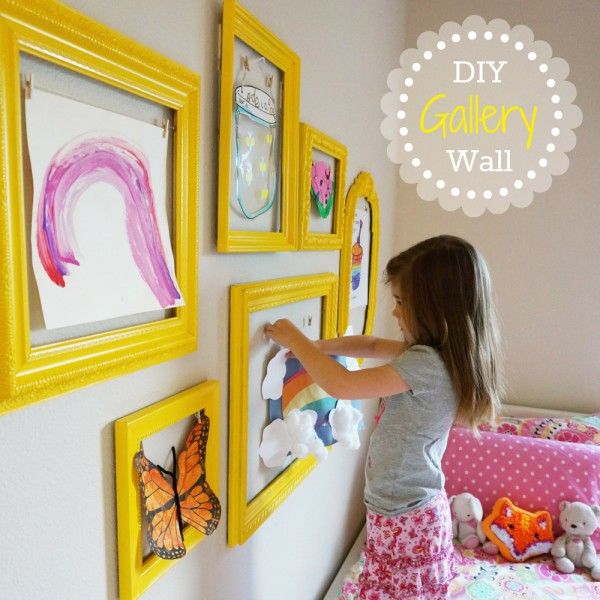 The Gallery Wall: Winner! It wasn't love at first sight, but the more I researched, the more I found myself coming back to this idea. I think maybe it was the yellow paint on the frames that threw me off at first, but the more I thought about it, the more I was convinced that this was the way to go. This would make for an easy way to switch out art on the wall while allowing for pieces of various sizes that could each look like a framed masterpiece! I would just pick a different paint color– something neutral and professional like… white?
…As you can see, we went with blue. Because I'm pretty thrilled whenever Ben has any opinion on stuff like this and when he came home from work and I asked, "Eggshell or aqua?" He immediately picked the blue. Plus, it gave me an excuse to get a soft & comfy plush fabric to change out one of the pillow covers, as shown in the first photo. (Yay, now ALL of our pillows are super lush and fluffy! 😀 Comfort > Design!).
I made seven frames total, with the other two hanging on an adjacent wall in the same room. A great tutorial is available here if you want to make this yourself! In short, I…:
Bought inexpensive wood frames at Goodwill (= 1 nap time (thanks, L, for house-sitting so I could finally start this project!! :D))
Discarded the glass and mats and ripped out the staples and backing paper out of all of the art frames (= 1 nap time)
Spray-painted the frames (= a little less than 1 nap time)
Installed the eyelet screws, fishing line, and 1″ clothespins and hung them up with Command strips (= a little more than 1 nap time). (BTW, this step included the most annoying part, which was getting the eyelet screws into the harder wood frames).
I had originally planned to buy frames from IKEA, but went with the blogger's suggestion to check out Goodwill and BOY am I glad I did! I was able to buy seven frames of varying sizes and personalities for just $30!! That is a fraction of what I would have paid at IKEA for the same thing, and I'm not even sure I could have achieved the same feel with new IKEA frames. It also would have hurt more to throw away the glass and mats on brand new frames than it did to toss stuff that was clearly 30 years old already.
I didn't go through all this trouble because I think my child is such an amazing artist or because I think everything she does is SO SPECIAL (wait… the second thing might be true… just a little bit…). As a matter of fact, if anything, I kind of doubt my kids will make it very far in the art world (if you think my stick figure drawings are laughable, you should see my husband's rendition of a tiger ;)).
…But maybe that's all the more reason I wanted to find a way to make even a squiggle look like it could belong in the MOMA.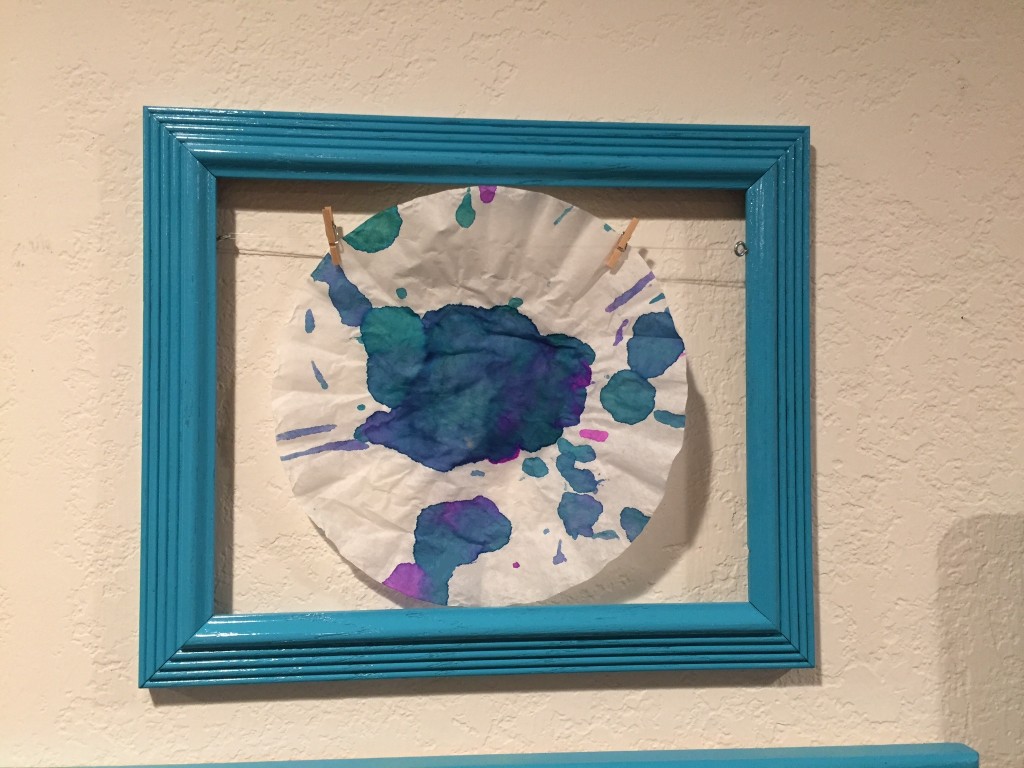 After lots of thinking and scouring the web and four full nap sessions spent crafting, I am pleased to say that this solution really met all my criteria. The best part is that my daughter is delighted with the whole setup! From the first day I installed her artwork, she has proudly pointed and babbled her delight and pride in her creations: "I made those effrywhere (everywhere)!!" which is her way of saying, "I made ALL OF THOSE!!!" Every time a new piece goes in, she notices and squeals with delight and points it out to us with pride and excitement.
My conclusion? Totally worth it.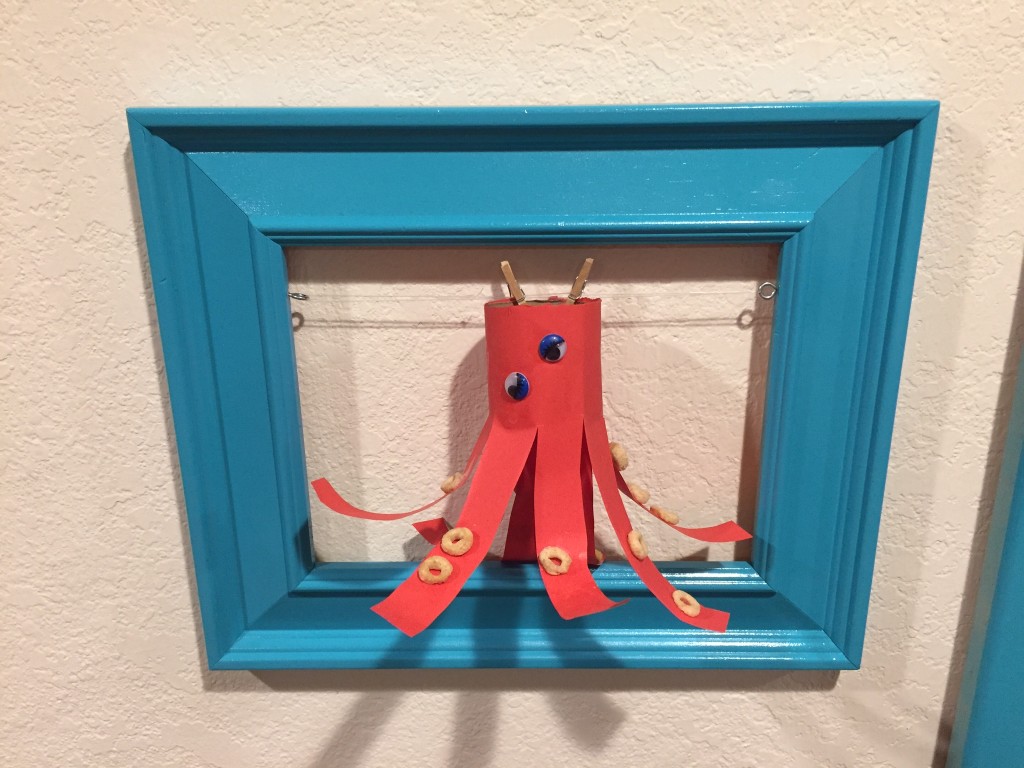 The Dizzy Octopus
P.S. If you like the idea of the gallery wall but don't have 4 nap times to spare, here is a similar (but more expensive) solution that you might consider
:
Lil Davinci
child artwork display cabinet to store child's masterpieces!
The frames open up and can store up to 50 pieces of art
, so it doubles as an art storage solution! The pieces look nice behind the glass, and there's a nice little mat framing each piece. I didn't end up choosing this option because 1) expensive, 2) not a fan of the black frame, and 3) not flexible for various sizes of art. But if you're willing to spend the money, like the black, and are okay with standard-sizes, then this might be the way to go! 🙂