October 29, 2017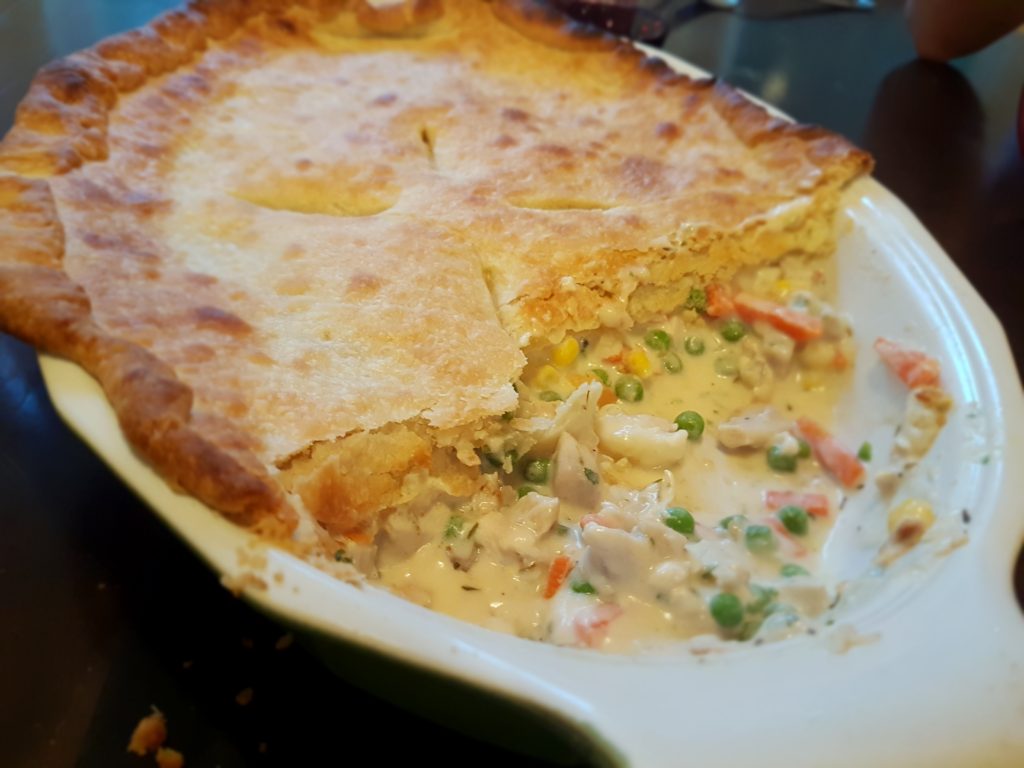 One of the things I love about cooler weather is that it finally makes sense to bake dinners again. I love the ease of popping something in the oven and then relaxing until we're ready to eat. I still do it sometimes in the summertime, and inevitably regret it as the house heats up on a 95 degree day. It ends up being a double whammy on the electricity bill- first the heat it takes to get the oven to 450 degrees, and then the AC to bring the house down to a reasonable temperature. Oops =P.
So now that it's finally feeling like autumn, I have been busting out my oven favorites- roast chicken, succulent ribs, and this SUPER easy and very delicious chicken pot pie! I definitely go the "cheater" route here with pre-made ingredients, so if you're looking for the homemade version with a legit roux and homemade filling, try something like this. It might take you a couple hours, but you can feel good that you know exactly what went into your pie.
If, however, you're looking for a 10-minute prep before popping it in the oven, I'm here for ya. This recipe features pre-made sauce (ah-hem alfredo pasta sauce), pre-cooked chicken (hello Costco rotisserie chicken!), frozen veggies, whatever herbs and spices suit your fancy (salt, pepper, thyme), and a pre-made crust (I am also a fan of the 2-pk from Trader Joe's!). Just heat the first four items up in a pot, pour into a pie pan, top with a crust, and boom. It's ready for baking. It tastes great, is a wonderful comfort food on a chilly day, and is an easy way to get some veggies into your kiddos, too!
Cooking Tips:
If I get a rotisserie chicken from Costco, we'll usually pull off the dark meat and eat it with some bread and salad the first day. I refrigerate the rest of the chicken, then pull off any remaining meat and dice it up for the pot pie later in the week. If you really want to make the most of your chicken, make some bone broth with your carcass.
The frozen pie crust at Trader Joe's is a steal for $3.99, and saves me cleanup and time. The only problem I have is that they don't roll out very well for me and/or I never prepare ahead enough to have them thawed out when I need them. Even when I thaw them in the refrigerator overnight, the crust still cracks and breaks when I unroll it on the counter. This time, I didn't even bother with the thawing instructions. Instead, I took out the frozen pie crust from the freezer, unrolled it and let it break into a bunch of pieces, and even broke the big pieces into smaller pieces so it would thaw more quickly. 
After about 20 minutes, all the pieces were soft enough that I could just smoosh them into one big ball and then roll out into the shape I needed, which happened to be a more oval shape this time. Roll the dough in between the plastic sheets provided to keep clean up to a minimum. Overall, this method saved me over an hour of thawing time!

---
Easy Chicken Pot Pie Recipe
Makes 1 large pie
(or 6-10 individual pies in ramekins, depending on the size of your ramekins)
Ingredients
1 package frozen vegetables (I usually get some mixed variety including peas, carrots, green beans)
1 jar Alfredo pasta sauce
3-4 cooked chicken breasts, diced (or dice sections of a rotisserie chicken)
salt, pepper, and thyme
1 pie crust, thawed and rolled out.
Instructions
Add frozen vegetables to a medium saucepan and cover with water. Heat on medium until hot, then drain water.
Add diced chicken, Alfredo sauce, salt, pepper and any other seasonings. Stir until heated through, then pour everything into pie pan.
Roll out pie crust on top, crimping the edges. Cut four slits in pie to let air escape. Bake for 20 minutes, or until crust is golden brown.
Enjoy!