March 3, 2014
Gateau Au Chocolat Fondant de Nathalie Recipe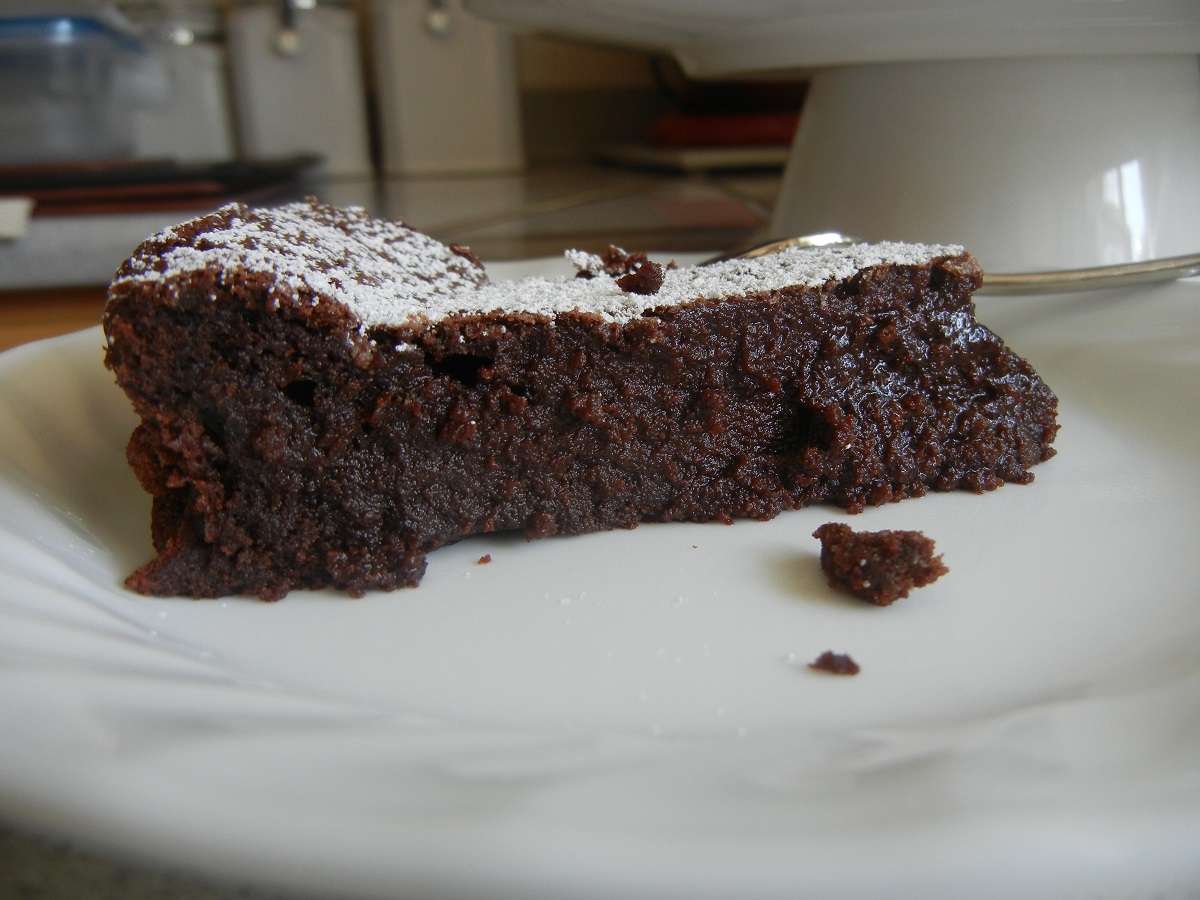 It was 4:55 and I was expecting my family over at 5:30 for my mom's birthday dinner. Thirty-five minutes. I bit my lip and skimmed the recipe again. It looked totally doable, but my own "mommy-brain" had also been causing me to make a number of mishaps in the kitchen lately, and I couldn't afford that with just 35 minutes on the clock. I deliberated for about ten more seconds, then remembered how much we always enjoyed chocolate cakes for Mom's birthday in years past. Today needed that little bit of birthday special, and I would bring it. So I set to action, taking every shortcut I could think to take (on an already-simple recipe) and hoped for the best.
Best quality dark chocolate? TJ's
would have to do (just linking for reference, as it's much cheaper in the store than on Amazon). European-style high-butterfat butter? Sorry Mom, Costco butter tonight. I made a game-time adjustment to use my springform pan
instead of the 8-inch round pan suggested, because I couldn't imagine how such a dense and possible gooey cake would flip out without breaking into sad, un-birthday-cake-y hunks. I nixed the double-boiler instructions in favor of melting the chocolate for two minutes in a big Pyrex bowl. The proper baker within complained that the chocolate wasn't going to melt properly, but the potential time savings from 10-minutes down to 2-minutes was too tempting to pass up. I would either pat myself on the back or have no cake at the end of this.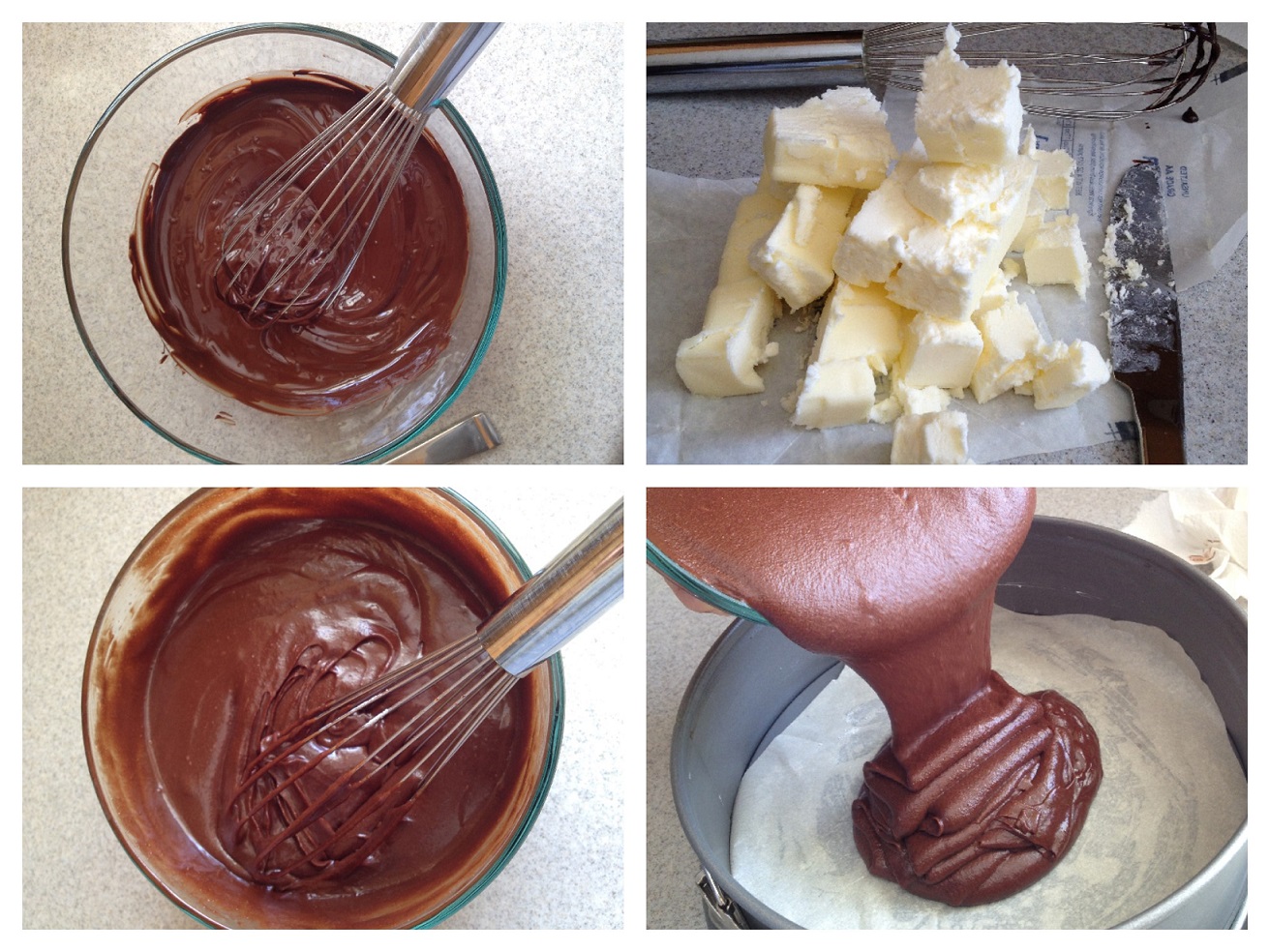 I successively mixed in the next four ingredients, and then suddenly… I was done. With 15 minutes to spare! I popped it into the oven, and spent the next 15 minutes feeling pretty awesome.
Now, this would all be for naught if the cake didn't turn out, but it did. Oh yes, it did. It was exactly as the recipe promised: "oooey gooey and perfectly chewy chocolate brownie makes sweet passionate love to a moist and rich chocolate cake"-perfection. I'll be the first to admit that it's not a looker, but hey, it's what's on the inside (of your mouth!) that counts. The tip of my slice was reminiscent of slow-oozing molten lava cake goodness which gave way to a firmer, rich cake with just the right amount of crackle on the top. Everyone loved it and no one would have guessed it had only taken me 20 minutes to prepare (not including bake time). Well, now the secret's out, and you're in on it too. Do yourself a favor and find an excuse (birthday! st. patrick's day! rainy day! thurs-day!) to make it by the weekend– you won't regret it!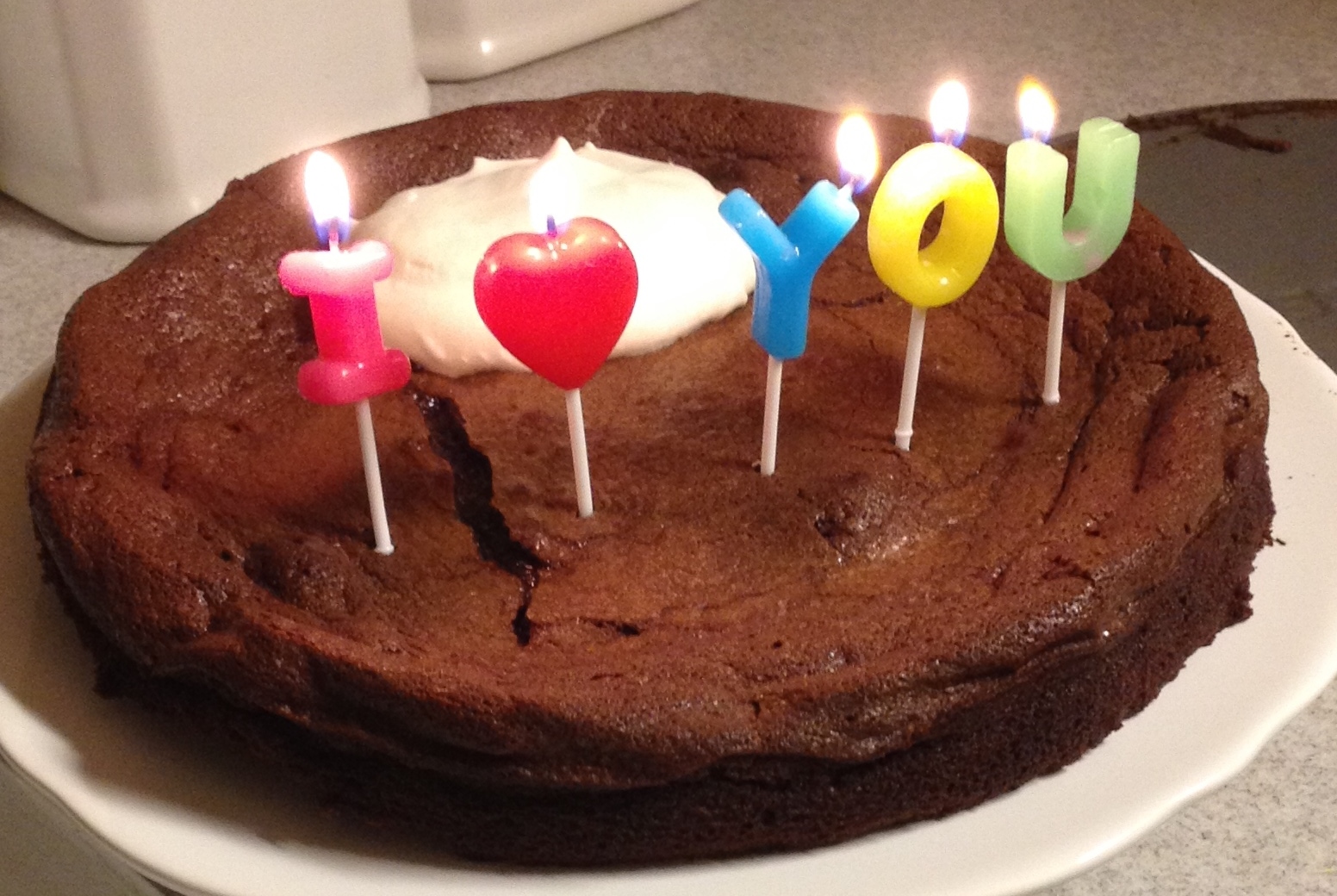 ———————————————
Gateau Au Chocolat Fondant de Nathalie Recipe
This recipe is adapted from Andrea's at  http://www.coconutsandcardamom.com/
Ingredients
7 ounces (200 grams) dark chocolate, chopped (I used Trader Joe's Pound Plus 72% Dark Chocolate)
7 ounces (200 grams) butter, cut into ½-inch cubes
1⅓ cup (250 grams) granulated sugar

(8/11/2015: Today I tried half the sugar and LOVED IT.)

5 large eggs
1 Tbsp flour
Instructions
Preheat the oven to 375ºF. Butter the bottom and sides of an 8-inch round springform pan. Line the base of the pan with parchment.
Melt chocolate in a large Pyrex bowl for 1 minute on high in the microwave. Stir, then melt for 1 more minute. Carefully remove with oven mitts, and stir in the butter chunks until melted in. Add the sugar to the chocolate-butter mixture and stir until combined. Set aside to cool for a few moments.
Add the eggs one by one, stirring well after each addition, then add the flour. The batter should be smooth.
Pour batter into the buttered cake pan and bake for approximately 25 minutes, or until the center of the cake looks set and the top is shiny and a bit crackled. The center will jiggle and seem undone.
Let the cake cool in its pan on a rack for 10 minutes; then carefully remove the cake so the crackled side is facing up (this is when you'll be glad you used a springform pan). Allow to cool completely (expect the cake to deflate).
Optional: Dust with powdered sugar, if you like that look. I was happy to just plop a dollop of whipped cream on it and leave it looking nice and homemade.

To serve: Cut into wedges and serve with a dollop of slightly sweetened whipped cream. This cake is also awesome the next day, if you have any left (unlikely). Just microwave your slice for 20 seconds and enjoy with a glass of milk!