December 10, 2018
This post contains affiliate links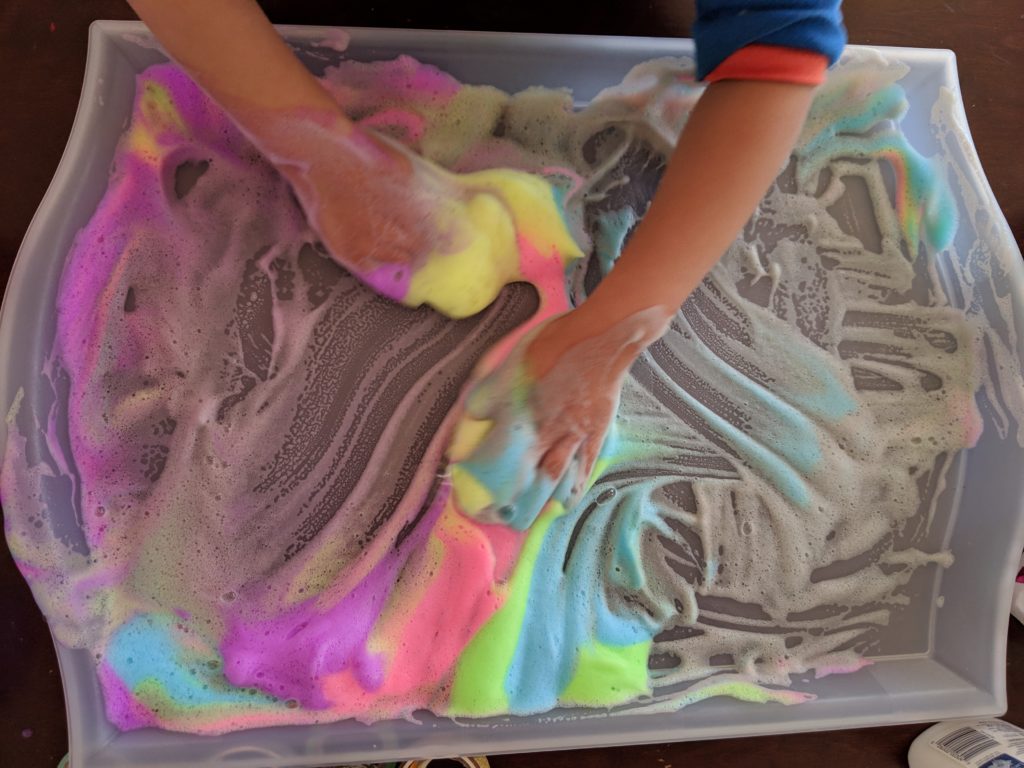 Sometimes, I just need my child to stay busy for a bit. Maybe I'm on the phone with the doctor, or maybe it's Amazon Prime Day and I'm eyeing that fancy magnetic toy (that never goes on sale but is coming up in 3 minutes and 28 seconds…!). If your child is anything like my son, that means he doesn't like it when you go in the office to get anything done, and when you really need those 5-10 quiet minutes, that's when he suddenly wants to explore your mouse and touch your monitors and drive you batty.
I used to be able to appease him with a TV show. But sometimes, even that doesn't work! I never thought I'd hear myself say, "Can you just watch some TV??" but that was me a couple months ago before I came across a new solution that has worked pretty well so far. It usually doesn't buy me more than 20-30 minutes at a time, but when I really need to concentrate or avoid interruption for ten minutes, then it's good enough.
Basically, I reserve one of his really cool, very engaging toys and only take it out during these high-need situations. He'll ask to play with it at other times, but I don't let him. I save it for when I really need it. Then, when I need to answer that phone call, I can just pull the toy out and he's delighted he gets to play with it and stays occupied for a pretty long time because he knows once it's gone, it will be a while before he sees it again.
So here's what I did. For his birthday, we got him a bunch of small construction vehicles to decorate his birthday brownie with: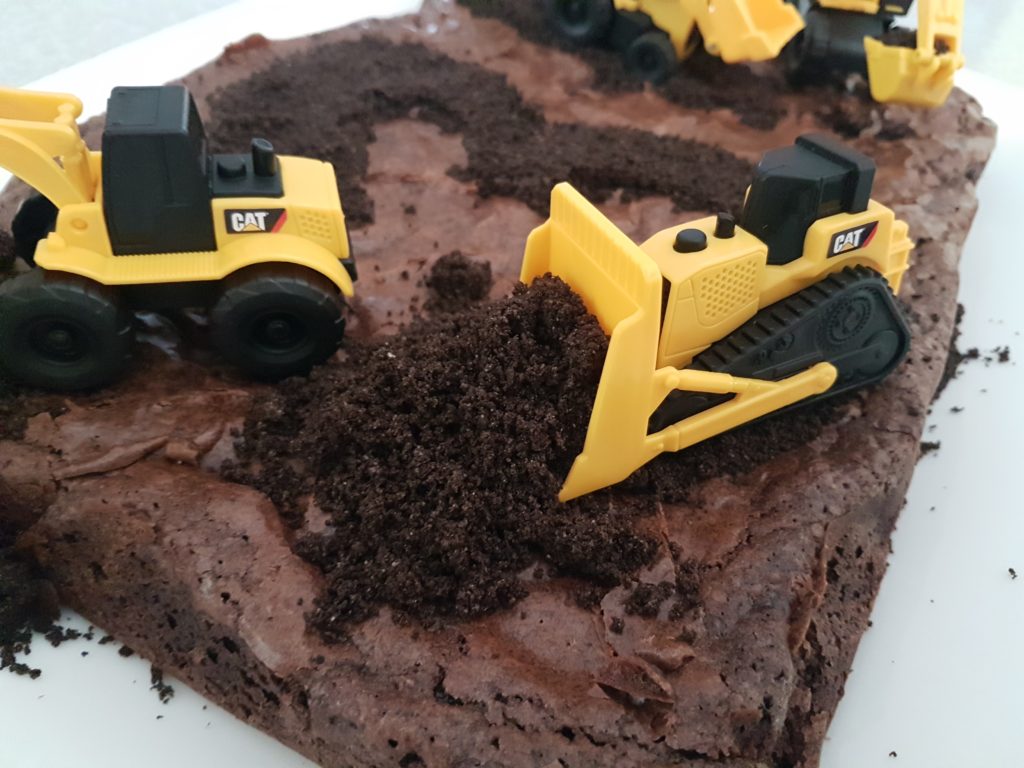 The next day, I poured some kinetic sand onto a large tray (I love the plastic ones from IKEA), added in the mini construction vehicles, and let him play for a good, long time. He loved it. We had a couple more days of that before I realized that this was a toy he could sit down with for a decent stretch. And that's when I tucked it away to save for "emergencies." Now, when I need to steal a few concentrated minutes to myself, I pull it out, dump it all on the tray, and let him have at it. He loves it! I will probably need to come up with a new toy soon, but for now it has been a nice option to have in my back pocket when I don't want to resort to screen time.
This same idea works for traveling, going to restaurants, etc. I have a box of books and portable toys that work well for when I need them to be quiet for a bit outside of the house. I bring these along for weddings, church service (when the kids are joining), or long family dinners. I don't take them out at any other time, so it's always a treat when they get to play with it.
Some of my enduring favorites include I Spy books, which are really nice for sharing with other kids. They can all crowd around and look for objects together, even if no one can read yet. I realized how universally engaging these books were when our school librarian would spread out about ten books at the end of each school year for all 33 students to share. Since school was almost out, she wouldn't let them check out any more books, but they still needed something to do for the thirty minutes of library time, and these books were always a hit. They would group together and start looking for objects and time always went by quickly during these times. Who knew? Even my three year old enjoys the simpler ones, like this one.
We also love this pack of 100 Things for Little Children to Do on a Journey from Usborne:
Each card is double-sided and has various prompts and activities to do, from mazes to doodling to puzzles and quizzes. It helps (but isn't totally necessary) if your child can read, and they should be able to use a drawing/writing utensil. I always pack an extra dry-erase pen so any other interested children nearby can borrow a few cards and join in on the fun. One other tip is to train your kid to erase their drawing/writing before moving onto the next card. We've gotten a lot of mileage out of this set!
While we're on the topic, here are some more ideas (and suggested ages) that have worked well. Most of them a quiet, and all of them fit nicely in a backpack, which make them perfect for travel:
Babies to Toddlers:
Preschoolers:
Again, these toys aren't usually available for them to play with at home, so when I take them out for these rare occasions, it's always a treat and it keeps the kids engaged longer than it would if it were one of their everyday toys.
How about you? What are some of your favorite go-to activities to bring out for high-need situations at home, or portable activities to take on the go? With the holiday travel season approaching, I'm sure we could all use more ideas!