June 9, 2017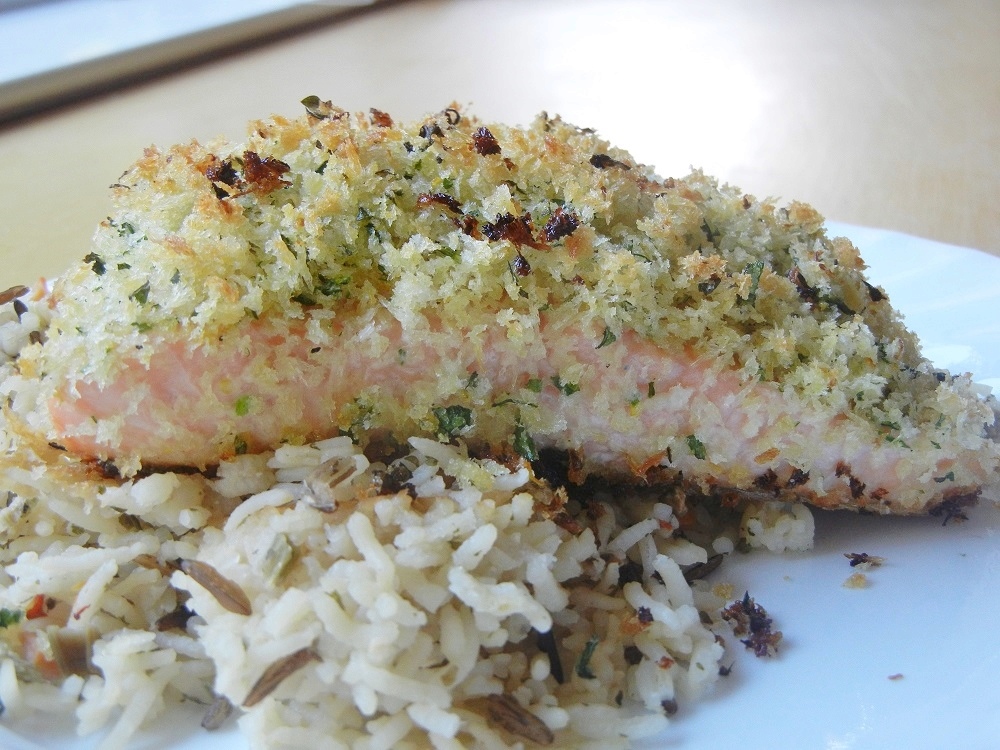 We love salmon. A lot.
We like it raw. Baked. Pan-fried. Poached. Pretty much any way you can imagine! The other night, as we dinnered over mirin glazed salmon and napa cabbage, I remarked to Ben, "You know, I think I'm always going to cook skinless salmon fillets this way."
"Really? I really like your panko-crusted salmon, though!" he said, afraid I was nixing one of his favorite dishes.
"Me too! But it's a totally different flavor and feel- and you have to have salmon skin on for that one to really shine. So if I have skin-on salmon fillets, I think I'll keep making it that way. But if it's skinless, like these, then I think something delicate like this Mirin glaze is the way to go. And if it's salmon steaks, then I like it best cooked with lemon and garlic the way you do it."
Ben makes the best lemon and garlic salmon steaks. (Recipe below.)
Ben: "That's an interesting point. Different ways to cook salmon depending on the cut. You should blog about that."
Me: "Okay."
So here ya go! Three of our favorite ways to enjoy salmon, depending on what cut you get: fillets with skin, fillets without skin, and salmon steaks! Yum! Feast on, friends.
read more
May 31, 2017
6/4/2017 UPDATE: Congrats to Natalie, the winner of our giveaway! Thank you all for participating!
I'm a big fan of letting kids have space to be bored, so when EQtainment sent me this article to share, it seemed like a perfect fit! It's a more succinct version of what I would say, and I am happy to share it here with you today!
Scroll to the bottom to see the great giveaway we have for you today, too!
5 Reasons "I'm Bored" Should Be Music to Your Ears
Guest post from EQtainment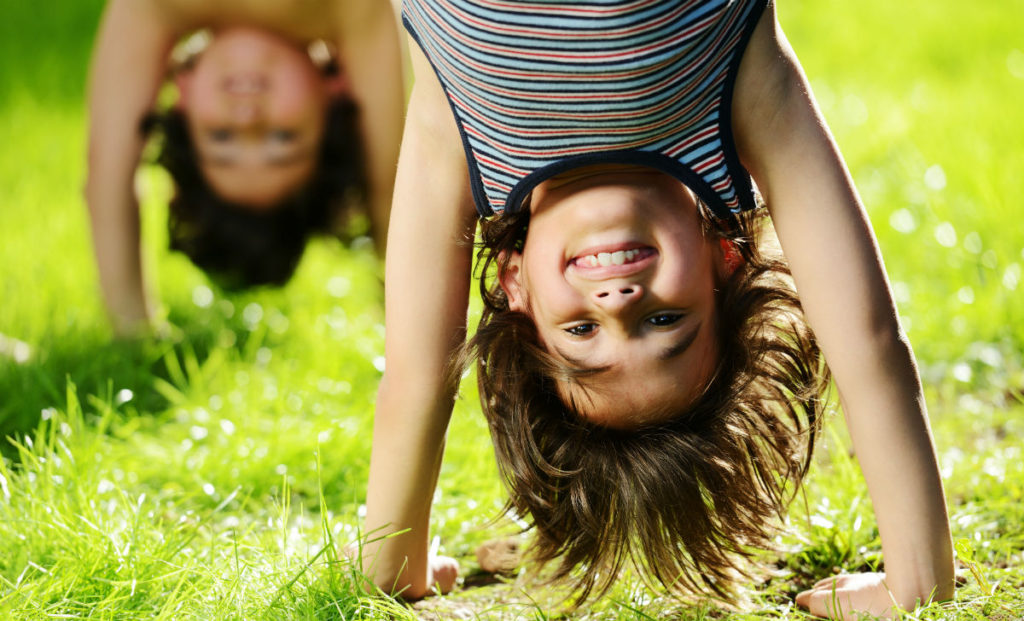 What should you do next time your kid says "I'm bored"? Hint: Nothing! In fact, here are five reasons to do yourself and your kid a favor, and let boredom be.
Boredom is the key to unlocking your child's creativity.
Complaining about being bored gets pretty boring pretty fast. Finding ways to fill unstructured time is how your child finds their muse. Whether they use that time to build a fort out of couch pillows, make a mud pie, or pull pots out of the cabinet and bang on them with a spoon, boredom breeds inspiration.
Being bored encourages kids to learn to amuse themselves without digital distractions.
If you automatically hand your kid your phone every time you sit down at a restaurant or get in the car, you're robbing them of the chance to learn to talk with their own family, or even just look out the window. Enjoying the company of others — and yourself — is fundamental to well-being. Want to take it to the next level? Declare every Saturday or Sunday as Digital Day Off for the whole family.
Boredom gives children a reason to challenge themselves.
When a kid is constantly busy, they may not get the time to perfect a drawing, or finish a puzzle, or practice shooting baskets in the driveway. Boredom is the chance to work at something hard and build a skill — and in turn, self-confidence.
Free time is time to be free.
When a kid has nothing to do, they learn to just be. Slowing down means time to recharge. Even kids get stressed when they don't get that opportunity.
Being bored motivates kids to explore their world — and themselves.
Between soccer and piano lessons (never mind school), kids spend a lot of time learning what we want them to learn. But without free time with nothing to do, they don't get the chance to try things on their own and figure out what they like to spend time doing. That's why it's so important to schedule some unscheduled time into your weekly routine. Maybe they'll catch caterpillars in the backyard, or make up a new recipe, or grab their crayons and Q's Coloring Book. Whatever they decide to do, they'll love the chance to be in control and discover who they are.
---
A note from JoEllen: 
EQtainment also sent me some products including a game called Q's Race to the Top. I wasn't expecting to be wowed, but the reviews don't lie- this game is a winner! It is unlike any other kids game I have played with my children. The first time I played it with my daughter, my husband saw the fun we were having and exclaimed, "This game is awesome! I want to play!" I could tell he genuinely did. 

Before I had played it, I was planning to just do a quick mention of the game, but I can't help myself- it's easily our family's favorite game now, and a must-have if you want to laugh, be silly and active, and have really interesting conversation with your kids. I've learned fascinating things about my daughter, like what she thinks about at night before going to sleep, and which rules at home she thinks are good (and not good haha). It offers opportunity for thinking through various social and behavioral scenarios without feeling like a lesson or chore.
I'm always curious to know what my kids are thinking, but don't always know how to tap into their brains- this game gives a really unique perspective while helping us coach them toward better behavior and emotional health. LOVE. 
GIVEAWAY:
I am so eager for you all to try this game that I asked EQtainment if they'd be up for a giveaway, and they said yes! Enter below for a chance to win a Q's Race to the Top board game and a year's subscription to the Q Wunder app (including access to premium content). You can enter daily through Saturday, 6/03, and I'll announce the winner here on Sunday! Thanks, EQtainment!
May 25, 2017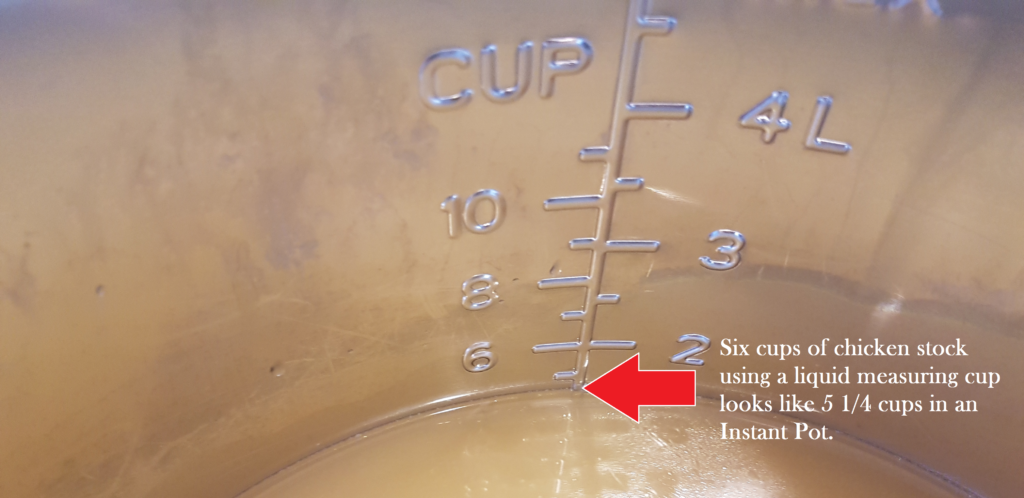 Is it just me, or are the measuring lines in the Instant Pot off for liquid measurements? Here's what happened. A couple months ago, I shared this recipe with an exciting tip for making Chinese rice porridge, known as "jook" or congee, here on my blog. My good friend and faithful recipe tester Wendy tried it right away… and it didn't work. That was very strange, because she is known for her amazing turkey congee, so it was definitely unsettling to learn that not only was it not better, but it was worse.
She said the problem was that her congee was really soupy. The rice and the liquid were just not coming together and it was definitely not the thicker consistency we know and love. She tried cooking it longer. And longer. And longer. I checked if she used a different grain of rice (but should it matter?), or if she had really frozen the wet rice long enough (but again, she made it fine before- why was it WORSE now?!), or maybe she didn't set her Instant Pot correctly?
It was none of those. A while later, I made my jook again, and as I measured out my seven cups of chicken stock, I noticed something odd. The liquid was not measuring correctly on my pot. Wait. Was that just me? Did I just do a sloppy measuring job? I did it again, and sure enough, my seven cups always seemed to fall short of the Instant Pot's measurement of seven cups.
If you're wondering, I usually use the Oxo Good Grips 2-Cup Angled Measuring Cup:
Now, you might be thinking, "Okay okay, I see your point, the Instant Pot is off by a little bit for liquid measuring. But it's not that big of a deal, right?"
Actually it can be, especially if you are pulling your hair out trying to figure out why your congee is so SOUPY and not thick and PORRIDGEY. Congee is supposed to be an easy and comforting food, and spending all evening trying to figure out why you are failing at what is supposedly one of the easiest recipes in Chinese cuisine is far from comforting.
So I just went and filled up my Instant Pot with water up to the "8 cup" line, measuring out two cups at a time. Guess how many liquid measuring cups I actually had to put in to get it to the IP's 8 cup line? 11.5 CUPS!! I was so surprised by this that I poured the water back out, two cups at a time, to make sure that was really the case. It was. That 3.5 cups is significant- almost 150% the amount you're supposed to be adding! No wonder the congee was coming out soupy!
I shared my findings with Wendy, and soon after she tried making congee again- using a liquid measuring cup this time instead of the lines in the Instant Pot, and she said it worked! WOOHOO!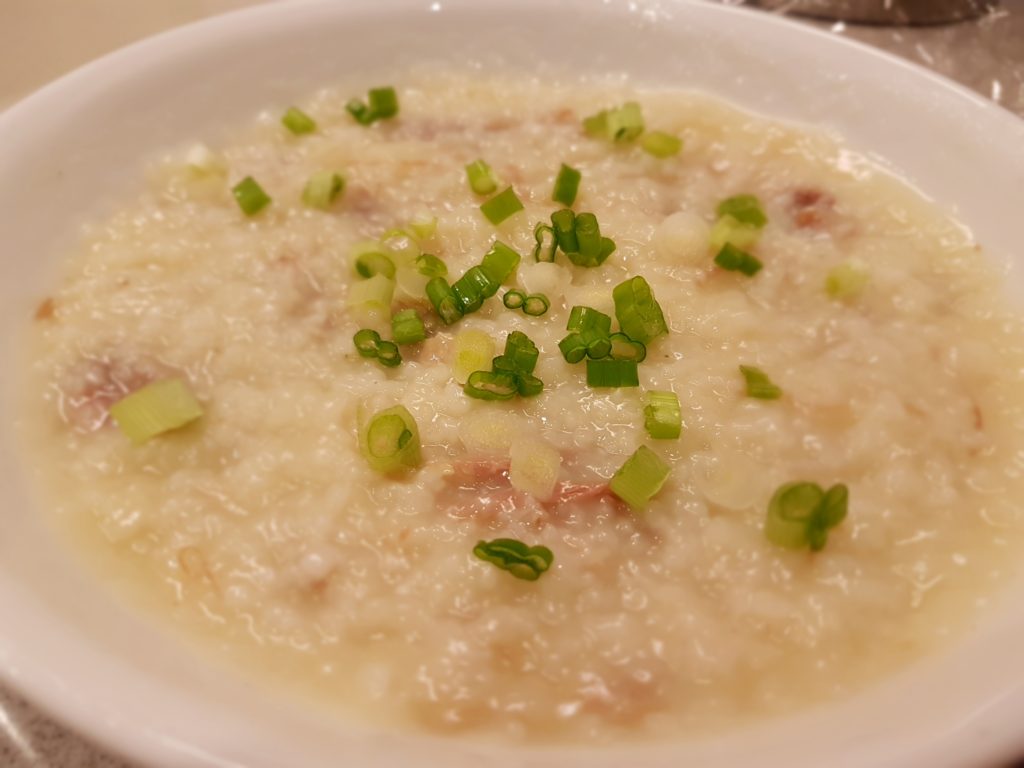 So what do you think? Is it just me, or are the lines off for liquid measurements? Well, if you have also been frustrated with soupy congee in your IP, try measuring your liquids with a measuring cup next time and let me know if you have more success!
May 10, 2017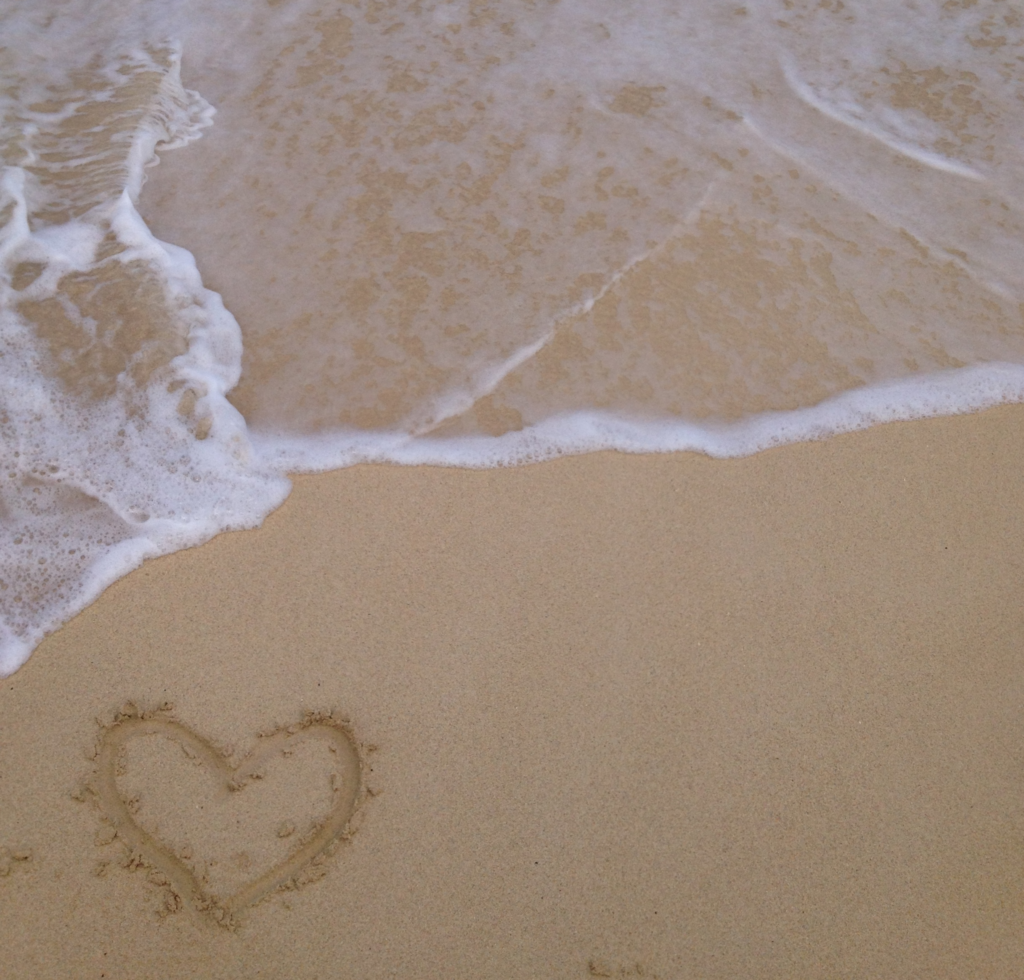 We're going to visit a more heavy topic for today: Child loss.
I don't go here often. It's a hard topic- both for you and for me. Yet this is a very real part of my life- something that hits me every time someone asks how many kids I have (I hesitate, still, and then usually say "two" with a forced smile while thinking three in my head). It pops up whenever I fill out forms for my kids that ask about their siblings, and crosses my mind often whenever I see four year olds running around and laughing and playing and growing. I miss mine.
I can usually brush away any heavy thoughts within moments. Usually. I was once told that I'm very good at compartmentalizing- I guess this is a strength that has served me well. But there is one situation when I cannot simply push away the thoughts and realities of my experience, and this is when I come across another mother who is freshly experiencing the nightmare of losing a child.
read more
May 4, 2017
I've always thought of bread as a labor intensive process, or at least a time consuming one. I remember early attempts of bread making that involved creating warm spaces, punching dough, kneading, and a lot of setting timers… only to be met with a lot of, "Meh, I can get a much better loaf for a lot less effort at the bakery."
So I decided to leave the crusty bread loaves to the experts. I would stick to cookies and brownies in my bakery.
Then my friend Sandley shared an exciting find on her blog: Jim Lahey's no-knead dough. As convincing as her bread story was, it was the photos that did me in. That, and this line: This bread has a wonderful crusty exterior, soft air-punctuated interior, and looks amazing.
Well, then.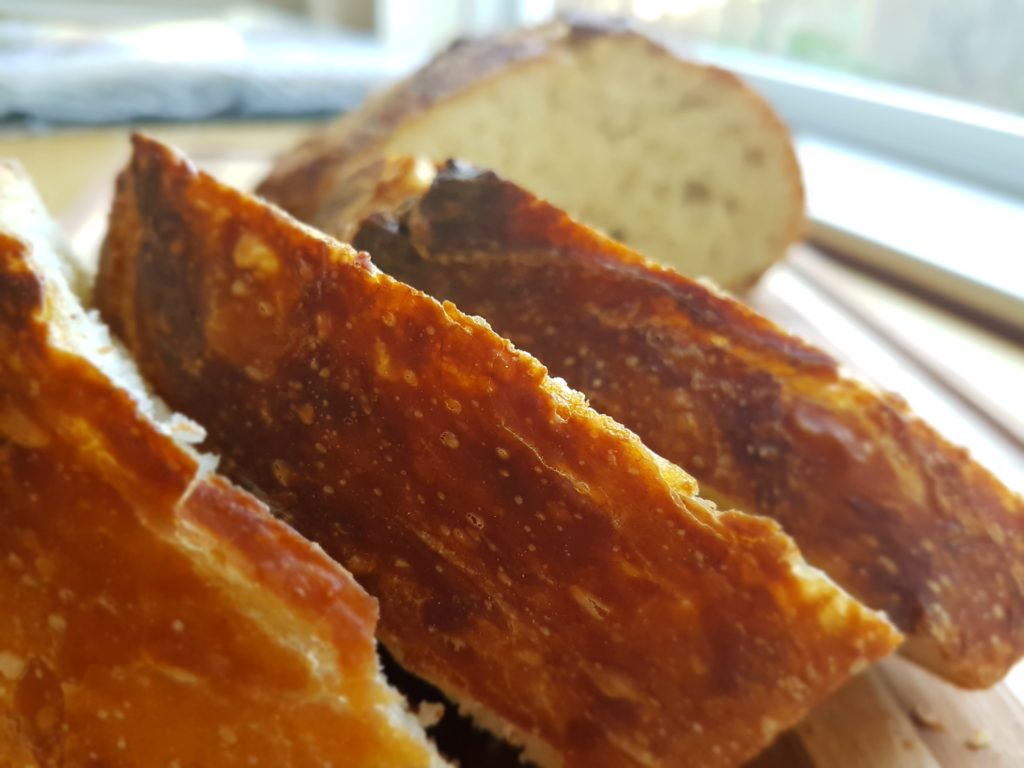 Last year, she moved away (sniffles!) and left me with the rest of her instant yeast. There was a lot, so I decided to give the recipe a go, and I haven't looked back since. Actually, I have looked back a lot. I have looked back at her blog and the recipe many times and decided it's time to get this well-loved recipe onto MY blog for ease of use (and to share with all of you!). It is now a staple at our dinner table and is perfect for sopping up sauces or enjoying alongside a carby pasta dinner.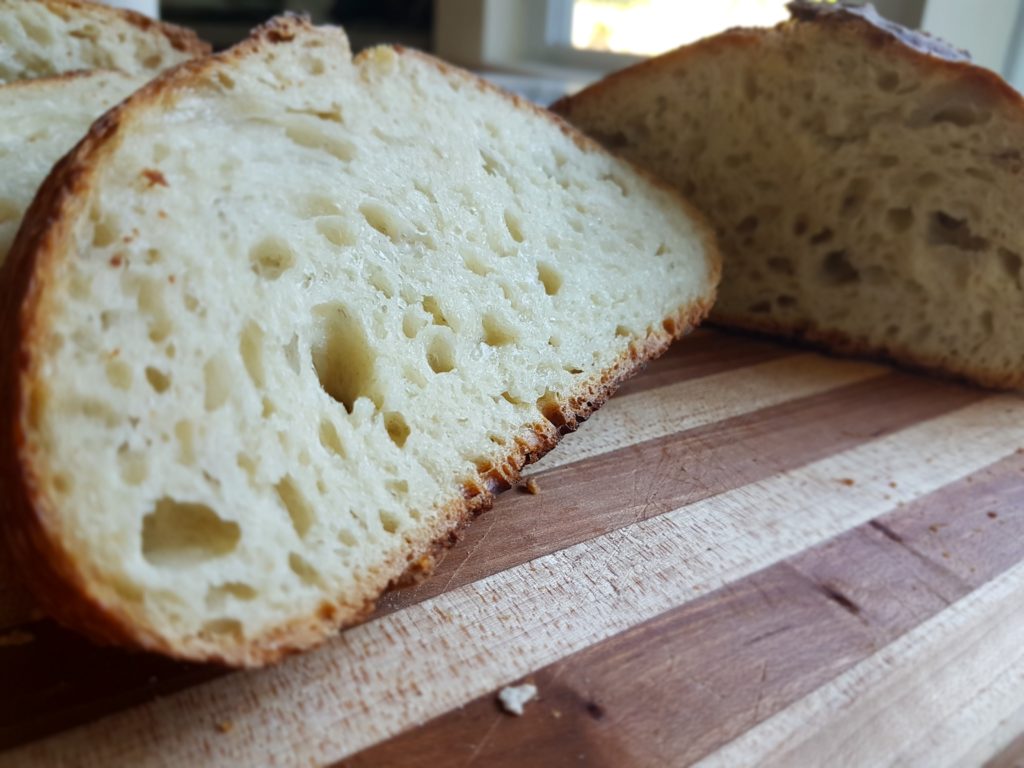 Some other things this recipe has going for it:
It only required 4 basic ingredients: Flour, salt, yeast, and water.
The only special equipment required is a dutch oven (though I guess this is a con if you don't have one. Or an excuse to buy one? 😉 I have used this Lodge 7.5 qt for years and love it!).
You can start it at night before going to bed and bake it the next evening for dinner.
You don't need a mixer or dough hooks, or wrists of steel for kneading. It's a no-knead recipe!
The kids love it. One loves the crusty outer parts, the other loves the soft and chewy insides. Ben and I love both- tasty, full of great texture, and delicious!
read more
April 26, 2017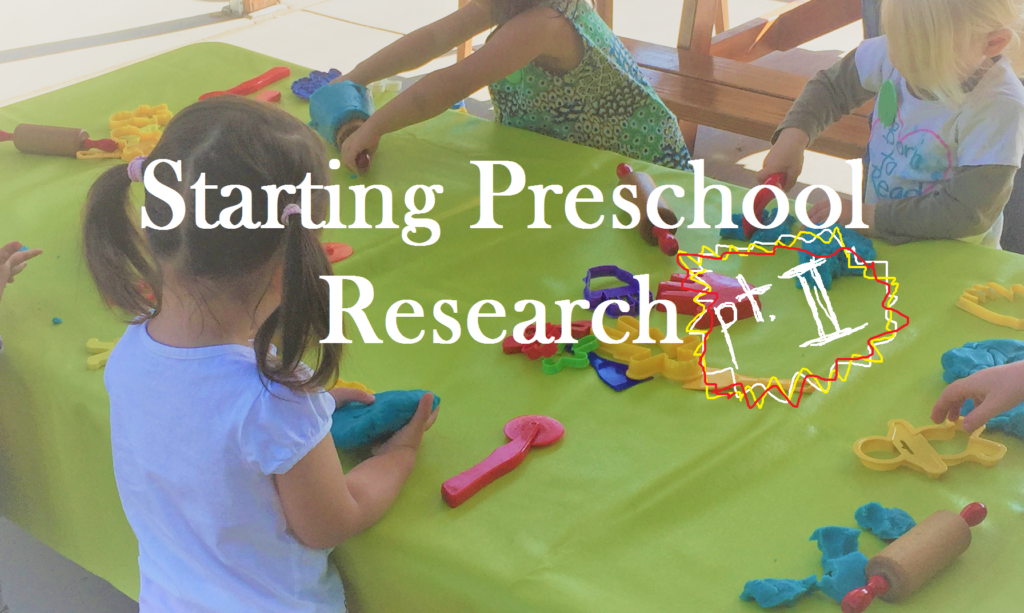 Okay, you've got an idea about what kind of preschool you'd like to send your child to (read more here). Great! Now what? Warning: reading this next section might just make this decision feel even more complicated than it needs to be, so proceed with caution ;). Here are a few more things you might consider as you decide on a preschool.
Physical environment
Playground and structure: If this is where your child is going to be all day every weekday, it would be great to find a play area that offers a lot of variety for gross motor development. My goal last year was to find a great play-based program, so I always made it a point to check out the outside play area and gave extra points for irregular surfaces (to develop balance and coordination, as opposed to just cement or rubberized play surfaces), a bike circle (to practice going on scooters and balance bikes), and a variety of play equipment (swings, bars, sand, climbing structures, etc.)
Classroom environment: Does it feel warm and welcoming? Is it neat and organized? Is the room set up so that children can feel ownership of the space? Is it safe and open? Do the walls show student work? Does the student work look uniform, or does it look like students were given freedom to be creative?
read more
April 19, 2017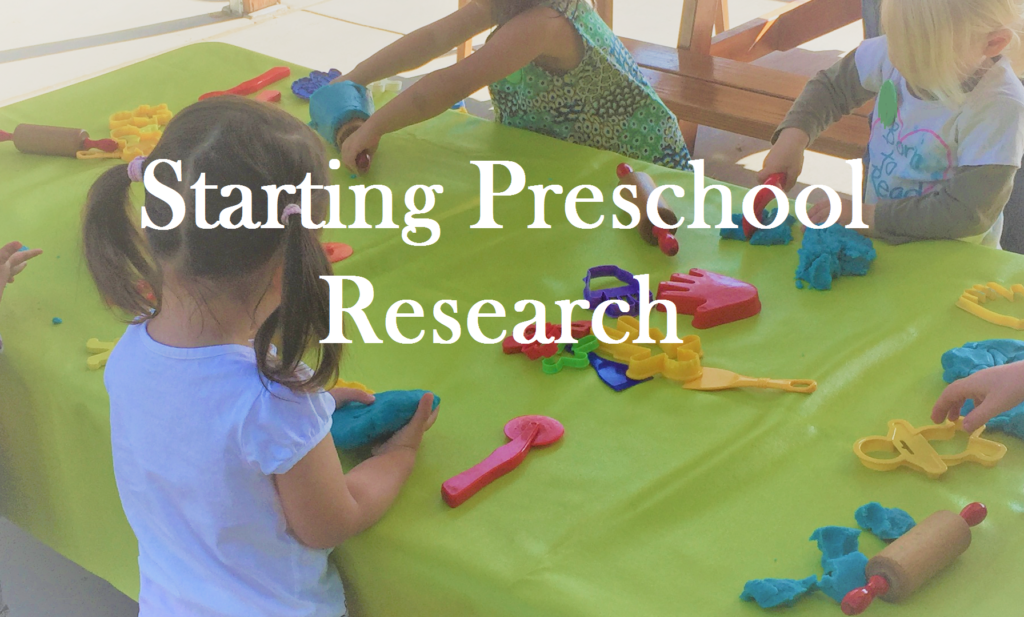 I am NO EXPERT on early childhood education.
Which is why I would have really appreciated an overview guide like this a year ago, when I was neck-deep in preschool research. It can be a daunting task. There is still so much I don't know, but my goal is to give new parents an idea of what kind of things to consider when getting started on preschool research. I want to help you narrow down your goals and organize your thinking. I'll talk about the different factors you might consider as well as some of our thinking as we worked through our decision for our preschooler.
Ultimately, I don't think there's any one best philosophy or type of preschool for all kids. I think they all offer different and wonderful ways for your child to grow, and you should find something that works best for you and your child!
Where do I start my research?
Your preschool decision can be as simple as finding the closest preschool to your house, or finding one on the way to work. You visit and it's warm, welcoming, and the kids are thriving. GREAT. Done. You are so efficient!
Others go with the recommendations of friends, which is a great place to start. Your friend raves about her child's class and school. You visit, it's just lovely, and you see her child thriving there. Sure, why not? Easy peasy, you are done!
If you're like me, though, you take about 100 factors into consideration, weigh each one (using an Excel spreadsheet), agonize over how important each one is (both now and in nine months, when she would actually be enrolled), and flit back and forth as you get input from friends, the Internet, reviews, and your "gut feeling" after you've toured the school (not to mention the pressure of waiting lists!).
Sometimes, I really wish I were not that parent, because the first two scenarios seems so simple and everyone I know is still very happy with it. The best advice I got from a friend was, "Jo, don't overthink it."
So maybe you should do yourself a favor and stop reading right now ;). But if you must, then press on. Good luck. And really, try not to overthink it.
Different Types of Preschools
In my research, I came across five main different types of preschools: traditional, play-based, Montessori, co-ops, and home-based. While most preschools have elements from more than one category (i.e. "play-based co-op"), these are teaching philosophies and styles you might want to grow more familiar with.
read more
April 13, 2017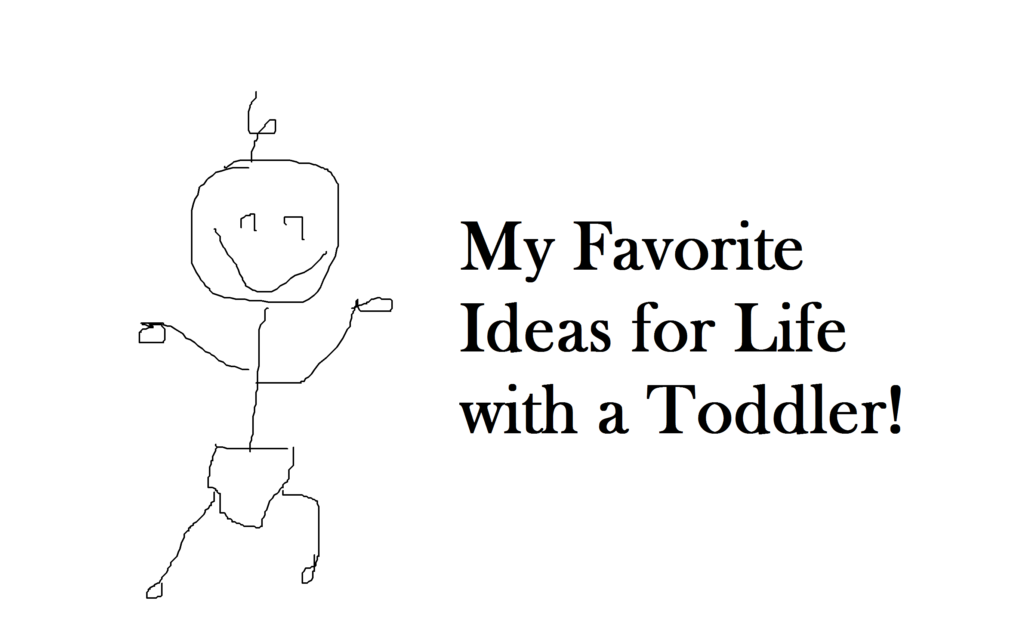 A couple weeks ago, I got a random spam comment on an old post that I wrote, "Activities to Do with a Toddler." After the initial disappointment of realizing it was not a real comment (yes, I like your comments!), I decided to look over that old post again from two years ago. First of all… TWO YEARS! I'VE BEEN BLOGGING FOR OVER TWO YEARS! I read somewhere that the average life of a blog is three years, and I think I jusssst passed that milestone… so here's to another 3+ years for Cuppacocoa! 🙂
As I read it, I kept thinking, OOH, that's a good idea, I should do that with my little boy! He'd love that! and Wow, what a great idea, so glad somebody compiled these to help pass the long afternoons. Heh heh.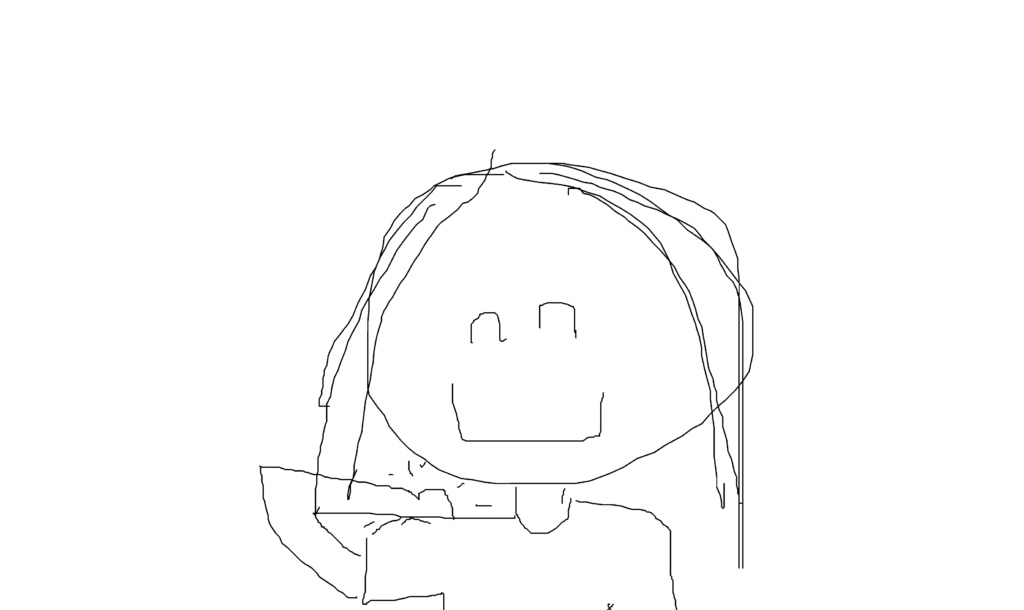 In all seriousness, though, it was a reminder to pull out the old bean bin (which I had been hiding from him ever since he learned to grab things) and let him have a go at it. I was actually quite certain that he was not ready for such an activity. He is one, he still puts a lot of things in his mouth, and I just didn't feel comfortable leaving him with the big bin of beans unsupervised. Did I really give my daughter full access to that stuff at the same age?!
According to my blog, I did. So the least I could do was let him have a shot at it.
I waited for a time when I could give him my full attention (i.e. his big sister was out of the house) and I took it out. Much to my surprise, he quickly caught on to the idea that all the beans needed to stay in the bin! Of course, some came flying out, but he soon learned to bend down and pick them up and put them back. I was impressed all over again.
There's no way I would have taken them out if I hadn't seen me do it for my first 1-year old. Hmm, I thought, there's probably a bunch of stuff I'm forgetting to do for him that I did for her. Poor second child. I should go through my blog sometime and dig up those ideas that worked so well for her, and implement them for him!
So that's just what I did. Here are my five posts that JoEllen of the past wrote for JoEllen of today, and I am high fiving old me (younger me?) for doing that. For some of them, I wasn't sure if maybe I just got lucky the first time around (like "patient hands"). Would it really work again? Would it work with my boy? Would it work with my second child, when my attention was so divided these days (because older siblings sure know how to snatch up that attention!)? But I can say with more confidence that these are tried and true, at least two times through. Maybe you can try it, too!

read more
March 28, 2017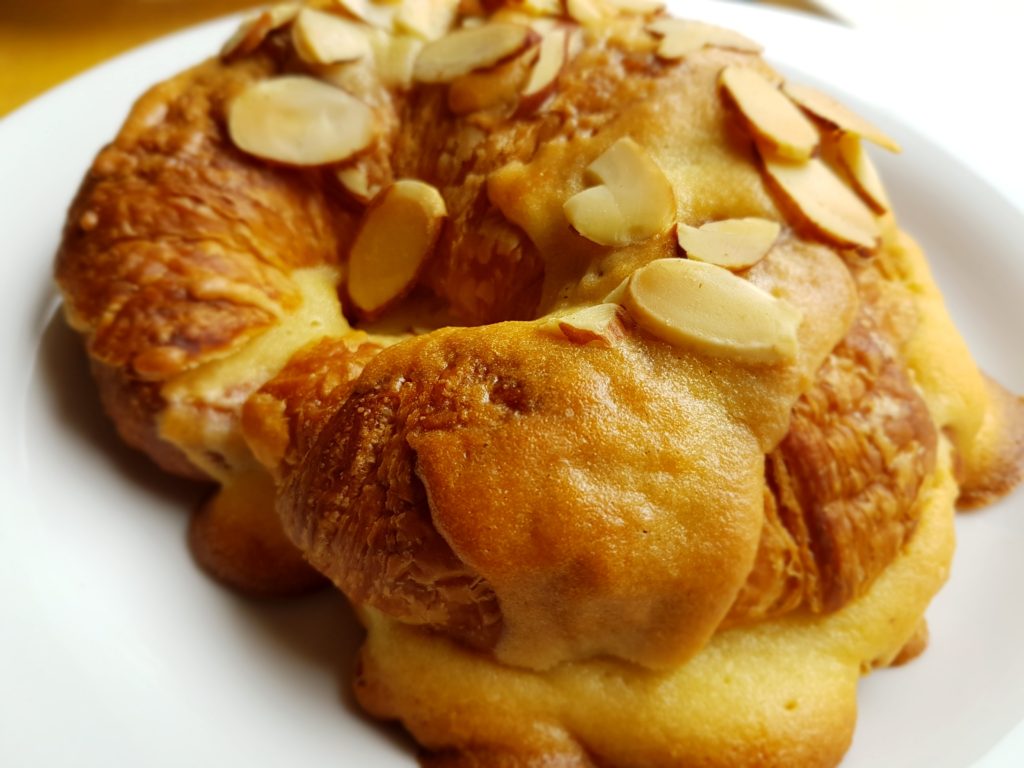 I love croissants. I love chocolate croissants, I love almond croissants and I love chocolate-almond croissants. I love butter croissants, I love kouign amanns (which are made from the same laminated dough as croissants) and I love coffee and tea twice as much when it is paired with a good croissant. When the day is feeling long and I need a pick me up, one of my go-to treats is a fresh baked croissant from a local bakery. Something about those flaky, buttery layers just brings a smile to my face, my tummy, and yes- my heart.
Croissants might be one of my love languages (or maybe just one of my favorite gifts/acts of service to receive :)). When my friends go to Napa (Bouchon!) or SF (B. Patisserie!) or Marin (M.H. Bread and Butter!) and text if I want anything, I drop EVERYTHING to quickly text back as I try to remind myself that it's probably rude to ask for a dozen croissants. Seriously. I'll be like, "OOH BEN! JOYCE IS GOING TO BOUCHON TODAY-" and he knows that means I will be oblivious to the world around me for the next minute as I scurry to text back my request.
And when the yumminess is in my hands, I melt a little (a lot) and feel so so loved. THANKS GUYS. YOU KNOW WHO YOU ARE. My suppliers <3. Sigh.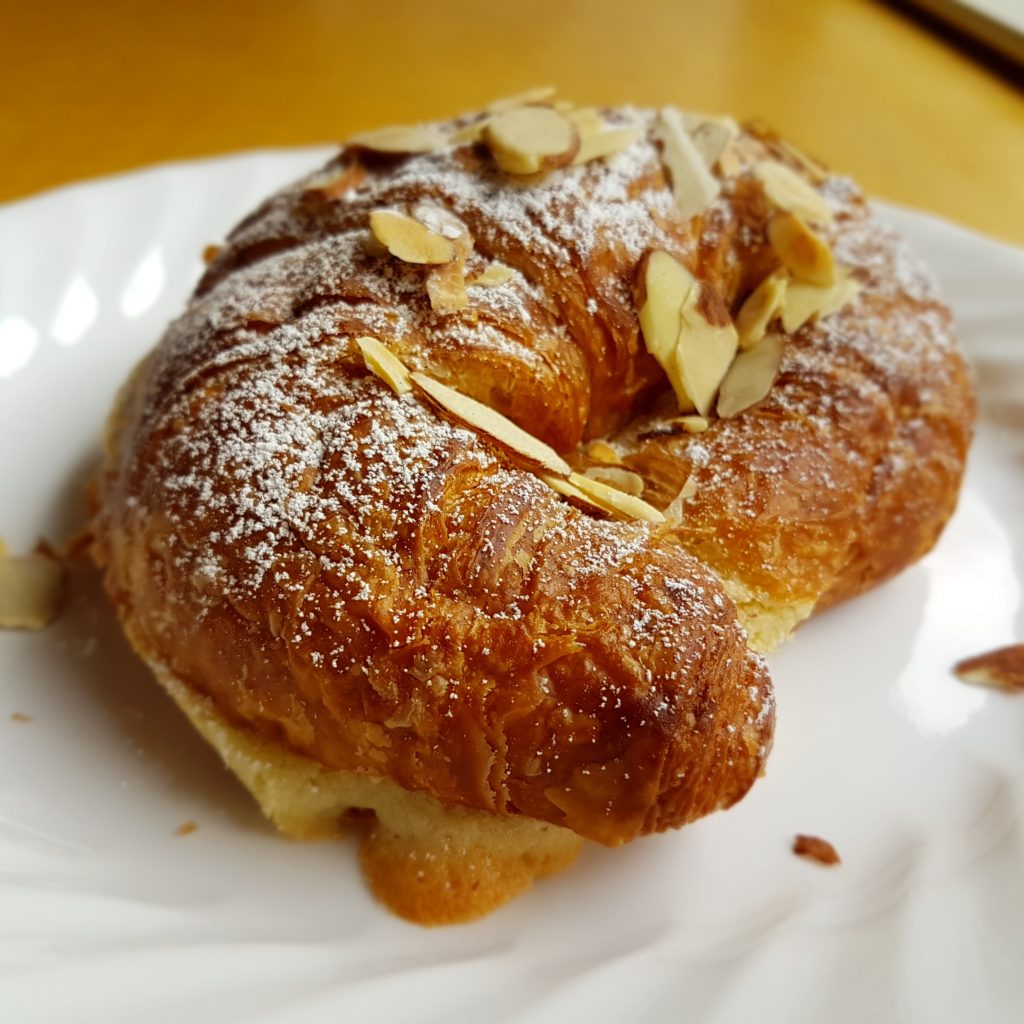 The original recipe with powdered sugar and almonds sprinkled on top.
Almost a year ago, my fellow croissant-loving friend Tiffany sent me a recipe to make almond croissants at home. I was a little skeptical of the recipe at first, but when I finally gave it a go a month ago, I was blown away! It was SO GOOD! WHY DID I WAIT SO LONG TO TRY IT?! I have since made them again and again, a dozen at a time, and found a delicious recipe that I know I will be looking up a lot in the future. So it definitely belongs here on my blog!
read more
March 20, 2017
Since no one happened to get a clip of this particular moment a la Super Dads, I thought I'd illustrate it myself.

…and my work today is done. Time for macarons.