October 22, 2017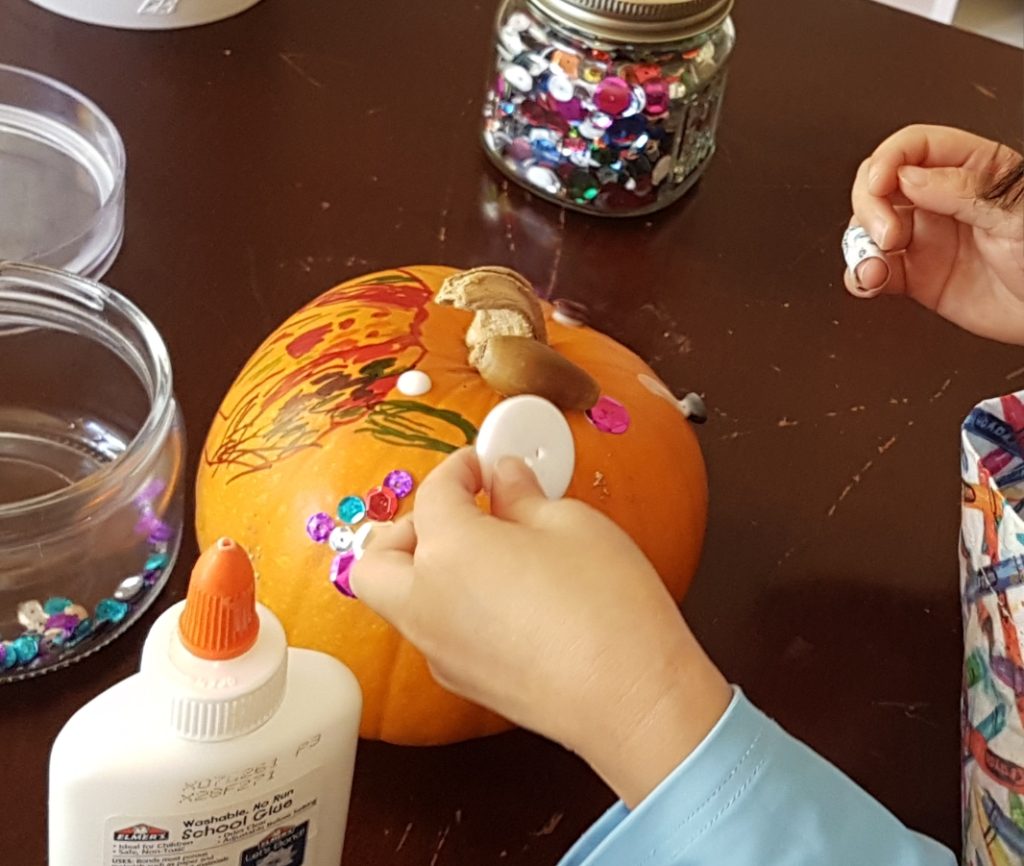 It all started when we visited Theo's house. I don't really remember the specifics, but I guess my daughter was really enjoying his toy airplane because as we were leaving, his mom leaned down and quietly said to him, "Why don't you ask her if she wants to borrow it?"
I saw hesitation cross his face and quickly cut in, "Oh, no, it's okay! We'll just play with it again next time."
He was quiet for a moment, and his mom prompted him again, "Will you lend it to her for a few days?"
I remembered the feeling from childhood of another kid taking my toys all too well, and didn't want to make him do it. Yet, I sensed there was a good learning moment here, and there was something about this whole idea that really resonated with me. So I waited and let him wrestle with the idea, until he slowly said, "Okay, you can borrow it for a few days, and then bring it back."
My daughter was so surprised, "I can take it? Home?"
"Borrow it," I quickly said, sending him a reassuring look, "And we'll bring it back on Sunday."
His eyebrows were concentrated, and I felt for his little four-year old heart. It was very generous of him to let her take it, and I was very impressed that he was okay with it.
All the way home, I talked about how kind and generous it was for him to lend it to her, and posed various questions to help her appreciate the situation more. How did it make you feel when he said you could take it home? How do you think he felt when his mom asked him to lend it to you? How did you think he felt when you walked out the door with it? Do you think this toy is very special to him? Even if it's not, it's probably hard to let someone else walk away with something that belongs to you. How should you treat the airplane? What do you think about lending other kids your toys? 
It was a great conversation, and got us both thinking. The following Sunday, we returned the toy, but the toy-lending fun was just beginning. The more I thought about it, the more I felt this was such an excellent teaching opportunity! So the next time we had a friend over for a play date, I observed how much the little girl was enjoying dress-up and I asked my daughter, "What do you think about lending this dress to her?" 
read more
October 5, 2017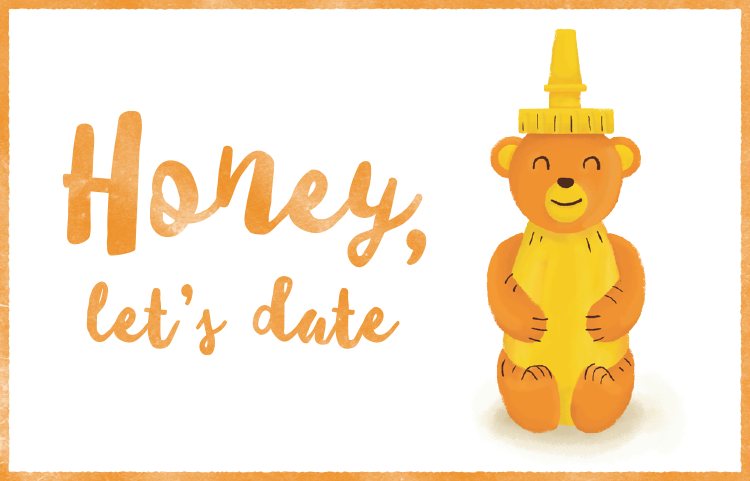 It's not Valentine's Day. We're almost half a year away from our anniversary, and birthdays have passed. But it's ALWAYS a good time to send little love notes to the special people in my life! I actually think about sending notes of encouragement to others pretty frequently, but I usually think of it when I'm in the middle of doing something else like driving or showering. By the time I get to my desk, I've forgotten all about it. One of the best ways to make it happen is to just buy a nice set of greeting cards to send! It not only sits there on your desk as a reminder to write up the cards, but also compels you to write something very meaningful and thoughtful, since you actually spent good money on the adorable cards.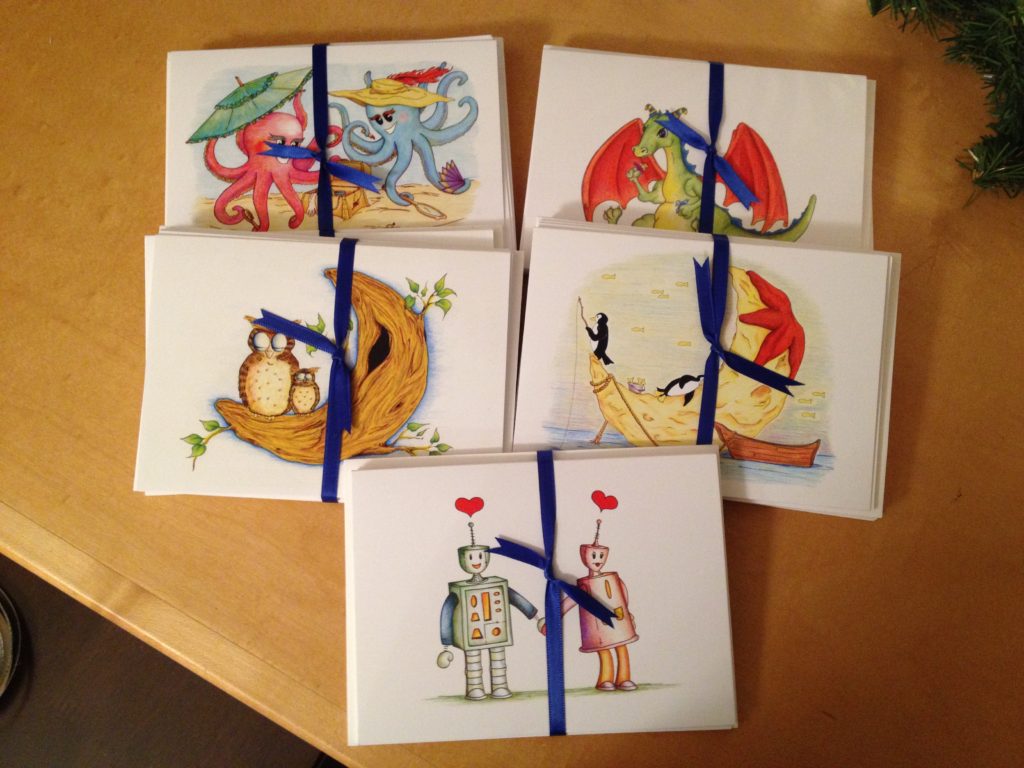 When I bought a bunch of these gorgeous cards from my friend Dakota Midnyght a few years ago, I started writing down all these thoughtful notes to people with affirmations and encouragement that I had been meaning to say for years. After only thinking kind words for a long time, they finally all got written down and sent out. And it was GREAT! I've been meaning to do it again ever since, but again… it's hard to remember and carve out that time.
So when Julissa sent me these adorable food pun cards, I felt like we were a matcha made in heaven. HEHE.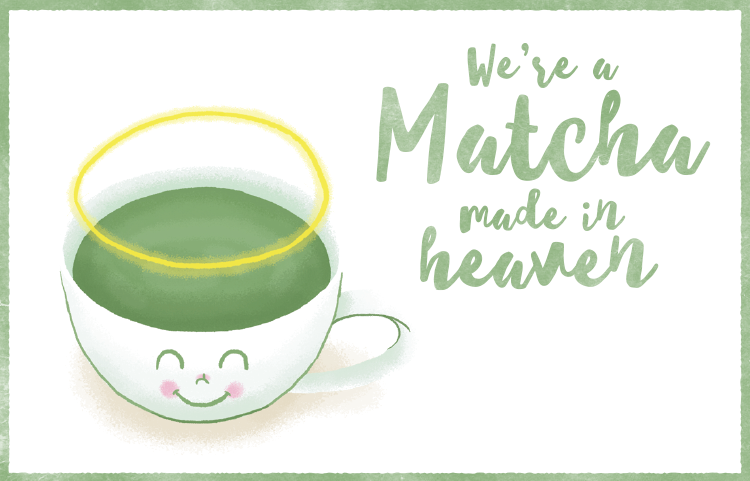 Ok, ok, that was their line, not mine. My artwork is never that good. But it's so cute, isn't it??
read more
September 20, 2017
Okay, you bought the book, you tried the program, and you did, indeed, Teach Your Child to Read in 100 Easy Lessons. YAY!!!! HIGH FIVE!! WASN'T THAT FUN?!
But… that doesn't mean they're fluent readers just yet. Now what? How do I help my child build fluency, improve comprehension, and continue to nurture a confidence in and love of reading from here?
As I told Ben giddily the other day, "This is MY domain. I didn't really know how to start teaching reading from scratch, but now that she's got her foundation down, it's time for guided reading. I know alllll about this!"
Okay maybe that was a little over-confident, but I definitely felt more comfortable moving forward with this than I initially did with teaching the basics.
Guided reading is a core component of the Reader's Workshop model that I was trained in and used in my years teaching third and fourth grade. During guided reading, you basically have a running conversation with a child as you read through text together. Usually, the child reads the text out loud and you pause him along the way and coach him through his thinking by posing questions and practicing various reading strategies. Learn more about it here!
At the end of Teach Your Child to Read in 100 Easy Lessons, there is a suggested list of books for moving forward. The idea is that you can continue in the style of the last few lessons using these books as the reading text. Cool, I thought, they already found the perfect next-step books. So I logged into my library account to put them on hold. (By the way, did you know that you can go online, put books on hold, and SOMEBODY ELSE FINDS THEM AND PUTS THEM ALL IN A STACK AT THE FRONT OF THE LIBRARY FOR YOU TO PICK UP?! I discovered this a couple years ago and my mind was blown!!! Best. Service. EVER!!).
Of course some of the first books listed were not available at the library. Well, surely these must be just-right books since they only listed about twenty books, so… I will just spend the money and buy them on Amazon. And then Amazon only had a few "buy it used" options. What?? If these books were so perfect, then why were so few available? Where was my Prime, 2-day shipping option? I pushed away the voice of doubt and forged ahead.
So, for the first time in longer than I remember, I bought it used through Amazon. The last time I remember doing that was in college. And that was a long, long time ago. I even had to pay shipping. These books had better be GREAT.
They were not. Here is the COMPLETE TEXT of one of these books:
Let's play. We hide and you seek.
We'll play too.
Ready or not, here I come!
<9 pages of only illustrations>
Now I want my turn to hide.
Where are you? 
…WHAT?! I went through ALL THAT TROUBLE and waited SO MANY DAYS (okay, eleven days- please excuse the impatient millennial in me) for THAT?!
Here is the other one I purchased used and paid shipping for (!!) on Amazon:
Look what I can do!
I can do it too!
<lots of illustrations>
Look what I can do!
…
That was it.
Three sentences. Or two, if you're looking for unique sentences.
-_-
I'm fine with books that focus on pictures, but when the entire point of buying the book is to practice reading, then I'm not so pleased when there are only SEVEN unique words in the entire book. The other book suggestions were slightly more helpful, but not by a lot. One book even has a theme of two kids trying to out-do each other with their beach toy, to the point where one is pulling down the other's pants and they are both completely not noticing a boy who falls into the water and needs help getting back up. Even worse, the story concludes when they see a girl who has a cooler beach toy that sticks her tongue out at them, and one shouts, "I hate her!" and the boys bond over their shared dislike of this girl.
This is really not the kind of stuff I want my daughter to be reading.
So I decided it was time for me to figure out the best "just right" books myself. After a couple of library trips, I have now compiled a great list of books that are just right for the child who has completed this reading program. They are books that my daughter can mostly read independently. I found two series so far that are just right for her, and each day,
read more
September 12, 2017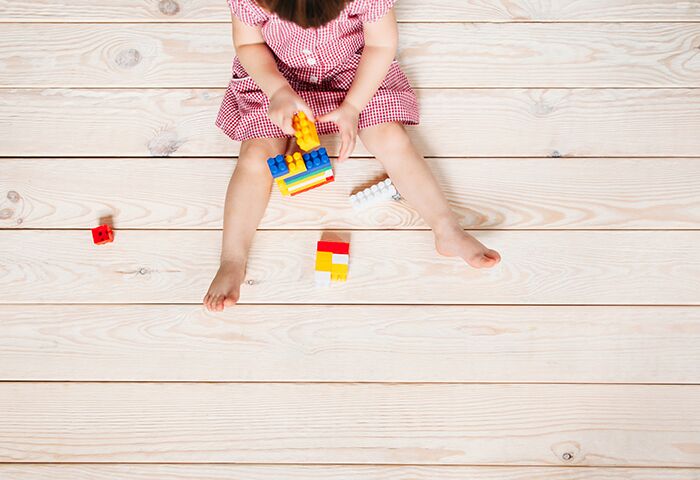 There's nothing like getting a present when you're a kid. I still remember the anticipation as my birthday or Christmas approached. For the most part, I was never really hoping for any one item in particular. I was just excited that I was going to get SOMETHING. I couldn't wait to tear apart the paper and discover what gift awaited me!
In all those years, it never occurred to me how challenging it would be to think of a cool gift to get kids someday when I became an old grown up. But here I've been, futzing around the last ten years trying to think of what my little cousins, goddaughter, and friends' kids would enjoy as gifts. I feel like it's been easier the last couple years for people with kids around the same age as my kids. I use my own experience and my own children's interest as reference, but I'm always a loss for kids who are a bit older than my own. So when Sierra from Gifts.com shared this fantastic guide to age appropriate toys with me, I knew I had to share it with you! Not only are there great, gender neutral gift ideas, but they promote growth and are developmentally appropriate!
read more
August 28, 2017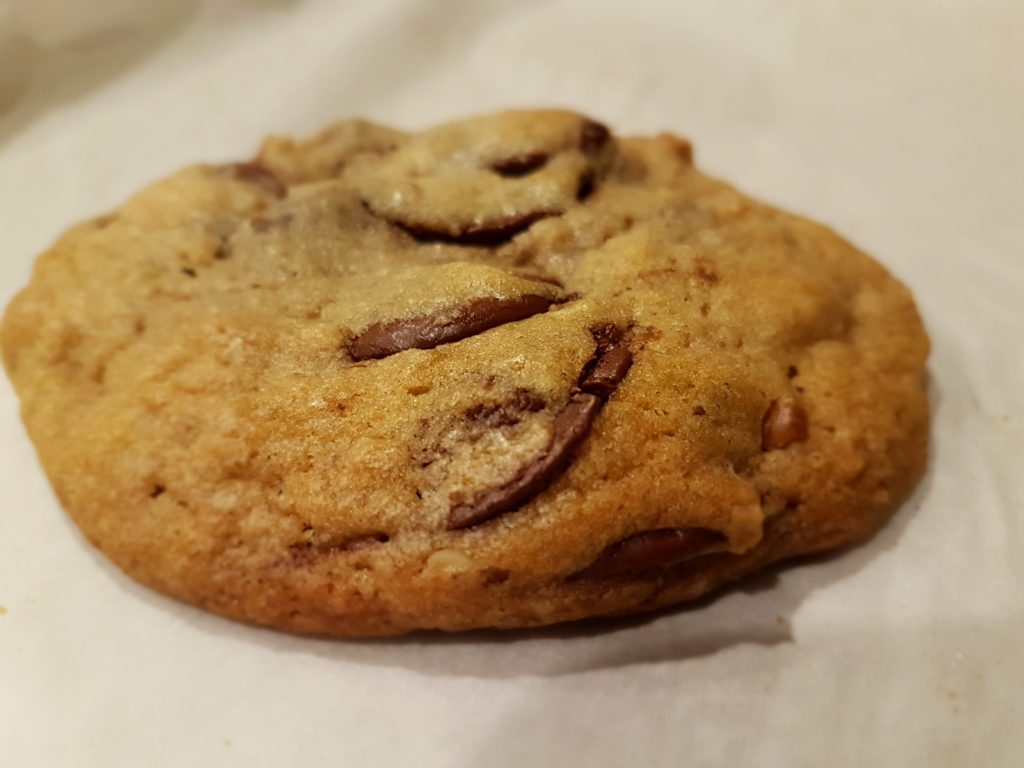 I can't believe I'm saying this, but I have a new favorite chocolate chip cookie recipe. Coffee toffee chocolate chip cookies will always have a special place in my heart, but if I'm going to take the time to triple a cookie recipe and freeze it, it's gonna be this one. It's not just a passing crush; this one's here to stay. I know this, because even though I posted my favorite chocolate chip cookie recipe two years ago, something in me kept searching for The Perfect Chocolate Chip Cookie Recipe. I was trying to satisfy a very, very specific cookie spot in my tummy: Crisp outer edges giving way to a soft inside, with gooey melty chocolate chunks and a hit of nuts for texture and balance of flavors. Not too sweet, big, chunky, and soft.
I was baking up a new chocolate chip cookie recipe almost every week for a while. Ben couldn't understand my incessant experimenting, because I already had my favorite… right? I mean, it was official on my blog and everything. Favorite.
read more
August 15, 2017
We threw a bridal shower for my friend this past weekend, and one of the activities I was excited to set up was this tower of blocks: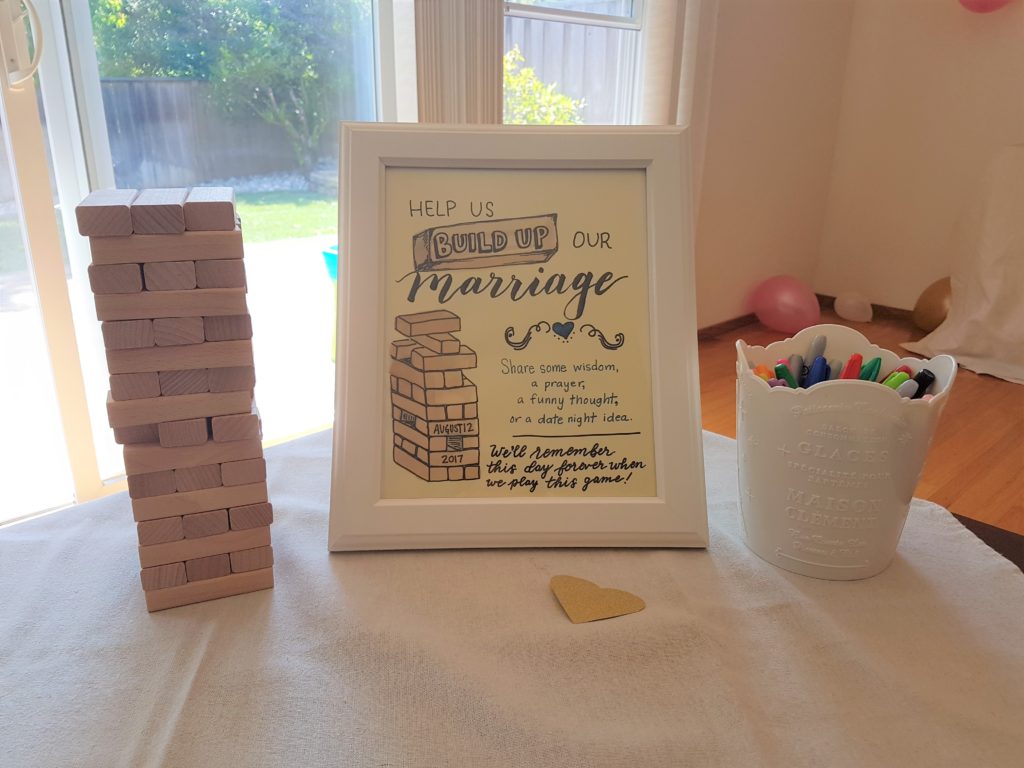 It was pretty easy to put together, and offered a nice twist from the usual pen and paper version of this station I usually see at bridal showers. I searched for some blocks (that didn't have "Jenga" written all over them), lettered some instructions, and that was all it took to put this station together. It was a fun opportunity to practice my lettering, bust out some watercolors, and put my collection of Sharpies to use.
I especially liked this idea because it would not only serve as an activity for guests to participate in during the shower, but would make a nice, personalized keepsake for the bride afterward, too! I can just imagine her playing this game with her kids someday, smiling at the ideas and words written on the blocks and remembering this special day when we showered her with love! If you've got a bridal shower to plan in the future, keep this idea bookmarked!
read more
July 28, 2017
I have a confession to make. Despite teaching for over eight years, I had actually never taught a kid to read from the very beginning. I would always get a handful of kids, even in fourth grade (and in sixth grade…) who were still hovering around the first grade reading level, but they already knew their ABC's and the general idea of piecing sounds together. I usually focused more on building fluency and developing comprehension. So when my daughter started asking me to teach her to read, I would smile and assure her that someday, yes, someday, I'd teach her.
Let me be clear, I was NOT planning to tiger-mom this, and I was never planning to teach her to read at age three. But I do try to be supportive of her interests, and I do love teaching. So when she kept on asking me to teach her and she seemed ready to learn, it wasn't in me to say no.
But I definitely tried to put it off. As her love for books grew, her persistence in asking grew, and soon I started wondering when was too soon, and I began the rabbit hole of research that is when and how to teach your child to read. I was hesitant to introduce the alphabet to her, because I had read somewhere that the names of the letters will just confuse a learning child who should first learn the sounds they make. I read up on different philosophies, which left me feeling paralyzed and even less confident about starting anywhere. I asked my teacher friends who taught younger grades, and got a lot of great ideas, but still felt like I needed a program to guide me. I thought about buying a home-school kit or something, which is how I stumbled upon How to Teach Your Child to Read in 100 Easy Lessons.
Honestly, it sounded like an unrealistic stretch, and I got the same feeling I have when I watch TV infomercials: If it sounds too good to be true…
If it weren't for Amazon and the 2,000+ glowing reviews of this, I wouldn't have given it a second thought. But it piqued my interest enough for me to read several reviews and I even took a "Look inside!" the book. I saw strangely scripted words and antiquated cartoons. I wasn't sure about this.
A few weeks later, my friend put up a video of his young daughter writing and he mentioned this very book. HMMM. I asked him what he thought, and he also had glowing reviews! Still, there was a lot I was skeptical of. The "100 days" part. The "easy lessons" part. The "just 20 minutes a day" part. The "love, care, and joy only a parent and child can share" part, because if this were so effective, wouldn't teachers have adopted this into their programs long ago? Well, I thought, I guess for $13, I can just buy it and see what it's all about. 
When it arrived, I did the nerdy thing I do and I read the entire Introduction and Parents' Guide from start to finish. It was no small feat, with its 20 small-fonted textbook sized pages. It didn't take long for me to get totally absorbed in it, nodding my head and learning new things the way I did in teaching school. I appreciated the introduction. Their methodology was clearly laid out, thorough, and thoughtful. I appreciated the strategies they offered for teaching, including how to keep kids on track, pacing, and the hurdles they predicted would happen (and what to do about it). These guys knew what they were talking about, and it was clear they had a lot of successful experiences with this program. I was sold.
read more
July 13, 2017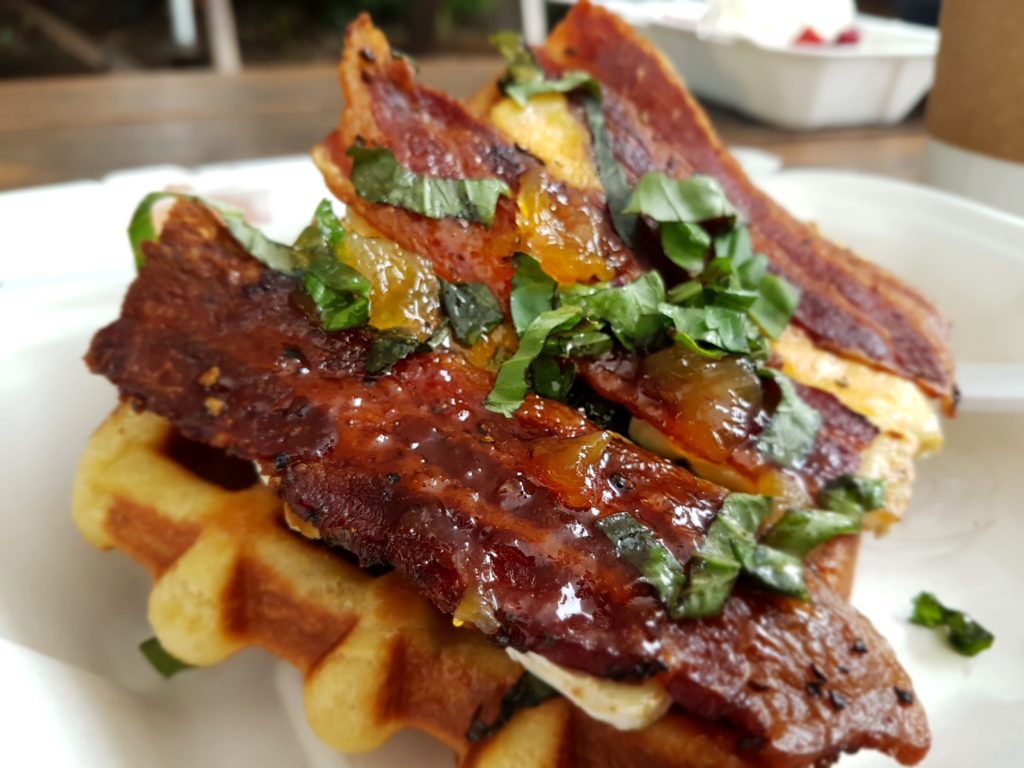 Bacon, brie, and basil waffle at The Waffle Window
After years of watching my friends eat their way through Portland, I got the chance to go up this past weekend with a good friend to enjoy a sunny and delicious weekend there!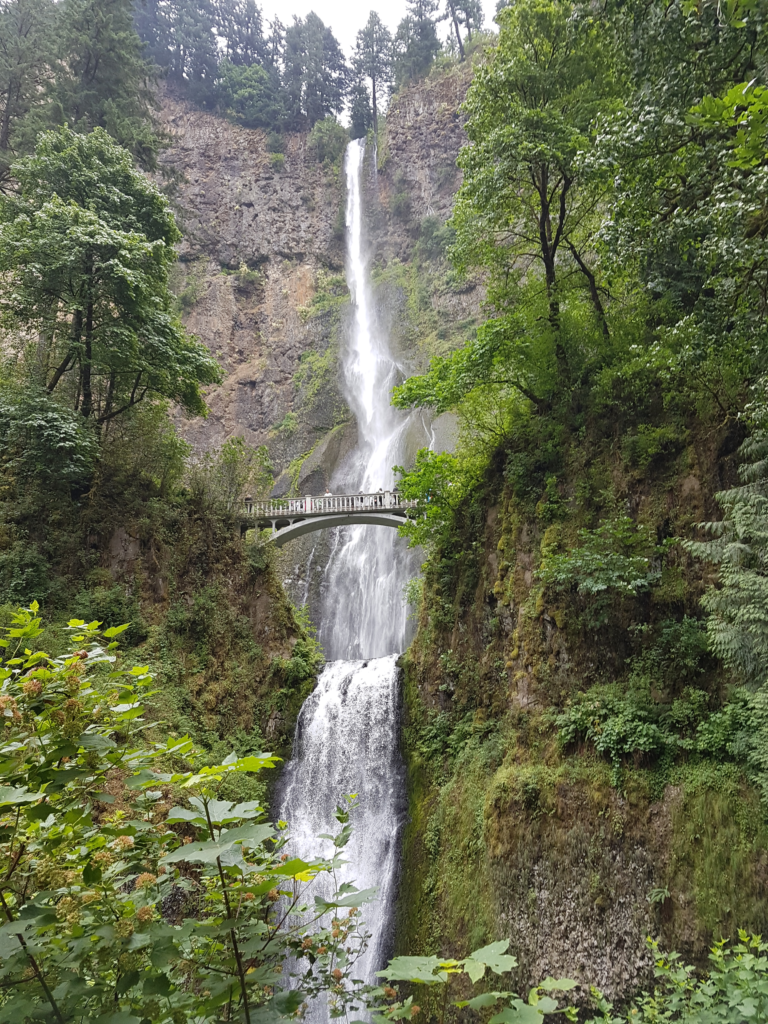 Multnomah Falls. Pro tip: Get there early (by 9am) for parking, and go for the hike to the top! It's a little over a mile and mostly uphill, but there's a fun creek with climbable rocks to reward you at the top.
We hiked and shopped and even stopped to smell the roses (literally), but one of my favorite activities was definitely the food. Yes, eating is one of my favorite activities :]. Here are some of the tastiest places I'd love to recommend to anyone else who is thinking of planning their Portland trip around their tummy, too!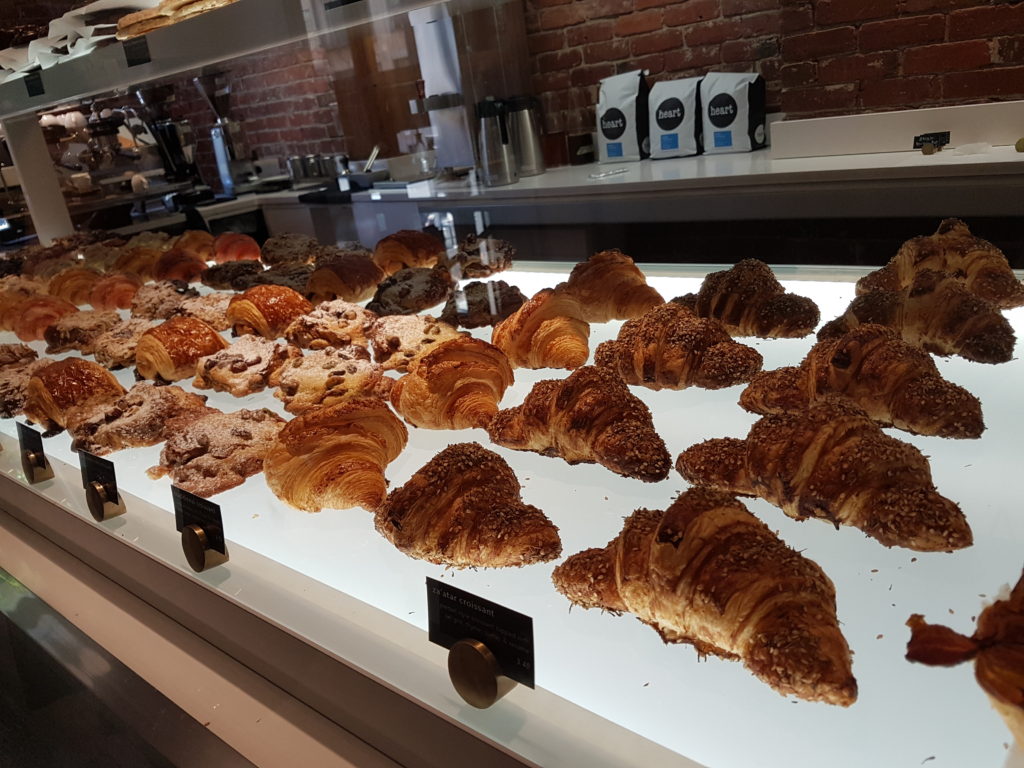 Gorgeous croissants with fun flavors at Nuvrei.
While I was gone, my parents and Ben watched the kids back at home. That's when he discovered, through trial and error, that I made a crucial error on my recent recipe for delicious pan-fried chicken. I accidentally wrote 1/3 tablespoons cornstarch instead of 1/3 cups, which matters since there are only four ingredients! If you tried making it, PLEASE TRY IT AGAIN with the correct amount of cornstarch! It will totally change the texture, and you will love it!
Okay, back to Portland eats :D. Warning: This is going to make you hungry!
read more
July 5, 2017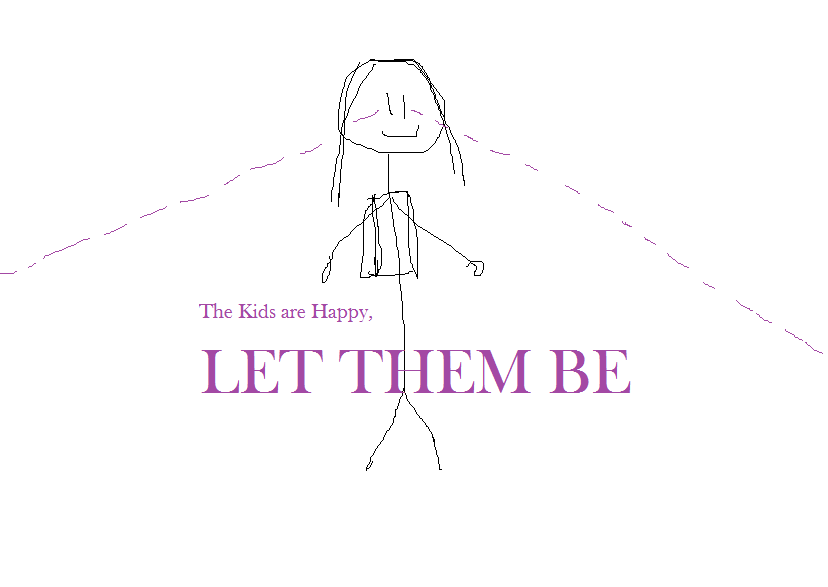 I was standing near the shipwreck, angling myself so I could keep one eye on my daughter digging in the gravel pit and one eye on my son as he climbed up and down the mini bridge. Minutes passed, and for the most part, I stayed where I was, willing myself not to interrupt my children's play and holding back even as I watched a boy treat my daughter unkindly. To a stranger, it might have appeared that I was disengaged and not really watching any kids, but really, I had my eye on both while I tried to give them space to be immersed in their play and explore and learn independently.
As I stood there, I listened as a dad excitedly showed his child something neat about the water area. They remained for a few moments, and then just as quickly, the dad said, "Okay, let's go, let's see what else there is."
"Wait I just want to try-"
"No, c'mon, we have to see the other exhibits!" the dad insisted.
After a moment, his child reluctantly left the water area and trekked after his father. As I stood there, unhurried as my daughter continued to scoop gravel and my son continued to climb up and down, it occurred to me that just a year ago, I had been just like this father.
read more
June 21, 2017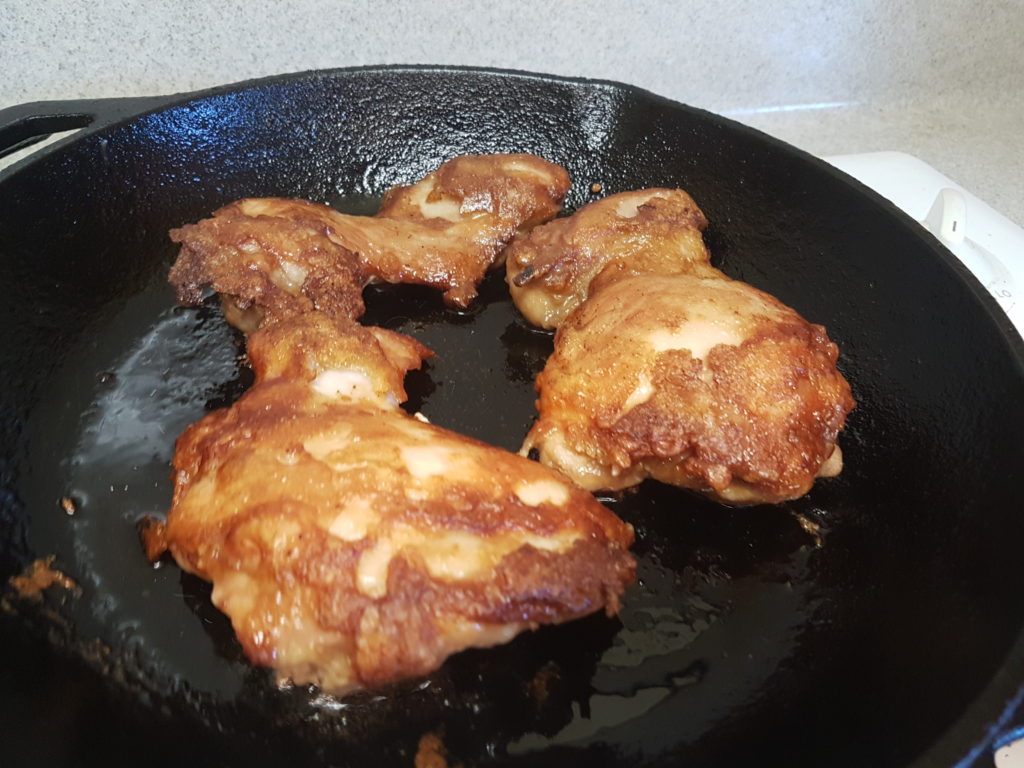 This dish is a winner, and has been in the rotation on a near-weekly basis for the last few months. It's tasty enough to earn such frequency, but simple enough that you don't get tired of it. (I know, that doesn't really make sense, but somehow it's true). The ingredients are few and super basic, but the flavor and texture will keep you coming back to it again and again.
I was always excited for dinner when my Dad had this sizzling on the pan, and decades later, I finally gained some cooking confidence and decided to follow his very simple instructions to make it: "Mix chicken with cornstarch, salt, and soy sauce. And fry." Wish I hadn't waited so long. This stuff is so good.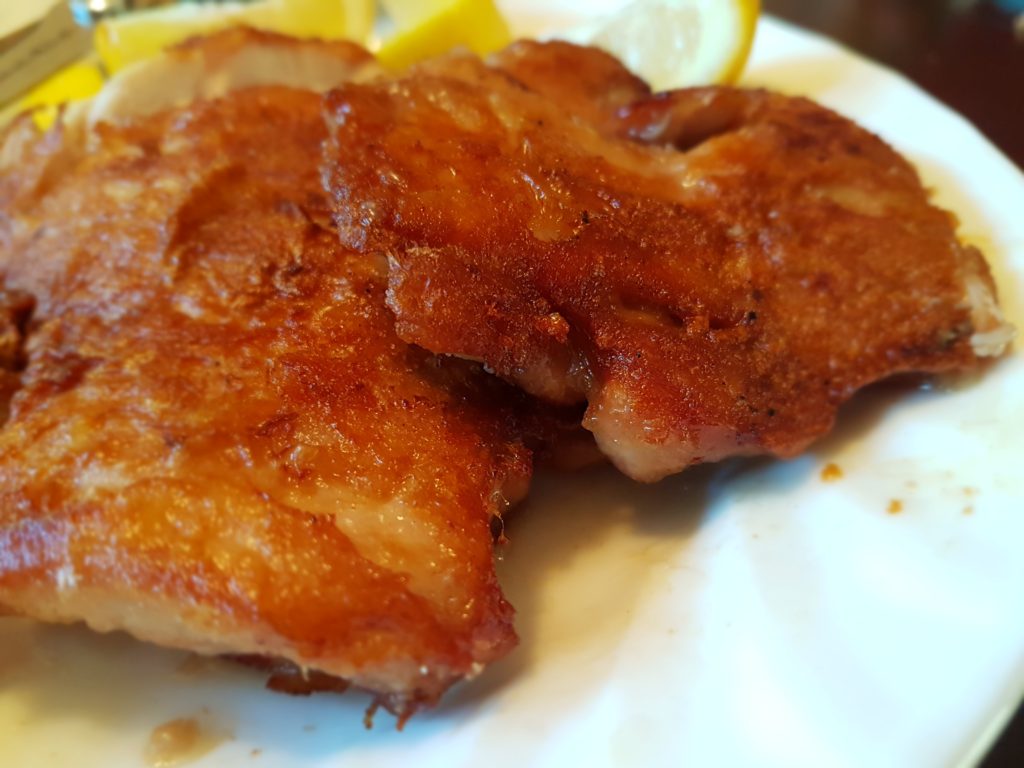 Now, I get to see that same mouthwatering excitement on Ben's face when he sees what I'm cooking up, "YUM. YOUR DAD'S CHICKEN." My daughter never fails to savor it, "Mmm, Mama, I LIKE this dinner!" And the cherry on top? IT'S SUPER DUPER EASY TO MAKE. And last-minute friendly, which is part of the reason why I make it so often.
You simply marinate chicken thighs in a mixture of salt, cornstarch, and soy sauce.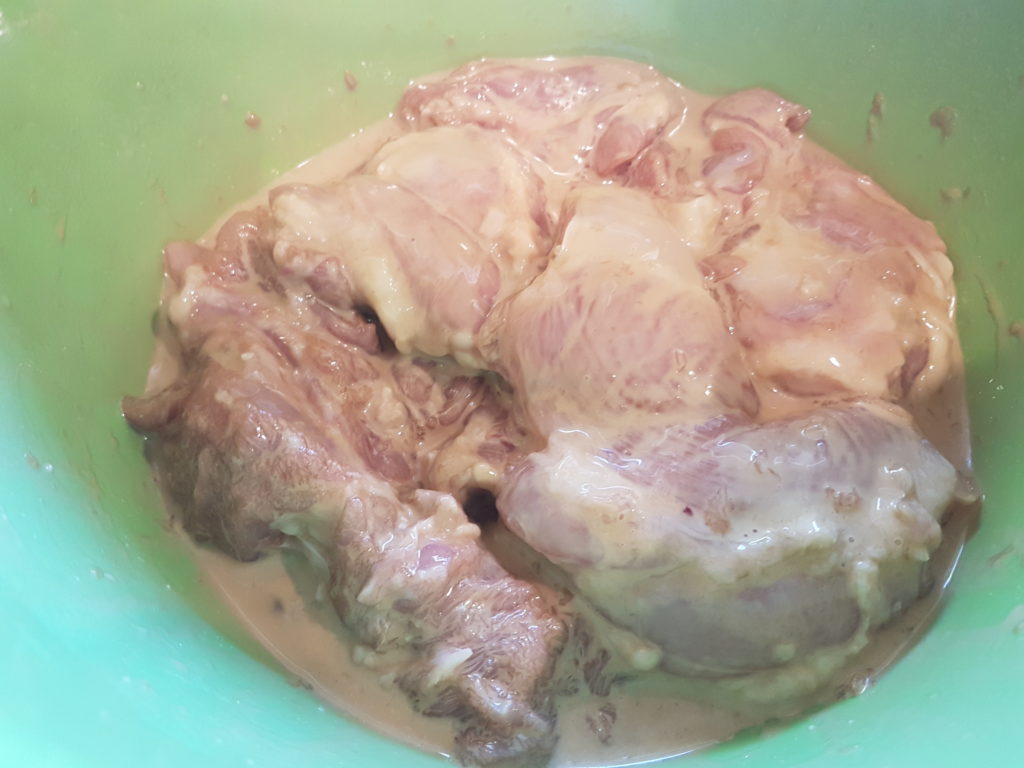 Heat up and oil your pan, fry it for a few minutes on both sides, and serve with a couple lemon wedges. We use kitchen shears to cut it into strips and eat it with rice and a side of veggies. Yum yum, it's easy peasy and scrumptious comfort food everyone will love!
read more