April 1, 2014
It's quite possible that this is the food item that birthed this blog. Dan and Kim were over for a simple lunch of leftovers: butternut squash soup and quesadillas. They enjoyed the soup just fine, but when Daniel bit into his quesadilla–CRUNCH– his eyes opened wide and, through a mouthful of food, he exclaimed, "This is SO GOOD! What did you do to it?! It's so good!"
I was beaming. Nothing elevates a compliment like someone giving it with their mouth still full of food.
The answer is simple. I gave it a parmesan crust! Mmmmm!! A lot of people seem to like burritos, but I'm a quesadilla girl myself. Quesadillas take the best parts of a burrito (meat, cheese), drop off the less tasty parts (rice, lettuce, beans), and are pan-fried for that delectable crunch! If you've been following my blog, you'll notice that I love crunchy things: crispy skin on chicken, crispy cheese layer on quiches, crispy bacon… I could go on. Adding a parmesan crust does to a quesadilla what a good pan-fry does to a potsticker. You know what, I'll just let the unfiltered iphone 4s photo convince you: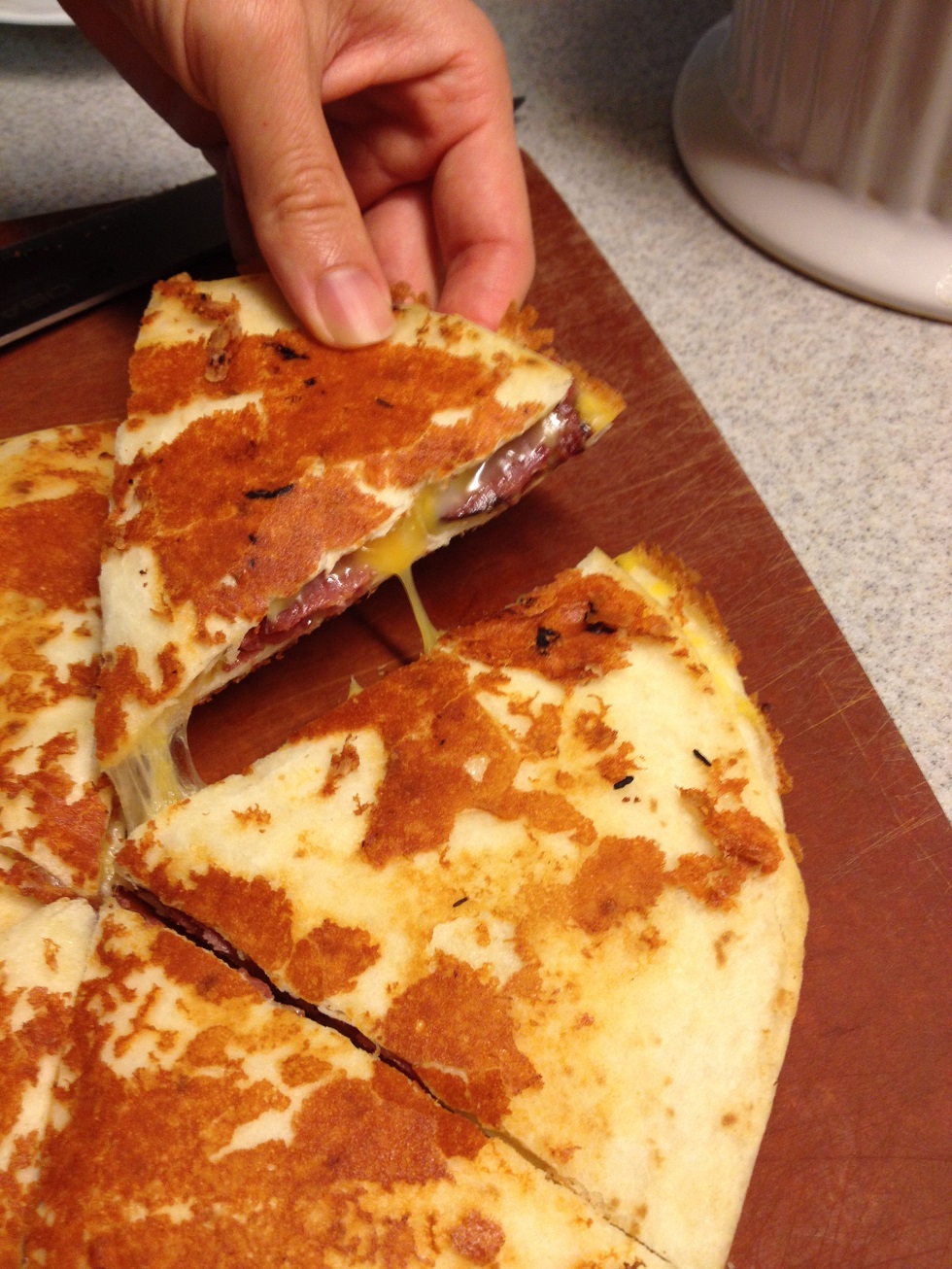 It started with quesadilla craving (a frequent occurrence when I had a baby inside of me). I yelped the closest Mexican place to our house, and was pleasantly surprised to find a place with four stars! To my delight, lots of people raved about the quesadilla hongos: "Thank you… for making my taste buds dance," "Your belly will thank you…" and other creatively tasty sentiments.
I didn't need any more convincing. Off I went. I ordered the quesadilla hongos (hongos = mushrooms in Spanish), and nommed my way through. It had a golden-brown pan-fried savory crunch on the outside with juicy mushrooms and carne asada on the inside. Mushrooms in a quesadilla = GREAT IDEA. Golden-brown, pan-fried savory parmesan crunch on a quesadilla = BEST IDEA EVER. At $8.50/quesadilla, though, the frugal DIYer in me kicked in– I can make this for way cheaper! So I did.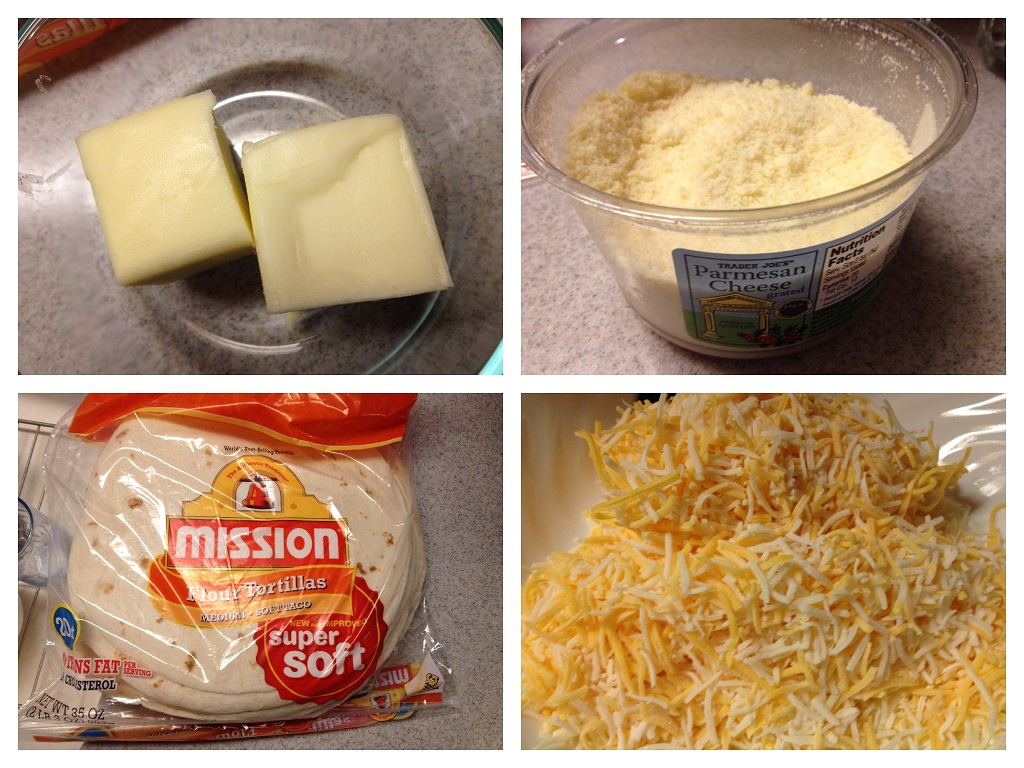 Four main ingredients: butter, parmesan, tortillas, and cheese.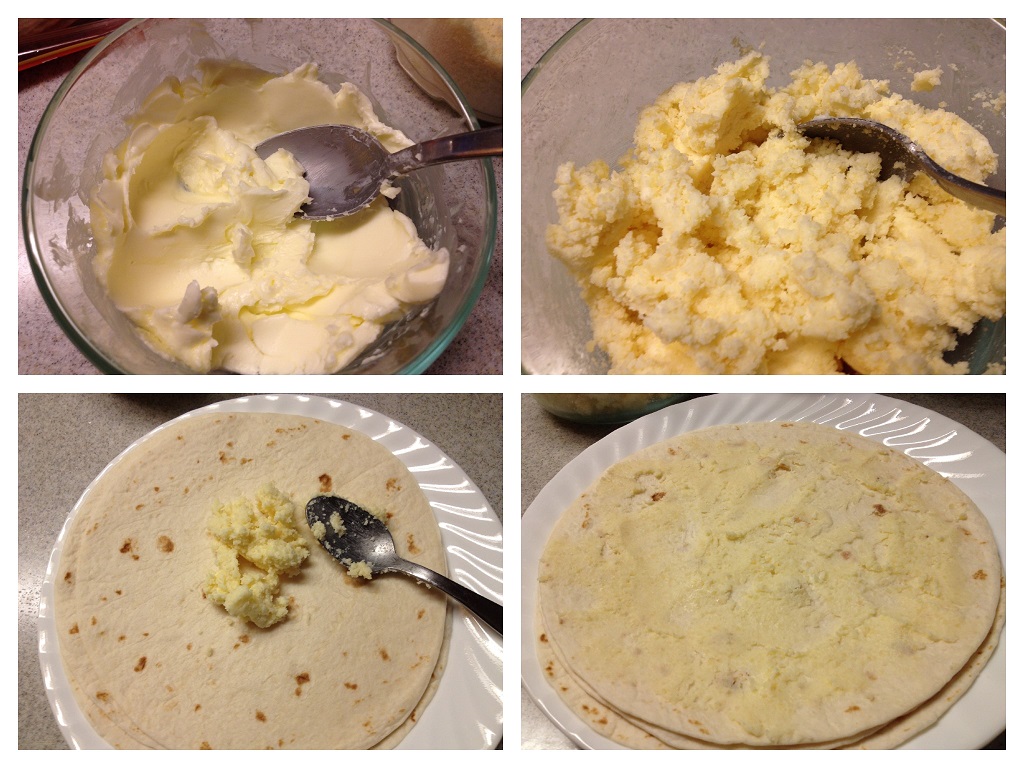 Smoosh the butter, mix in grated parmesan, then spread onto tortillas

One of the most convincing yelp reviews that got me there was this one:
…hauntingly good–never experienced this combination of tastes before…addicting, and it's NOT deep fried.  No idea how they pull this off.
Well, I have an idea how they pull it off. Better than that, I have a recipe.
Try it. Just once. Trust me, you will never go back.
———————————
Parmesan Crusted Quesadillas
Makes 2 Quesadillas
Ingredients
4 medium-sized soft flour tortillas
1/2 cup grated parmesan
3 Tbsp butter, softened
1-2 cups shredded cheese (i.e. Costco's Mexican blend, cheddar, pepper jack, etc.)
1 cup of cooked meat, cut into small pieces (bacon, leftover steak, rotisserie chicken, etc.)
8 oz sliced mushrooms, sauteed and drained
Guacamole (optional, for serving)
Caesar dressing (optional, for serving)
1 tsp minced jalapenos, if you like a spicy kick
Instructions
Use a spoon to mix together parmesan and butter until it forms a grainy paste.
Spread parmesan mixture evenly onto one side of each tortilla. If you're making more than one quesadilla, store them in pairs with the buttered sides facing each other (like a pb&j sandwich).
Heat a nonstick skillet to medium high, then place in one tortilla, buttered side down. You should hear it start to sizzle immediately.
Sprinkle with 1/4 of your cheese in an even layer, then layer in meat and mushrooms. Top off with another fourth of your cheese, then place another tortilla on top, buttered side up.
Cook until the bottom of the tortilla is browned and crispy and the cheese inside has melted, about 3-5 minutes, then use a large flat spatula to carefully flip the entire quesadilla over. Cook until this side is also browned and crispy, then slide out onto a cutting board. Cut into wedges and serve immediately.
Repeat for second quesadilla.
Serving suggestions:
Serve with a side of guacamole and caesar dressing (as if this weren't dairy-fatty enough already…! Sorry… but it's so good with the caesar dressing!).
Ben likes to sprinkle minced jalapenos into his quesadillas (add it in with the meat and mushrooms). It gives a nice bright contrast to the cheese. If I could handle spicy, I would have totally added it into mine as well!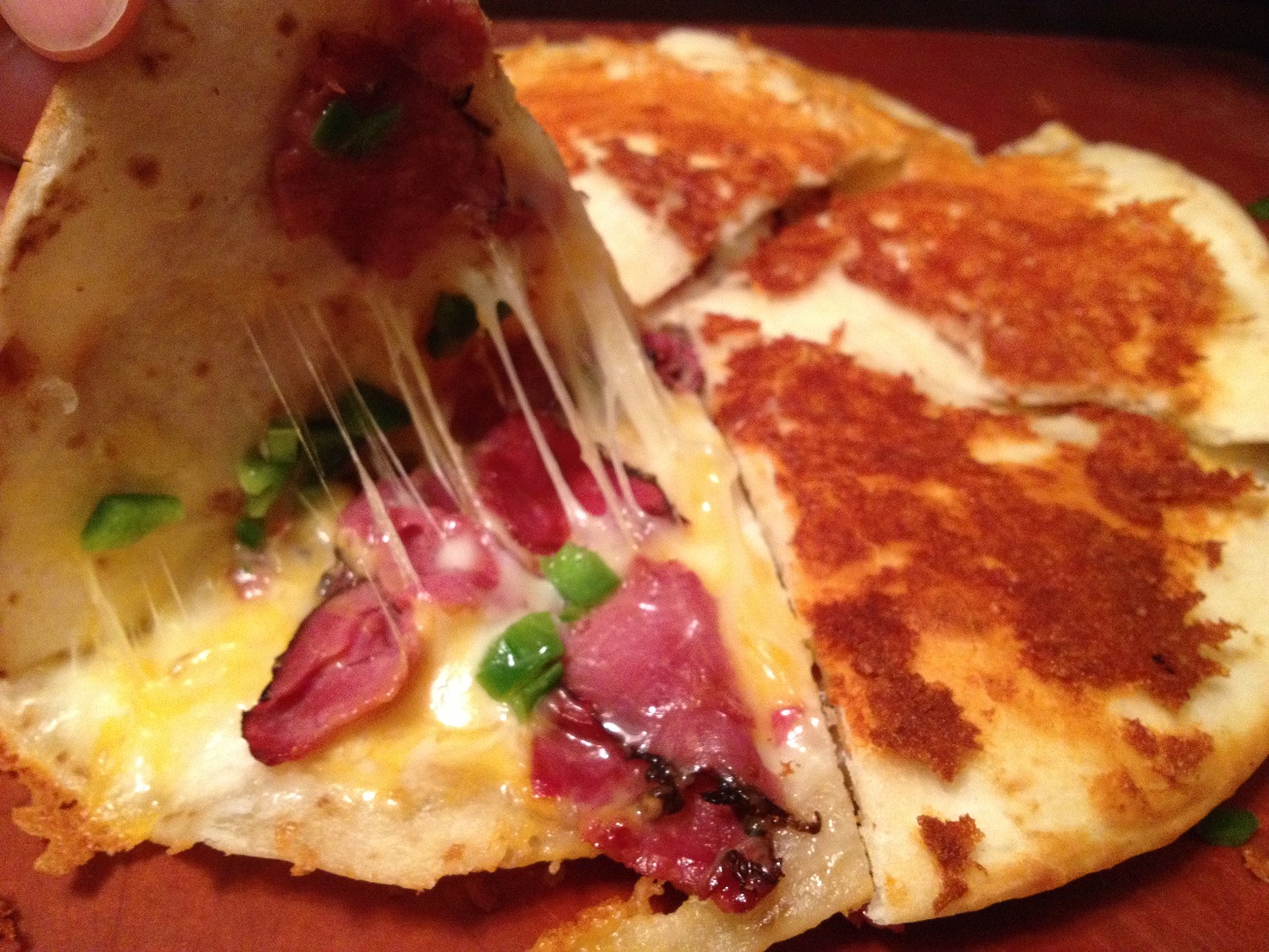 So did you try? SO GOOD, right?!? It's not the healthiest addition, but I'm afraid once you've tried it, there's no turning back.