July 13, 2017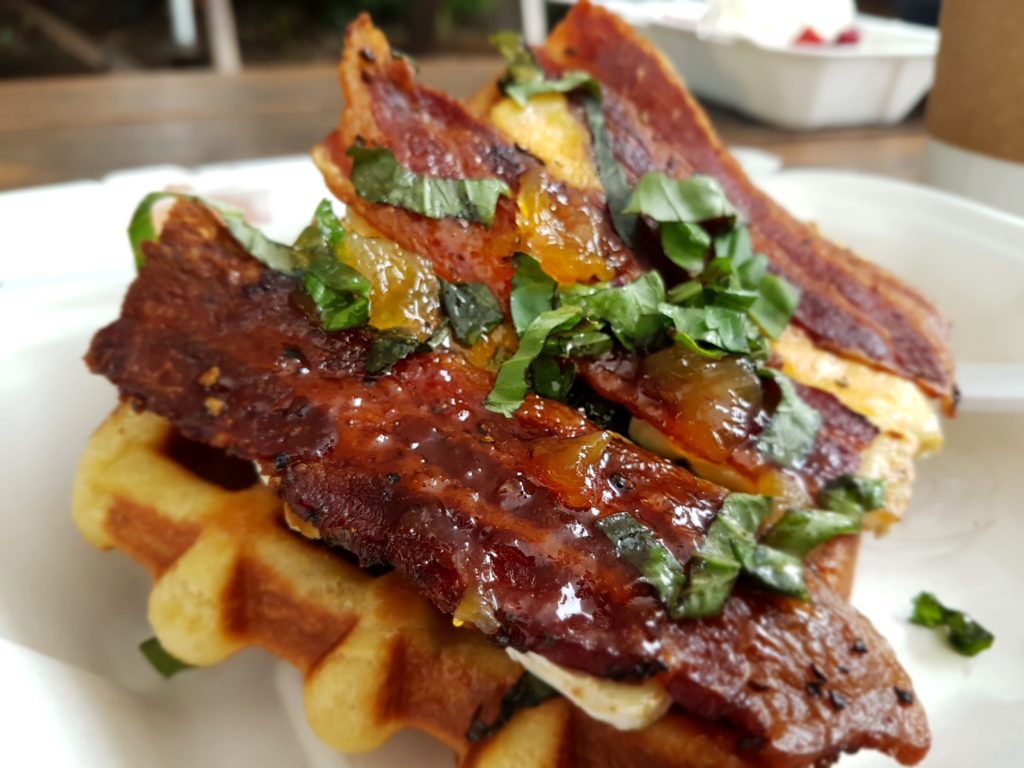 Bacon, brie, and basil waffle at The Waffle Window
After years of watching my friends eat their way through Portland, I got the chance to go up this past weekend with a good friend to enjoy a sunny and delicious weekend there!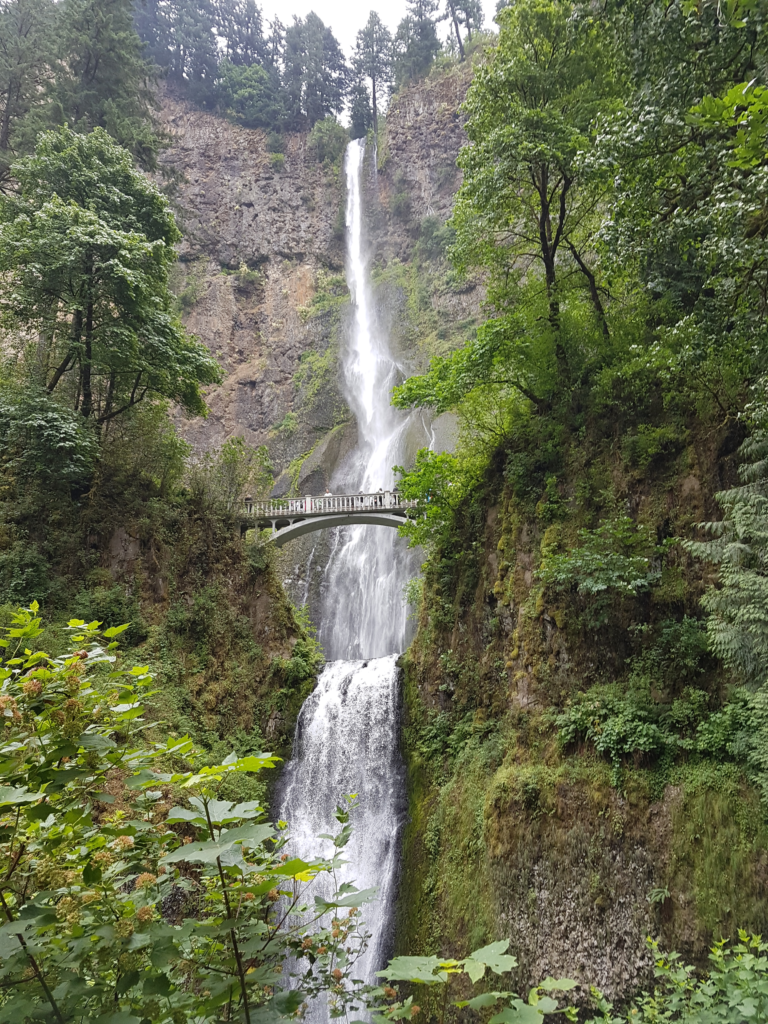 Multnomah Falls. Pro tip: Get there early (by 9am) for parking, and go for the hike to the top! It's a little over a mile and mostly uphill, but there's a fun creek with climbable rocks to reward you at the top.
We hiked and shopped and even stopped to smell the roses (literally), but one of my favorite activities was definitely the food. Yes, eating is one of my favorite activities :]. Here are some of the tastiest places I'd love to recommend to anyone else who is thinking of planning their Portland trip around their tummy, too!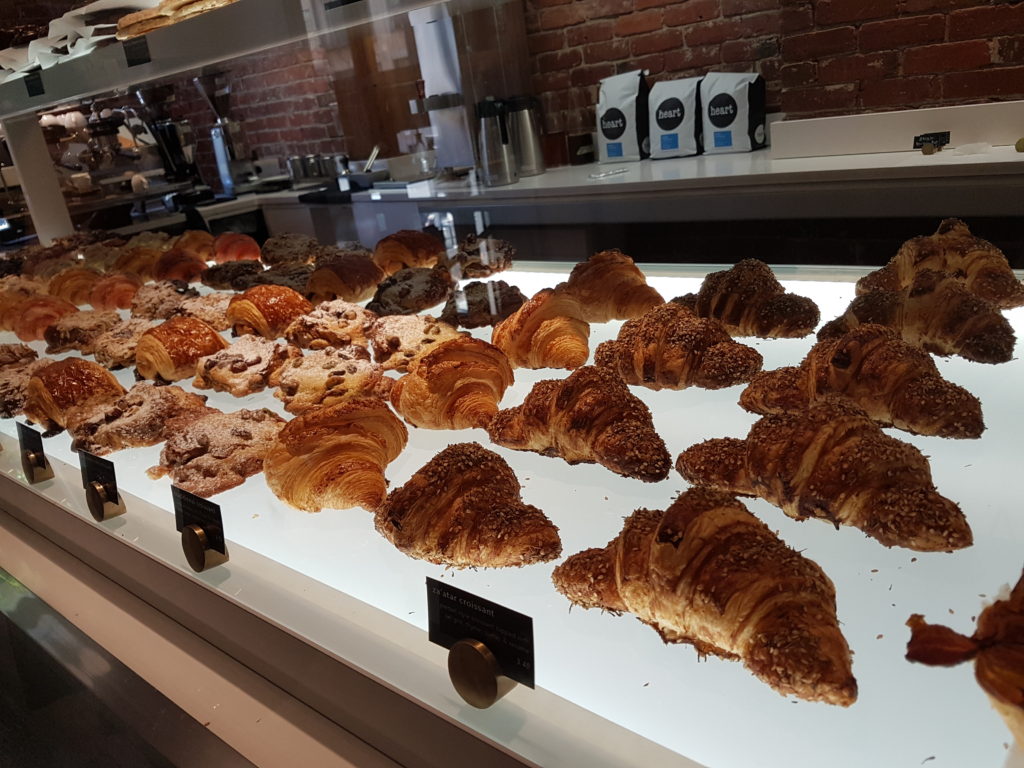 Gorgeous croissants with fun flavors at Nuvrei.
While I was gone, my parents and Ben watched the kids back at home. That's when he discovered, through trial and error, that I made a crucial error on my recent recipe for delicious pan-fried chicken. I accidentally wrote 1/3 tablespoons cornstarch instead of 1/3 cups, which matters since there are only four ingredients! If you tried making it, PLEASE TRY IT AGAIN with the correct amount of cornstarch! It will totally change the texture, and you will love it!
Okay, back to Portland eats :D. Warning: This is going to make you hungry!
We started off at Pine State Biscuits. It was on the way and it was open. At around 11, the line still wrapped around the corner of the block, but not by too much. Regulars who didn't need menus all got the same thing: Reggie Deluxe. So that's what I got. Let the fried chicken gooey egg gravy biscuit goodness begin! Yum.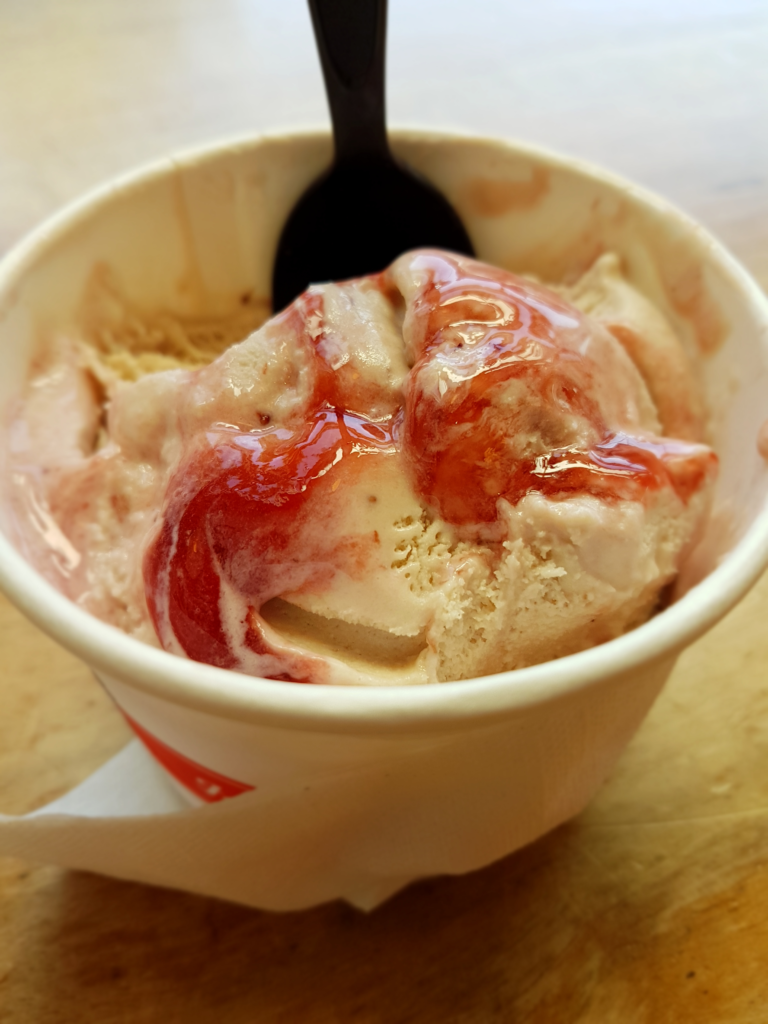 Salt and Straw was widely recommended, with its fun flavor and texture combinations. There are multiple Salt and Straw locations, and a lot of local dessert and coffee spots featured Salt and Straw ice cream on their menus, too. This one is the strawberry honey balsamic, which had a combination of rich cream with a hint of tartness. I think there's a Salt and Straw in San Francisco now, too!
Grassa is in the downtown Portland area, and is just one swinging door away from Lardo, a hot sandwich spot we ate at a couple days later. They had a gorgeous selection of fresh housemade pastas, and it was hard to choose just two dishes! The pork belly mac and cheese (pictured) was yummy, and next time I am definitely going to try the carbonara, which everyone around us seemed to be ordering up! We sat at the bar, where we could watch the busy cooks working away that hot evening. It was beautiful :D. I could watch people cook all day! I'd definitely recommend this spot!
We randomly stumbled upon a chocolate chop called Cacao, which specializes in drinking chocolate. I personally find drinking chocolate a bit rich and thick, but love iced dark hot chocolate (pictured). This one did not disappoint, and reminded me a lot of my favorite iced hot chocolate at Timothy Adams in Palo Alto. They also had a tantalizing selection of craft chocolates from some of my favorite chocolate makers. Drool.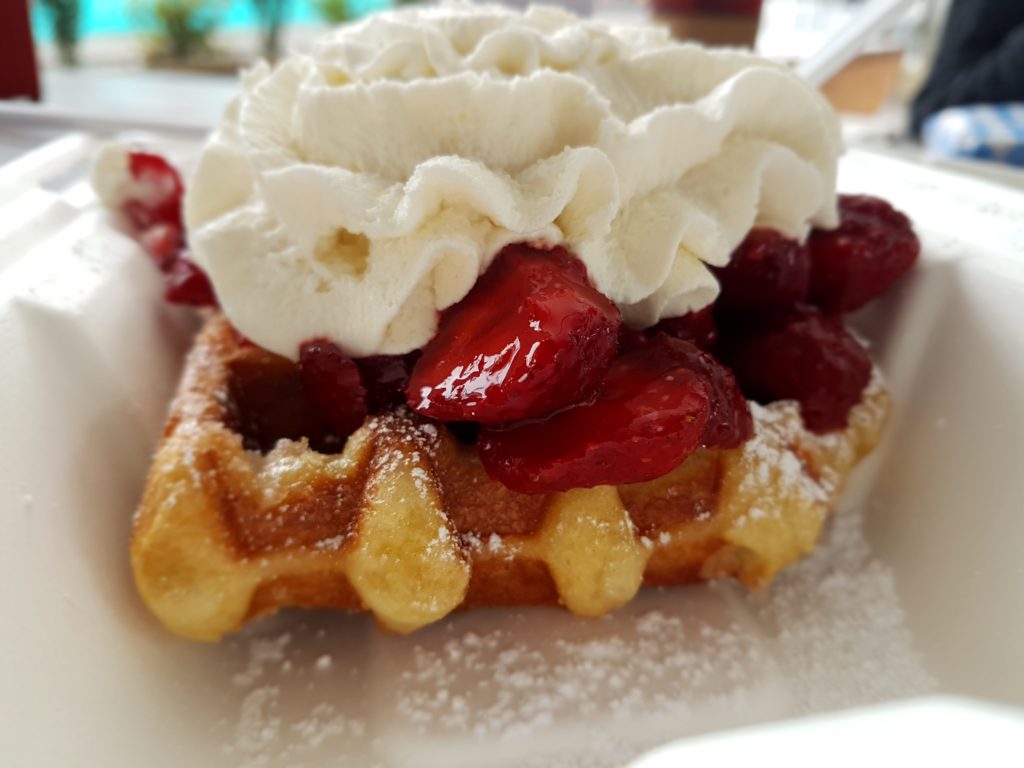 A classic waffle with strawberries and whipped cream from The Waffle Window. This is also the place we got the bacon, brie, and basil waffle pictured at the very top of this post. I thoroughly enjoyed them both! I really appreciated that the bacon on the savory waffle was pressed flat. Not only did it make for an easy bite (where the whole piece doesn't just get pulled off and into your mouth- not the worst thing, except when there isn't much bacon left for the rest of your bites!), but it was super tasty! I'd definitely come back for the bacon, brie, and basil one again next time! My friend likes the plain sugar waffle, and I think you really can't go wrong. It's all delicious. I'd come back.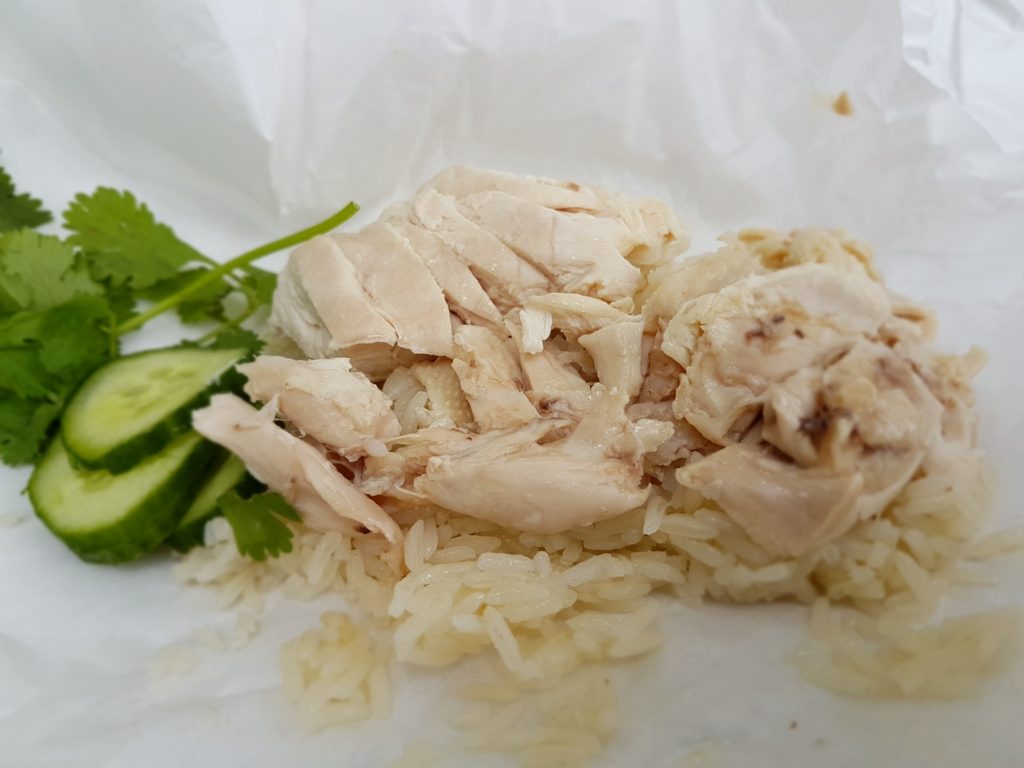 Chicken and Rice at Khao Man Gai. On a whim, we stopped by their cart in downtown Portland and happened to get the last portion of the mixed chicken (dark and white meat) available for the day, and five customers later, they sold out of food completely. WIN! The chicken was poached like Hainanese chicken and served with a super tasty sauce. Two of my best friends said this was one of the best things they ate up here, so I was really glad we squeezed it in!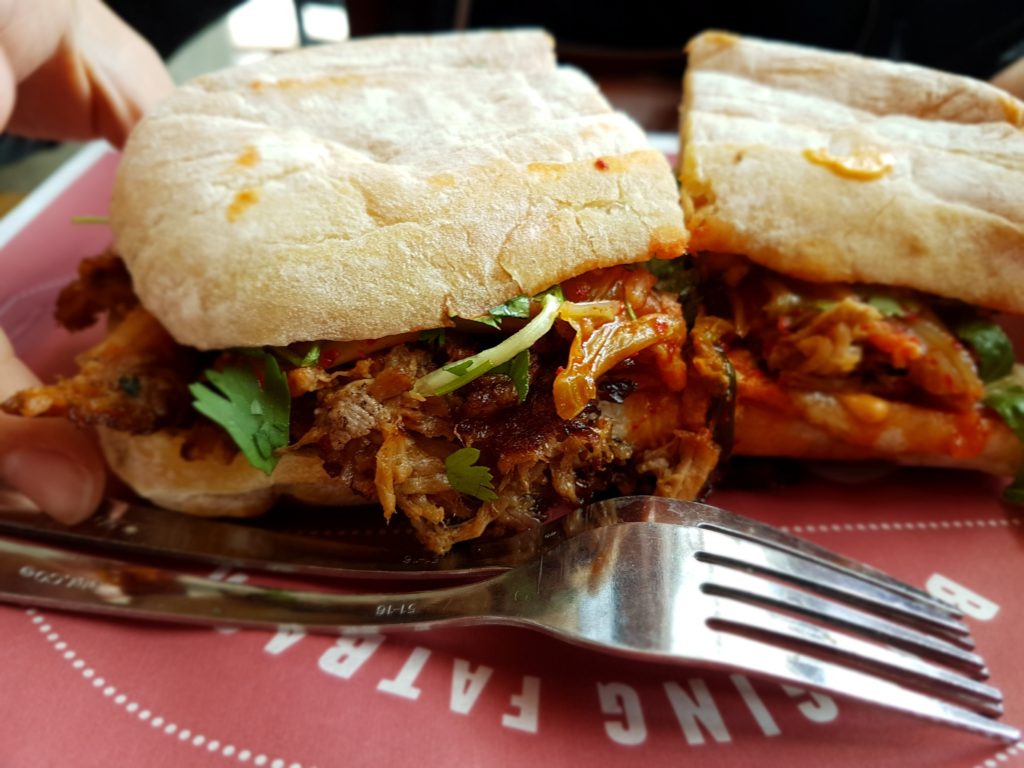 Lardo is known for their porchetta sandwich, with pork belly pieces that are crisp on the outside and bursting with melty flavor on the inside. I wish we could have tried it, but it turns out they only serve that sandwich on Saturdays, now! Booo. So we "settled" for the Korean Pork Shoulder sandwich (pictured), which Yelp reviewers and the guy behind me recommended. It was yummy, as were the dirty fries (pictured below).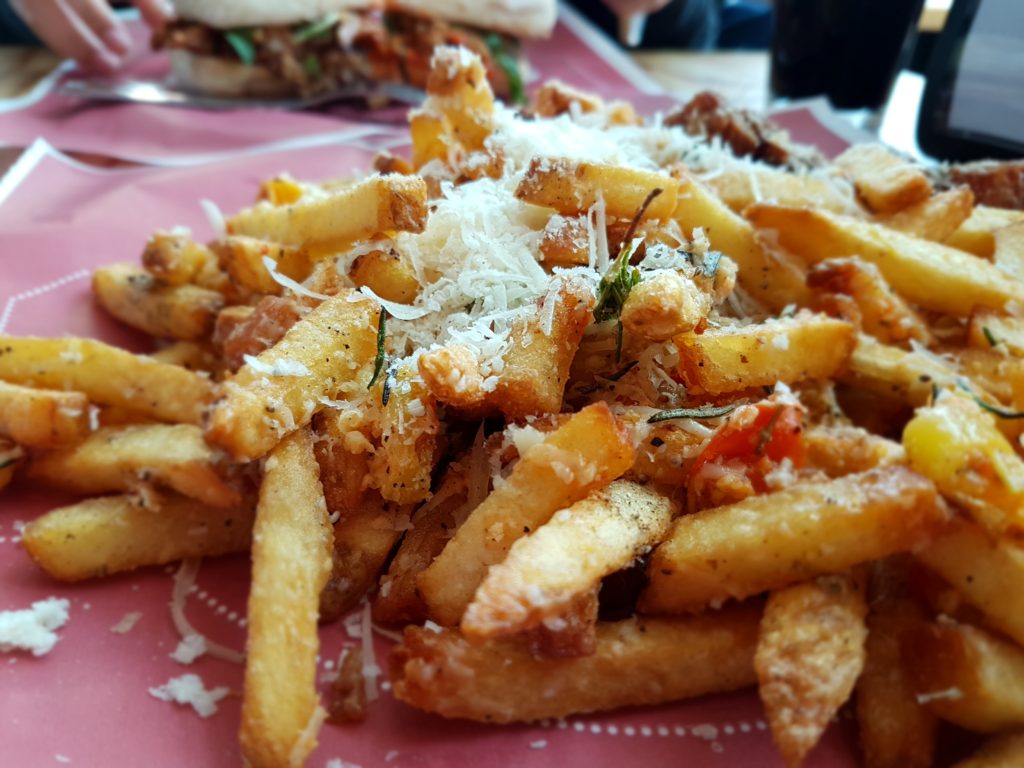 I should also mention Blue Star and Voodoo Donuts. Friends told me that Blue Star had delicious brioche-dough donuts with interesting flavor combinations, and Voodoo was more about crazy (and rather sweet) toppings on their donuts, so we skipped Voodoo and went for Blue Star. The brioche dough was delicious, and I'd definitely go back for that lemon-lime curd filled donut. SO ADDICTING. I could eat ten. Anyway, somehow, the donuts kept going into my tummy before I remembered to pull my camera out of my pocket, so no photos. Oops.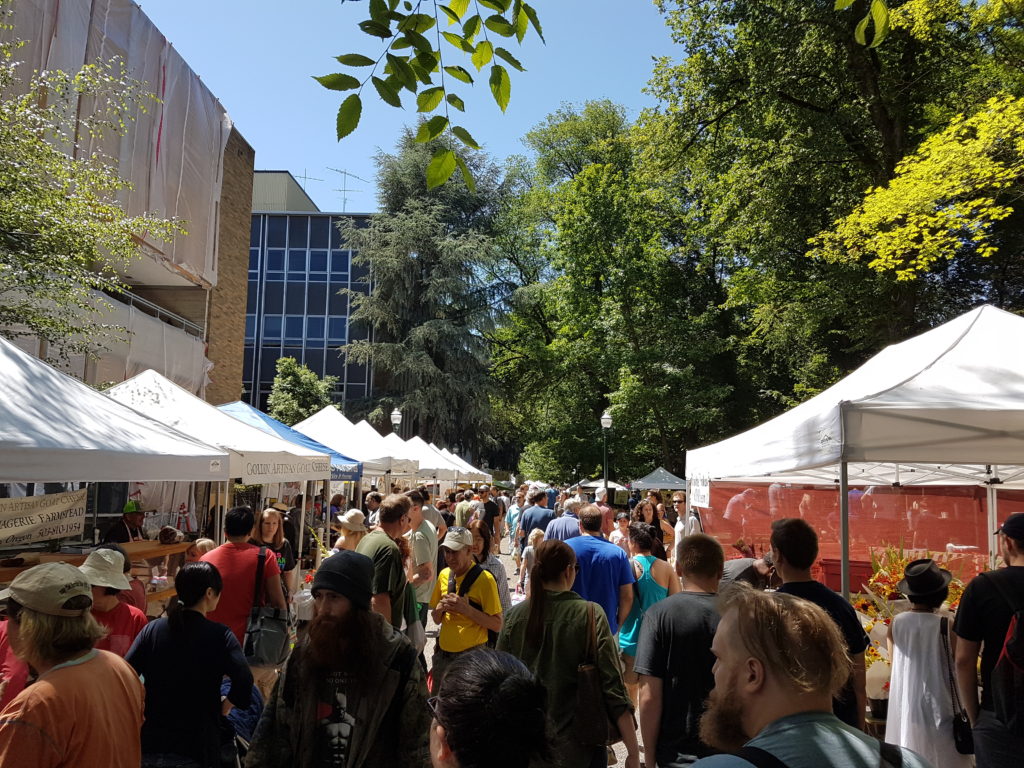 Farmer's market at PSU. It was a gorgeous morning and the market was brimming with activity! We were so hungry by the time we got there (skipped our plans to brunch at Screen Door or Tasty n Alder– next time!) that we joined in on the first long line we came across, and ended up with some tasty pork enchiladas. Unfortunately, we did not have room in our tummies after that for the cuban sandwich or goods at the Olympia Provisions stalls that were near the library, which my friend Diana had recommended. It's a happy thing to be sad about :).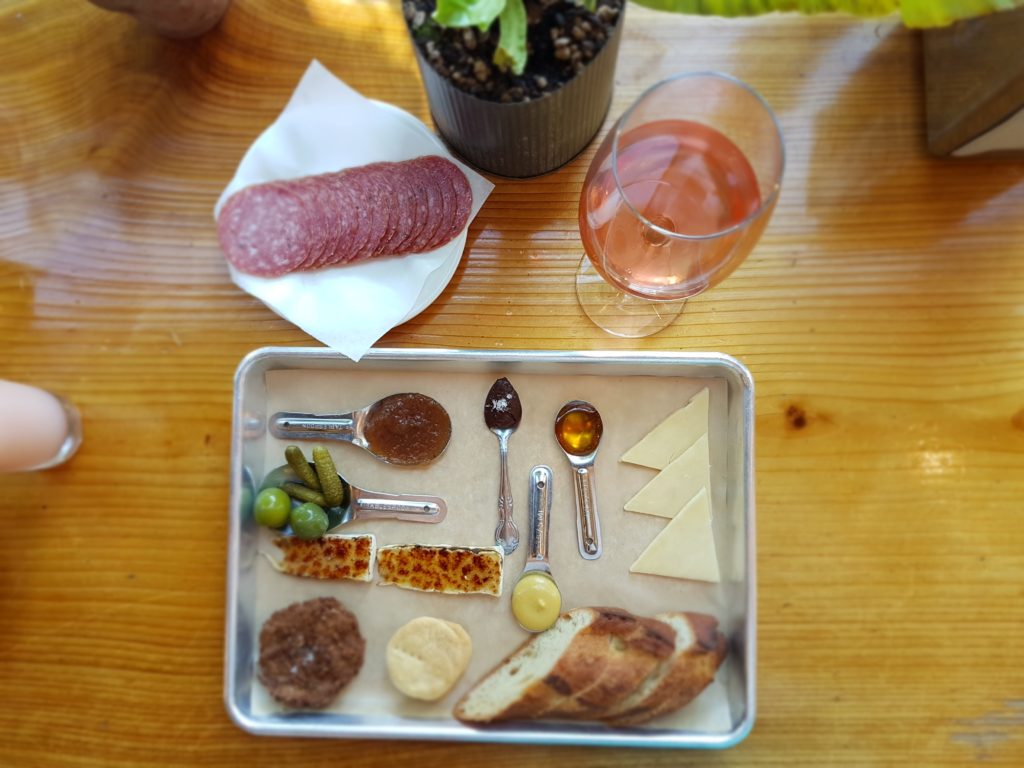 The Cheese and Crack Snack Shop was clearly a ladies' favorite. Cheese, crackers, bread, and wine. What's not to love? They even have a gorgeous soft serve that we would've tried if we weren't heading to dinner shortly after. And boy, am I glad we saved some space in our bellies… because Toro Bravo was DELISH.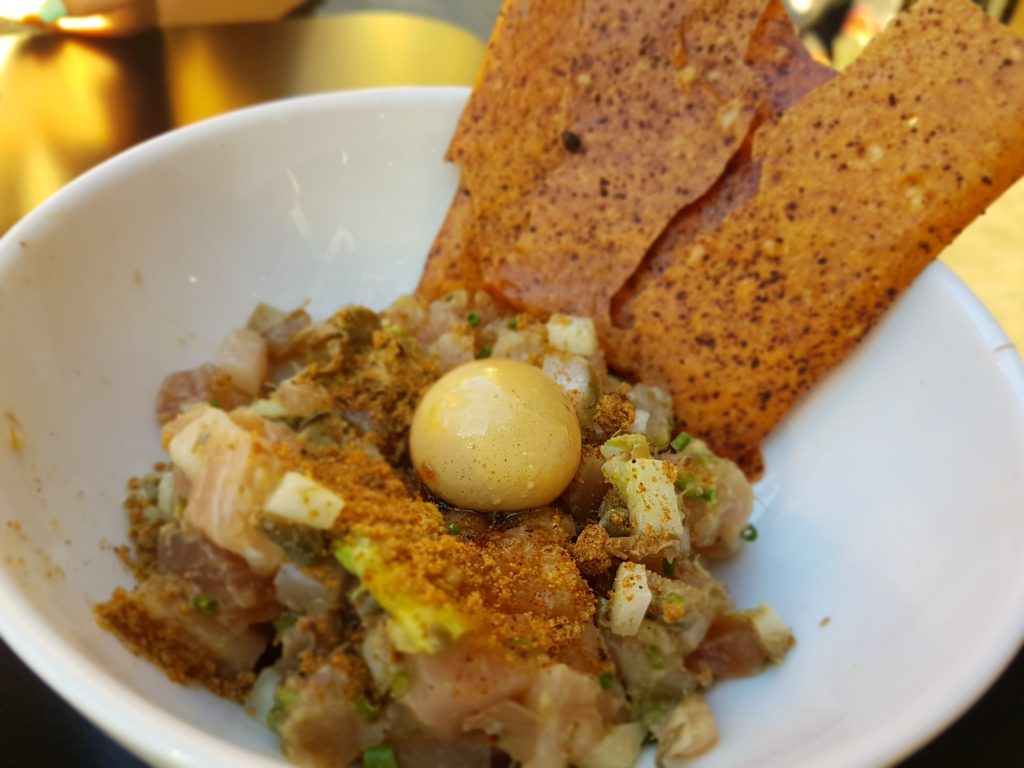 Here is the albacore tartare with onion yolk (what does that even mean…) at Toro Bravo. Mm-mmm!! It was one of the pricier meals we had (and if you're looking to spend more for a special occasion, I hear Andina is the place to go). Toro Bravo had a long wait and you can't make reservations, so be prepared to hang out at the bar for some snacks and drinks while you wait. If I could only bring Ben to one place, Toro Bravo would be it.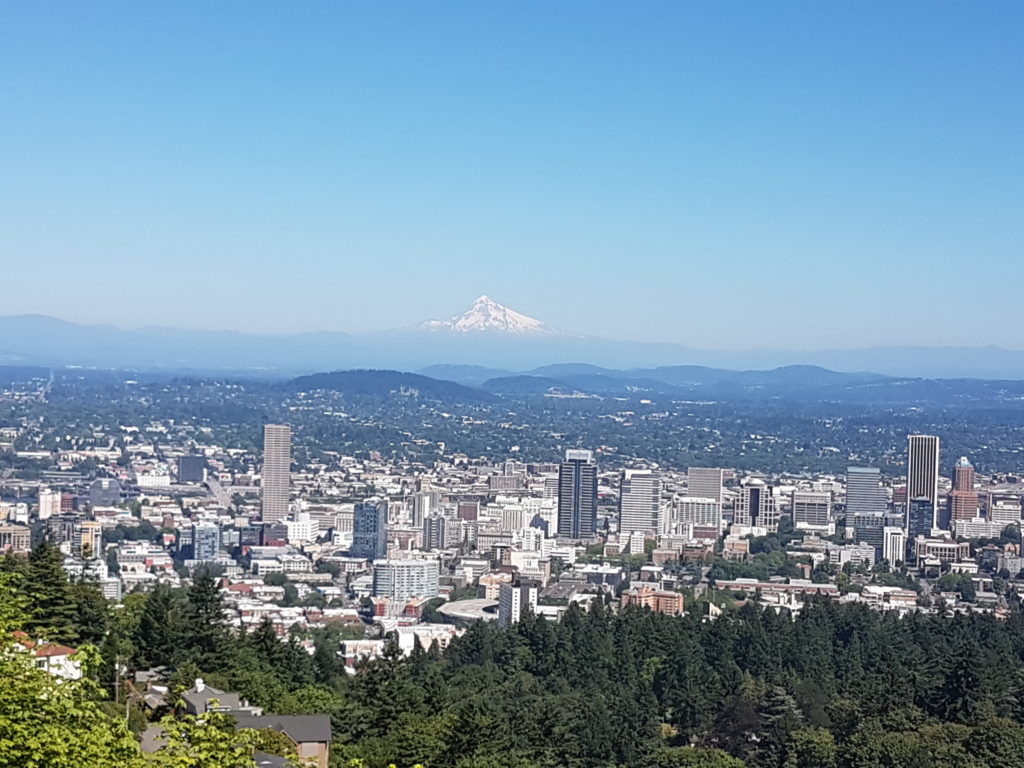 One of my favorite stops was a spontaneous drive up to the Pittock Mansion. It was the best of both worlds, as we got to stroll around the grounds and catch this awesome view of Mt. Hood, while also trekking onto a gorgeous woodsy trail that took us straight into a magical world of tall swishing trees overhead and green light filtering through the leaves.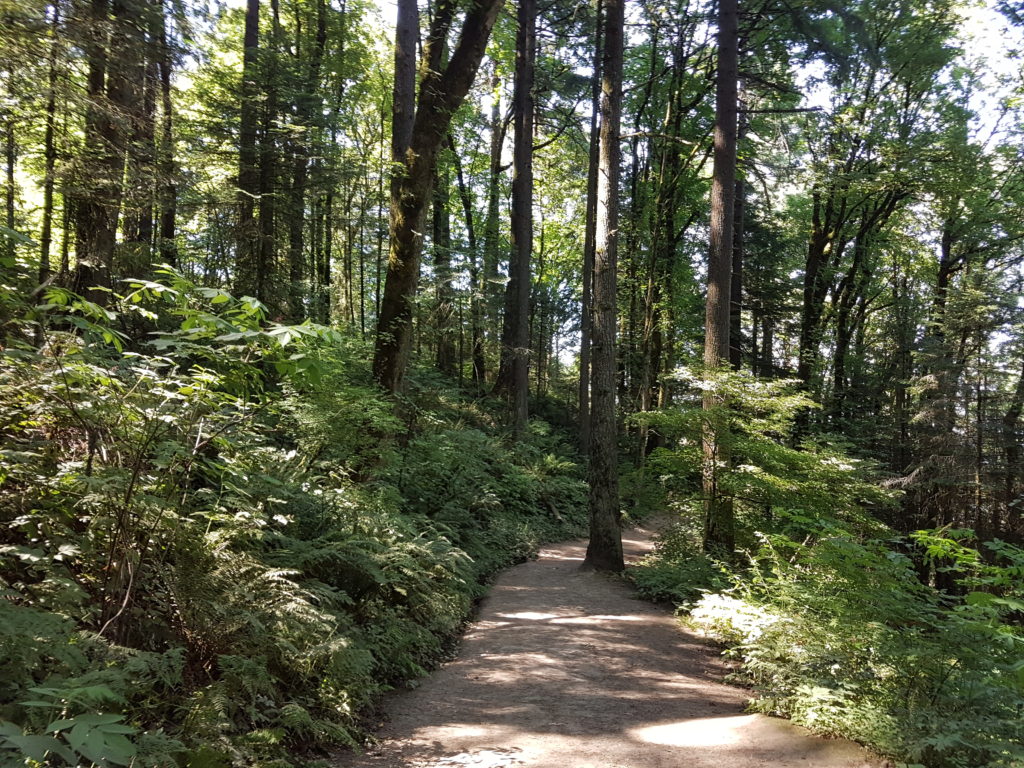 Portland was great. I loved that we could stroll outside at 9:15pm and it was still bright, and that traffic was never more than a ten minute affair. The people were nice (and one shop owner who discovered we were Californians even made it a point to reassure us that MOST people in Oregon LOVE Californians, and it's a small small minority (that gets a lot of attention) that doesn't, so… we felt a little better. But still didn't publicize that detail when we didn't have to haha). Coffee was great (Stumptown coffee is served everywhere- the only time I got Stumptown coffee AT Stumptown was at the airport haha) and the weather was perfection.
This trip was everything I needed and wanted it to be: Great company, lots of laughter, time in nature, delicious food, spontaneity, late night talks, some sleeping in, leisurely shopping, my nose in books, and unreasonable amounts of chocolate and coffee. Really, what more could you ask for?
<3.