October 8, 2015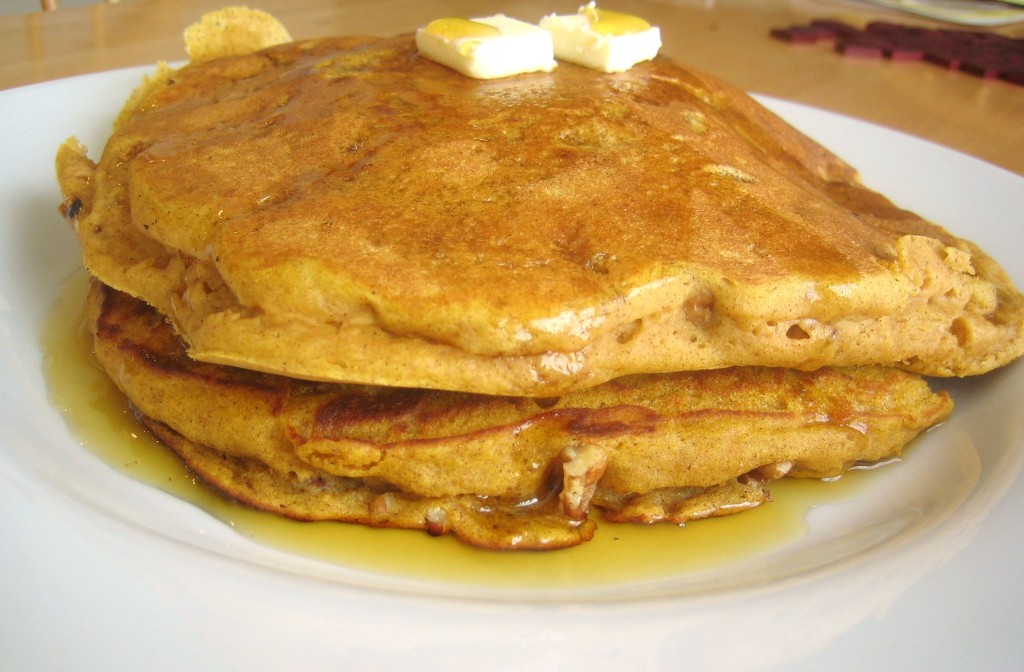 There's a reason these pumpkin pancakes have 2k fans on allrecipes.com. A very good reason. Even though I just posted a recipe for whole wheat blueberry pancakes, these are actually my favorite type of pancakes to make! And really, when the leaves start turning color and there's a chill in the air, nothing beats starting your morning with pumpkin pancakes and a foamy mug of hot cocoa (my favorite recipes here and here (salted caramel))! Not that we're getting much of a chill in California these days, but you know. Back in the day when there were cool October mornings… *nostalgic sigh*
Don't fret if you don't have all the spices on hand. I rarely have allspice around, and just up my cinnamon a little and call it a day.
——————–
Pumpkin Pancakes
Recipe slightly adapted from allrecipes.com
Ingredients
2 cups all-purpose flour
3 tablespoons brown sugar
2 teaspoons baking powder
1 teaspoon baking soda
1 teaspoons ground allspice
1 teaspoon ground cinnamon
1/2 teaspoon ground ginger
1/2 teaspoon salt
1 1/2 cups milk
1 cup pumpkin puree
1 egg
2 tablespoons vegetable oil
2 tablespoons cider vinegar
1 tablespoon butter
Instructions
In a large bowl, combine the dry ingredients: flour, brown sugar, baking powder, baking soda, allspice, cinnamon, ginger, and salt.
In a separate bowl, combine the wet ingredients: milk, pumpkin, egg, oil, and vinegar.
Stir the wet ingredients into the dry ingredients, mixing just enough to combine.
Heat a lightly oiled griddle or frying pan over medium high heat. Melt a dab of butter into it, then pour or scoop ~1/3 cup of batter onto the griddle for each pancake. Cook until bubbles appear on top, about 1.5 minutes. Flip and cook other side until golden brown. Serve with maple or cinnamon syrup and ennnnnjoy!!
P.S. Note to self: If you want to just use up the whole can of pumpkin in one go, rather than storing an awkward portion of leftover pumpkin puree in the fridge, these roughly 150% proportions worked just fine last week:
3 cups all-purpose flour
4-5 tablespoons brown sugar
3 teaspoons baking powder
1.5 teaspoon baking soda
1.5 teaspoons ground allspice
1.5 teaspoon ground cinnamon
3/4 teaspoon ground ginger
3/4 teaspoon salt
2 cups milk
15 oz can of pumpkin puree (about 1 3/4 cup)
1 egg
3 tablespoons vegetable oil
3 tablespoons cider vinegar
2 tablespoons butter