June 9, 2017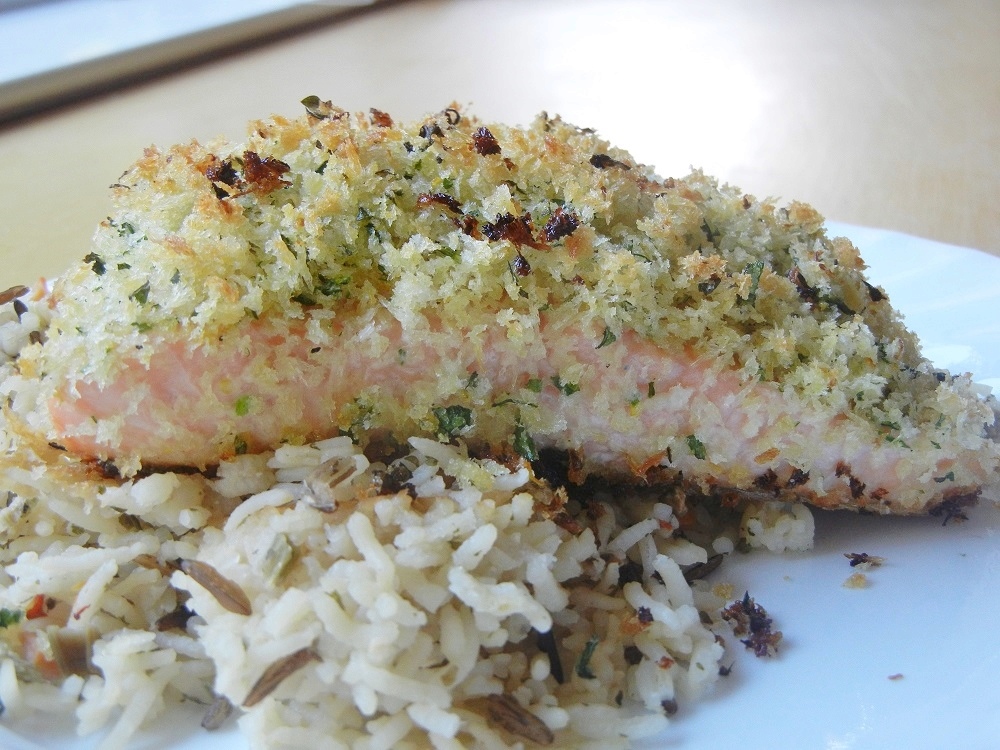 We love salmon. A lot.
We like it raw. Baked. Pan-fried. Poached. Pretty much any way you can imagine! The other night, as we dinnered over mirin glazed salmon and napa cabbage, I remarked to Ben, "You know, I think I'm always going to cook skinless salmon fillets this way."
"Really? I really like your panko-crusted salmon, though!" he said, afraid I was nixing one of his favorite dishes.
"Me too! But it's a totally different flavor and feel- and you have to have salmon skin on for that one to really shine. So if I have skin-on salmon fillets, I think I'll keep making it that way. But if it's skinless, like these, then I think something delicate like this Mirin glaze is the way to go. And if it's salmon steaks, then I like it best cooked with lemon and garlic the way you do it."
Ben makes the best lemon and garlic salmon steaks. (Recipe below.)
Ben: "That's an interesting point. Different ways to cook salmon depending on the cut. You should blog about that."
Me: "Okay."
So here ya go! Three of our favorite ways to enjoy salmon, depending on what cut you get: fillets with skin, fillets without skin, and salmon steaks! Yum! Feast on, friends.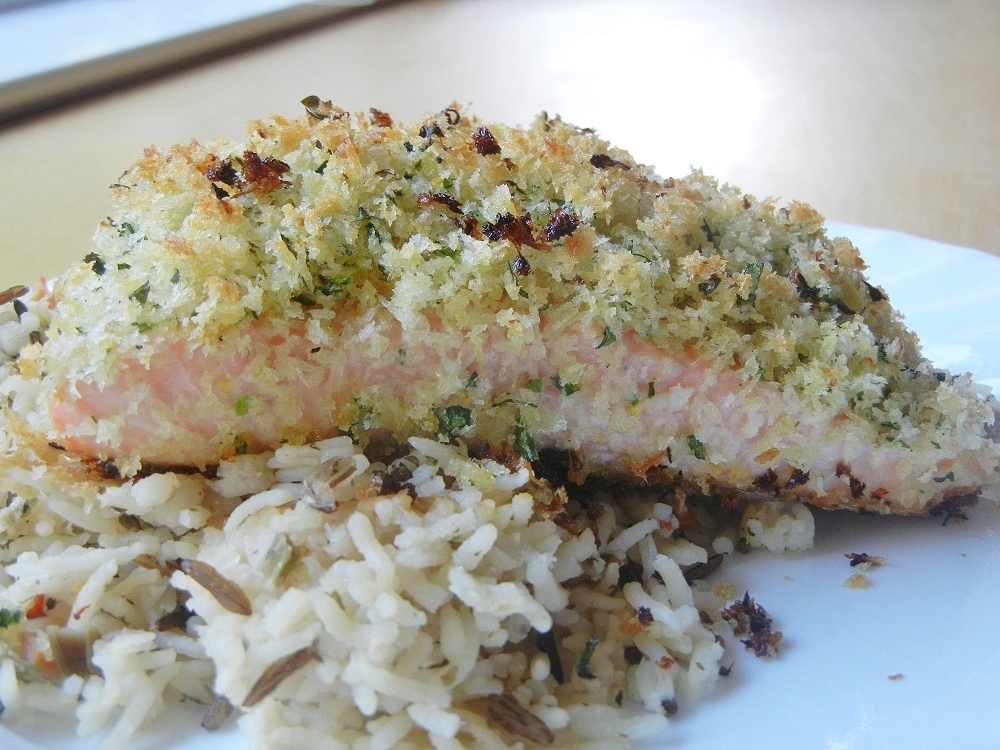 I've shared this one here on my blog already because I lurve it. I agree with old JoEllen on this description: "you get the crunchiness from the tasty panko topping, and the savory, mouth-watering crunch of pan-fried salmon skin on the bottom." Not to mention the nice fatty mouthful of salmon in between! MM-mm fatty salmon goodness! I get my fillets from Trader Joe's. It's called "Barbecue Salmon" or something like that, and is packaged with a lemon wedge. (Don't worry, it doesn't have bbq sauce on it or anything). I can think of no better way to take advantage of a lovely fillet with skin on, just begging to be fried and crisped up. Enjoy.
I discovered this recipe after I bought two painfully small salmon fillets at a Japanese market. It was the biggest quantity of salmon I could find there, yet was just .48 lbs. I probably should have just bought a second package, but it was kinda pricey, so we supplemented with other proteins that night.
Maybe it's because I got it at a Japanese market, and/or maybe it was due to their petite size, but I felt like these fillets just needed a light glaze- something delicately soy-saucy and sweet, but not as thick and bold as terriyaki sauce. A little online research yielded something that sounded just right: Mirin Glazed Salmon. Mirin is a sweet Japanese rice wine, which compliments the saltiness of the soy sauce perfectly. I've also tried substituting the Mirin with some sherry and a little sugar instead, which also tasted great!
I got this recipe from www.onceuponachef.com (who got it from Nigella
) who says, "the sweetness of the marinade causes the salmon to caramelize while cooking, which creates a beautiful sear and gorgeous, rich mahogany glaze." Exactly. It's light, caramelized, delicious, and super easy! Don't skip out on the green onions. They really add a lot to the dish.
This Maple-Soy Glazed Salmon recipe also does the delicate sweet-salty thing and tastes really great.
Mirin Glazed Salmon Fillets
slightly adapted from www.onceuponachef.com
Ingredients
1/4 cup mirin (or 1/4 cup sherry + 1/4 tsp sugar)
1/4 cup light brown sugar (do not substitute with dark brown sugar)
1/4 cup soy sauce
4 6-oz salmon fillets, skin removed
1/2 cup water
1 tablespoon rice vinegar
2 scallions, finely chopped
Instructions
Mix the mirin, brown sugar, and soy sauce in a shallow dish that will hold all 4 salmon fillets. Stir to dissolve sugar. Place salmon in the dish and marinate for 5-10 minutes, turning once.
Set a large nonstick skillet on the stove over medium-high heat. Place the salmon fillets in the hot, dry pan – nice sides down- and cook for 2-4 minutes until nicely seared and coated with a rich brown glaze (keep a close eye on the pan; this happens quickly).
Turn the fillets over, reduce the heat to medium, and add the marinade and water to the pan. Cook 3-5 minutes more, until fish reaches desired doneness. (If the sauce looks like it's reducing or thickening too quickly, just add a bit of water a few tablespoons at a time. Do not let it burn.)
Transfer salmon fillets to serving platter. If sauce is nicely reduced and thickened, turn off heat. If not, continue to cook over medium heat until desired consistency is reached. Add the rice wine vinegar to the sauce and stir. Pour the sauce over the salmon fillets, top with scallions and serve.
---
Salmon Steaks: Garlic and Lemon Salmon Steaks
This is Ben's specialty. I haven't shared the recipe here before because really, he makes it every time I buy salmon steaks and I don't actually know the science to his timing and stuff. He does that cheffy thing where you wing it depending on the thickness and stuff. But I finally made him write down a recipe to share with y'all! Yum-yum!
Lemon and Garlic Salmon Steaks
Ingredients
1 salmon steak, about 1″ thick
1 tbsp. olive oil
2-3 cloves of garlic, sliced
1 lemon
1/4-1/2 tsp garlic salt
butter (optional)
Instructions
Preheat oven (we use a toaster oven) to 400 degrees F. Line baking sheet with foil.
Prep your ingredients: Heat a small frying pan with 1 tbsp. olive oil. Add garlic slices and fry until fragrant and just starting to brown (but not too brown). Remove to a separate bowl. Cut lemon in half. With one half, cut a few wedges for garnish/fresh-squeezed juice later. Cut the other half into 3-4 slices, about 1/4″ width.
Place salmon steak on foil-lined baking sheet. Sprinkle evenly with garlic salt. Then evenly distribute fried garlic slices and lemon slices. Add 1-3 pads butter on top. Bake for 10-20 minutes, or until fish flakes easily with a fork (baking time varies quite a bit depending on the thickness of your steak).