January 18, 2017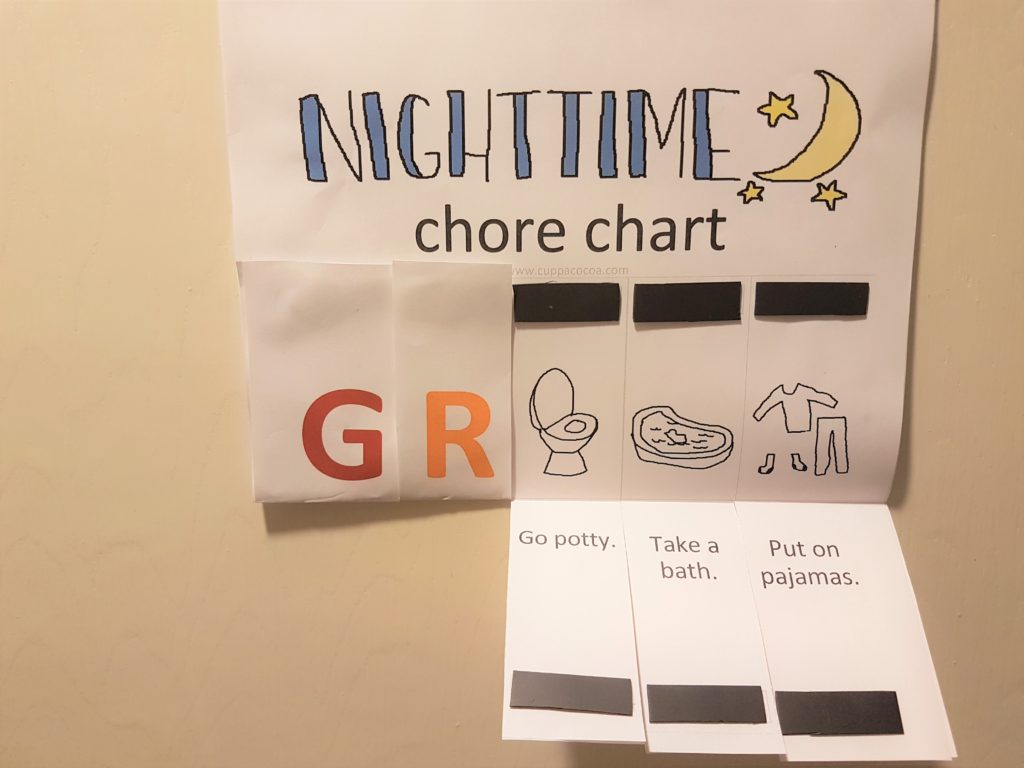 I'm super excited to share this printable with you! I've created a customizable chore chart to help your toddler or preschooler gain independence in getting herself ready at the start and end of each day. She simply looks at the picture, follows the activity, then flips up the magnetic flap to to mark off each accomplishment. It has been working wonderfully for us, and I think it would be a great way to start getting your child ready to get ready on his own!
A few weeks ago, my little girl graduated out of her crib and into a big girl bed. With this move came the freedom to get up and go potty whenever she needed, to fiddle with the light switches in the middle of the night, and to come and go from her room as she pleased. But she's not the only one who was about to get some lifestyle upgrades: so were we! As sad as I was to see her finally lose all traces of babyhood, I was also ready to charge forward into big girl life. That is, a life where Ben and I could sleep in!!! 
You see, with great freedom comes great responsibility… for her! And a little bit less for us. Little did she know that as much as I would miss the crib, I had also been anticipating this day. As soon as she gave us the green light and the crib was gone, I put my grand plan into action. Ideas had been brewing in my mind for months, and now the day had come. We were ready to commence Operation Sleep In.
Someone in my favorite mommy Facebook group had once posted a picture of a cool magnetic chore chart, but I couldn't find a good template online. I quickly slapped together my own chore chart, drawing simple pictures of five activities I wanted her to learn to do on her own, then gluing strips of magnets down for each flap: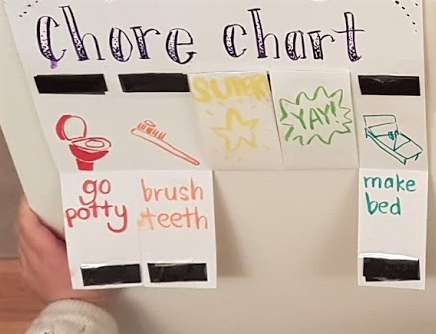 Each time she completed one activity, she would get to flip up the magnetic flap to reveal a congratulatory message and be rewarded with a sense of accomplishment. The first couple mornings, we did all five activities together, flipping the flaps up as we went and celebrating each one with gusto. Then one morning, we asked her to do the first one, "Go Potty," on her own before calling us to help her with the rest. When she did it, we showered her with encouragement and celebrated her growing independence. We eventually worked our way through until she was doing all five on her own every morning.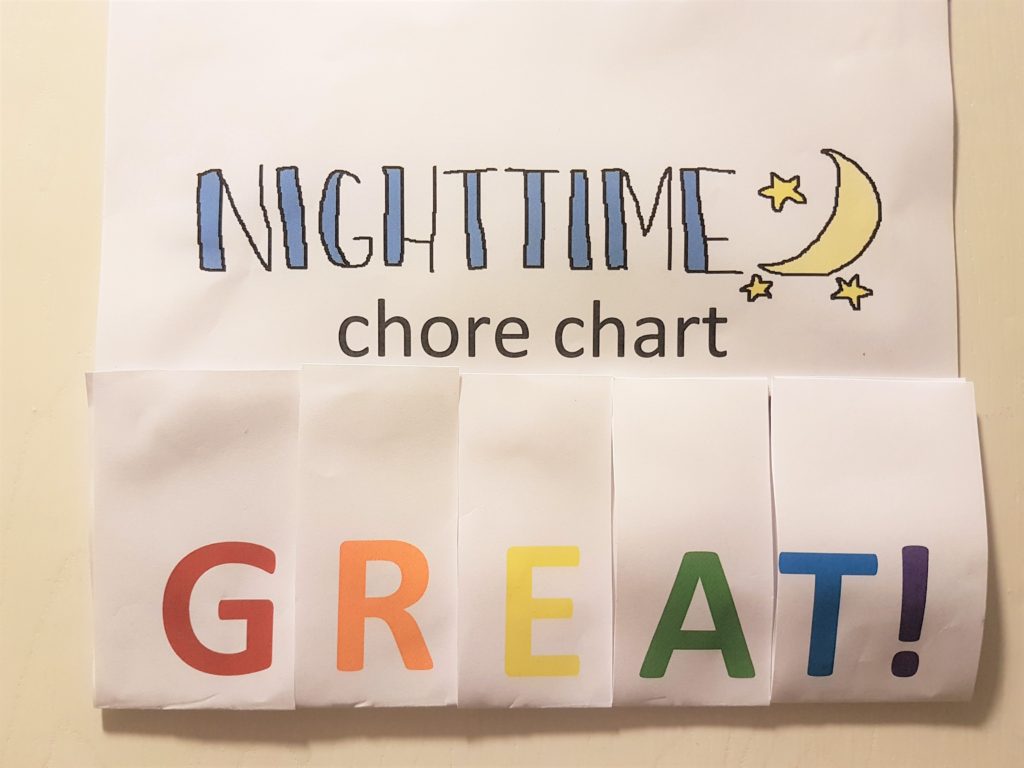 Aw yeahhhh.
There may or may not have been rewards involved… but I'm not worried. We'll wean her off of them soon enough.
It's been a week or two since then, and man- IT DOESN'T GET OLD. Getting that extra 10 minutes of sleep has been super (especially for Ben, who is usually the one who gets her in the morning). I'm still amazed as I watch her on the monitor in the morning, pattering to and fro, accomplishing each activity with eagerness and confidence. My favorite is watching her make her bed. She does her best to pull it straight, and then fold it over to make a triangle like I showed her. It's a very 3-year old attempt, but I love it and I love the care she puts into folding it just so.
I guess if I'm watching her I'm not catching extra z's, but at least I'm still cozy in bed :]. We are totally celebrating this small-but-huge step in independence (and also the extra ten minutes of sleep we're getting). If you've got a preschooler who is ready to take on some of those AM or PM tasks by himself, print up the template I made and give it a go!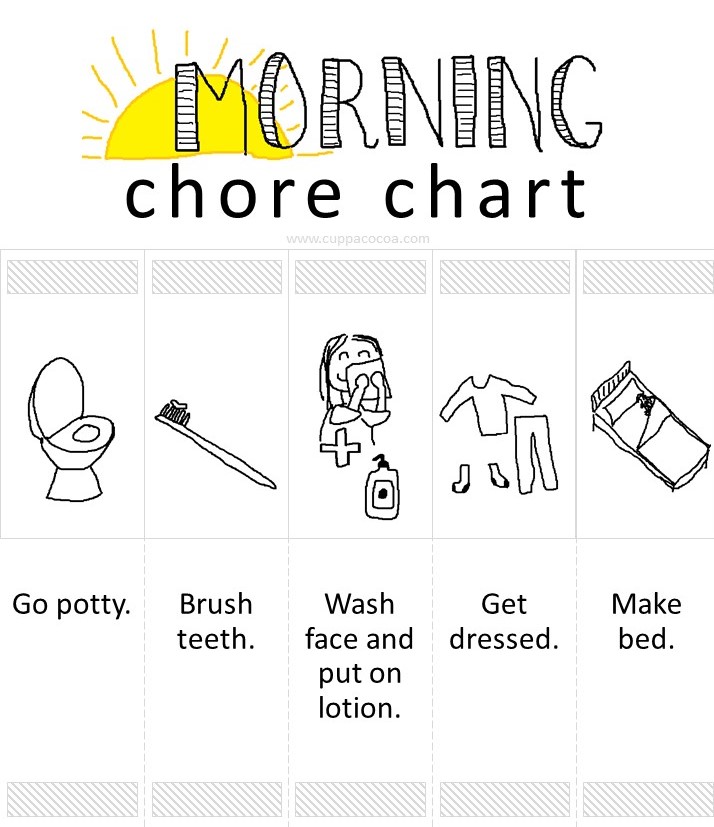 Some notes before you make your chore chart:
One of my mistakes the first time was using Elmer's glue for the magnets. The magnets started falling off the second day. Another mistake was using my watercolor brush pens: after she washed her hands and quickly turned to flip up the flap, she'd wet the image and soon it was a blobby mess. You don't have to worry about that if you're printing this, but you might want to consider laminating this sheet first. 5/24/2017 update: I change my mind. Lamination not recommended. 
A third mistake was using magnets that were too weak, so it would keep falling down after being flipped up. That's no fun :(. So I dug through the art supplies and found a thicker magnetic sheet to do the job. For my first one, I eventually covered everything in packaging tape to 1) waterproof it and prevent further smearing and 2) because I was too lazy to get the hot glue gun out, especially since I knew I was going to eventually make this printable template. So if you don't want to bother with laminating or a hot glue gun, then packaging tape will do the job!
So learn from my mistakes and use the strongest magnet sheet you can find and a hot glue gun (or packaging tape).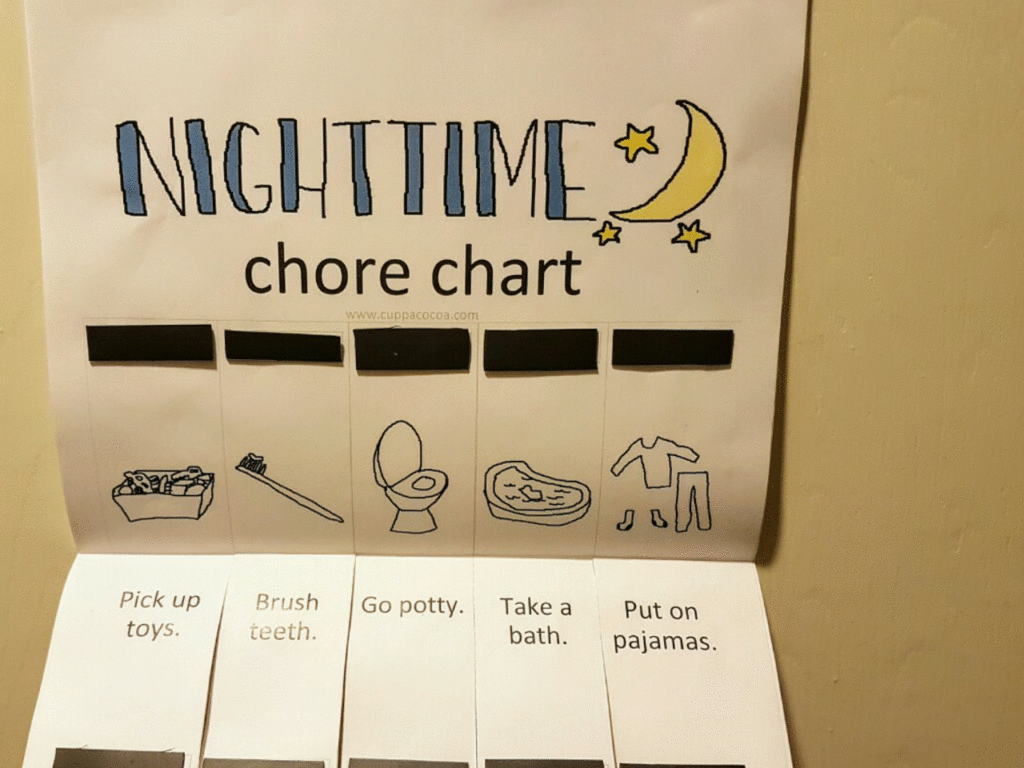 How to make the chore chart:
Materials
Morning Chore Chart template
Nighttime Chore Chart template
Cardstock, for durability
Thick sheet of magnet
Hot glue gun (packaging tape will also do the job in a pinch)
Instructions
Choose the morning and/or nighttime chore chart.
Optional: If you want to personalize it with your child's name or choose your own chores, select the PowerPoint version above and type in your child's name (or print it out and write it in if you prefer).
Print out just Page 1 (in color, if possible) onto a sheet of cardstock. Then re-insert Page 1 it into your printer and print "Page 2" onto the back of Page 1, such that the words "SUPER!" or "GREAT!" are printed directly behind each written chore (but upside down, so that it's right side up once flipped).
Optional: Laminate the sheet to protect it from water damage and improve durability. 5/24/17 update: DO NOT LAMINATE. It is impossible to glue your magnets onto the laminated sheet! I even tried hot glue and super glue and they are not working. 
Cut rectangular strips from a thick magnetic sheet and use a hot glue gun to glue the magnets onto the striped rectangles.
Cut along the dotted lines at the bottom to make five flaps.
Use Command poster hanging strips on the back of the top two corners to hang it up somewhere your child can easily reach.
Coach your child through each step, lavish them with praise each step of the way, and gradually release responsibility to your child over several days until they can do it all on their own! Use rewards as needed to keep it fun and exciting (with a plan to wean them from the rewards over time!).
Enjoy 10 minutes of extra sleep and come back here to let me know how it's working for you!