March 5, 2014
Look at that skin. Just look at it.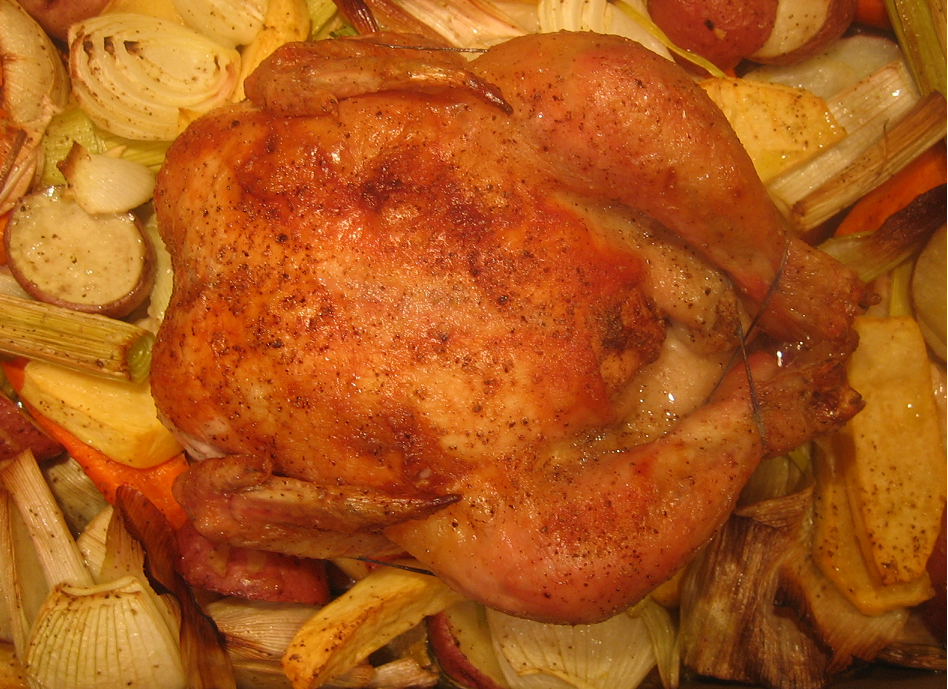 It is as crackly-salty-tasty as it looks. And the vegetables…oh, the vegetables. As juicy and tender as the chicken comes out, sometimes I find myself looking forward to the veggies even more than the meat! There is nothing better on a winter night than this juicy, whole-roasted chicken with salty, crackly skin on a bed of root vegetables sopping with chicken juice. And there's nothing like the feeling that you just tackled one of Thomas Keller's recipes. Thomas Keller, the celebrated and incredibly talented chef who opened French Laundry, Bouchon, Ad Hoc, and a number of other highly regarded eateries. Thomas Keller, the creator of incredibly time-consuming and finicky recipes that no one has the time to cook on a regular basis. Like this one: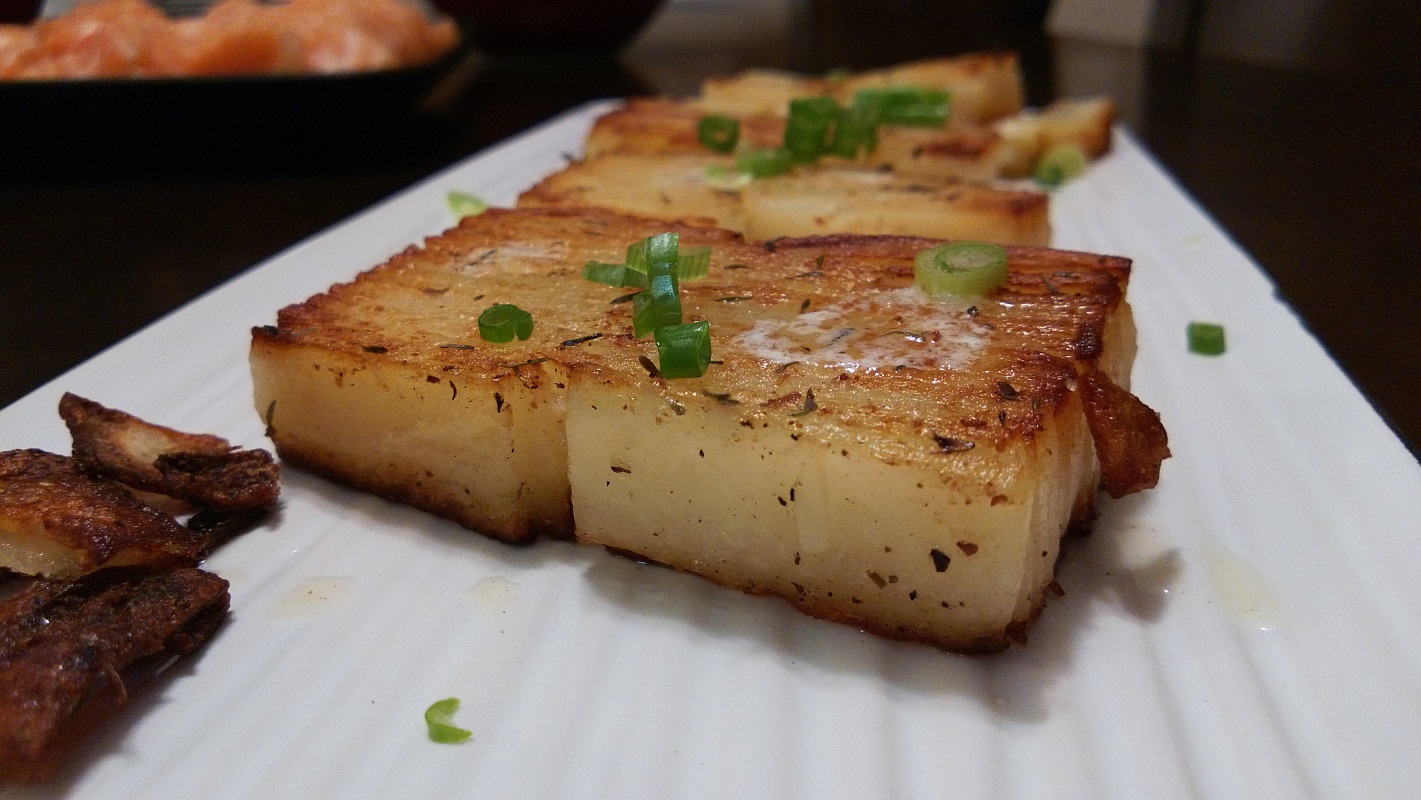 Potatoes Pavé
When I made his Potatoes Pavé, It took me two days to make it. I'm not even kidding. Yes, it was really quite wonderful to eat, but I haven't attempted the recipe again since. It's just too much unhealthy + too much time (but if you're interested, here's the recipe!).
So you can see why I was so excited when I heard about an "easy, doable" recipe that Thomas Keller himself enjoyed preparing for his own meals. My friends promised it was a snap to put together, and now that Ben is a trussing master, it really is easy! You simply truss the chicken (tie it up in a bundle), dry it off, season, then stick it in the oven. If you want the vegetables (trust me, you want the vegetables), then it's just a matter of peeling and cutting, then tossing in olive oil, salt, and pepper.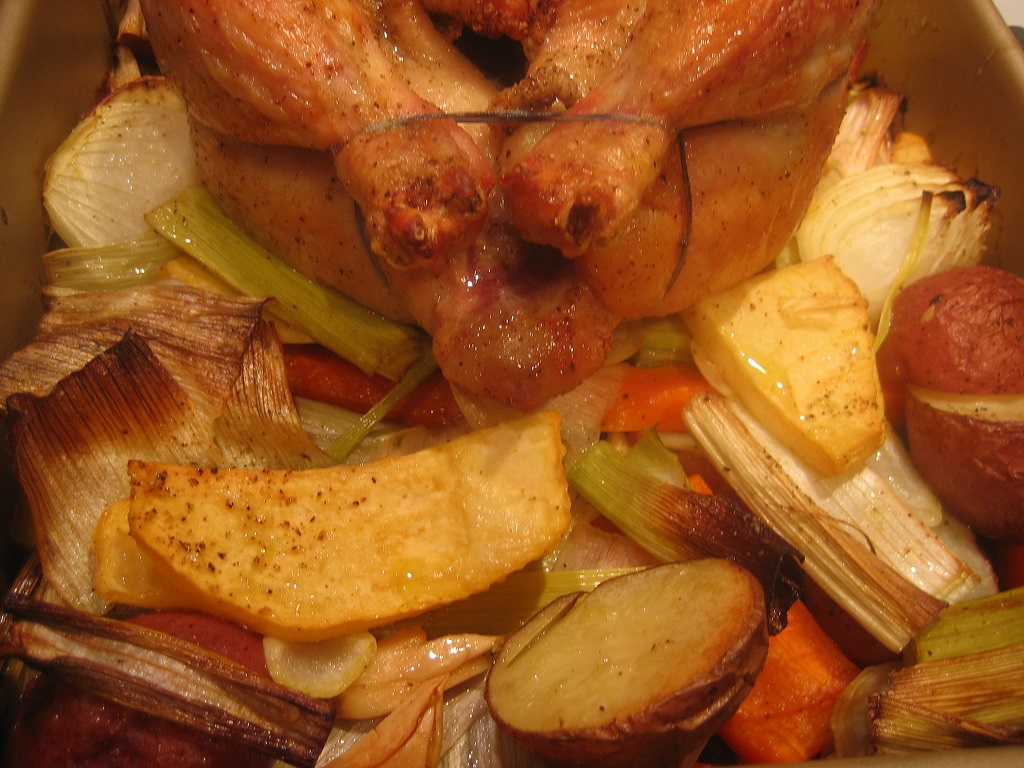 I will say it takes a bit of practice to get the hang of the trussing bit, which is important to help the chicken stay juicy and cook evenly. We even watched a couple of videos on it before attempting it the first time. However, the fact that we now make this dish a number of times each year goes to show that it's worthwhile (and it gets easier/faster each time).
Ben and I usually prepare this as a team. Ben preps the chicken while I peel and cut up the vegetables. By the time I have the bed of veggies ready to go, he's got the chicken trussed and ready. He slowly rotates the chicken as I shower it generously with salt and pepper, and then we pop it all into the oven for about an hour. When it's done, we wait fifteen mouthwatering minutes for the chicken to rest, and then greedily get into it. It's always an exciting moment when he cuts into it with the knife, and juice comes spurting out like a fountain of soupy goodness. It's also exciting taking that first bite into the crispy skin and savoring the crunch and tastiness that follows… yum.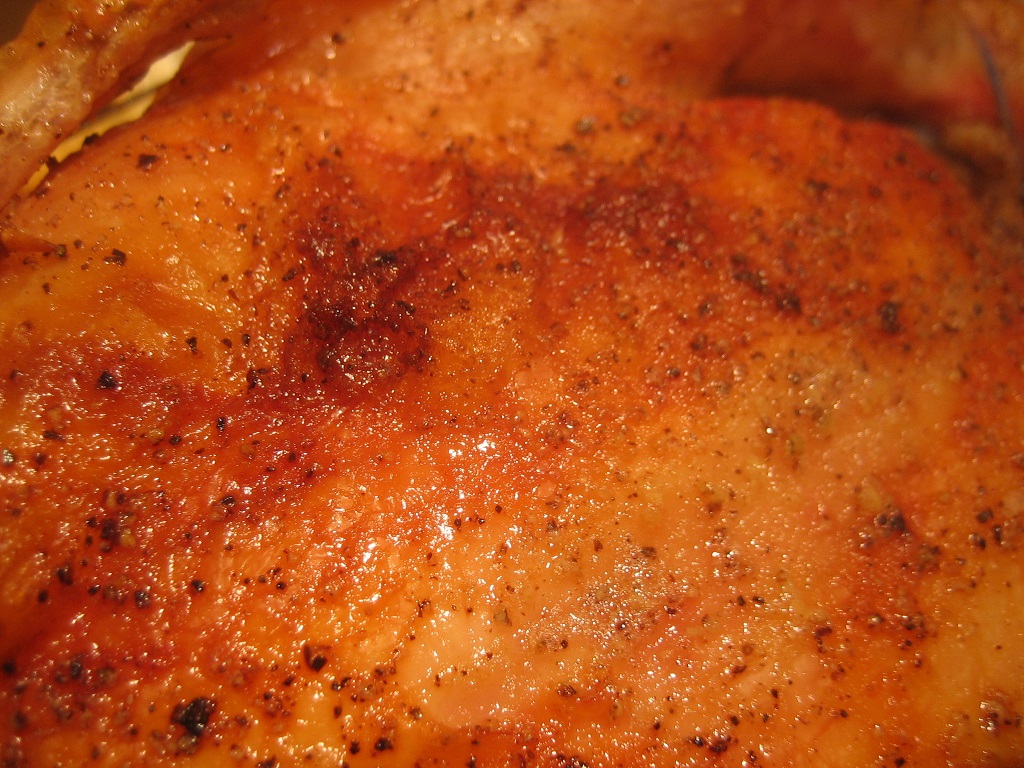 As Keller says, "You'll start using a knife and fork, but finish with your fingers, because it's so good."
Truth.
——————————-
Keller's Roast Chicken with Roasted Vegetables Recipe
Adapted from these simplyrecipes.com and epicurious.com recipes.
5/13/2014 Edit: We experimented a bit, and this is our new favorite method! I have adjusted a few things (chicken size, cooking time and temperatures).
Ingredients
2-3 medium* rutabagas, peeled and cut into 1″ cubes
2-3 medium* turnips, peeled and cut into 1″ cubes
4-6 carrots peeled and cut into 1″ pieces (or use baby carrots for quicker prep)
2 medium* yellow onions, peeled and cut into quarters
8 small red-skinned potatoes (or the variety pack of small potatoes), cut into quarters
1/4 c olive oil
Kosher salt and freshly ground black pepper
One 5 lb chicken
Kosher salt and freshly ground black pepper
Instructions
Preheat oven to 450ºF.
Toss the vegetables with the olive oil and season with salt and pepper. Spread evenly in a roasting pan to make a bed of vegetables for the chicken.
Use a paring knife to cut away the wishbone from the neck/breast area of the chicken. This is just to make carving easier when you're ready to eat. It doesn't affect the cooking process, so feel free to skip this step.
Pat the chicken dry with a paper towel inside and out, then generously season the cavity of the chicken with salt and pepper.
Truss the chicken with kitchen string, then rain salt over the bird so that it has a nice uniform coating (about 1 Tbsp). Season to taste with pepper.
Place the chicken on the bed of vegetables and roast for 50-60 minutes at 450ºF, or until the thickest part of the chicken registers 165ºF on a meat thermometer and the juices run clear. For a 5 lb. chicken, roast for closer to 1h 30m.
Transfer the chicken to a cutting board and let rest for 15-20 minutes before carving to serve.
Cut the chicken into serving pieces, and serve with vegetables.
Save your carcass and bones to make chicken stock!
*"Medium" to me is about the size of my fist. Sometimes I just get one really big turnip or rutabaga, if it's available.